Hayden Everett dives into the depths of his achingly beautiful third EP 'Silver Line,' an iridescent indie folk record whose raw emotions, intimate reflections, and radiant sounds capture life's fragile, breathtaking wonder.
Stream: 'Silver Line' – Hayden Everett
---
Hayden Everett's third EP opens in a lush and lilting haze: A piano repeats a hypnotic pattern close on the mic, lulling us into a trance as a heated saxophone blows softly in the distance. "I'd reckon all's evolving, leave home, the story wasn't stopping – it goes on," Everett sings, his voice a beacon of ethereal energy and philosophical reflection. "Your savior keeps on talking, but you're not watching. You're praying eyes closed, head down, dreaming up what you want."
The name of the song is "Terra," and while he's got at least one foot on the ground, the artist's head is halfway between the Earth and the clouds – drifting in and out of the atmospheric haze that defines his new music. Intimately introspective and achingly beautiful, Everett's stunning Silver Line EP is an iridescent indie folk record of raw emotion, human connection, and pure presence.
I'd reckon all's evolving (leave home)
The story wasn't stopping (it goes on)
Your savior keeps on talking
But you're not watching
You're praying eyes closed, head down,
dreaming up what you want
Look up with an open ear
Stationary but you're never here
You say you love him but you're cavalier
(you're guessing)
You're making lines up thinking
you can divvy up all her love
We're all just guessing
So why you out for blood
We could be dancing
But you're holding hands with a gun
– "Terra," Hayden Everett
Atwood Magazine is proud to be premiering Silver Line, Hayden Everett's breathtaking third EP (out February 10, 2023 via Nettwerk Music Group). Following 2021's Kennecott EP – a record about being present in nature and on Earth, which was praised as both "irresistibly intimate and stunningly vulnerable" and "an awe-inspiring work of beauty, passion, pain, and presence" – Silver Line continues to build upon the soul-stirring sonics and heartrending lyricism we've come to know and love about this singular singer/songwriter. Kennecott's songs had a certain cool, glacial quality about them; in contrast, these five new songs feel hot and heated, as if spurred on by a fire deep inside the artist himself.
"While Kennecott was centered around this idea of allowing ourselves to absorb the grandeur of the natural world around us, I'd hope that Silver Line compels listeners to allow their hearts to engage more fully with everything, pain and joy alike," Everett tells Atwood Magazine. "It's a documentation of the fullness of life that comes when I open myself up."
For Hayden Everett, the story of this EP is one of transience and self-discovery.
"I got the chance to live in London and travel around for six months while writing and recording this project," he says. Formerly from the Bay Area and now based in San Diego, Everett has often found inspiration within his immediate surroundings. "The reflections captured in this record were clarified by solo backpacking through the Slovenian Alps, the most wholesome Sunday Roasts up in the British countryside, train rides through Spain and Wales and Britain, and trekking through the Faroe Islands. My processing of the year before was greatly aided by the people around me and the constant depth of conversations late into the night."
He says his concept for the record evolved massively throughout the creative process. "Refreshingly, there was less of a vision, and more of a presentness with what was needing to be created in each moment of the project. It felt so good being open to it taking form as we went."
"I think the biggest difference is that I've gone much more into myself on this project. Kennecott and my self-titled EP were very outwardly focused on my perception of the natural world and religion and my place in those things. Silver Line is an exploration of my own mind and tendencies and heart, which makes this record feel a lot more raw. It's also the first batch of songs that I completely self produced, making it feel very representative of my vision and sound."
Using words like coarse, reflection, and breathe to describe the EP, Everett feels this batch of songs is his most intimate and candid collection yet. "I think it reintroduces me with less of an arm's length approach," he adds. "These songs are deeply personal and vulnerable, and so is the production. They feel like a chunk of me in a way that my songs haven't totally felt like before."
Silver Line opens with "Terra," the aforementioned pool of layered piano, saxophone, and percussion, all of which coalesces around his hushed, expressive voice. Calling to mind artists like Bon Iver and Leif Vollebekk, Everett creates something of an ambient, atmospheric, and organic fog – one that immediately sets the scene through facilitating an out-of-body experience for listeners that, in fact, brings us closer to, rather than farther away from, the songwriter at the other end of the music.
Throughout Silver Line, Everett is both a world-builder and an explorer, orchestrating vast, lush landscapes (as in "Redwoods") while delving into himself in heartfelt reckonings that are at once gentle and turbulent. "I'm better now, I promise; It's different than before – I'm all in," he proclaims in "Redwoods," a hauntingly beautiful track that could very well have come off Bon Iver's Grammy-winning 2011 album. "I'm sorry love, I gotta call it. You're still my best friend, but I lost it." These are not the words of someone who's living his life fine and dandy, but rather, it's the visceral expression of a pain we all know too well: That of departure and loss; of bittersweet goodbyes and letting go of the ones we love.
---
As with the best EPs, each of Silver Line's tracks could receive its very own essay-length review.
"Heaven on My Own," featuring UK artist Jemima Coulter (who, in addition to their work as half of indie folk duo Hailaker, released their own debut album Grace After a Party in the middle of last year), is an instant standout, with a touching chorus melody and a gorgeous vocal harmonies that elevate an intimate moment to soaring transcendent heights. Reveries are seldom revelrous, but "Heaven on My Own," with its exploration of what Everett calls "optimistic nihilism," is an undeniable celebration of self, and a celebration of life lived in the moment. Lines like, "I pray we're by design, but everything that's precious is finite," serve to not only inspire, but also set us off into our own deep philosophical musings.
"It was really fun to write 'Heaven on My Own' with Jemima Coulter!" he says of that song in particular. "Their melodic sensibilities and the emotion every time they open their mouth to sing shook me to my core. I think we made something pretty special together, and it just poured out of us very naturally on a day when we were supposed to be working on a different song. I sat down at a synth and they grabbed a guitar and we just improvised the song skeleton together in one pass."
Maybe no one's right
We could have a gracious growing sight
You don't believe in time
Every day is measured by the night
So we're waiting at the station
And a moment passes vacant by our eyes
We could have it if we take it
But forever starts to kill my appetite
But I could be Heaven on my own
Even if I'm lying
I could be heavy like I've grown (outside the lines)
But I've just untied, just too high up now to know
So I could be heaven on my own
---
Not to be forgotten by the aforementioned three tracks, Silver's Line's final two songs make for a fantastic finale: The penultimate title track, "Silver Line," is a captivating deep-dive into the self, soundtracked not through whispers, but through a vivid array of lively vocals of vary emotional intensity, a bevy of pulsing, captivating synths, and expansive, cinematic drums.
The EP closes comfortably with Atwood Editor's Pick "Neptune," a moody and brooding ballad that Everett previously described as a sequel to his song, "Kennecott." "With 'Kennecott,' I had written from the perspective of the abandoned mining town as a letter to the miners who came in and destroyed the mountain. This time, I tried to zoom out farther and almost write a letter to us humans from the perspective of Earth. We apologize and promise in the verses, but never really significantly change our behavior when it gets inconvenient. The Earth gives us so much, yet we constantly look to exploit it rather than appreciate and protect it. I hope this song compels listeners to not only spend more nights under the stars, but consider how they can better participate in the preservation of our home."
While it most certainly keeps up with the inner fracture and emotional turmoil of the overall EP, "Neptune" nevertheless finds a kind of closure that allows listeners and artist alike to close this chapter and move onward. It's a recognition and an acceptance of imperfection, but it's also a commitment to do better – and at the very least, to try.
Time's up, I'm sorry for the burden
It's lookin like we'll hurt you more today
And I don't see the end in sight
Done enough, is the earth still turning
Would it be deserving if you sent us away
Are we just a parasite?
Maybe we should all lie down
I can't see the night sky now
Why don't we just leave this world alone
Can't keep waiting till the next moon
I try to say it's dire but you don't move
You take and you take and you break
and you don't seem to notice
I gifted you a garden that you turned to stone
I'm starting to believe I'm better off alone
So maybe you should go try Neptune
Maybe you should find a new home
---
Self-reflection doesn't come easy to most; Hayden Everett, meanwhile, is clearly a master.
While each of these songs encapsulates a little piece of his mind, body, and soul, he admits that certain lyrics do continue to resonate with him long after they were written. "It's fun to reflect on which lines felt the most profound upon the moment of capturing them," he says, offering a few that gave him "a good rush":
"I gifted you a garden that you turned to stone"
"Forever starts to kill my appetite"
"Honeymoon is gold and gone"
"Am I not able to stay fallen?"
"You're praying eyes closed, head down, dreaming up the God you want."
Truth be told, Silver Line is littered with stunning poetry and lyrical gold.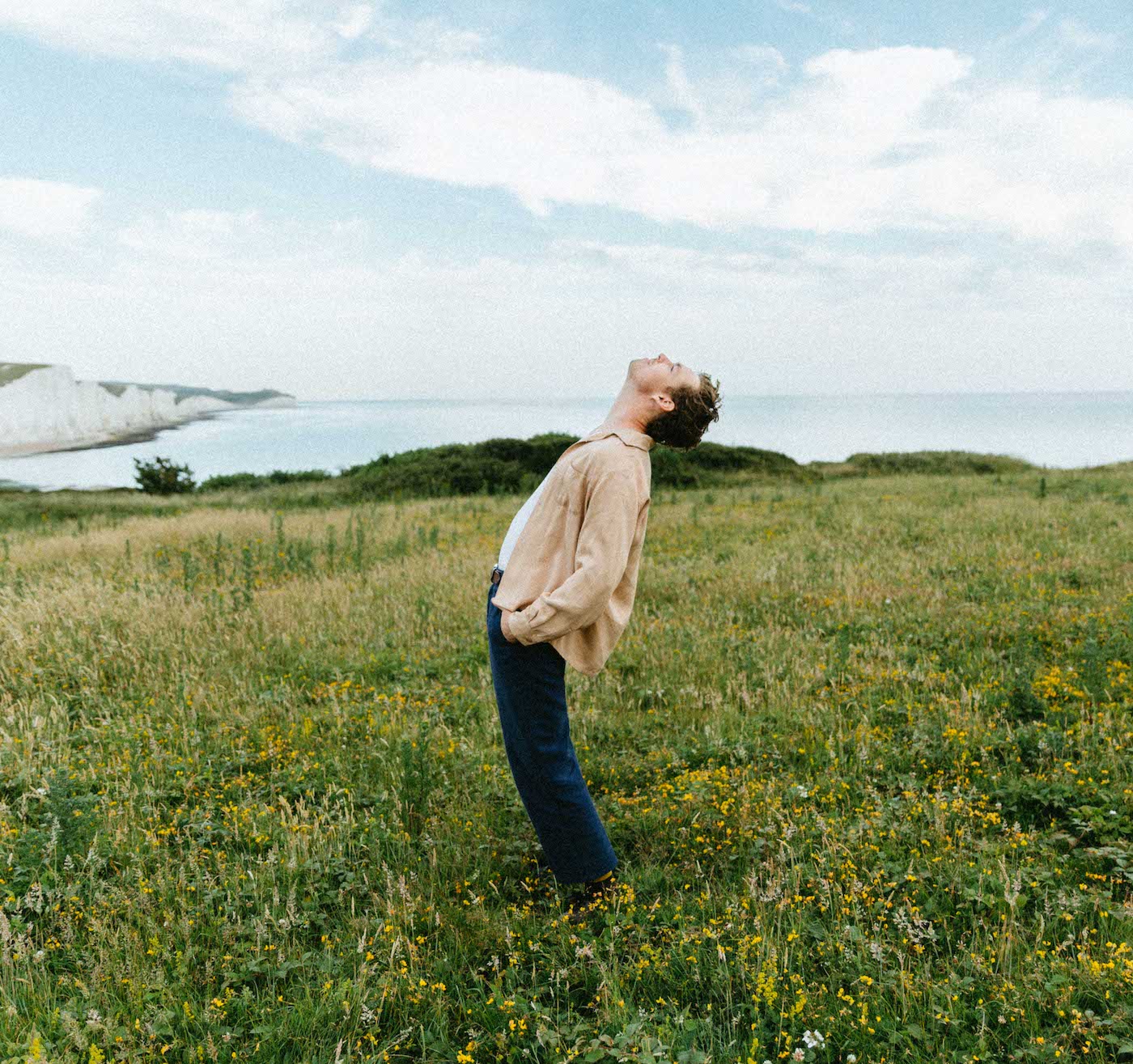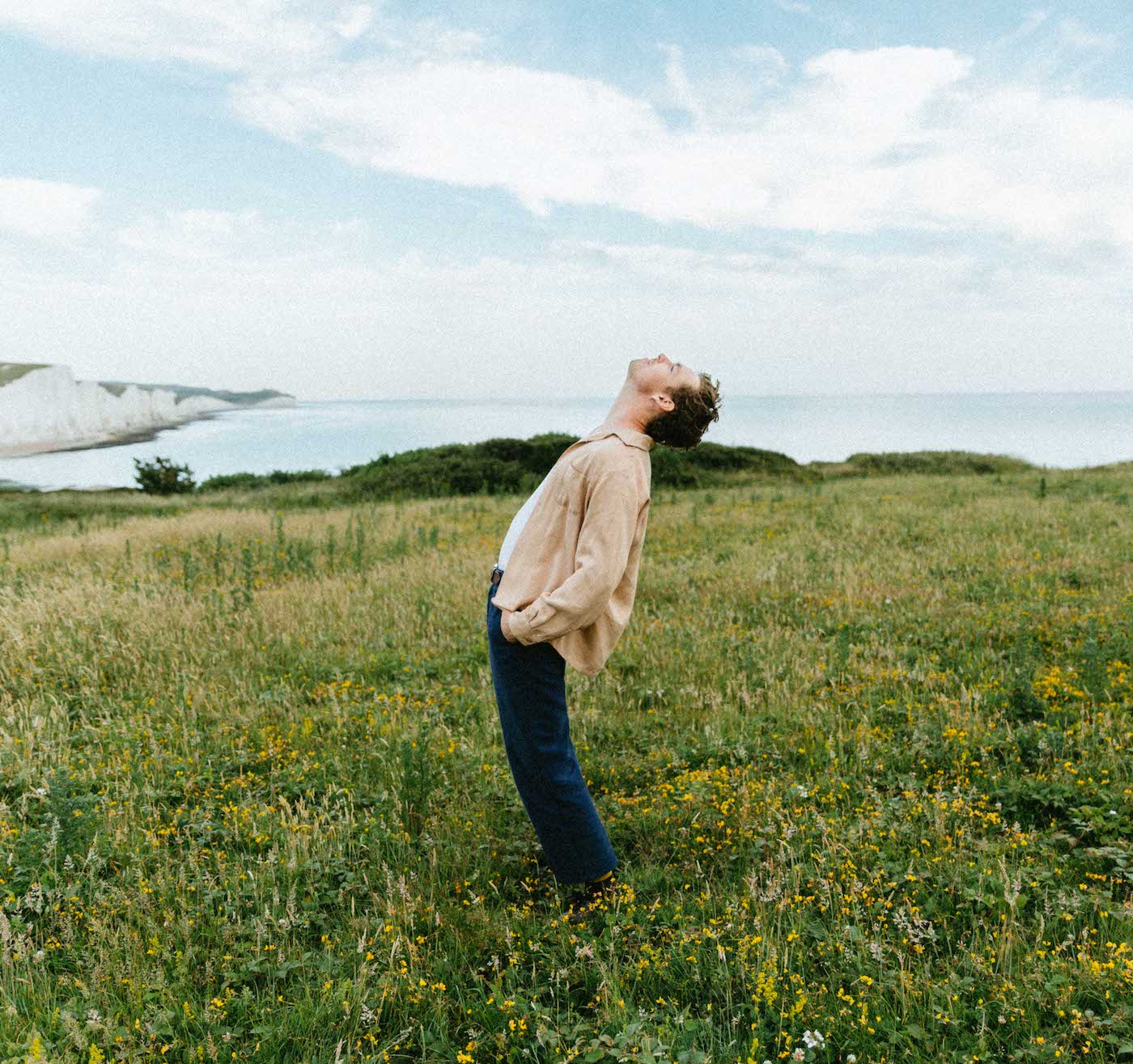 At once radiantly beautiful and utterly heart-wrenching, Silver Line is without a doubt Hayden Everett's finest work yet.
He has the magnificent ability to build us up and break us down at the same time, taking his listeners on incredible musical and emotional journeys that feel somehow limitless and vast, and yet undeniably intimate and one-of-a-kind. Silver Line is a world unto itself – one in which Hayden has found himself and embraced the great unknowns of life, time, presence, and being. It's one thing when you can get lost in the music; with this record, you can also get lost in the words themselves.
Out of that loss comes tremendous discovery and maybe even a fresh understanding of life itself.
"I hope listeners can be inspired to be more vulnerable with themselves and people close to them," Everett shares. "It's so rewarding when we take the walls down and allow ourselves to be changed by the things around us."
Truly, Silver Line is pure gold.
Stream the full record exclusively via our below stream, and peek inside Hayden Everett's Silver Line with Atwood Magazine as he goes track-by-track through the music and lyrics of his latest EP!
— —
Stream: 'Silver Line' – Hayden Everett
:: Inside Silver Line ::
— —
TERRA
I wrote Terra in an empty old British church down the street from where I lived at the time that I wandered into one day. The song is directed at the modern Evangelical church, criticizing tendencies like exclusivity, close mindedness, and lack of observation. I grew up Christian and have long been deconstructing and untying my faith upbringing and the hypocrisies within the institution of Christianity. Terra means Earth, and much of my current spirituality is informed by how the universe works and what it constantly teaches us. To me, I feel that if we look up more often, at things like evolution, decomposition, each other, and the peculiarity of things like love, music and emotion, we can learn a lot about the character of whatever created this. The echoing halls of this empty British cathedral seemed to pour the words out of me.
REDWOODS
I wrote Redwoods the day of a tough breakup. The most painful part was losing my best friend in the process even though parting ways might have been the right and healthy thing to do. The back and forth and second guessing sometimes feels like an unavoidable aspect of things ending.
HEAVEN ON MY OWN
(ft. Jemima Coulter)
Heaven On My Own captures the concept of optimistic nihilism: if there is nothing after death, then there is substantially more weight to the current moment, because now is all we have. Living like there's nothing later creates a striking sense of meaningful presence – the people around us become divine and the earth becomes a gift. It's easy to silver line any hard moment if there's a reliance on a perfect after life, but there's so much beauty in allowing ourselves to feel and embrace the full weight of the difficult and painful days too.
SILVER LINE
Silver Line captures my inner dialogue and my observations of my relationship tendencies. I tend to fall in love in Autumn and fall out of love when the new year comes around. The song captures this longing to go back to the fall, both literally and figuratively, when it all felt easy and right. The end of the song is a window into the narrative that often exists even when it doesn't feel right anymore, that it's all fine and everything's gonna be okay, hence silver lining.
NEPTUNE
Neptune is a dialogue between humans and the earth. It's an expansion of the concepts from my last project Kennecott, almost like a sequel. Rather than focusing on a particular place and town, Neptune zooms out to humans' behavior as a whole. Oftentimes it feels like we've gone too far and the damage is irreversible. This song captures Earth's frustration with peoples' constant disregard for the irreversible harm of their actions. We silver line everything and pretend its all okay, as long as our momentary desires can still survive.
— —
Stream: 'Silver Line' – Hayden Everett
— — — —
? © Ethan Porter
:: Stream Hayden Everett ::
---