Synthy, sweet, and sleek, So Sensitive's 'Bedroom Drama' is a messy, beautiful affair with femme and feminine identity.
Stream: "Bedroom Drama' – So Sensitive
---
Songwriter/vocalist Kira Clark and drummer/producer Keith McGraw couldn't have chosen a better name for their new dark synth/art-pop duo: So Sensitive is a dynamic vessel of musical and emotional force. The band rose from the ashes of Clark and McGraw's former rock duo Muscle and Marrow, which disbanded largely "because we [had] written a pop record," to quote the band's Facebook post. "We hope it's a strange, complex, sad and smart pop record but it is a synth pop record nonetheless."
This statement comes from over 14 months ago, and to their credit So Sensitive have followed through on all accounts. Synthy, sweet, and sleek, the band's debut album Bedroom Drama is a messy, beautiful affair with femme and feminine identity diving deep into inner struggles with self-love, sexuality, vulnerability, and more.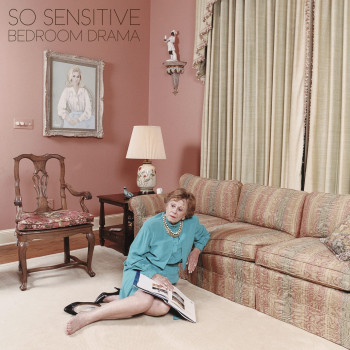 I've never been the type to wait for life
Open my mouth take what's mine
They call me a mess
and they call me a drunk but
I'll be great with time
My heart is open
My heart is pink
But I feel them coming
They're gonna burn me
I feel them chasing me
Help me
– "My Heart Is Open," So Sensitive
Atwood Magazine is proud to be premiering So Sensitive's debut album Bedroom Drama, out August 2, 2019 via Soft Boy Songs. A far cry from the heavier work of Muscle and Marrow, Bedroom Drama punctures a wall between artist and listener in Clark's incredible lyrical surrender of self. Her words, dressed to the nines in a dazzling, gorgeous array of keyboards and synths (listen to the darling "Devotion" for this in full action), offer glimpse upon glimpse of soul-searching reflections and, excitingly, some answers.
This being said, it makes sense that So Sensitive was born out of, and as a visceral reaction to, the 2016 US Presidential Election. "The pain of the election left Clark feeling reckless and angry, wanting to burn everything down," according to a press release. "Bedroom Drama is in large part a reaction to the masculine, mostly straight world of heavy music." The election was, of course, a symptom of a much larger problem stemming from a male-dominated culture that, even in progressive circles, runs rampant throughout American society and much of "Western" culture.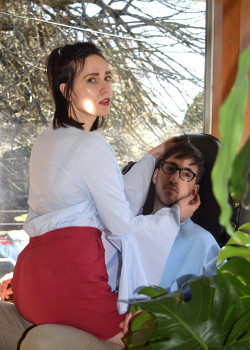 If I'm honest with myself
Sex used to always be about
Just trying to obliterate myself
I feel so ripe from this rebirth
Everything's soft and nothing hurts
I found the center of myself
and it's so shimmery
(So I found myself)
Yes yes
(Turn around)
Don't let my lipstick confuse
I wanna make love to you girl
– "Lipstick," So Sensitive
"Bedroom Drama is our attempt to give voice to the feminine experience, desire, devotion, grief and the varied emotional landscape that comes with being alive," So Sensitive tell Atwood Magazine. Glittering sonics and big melodies on the outside give way to in-depth discussions on gender, sex, and more within Bedroom Drama. This is pop with a purpose – an overwhelmingly confessional, intimate record that sheds light on serious and important issues of our time. So Sensitive's pop circuitry helps make their message accessible; meanwhile, their lyrics tell the dark and difficult stories that can so often be too difficult to share out loud.
This is by no means a light record, but Bedroom Drama does beam with a radiance all its own. Stream So Sensitive's debut album exclusively on Atwood Magazine, and get it Friday, August 2 on all platforms!
— —
Stream: "Bedroom Drama' – So Sensitive
— — — —
Connect to So Sensitive on Facebook
? © Ashlyn Hubenak
:: Stream So Sensitive ::