Iris Lune's sonic wonder takes on a soul-shaking core in "Headlights," an emotionally stirring, abrasive, and haunting journey through anxiety.
Stream: "Headlights" – Iris Lune
---
It's been nearly four years since Atwood Magazine last had the pleasure of featuring Brooklyn's entrancing Iris Lune, whose seductive debut "Bring Me the Moon" lit up 2015's quiet skies. While so much has changed in the years since then, much still remains the same: Frontwoman Ella Joy Meir (who performs under the Iris Lune moniker) continues to indulge in violent delights alongside bandmates Asher Kurtz, Aaron Liao, and Angelo Spampinato; and Iris Lune continue to blend raw, nuanced electronic elements with the more subtle folk and Middle Eastern influences of Meir's Israeli and immigrant roots.
Iris Lune create a sonic cultural fusion that makes their debut single remarkably unique for this time period.
The past four years have also seen Iris Lune bloom as an artistry, establishing themselves online and in their local hub while cultivating an increasingly alluring mystique. The band have garnered over one million streams across platforms to date, performing to larger and larger audiences in person while reaching ears around the world through 2015's self-titled debut EP and 2017's follow-up, Lost in Chatter.
2019's intoxicating releases "Chirp Chirp" and "Math" find an invigorated Iris Lune preparing to unveil their latest extended player, Stories in Glass. Dark and dynamic, these songs seek to establish balance in an engulfing chaos, inviting listeners to bask or dwell (depending on their preference) in a transcendent ethereal space. Iris Lune's sonic wonder takes on a soul-shaking core in "Headlights," an emotionally stirring, abrasive, and haunting journey through anxiety.
Broken thoughts on the tip of my tongue
urging to slip out, to spill
I can't stop this feeling
haunting me
It seems to follow wherever I go
Atwood Magazine is proud to be premiering "Headlights," the third track and opener off Iris Lune's forthcoming Stories in Glass EP (independently out June 7th, 2019). A fitting beginning to a record brimming with musical and emotional volatility, "Headlights" arrests the senses with its cutting production and finessed blend between the softly soothing, and the jarringly explosive.
Emotionally, "Headlights" is an implosion of the individual – a powerful reckoning with the demons within and the storm clouds above.
Aching cravings on the side of the road
Frozen in time
I don't know where this is going
but I don't like it
no, I don't like it
"I've always had anxiety issues, but they were manageable most of the time," Iris Lune tells Atwood Magazine. "It was noise in the back of my head and I've always just thought of it as a part of me, as part of my patterns of dealing with the world. But sometimes it would erupt and turn into an anxiety attack. I would freeze, like a deer in the headlights, breathing fast, but not being able to move. This song is about that feeling that this noise is following you, wherever you go, and sometimes it overtakes you and aren't able to control it."
That ominous noise manifests itself in Iris Lune's coarse, invigorating instrumentation. Untethered synthesizers lay their full overwhelming weight on top of the artist's cavernous cries, juxtaposing her humanity with a cold and unfeeling brute force. Vocals which at first felt up-close and intimate grow ever-farther away as an array of sound clouds Iris Lune's breathtaking third and final verse:
My dear,
I'm in the headlights hardly moving
Breathing fast under the moonlight
just need to get away (and run)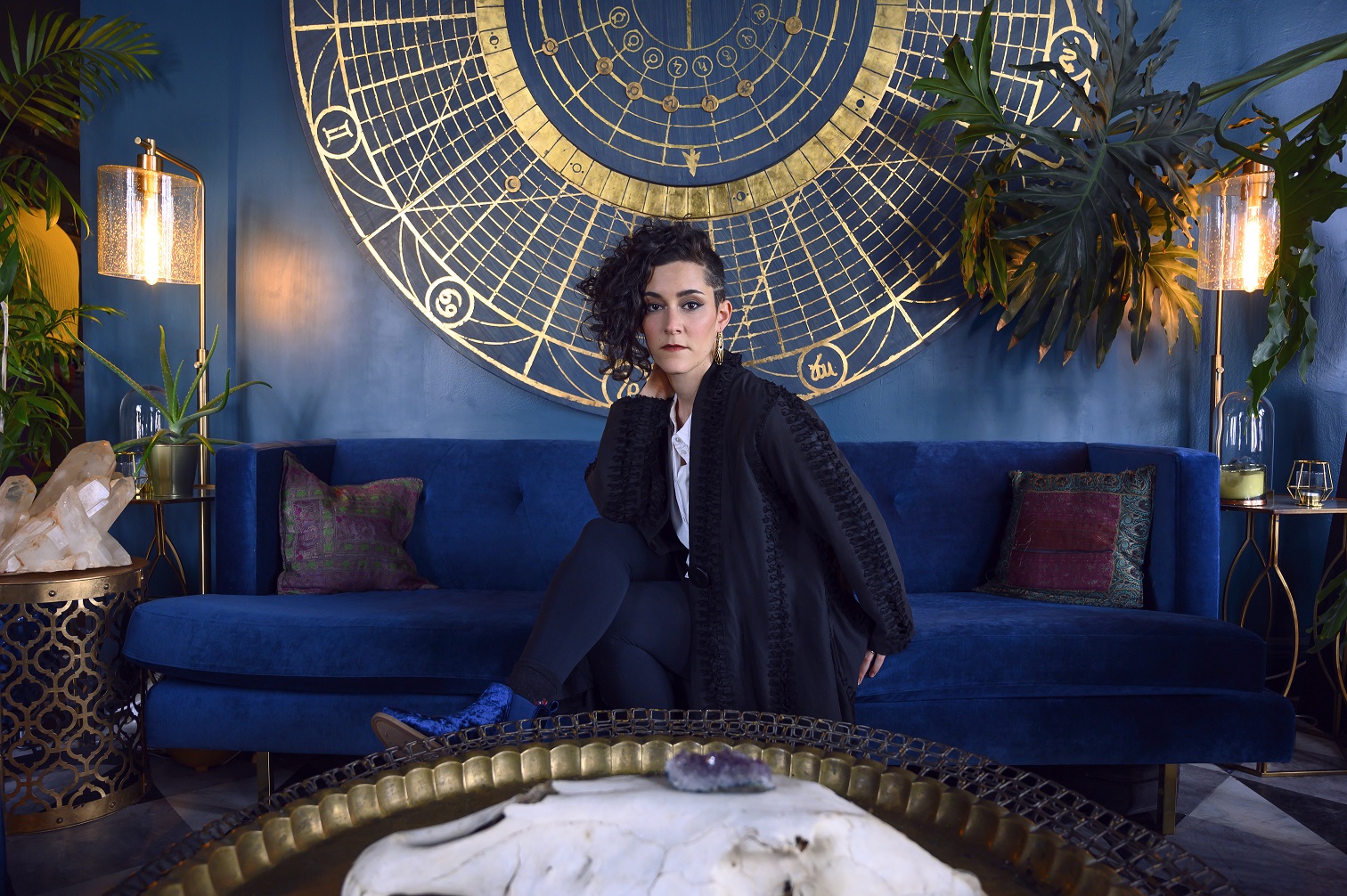 Produced by Asher Kurtz (who also plays guitar in the band), "Headlights" is provocative and bold – a resounding confirmation of the promise and potential Iris Lune have embued in all their work to date. Ella Joy Meir describes the Stories in Glass EP as "Trying to make sense of such a fragmented world without losing my sense of self," but if there's one thing to be said of this journey through chaos, it's that Iris Lune feel more confident and sure of their music than ever before.
Stream "Headlights" exclusively on Atwood Magazine, and be sure to dive into Stories in Glass upon its June 7th release. Iris Lune will be playing a release show at Brooklyn's C'mon Everybody on June 22nd. Pre-save "Headlights" on your preferred music outlet before the track goes live this Friday!
Stream: "Headlights" – Iris Lune
— — — —
? © Nir Arieli
art © Scott Siskind

:: Stream Iris Lune ::