Dallas singer/songwriter Bomethius trailblazes through uncharted jazz on 'inadiquit,' his experimental follow-up to 'Sweet Nothings'. It's a more challenging journey than its predecessor, but well worth it for the intrepid listener.
•• •• •• ••
Following a masterpiece is never an easy task. Early last year, a young, little-known folk artist from Texas did the unthinkable when he launched his third EP into the world. Bomethius' Sweet Nothings is a staggering work of musical genius – a folk album so breathtaking in its minimalist artistry as in how unexpected it was. We at Atwood Magazine don't say that lightly.
Creating another work to rival it was always going to be a struggle, but Jonathan Hodges – the man behind the Bomethius mask – had a couple options before him. He could continue down the same rabbit hole, or he could peel off from the expected path and bushwhack through something new entirely.
Listen: inadiquit – Bomethius
---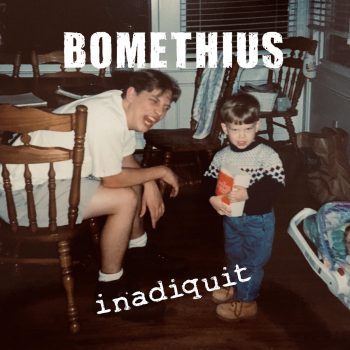 Like Radiohead's Kid A following OK Computer, inadiquit isn't what you expect. Gone are the quiet meditations on life's slow transformations and ultimate rot. Gone is the thematic through line that loops around until you can't tell whether you're on your first listen or your tenth. But like Hodges himself, we've been given a chance to explore, to delve into musical territory we may have thought impossible. inadiquit maybe isn't what we wanted, but it's perhaps what we needed. And it's far more rewarding than its title suggests.
inadiquit is the sound of an artist in metamorphosis. Busting out of the gates with "The Old Ones," Bomethius lets listeners know immediately that things are different this time around. His subdued, acoustic soul collides headfirst with raw electric guitar. It feels almost unnatural until you realize that it's the sound of him mounting the wave before expertly surfing to the shoreline.
"The Machine" introduces us to Bomethius as a jazz musician tearing through a raucous blend of saxophone and roaring guitar, spilling with more angst than we've yet seen him. He then lays out an emotional tour de force over ten minutes of piano improvisation, perhaps inadiquit's most stirring moment. Though it all lacks the transcendent sublimity of Sweet Nothings, its sheer ambition still affirms Bomethius as one of the foremost Gen Z pioneers of folk music.
inadiquit is Hodges' first collaborative release. He enlisted the help of his uncle, longtime writer and amateur composer Dave Hodges, to create a more evolved sound. The pair team up on a sprawling array of styles that serve to highlight Bomethius' new arsenal. There's the sojourning jazz of "The Machine" tucked into the '20's speakeasy lilt of "Eye Surgery II" and the bleeding heart blues of title(ish) track "Inadequate." It's a testament to Hodges' craft that all these experiments work so well.
It's pretty far from cozy
But hey, at least it's home
As a showcase for what's to come in the Bomethius discography, inadiquit is a promising collection of music. It falls nowhere near the dreaded sophomore slump but is the most challenging album he's produced so far. It's like jumping from MGMT's multi-platform classic Oracular Spectacular into Congratulations. There may be some head-scratching at first, but eventually its genius sets in.
inadiquit is at turns tender and explosive, experimental and masterful. It spins a story of a troubled upbringing and the inner turmoil that erupts from misguided devotion to toxic religion. The angst is palpable, and the journey of self-exploration takes him to the far corners of the audio map.
On the other side, we meet Bomethius stronger than he was before. Over eight tracks and forty-four minutes, he stretches his wings, gaining new compositional prowess, emotional fortitude, and giant leaps in production quality. All that's left is to see where he soars to next.
— —
— — — —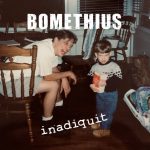 ? © Bomethius
inadiquit
an album by Bomethius
---