A clear confrontation of American identity, Janelle Monáe's "Crazy, Classic, Life" is at once a celebration of humanity, and a vigil for people lost to perceived inhumanity.
— —
Same World, Different Eyes
The music video for Janelle Monáe's "Crazy, Classic, Life" premiered recently, the next chapter in her continuing concept album epic. And the saga just keeps improving. Many have focused on Dirty Computer's personal valence – Monáe's art as someone with intersecting identities as black woman, pansexual – and these are valid angles. But "Crazy, Classic, Life" is a clear confrontation of American identity and the ways it still has yet to metabolise its own ugliness and recognize the humanity of black, or otherwise minority (non-white heterosexual) Americans. "Crazy, Classic, Life" is at once a celebration of humanity, and a vigil for people lost to inhumanity.
Monáe's The Archandroid set off a series of ambitious albums for the polymath celebrity, all set in a dystopian sci-fi universe with hovercars, androids, and most importantly, music. It's the kind of project premise you'd normally hear from an artist like Rush, or any of their prog-rock contemporaries. Then you'd roll your eyes a bit because the tracklist shows a hard rock version of Schubert's Trio in Eb Major and makes heavy handed references to continental philosophy.
Over the past 8 years, Monáe's studio albums have given new life to the idea of a "concept album." Instead of the awkward pretentiousness of concept albums past, Dirty Computer and its predecessors are powerful, whole cloth statements from an auteur with a singular vision and musical ethos. Monáe is upfront – at times confrontationally so – about her themes and thoughts, while still having enough subtlety and "oh, I just got that" asides that make the album. These elements together make "Crazy, Classic, Life" feel like an organic product of Monáe's musical and directorial aptitude.
The album is a continuation of her universe, though it changes focus from her alter-ego, Cindi Mayweather aka The Archandroid. Monáe takes full advantage of the changeup. Sonically, Dirty Computer is more accessible than her previous albums, comes complete with an "emotion picture", and introduces stunning visual direction in her music videos.
"Crazy, Classic, Life"
The video for "Crazy, Classic, Life" specifically focuses on a group of humans, among them Monáe and her real life paramour Tessa Thompson. We know from Monáe's previous albums that her universe is deeply stratified along class divisions, with the wealthy experiencing untold luxury while an underclass of workers struggles to make it by.
The video reiterates that fact immediately as a cop-drone interrupts our protagonists' joy ride to check identification. In case it wasn't obvious enough that the drone is an agent of a tyrannical oligarchy, it makes some not-so-subtle Darth Vader breathing noises, seemingly ripped straight out of the original Star Wars film. Monáe and Tessa Thompson ooze confidence, flipping their IDs up like middle fingers.
Some tense moments later, the drone flies away. Monáe and Thomson open the trunk of their car, releasing a group of immaculately costumed black women, presumably in-universe fugitives.
Then the song starts in earnest with a huge, sermon like spoken word section, "You told us we hold these truths to be self-evident: that all men and women are created equal…" All of this is delivered over the faces of unconventional people. Be it skin color, tattoos, or otherwise, the combined visual-aural cues make it clear they're unwanted in society. In fact, the scene is a flash forward to the end of the video, which makes these themes even more explicit.
The majority of the video for "Crazy, Classic, Life" focuses on human moments of joy, of these rejected humans enjoying themselves in an environment where, against all odds, they are free. Weird cliques of David Bowie doubles, witch-like people in cloaks, and Monáe's own singular posse populate the party.
---
Verses are lush, with stellar production and a tight beat, while the pre-chorus grows like bamboo to an absolutely elated chorus. Monáe's lyricism shines here too: she shifts effortlessly from sung vocals to rap, from joyous freedom to incisive criticism. A beautiful example of the latter:
We don't need another ruler
All of my friends are kings
I'm not America's nightmare
I'm the American dream
Just let me live my life
A wildly superficial take would see this as a blunt criticism of Trump – and it is – but broadly Monáe desires more than freedom from a single avatar of reaction, she wants to be her own king, and she wants that freedom for everyone.
Well, actually she already considers herself free, as should be obvious from someone as confrontationally fearless as Janelle. In an interview with Rolling Stone, she said so explicitly, "Being a queer black woman in America, someone who has been in relationships with both men and women – I consider myself to be a free-ass motherfucker."
The video ends on a dark note though. Police squads storm the party, seemingly showing that even if free spaces exist for those rejected by society, these spaces themselves don't exist in a vacuum and are precious. One of the other prominent characters from the video sacrifices himself to de-arrest Monáe, only to end up on his knees (as in Monáe's lyrics: "I don't wanna live on my knees") with others lined up next to him as if at the mercy of a firing squad.
The video is largely cut from the emotion picture for Dirty Computer, but it stands up in its own right. Check it out below!
Stream: "Crazy, Classic, Life" – Janelle Monáe
— —
— — — —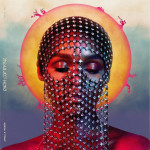 ? © Janelle Monáe
:: Stream Janelle Monáe ::