To celebrate "the most wonderful time of the year," Atwood Magazine's Mistletones column features fresh holiday/wintertime tracks and exciting covers of beloved classics. December has a knack for bringing out some of the most poignant, tender, and celebratory music, and we want to highlight that excitement by showcasing new and alternative holiday greats! Spice up your holiday season with songs you can listen to now and cherish in the years to come.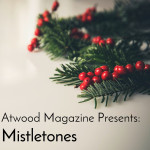 click on the artist's name to jump directly to their section
"It's Christmas Tonight"
Gabriella Rose's "It's Christmas Tonight" is a cozy encapsulation of love and togetherness – a tender ballad built on feeling at home with the ones you're meant to be with at this time of year. Light, lilting guitars are joined by harps and bells as Gabriella Rose takes listeners through the joys of the holiday season – highlighting how it's the people we're with, more than anything else, that make it so magical. Cheerful and inviting, "It's Christmas Tonight" has a sweet '60s pop swing; it feels young and old, fresh and well-worn all at once.
Unlike most artists, who establish themselves before putting out seasonal songs, "It's Christmas Tonight" and its B-side, "Silver Bells," is part of Gabriella Rose's entrance. The 16-year-old singer/songwriter, currently based in Idaho, introduced herself in early November with these songs and her mainstream debut "Lost in Translation," off a forthcoming EP of the same name. As surprising it may be to hear such wisdom coming from a young teenager, what's even more exciting about Rose is her raw talent: The artist knows how to evoke strong emotions in song, and she taps into fuzzy, warm, and pure nature of Christmas that makes everyone long for this season. We'll all be singing her dazzling chorus before this night is through:
baby, come home to me,
everybody's with the one they love
baby, just hold me,
there's nobody else who
could love you this much
stay with me for the night,
cuz baby, it's christmas tonight…
INTERVIEW
Atwood Magazine: How does "It's Christmas Tonight"capture the holiday spirit or season, for you?
Gabriella Rose: To me, the holidays are all about spending time with those you love, whether they're family or friends. I imagine drinking hot cocoa, singing Christmas carols, eating peppermint stuff, and just having a good time. In It's Christmas Tonight, I tried to capture that feeling, the nostalgia and sentimentality.
What is your relationship with the holidays and the holiday season?
Rose: Honestly, I go through phases. Last year I was basically Buddy the Elf, and shoved Christmas spirit down everyone's throats. Seriously, I dressed up as different versions of "santa woman" at school and passed out candy canes. Before that I was the Grinch and professed my hatred for the holidays and everything to do with Christmas. This year, I've mellowed out quite a bit, and have let go of my overly dramatized expectations of Christmas.
stay tuned for our full Mistletones interviews, coming soon!
"Oh Holy Night"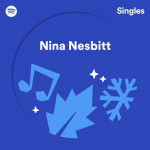 Nina Nesbitt has had an incredibly exciting year, and with her debut album The Sun Will Come Up, The Seasons Will Change slated to release February 1st, it's looking like 2019 will be just as intense. For the time being, she's chosen to cap off 2018 with a stunning rendition of a familiar holiday classic: Nesbitt's "Oh Holy Night" Spotify Singles cover resonates with a deep intimacy. Accompanied primarily by a piano and acoustic guitar, Nesbitt owns the stage with her tender, powerful vocals. She flexes her range with breathtaking grace, weaving through this most popular of Christmas carols with sweeping majesty. It's a beautiful shock to the senses when a backing gospel choir joins in this reverie, but their harmonies become a vessel for emphasis that further elevates Nesbitt's moving performance. There are no bells and whistles here; just heartfelt sincerity and devotion.
INTERVIEW
Atwood Magazine: What inspired you to record your own version of "Oh Holy Night"?
Nina Nesbitt: I was already going to record a singles session at metropolis studios for Spotify back in the summer and they asked me if I wanted to record a Christmas cover for their holidays collection so I said yes! I'd never sung the song before and I had to pick one that hadn't been done too recently so it felt like a good choice. I also really wanted to sing with a choir and it felt like the perfect song to do that on.
Nina, you've had an incredibly exciting year and we've been honored to come along for the ride. Now that December has come, what do you feel and think about when you look back on your 2018 year in music? Did you set out for anything specific? Did you meet your goals?
Nesbitt: It's been SUCH an incredible year. It's the first time I've ever toured America and it's been so amazing to see it all. I feel like I've seen a lot and learnt a lot this year. This year kinda started in February and ended up being one good thing happening after another so I feel really grateful for the ride we've had. It's been so nice to see a positive reaction to the new music.
Your latest single "Colder" and the little mini EP/playlist on Spotify) is, as I understand it, a prelude of what's to come from your forthcoming album. Do these songs have a special connection to one another as well, for you?
Nesbitt: Basically I put out "Colder" and I got the option of dragging the previously released songs under it so I thought it would be a good teaser. So it's not an EP but I guess it's like a pre-album playlist. The album is a proper journey from start to finish and people will be able to hear that if they listen from track 1 onwards. It's like an open diary of someone in their early 20s and touches on a few different topics but it's mostly about personal growth.
What is your relationship with the holidays and the holiday season?
Nesbitt: The holiday season for me is all about doing absolutely nothing, binge eating and being with loved ones. It's really the only time when the music industry shuts down and I savour every day off I get ha! It's a good time to reflect on the year and set goals for the next.
"Stopped Believing In Santa"
One of the most original and stylistically complex songs I've heard so far this season, MNEK's "Stopped Believing In Santa" is a holiday heartbreak masterpiece. The track blends classic Christmas elements like sleigh bells, layered choir vocals and fa la la's with MNEK's own powerhouse style. The result is a grooving R&B track that's as smooth and elegant as it is melancholy and wintery. The idea of a lover breaking things off over the phone at the peak of such a romantic, family focused season is enough to give anyone the holiday blues. MNEK's gorgeous vocals hits that emotional nail right on the head, but the track still manages to hold a delicate balance between self pity, confusion and anger. Well-produced with lyrics that expertly avoid too many classic holiday tropes and themes, "Stopped Believing In Santa" is a triumph in original holiday content. So much so that it could easily transfer outside of my "strictly holiday" rotation and into one of my everyday winter playlists.
"O Holy Night"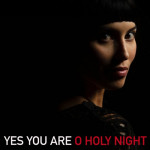 There's a captivating kind of aura that surrounds the festive season in the lead up to Christmas and New Year's. It's a general sense of endless possibilities, of optimism, togetherness, and wonderland scenery that shines dreamily. The transforming of hymns into emphatic personality-driven songs (Witney Houston's "The First Noel" and Celine Dion's "O Holy Night", for example) are enjoyed by the religious and non-religious, creating a seemingly shared experience that isn't really present any other time of the year.
The version of "O Holy Night" by Yes You Are (released December 12) is an example of the softness that comes with the season. The pitter-pattering of harp is like standing in a village under twinkling stars, the acoustic guitar and violin being the gentle company of others. The backing vocals of Calvin Arsenia, who also supplies the harp, is accessibly operatic and coordinates harmoniously Kianna Alarid's angelic ones but the overall sense of the song is cosiness and getting lost in the moment. As Alarid states, "When making our version of this song, we wanted to create a hypnotic lullaby that would put people at ease, regardless of their beliefs. We've always loved this song and the feeling of reverence and peace the melody brings."
Yes You Are's releases thus far have been energised with pop beats and indie groove while Calvin Arsenia too has a restlessness, his playing of the harp combined with a myriad of musical influences. It makes "O Holy Night" feel even more hypnotic, the charm-filled slowness being the time out period Christmas time tries to encourage.
INTERVIEW
Atwood Magazine: How did you go about making this song your own?
Yes You Are: We wanted to make a dreamy version that was almost like a lullaby. We are so happy that it came out just how we wanted, I find it very soothing.
stay tuned for our full Mistletones interviews, coming soon!
"Cold in December"
Josie Dunne's haunting holiday song sends shivers down the spine: "Cold in December" is a poignant, moving piano ballad full of heartwrenching beauty. The stirring track brings Dunne's vocal prowess and songwriting talent into the spotlight as she laments not being able to spend the holidays with a loved one. It's as if she's on the outside, looking through a window into a life she doesn't get to have this time around – a life full of warmth, cheer, and companionship. Dunne's melodies are crisp, and the interplay between her voice and the piano's movement is nothing short of stunning.
It may be bittersweet and melancholic, but once you fully immerse yourself in "Cold in December," a striking sweetness also shines through: An appreciation for the holidays and everything the season symbolizes. In order for something to make us feel so cold, it must truly be very special – so even though Dunne may be dwelling in sorrow, the magic of the end of the year, and everything that comes with it, radiates throughout "Cold in December" like a beacon of light and love.
Perhaps I'm dramaticizing; either way, this is one song I look forward to cherishing every year.
INTERVIEW
Atwood Magazine: What inspired you to record "Cold In December"?
Josie Dunne: I was writing with this amazing producer and writer, Jeremy Larson, and as soon as I walked into his studio, he started playing that opening piano riff. I instantly fell in love with that. It sounded so nostalgic and wintry, so we wrote a holiday song. It's about something I've been through. I went to a holiday party and realized this guy I liked didn't totally feel the same, which was a real bummer. I think being heartbroken is amplified when it's cold outside, so that's kind of what "Cold In December" is about.
How does this song capture the holiday spirit or season, for you?
Dunne: To me, "Cold In December" captures the holiday feeling from that piano sound. Like I said, when I first heard it, I could immediately picture snow falling and a fireplace. Ha! It made me want to bake some cookies.
stay tuned for our full Mistletones interviews, coming soon!
"Happy Xmas (War is Over)"
One of the wonderfully magical aspects of Christmas music is how year after year, cover after cover, the songs continue reinvent themselves. They mean different things to different generations, but still hold relevant to us all. The words and notes of these songs that were put together years ago by legends, such as John Lennon, can be reimagined and remastered by legends in the making, not unlike Miley Cyrus. In the most recent reimagination of a Christmas classic, Miley Cyrus covers "Happy Xmas (War Is Over)." Cyrus's powerhouse vocals bring a sense of urgency to the classic tune. Subtle beats drive with guitar licks, supported by Mark Ronson and Sean Ono Lennon (a full-circle, heartwarming addition) reinforce the sense of importance in the lyrics. But truly, the vocals of Cyrus, backed and harmonized by Ono Lennon are what make this particular Christmas cover, amongst a sea of Christmas covers, a standout. John and Yoko wrote this in the early '70s during their time promoting peace. Some could argue we need this message reinforced today, on the edge of 2018, more than ever. Cyrus continues to be one of the strongest and most unique vocals of her generation. She can cut through a song in a way that is singularly unique to only her – that's why when she sings, whether it be to Party in The USA or to keep peace in the world – we listen.
"Pretty Paper"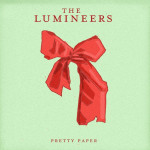 While the Lumineers have already sufficiently serenaded their way to the mainstream with bonfire-friendly acoustic sing-alongs, they just added even more to their easeful discography with their fresh Christmas single, "Pretty Paper." The Denver, Colorado duo tip their hats to country rock legend Willie Nelson with this stripped-down cover, originally released nearly forty years prior. On its surface, the melancholy tune depicts the bustle of holiday shopping among "pretty paper," but a closer listen reveals a lonely subject: an anonymous, disabled street vendor selling ribbons and pencils. For those who can bear the heartbreaking backstory, the Lumineers' folksy rendition of "Pretty Paper" is a cozy, laid-back addition to your holiday soundtrack.
Tying in with the track's themes, the Lumineers will be donating all proceeds from the first year to the Brown Paper Bag Program, an organization aimed at feeding and clothing the homeless.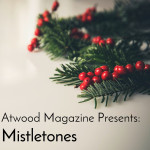 ? © Annie Spratt [CC]
art © Markus Spiske [CC]
---