The lonely stoner Kid Cudi reminds us why he's one of the most influential artists of our generation on "Leader of the Delinquents." It's pure boom-bap extravaganza circa 2010.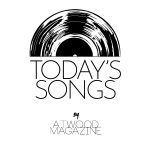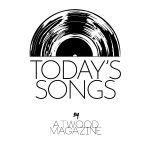 "Leader of the Delinquents" – Kid Cudi
---
When hip-hop fans converse about who's consistently been the most significant artist of the past 12 years, Scott Mescudi should the first that comes to mind. The cogitative subversiveness found in his music has inspired everyone from Travis Scott to Lil Yachty; from Jaden Smith to Kevin Abstract; from Kyle to Ski Mask the Slump God.
Even musicians who haven't explicitly stated Cudi's prestige have unequivocally payed some sort of homage to the Cleveland great. Scott was repping skinny jeans long before Lil Uzi. Juice WRLD's emo-inspired destruction can be linked back to Cudi's companionless depression. Kanye would've arguably lost musical passion if not for Cudder's contributions over the past ten years (see 808s and Heartbreak and MBDTF). From my eyes, Kid Cudi quietly ushered in one of the more fruitful decades in rap's history. One filled with ostentatious personalities, genre-bending Soundcloud experimentation, post-regional acceptance, and hundreds of males who finally wanted to display their true insecurities on paper. In a nutshell, he provided rap with a multi-dimensional vulnerability that hadn't fully formed until the mid to late 2010s.
His ongoing battle with chronic depression became less of a masculine stigma as other emotionally susceptible artists reached the forefront of teenagers' playlists. He's an artist that many tend to visit while feeling defenseless or quietly disordered. He's been the helping hand, the inflammatory rage master; The Chosen One. Fans are seen crying at his concert, a testament to how emotionally moving his product can be. Even A Speeding' Bullet 2 Heaven-which is widely considered to be his biggest hiccup to date-ushered in a whole new era of rap/rock crossovers, from iann dior to Trippie Redd to XXXTentacion. He progressed the concept of "alternative rap" to soaring new heights.
It's only fitting that his new song "Leader of the Delinquents" is another venture into the tangled web of Cudi's bewildered thoughts.
The song has apparently been on the back burner since 2012, an unsurprising discovery considering its vaporous backdrop reminiscent of the early 2010 backpack raps. It's pure boom-bap shit Cudder style. The signature hums are present, as are the intermittent melodies that float amidst the space dust. This is more of the take-a-blunt-to-the-face-Mr.-Solo-Dolo Kid Cudi more than anything else. He takes it back to the basics and re-establishes himself as the commander of lost souls. Even he can't believe that his sobering thoughts have taken him this far into the stratosphere.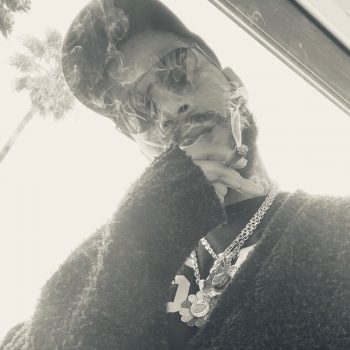 How did I do it, why the kids love me so?
Cause they connect with Cudder, real simple
Now let me set the groove with some cello
From the outside lookin' in, shit is mellow
Everything he accomplishes on this song is drenched in swagger, from the way he pivots between subtle braggadocio and remedial despair, to the echoing chorus that figuratively illustrates Cudi's offspring marching in a line behind him, leading some monstrous charge against ridiculous rap traditionalists who can't stand the "red-haired freaks." "Leader of the Delinquents" encompasses everything that makes Cudder so lovable; the head-spinning bars, the dickie-toting raps, the raw agitation that so many can relate too. Not even growing maturity is a safe haven anymore.
But sometimes I wanted
to shoot my fucking face off
I'm talking game over, defeated the boss
Hope with age, I can cope with my rage
I'm so damn passionate, there's no safe plane
Cudi loves to take music into unheralded directions even if some of it doesn't work. His projects following the Man On the Moon series are criminally underrated; particularly Indicud and Passion Pain & Demon Slayin; two albums that showcased the grandiosity of his untapped vision. I'm glad Cudi and his loyal fanbase are at least attuned to his obvious impact. Many don't appreciate his hunger for development, both from an artistic standpoint and a personal one. "Leader of the Delinquents" provides a minor snapshot of what a lot of casual listeners have been missing for years; the growing pains, the left-field soundscapes, many overlooked anthems.
It's nice to hear Cudi's voice again, especially during this cataclysmic time.
He briefly addresses the apocalyptic nature of our world but only for subtle questioning – "To chill or dwell in, I'm always in the zone, why did God let Hell in? To test a n***a?" He quickly follows that up with a couplet about putting a nina in his skinny jeans, something that was apparently difficult to do in the 1980s. The second verse is more indebted to his King Wizard moniker, another small reference point that many won't notice. He reminisces while sounding as lively as ever.
No one knows exactly when that new album or Netflix show is coming, and it honestly doesn't matter. Cudi is back to bring as much console as possible before the world ends. He's leading a generation out of the fire, and bringing hope for the future.
— —
"Leader of the Delinquents" – Kid Cudi
— — — —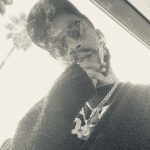 ? © Kid Cudi / Republic Records
:: Today's Song(s) ::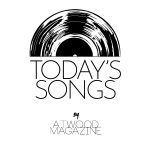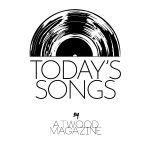 ---
:: Stream Kid Cudi ::