"Oh God There Is So Much Love In Me," the third single from Kelso (Camp Cope's Kelly-Dawn Hellmrich), is like an acoustic diary entry: honest and unafraid of judgement
— —
After the near-unanimous praise of last year's How to Socialise and Make Friends, Camp Cope bassist Kelly-Dawn Hellmrich has begun releasing singles of her own under the name Kelso, and the most recent "Oh God There Is So Much Love In Me" is a naked, sincere effort to let someone know exactly how you feel about them.  A lo-fi, plucky acoustic number, "Oh God…" is a charming piece that teeters on the cinematic nature of some of Hellmrich's main band, that's sure to strike a chord with many lovelorn listeners.
"Oh God There Is So Much Love In Me" – Kelso
---
Built around an Iron & Wine-like guitar that sounds like its recorded straight to a laptop or the voice notes app, Hellmrich croons softly to a potential romantic partner.  The bare nature and Hellmrich's faint tone add to the diary-like nature of the song.  Her delivery is reminiscent of playing guitar late at night in a dorm room, where you don't want to wake up anyone on your floor, while you tell a friend your deepest feelings.  "Oh God…" is great, because Hellmrich doesn't try to reinvent the wheel.  She finds a quick way to let out her feelings, and she pours them out over a simple instrumental with no frills.
Hellmrich just lets her emotions out on this track like she's puking them onto the listener like cheap vodka shots at a shitty party.  Don't read that as negative, as Hellmrich starts the chorus with "I wrote you this song drunk on the floor of a toilet stall."  It's a line that walks a tightrope between being both really funny and cathartically real.  One of the most endearing qualities of the song is how Hellmrich sees the subject of the song for so much more than what they portray themselves as. She sings:
I'm scared
Cause you're fragile
even though you act like you're not
You're a lot of things you act like you're not
It's a very matter-of-fact way of stating how so many of us feel once a relationship has bloomed, and we're trying to figure out where the relationship is going.  When she is trying to sort out her feelings, she tells us:
I want you to want more of me
than to just see me naked
I don't want you
to have to force it or fake it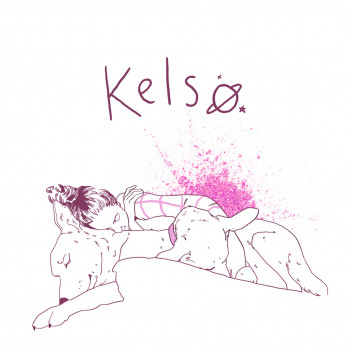 It's a strange crossroads to be at in a relationship when you're trying to figure out if the other person is just interested in the sexual aspects or pursuing the actual emotional work that goes into planning a future.  The line that ties together the late-night-confessional-to-a-close-friend aspect of this song the most though is the end of the chorus:
I'm not the type to believe in signs, no not at all
But "oh god there's so much love in me"
was written in black marker on the wall
And it made me feel different
As Hellmrich confesses all these feelings about this person, she also adds a disclaimer to the one thing that she's holding onto for hope.  This may seem sort of pessimistic, but it is a way we all think of various "signs from the universe."  When we tell our friends some intimate thoughts that we're not supposed to believe in, we say things like "I know this sounds crazy/This might sound stupid/I'm not the type to believe in signs," but that's what makes us human.
With her third single released as Kelso, Kelly-Dawn Hellmrich brings the raw and vast range of emotions that Camp Cope has been associated with, and in her most sparse single yet, she seems to really have found a message that will resonate with so many people.  "Oh God There's So Much Love In Me" is an overwhelming statement that so many of us have felt in many capacities, both happy and sad.  Where we may pivot towards screaming that out, Hellmrich just whispers it softly, just enough for us to listen.
— —
— — — —
? © XRN + Evie Hilliar / @yeevz_
:: Stream Kelso ::