Atwood Magazine chats with Luna Bay's Connor O' Mara about new single "You've Got It All," their upcoming UK tour, misconceptions surrounding life in a band & more!
Stream: "You've Got It All" – Luna Bay
[soundcloud url="https://api.soundcloud.com/tracks/663175955″ params="color=ff5500&auto_play=true&visual=true&hide_related=false&show_comments=true&show_user=true&show_reposts=false" width="100%" height="300″ iframe="true" /]




---
Since releasing their debut track 'Colours' back in 2016, Luna Bay have gone from strength-to-strength with every subsequent single release unearthing a new exciting side to talented quartet. Their sophomore single 'Smoke and Mirrors' saw them deliver on the early promise they'd shown with 'Colours', with the track's ominous tone compelling in an utterly engrossing manner.
'Hometown', their third single, proved that the band aren't afraid of unashamedly utilizing an overtly anthemic chorus. From the outset, the track compels with an engrossing adolescent energy, with scintillating guitars and lyricism that's drenched in welcoming nostalgia. Unquestionably it's a track that instantly causes memories of seemingly endlessly sunny summers to come flooding back to the listener in a beautifully refreshingly manner. Although released in 2017, to this day 'Hometown' undoubtedly remains a firm live favourite, with the four-piece greeted with a harmonious echo from the crowd whenever they energetically launch into the track.
Their dynamically spirited live show, filled to the brim with effervescent energy, is arguably one of the driving factors behind their rapid upward trajectory. Having cut their teeth in London venues like The Finsbury and The Social, the band's first official headline show at the 400-capacity Camden Assembly in December 2018 swiftly sold-out, prompting them to announce a date a London's iconic Omeara this March. Having sold out every single one of their London headline shows so far, Luna Bay have taken the bold step of booking in a date at the 800-capacity venue Scala on the 21st of November.
For most other bands without an EP out booking such a large venue would be ludicrous move, but given their devoted following and boundlessly energetic live show it more than makes sense. Scala will also mark the end of Luna Bay's first headline tour, which kicks off in Brighton on the 24th of November at Komedia. Alongside their earlier material fans can expect to hear the likes of the ingeniously engrossing 'Call The Night', the buoyant 'Little Amsterdam' and their stunning latest single 'You've Got It All'.
Atwood Magazine spoke with Luna Bay's Connor O' Mara about their new single 'You've Got It All', their upcoming UK tour, misconceptions surrounding life in a band & more!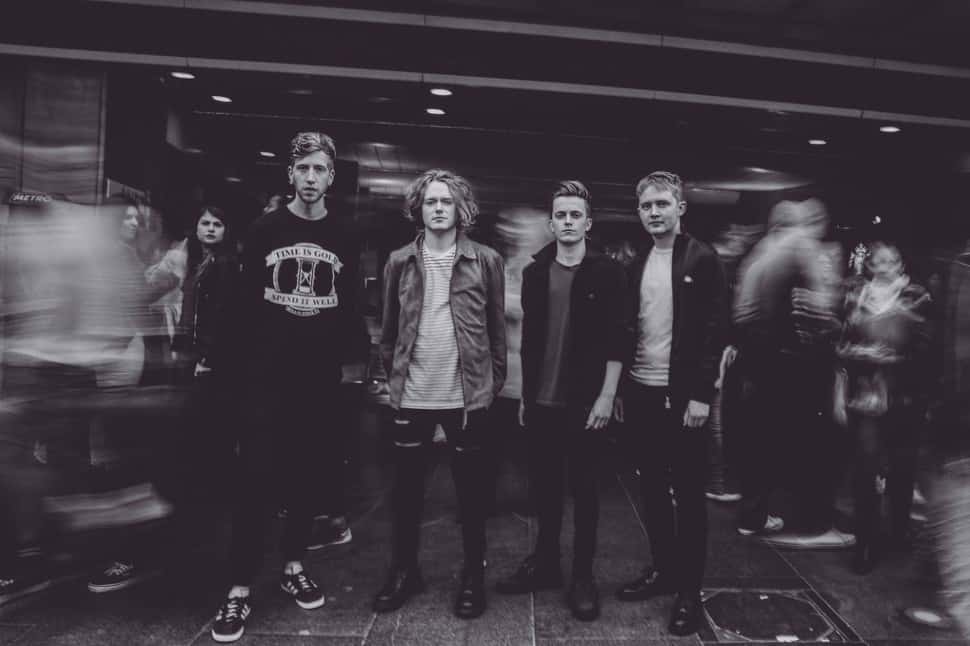 A CONVERSATION WITH LUNA BAY
Atwood Magazine: First of all, congrats on "You've Got It All"; it's such an amazing tune. How did it come about?
Luna Bay: 'You've Got It All' came out with this sort idea we were bubbling with. We'd written a load of songs and it was kind of one that never really felt like it was ready to go. We just put it aside, and were just like "let's work on it another time." Then our manager and everyone were like "Nah nah nah, we want to do 'You've Got It All'."
So I sat now with Rye and we just broke it all up and started again then it ended up just like blowing out really quick. Then last minute we decided to record it on top of the ones that we initially wanted to for the EP this year. So, yeah it was kind of a bit of a quick one, but it worked out.
You must be working on a bunch of songs at the same time. How do you know, as a band, which song you want to put out next?
Luna Bay: With that everyone has to be on the same page with the song otherwise it just doesn't work out. We've done it before where we've gone into the studio and recorded a song, like got it fully finished and everything, then after that we'd realised it's just not what we wanted. So we ended up never releasing one of these songs that we recorded about two years ago.
From then on, we made sure that everyone was on the same page, and really love it. If it's not there for one person you can kind of tell, and then it gets everyone else in the band a bit down because you want to please everyone and just try and make the best stuff you can really.
You've released seven songs so far but haven't released a body of work yet. What do you want that body of work to represent when it's out?
Luna Bay: We've kind of not said much about it but this year is our EP year; we're going to drop four songs. So we've released two already, 'Call the Night' and 'You've Got It All', and we're going to the EP like staggered singles. So we've got one more coming out soon, and it's called 'All In'. Then we've got one more song that we're going to try and drop before Scala as well to round up the four tracks for the EP.
'Colours' and 'Smoke & Mirrors' were released back in 2016. Since then, what do you think are the biggest changes you've noticed within the band? And did you ever envisage headlining a venue like Scala?
Luna Bay: No, not at all. Looking back to when we first released 'Colours', we kind of like just put it out and were like "Okay, this is a song we've written." We'd just got management at the time, so we were under a lot of guidance from him; we had no clue what we were doing. I remember when we released 'Colours', we only had 'Colours', we didn't have any other songs. Then we were like "Okay, now we've got to write some other songs." It was all very new to us so to look back to say we did a headline at The Social and now we're doing Scala and the UK tour, and everything is nuts.
"Hometown" was released two years and still remains one of your most popular songs. Why do you think that song has resonated with so many people? I remember seeing you at Turtle Tempo's showcase at the Social and you played 'Hometown' one during the set, and, then again, for your encore.
Luna Bay: Yeah, the reason we played that as an encore was because we didn't have any other songs (laughs). I think with 'Hometown' it's a weird one again. That was one of the songs when we were going to record that year, we were a bit like "should we do it? Is it ready?" and then we finished the demo and were like "no, we've definitely got to go and do this one."
It went through so many different versions, but then we finally got it together before we went and recorded it. It's still the most played one out of all of our tracks and it really sticks with people, especially live as well. Every gig we've played recently like from the Camden Assembly gig to Omeara, it seems like everyone knows it, like they sing all the words and it's amazing to see. It's nuts; it blows us away every time.
You said you were a bit unsure with 'Hometown' and 'You've Got It All' as well. Is that always the case? Like the ones that get put out or affect people the most are the ones that you're initially unsure on?
Luna Bay: Yeah, it's a weird one. There's been some songs we've got and recorded, and I've been like I love this one, I think this one is our best song so far. Then it might not have got as big as 'Hometown' or it's not got as much recognition. The songs that we're a bit unsure of at first usually up end up being the ones where people are like "uh no I really like that one." It's nice for us because the ones we like we're obviously really happy with and if we're ever unsure about a song, it's nice to see that that song is liked by other people.
You're supported a bunch of great artists like The Aces and The Academic, how does it feel to be supporting compared to headlining? Does it feel like a different sort of pressure?
Luna Bay: I feel like the pressure is the other way around when you're supporting. For us, The Aces tour was insane. It was such a good week; we went all over the country then over to Dublin. It's just a totally different sort of vibe when you get over there, because you're playing to people who have most likely never heard of you. You're kind of thinking "Oh god, how's it going to go down? These people are here to see the headline act, not us." There's more pressure just to play as well as we can and be as entertaining and as energetic as we possibly can be. Then just hopefully people like us.
When it's a headline show, there's a pressure to not make it even more special but it's nice to know people are coming to see you. But then you want to make it as special as possible for them, but it does a take a little it of pressure off knowing that there's people there to see you. I'm really looking forward to the headline tour as well. It's our first one so it should be good.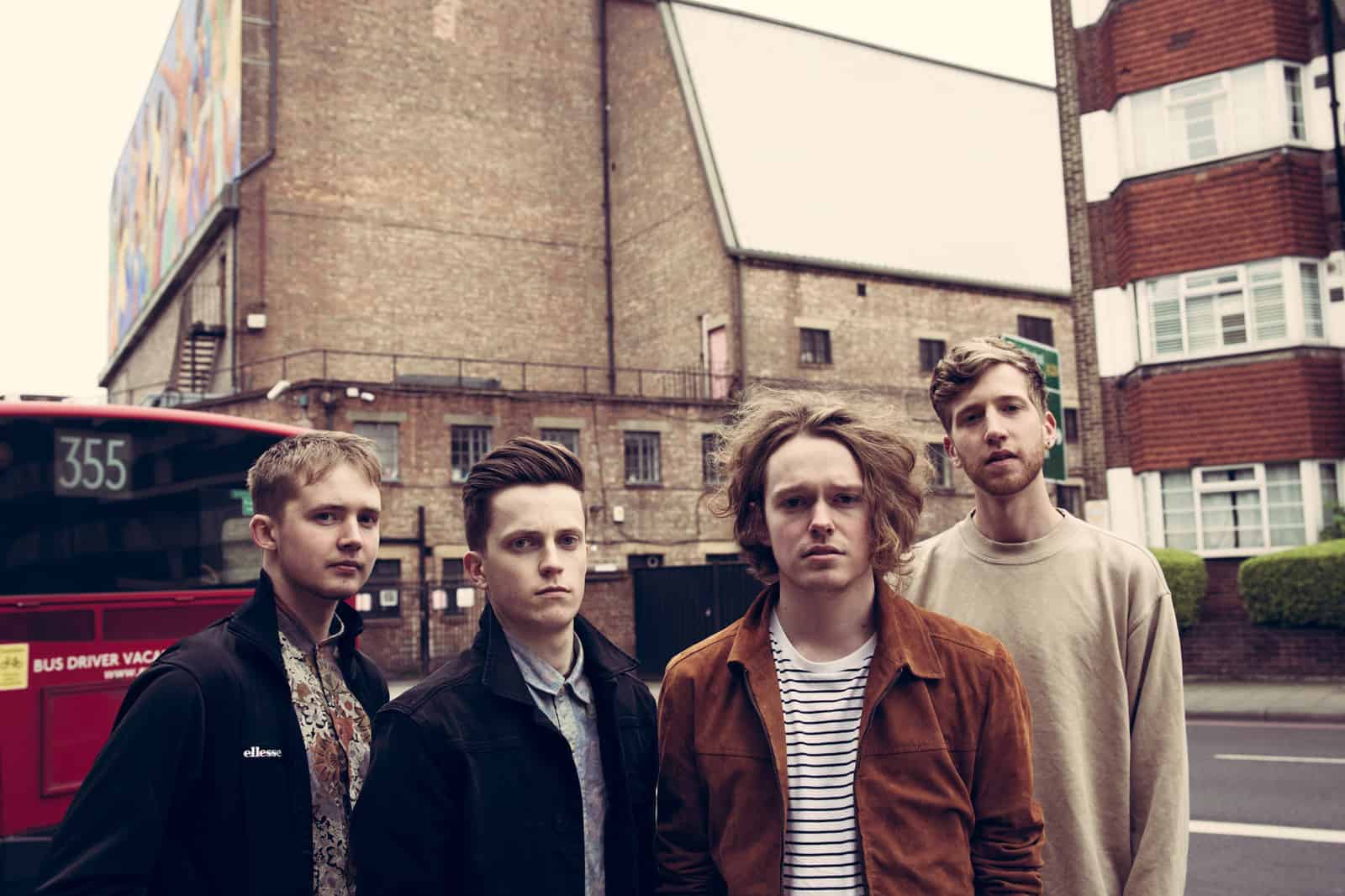 What's the biggest misconception people have about being in a band?
Luna Bay: With the band stuff especially when I talk about it to my closest friends and my family over the few years and stuff they see a lot of things that go on behind the scenes and the fact it's not just you go record songs and play a gig and that's it. There's so much more to try and make the band work. You've kind of got to put everything into it. Obviously, money but also anything you can to try and further the band and stuff.
It's the same with anything that someone's passionate about, you have your lows and you have your highs. But then it hopefully pays off in the end.
How does the writing process work as band? And as your songs encompass huge anthemic-like choruses, are you ever thinking about the track's intended audience?
Luna Bay: Definitely. When I'm writing it's also in the back of my mind. I want to know what it's going to sound like live. I'll usually write some songs sometimes and I'll be like this is cool but live is it going to pop off. I want to see everyone going nuts and having a good time. But then I know you kind of have to have that balance of songs that just like come across as like a really good song and it doesn't matter too much if it comes across crazy live.
I definitely think when it comes to like trying to write a song, when it's me and Rye or something, what's the most we can do to make it feel like it's going to go off live.
Omeara was your last headline show and Camden Assembly was before that. How were both those shows?
Luna Bay: When we announced the Camden Show we announced it like around this time last year and it felt like our first headline show where we were really trying to just show what we could absolutely give. It was like let's see what we can do and make it special. Then we announced Omeara before we did the Camden gig and I was like "Woah, we've not even played this one yet."
Camden Assembly was amazing but Omeara kind of topped it for me; it was the most fun gig we've ever played. Then to be like playing Scala next is another big jump but I feel like it's hopefully the way we're going. We're slowly getting bigger and bigger and hopefully more and more people want to come.
You're playing Scala in November, which has a capacity of 900, how does it feel to be playing a venue like that? Especially when you haven't released an EP yet, it's sort of insane.
Luna Bay: Yeah, when probably you say like that it's really scary (laughs). It's just one of those ones where it's been throughout all our minds. When we announced it we were like "woah, that's a big step" but then we were like let's do it, it'll be fun, it'll be wicked. We've got new music out this year so hopefully people will listen to it, like us and then want to come and see us live, even if they've seen us before.
It's still daunting though, like with the tour we're playing a lot of smaller shows around the UK, so we've got places like Jimmy's and Komedia, and they're kind of ones that are like 120 and 150 capacity venues. Even that is scary as well because we've played in these towns and cities and stuff, but this is our first time headlining. So, even though they're all much smaller than Scala we're still like "oh my god, do you people actually want to come and see us?"
Lyrically, sonically and career-wise, what bands would you say serve as inspirations for Luna Bay?
Luna Bay: All the bands we've played with are ones we really look up to. Like the Academic, we supported them first at Camden Assembly then we did Dingwalls with them and then they came back again we did Heaven with them. It was so nice to do them shows with them, and see them step it up every time. Then we were watching them go across America and they were supporting The Kooks around Europe and stuff. They were doing all these big tours and stuff, and it was just really inspirational to watch. What they've done is obviously what we want to do.
Same with The Aces, they'd just come off a three-month tour with 5 Seconds of Summer and they were just playing arenas every night. Hearing their story before they came over to the UK was insane, and again we were like "that's brilliant, we want to do that." Both The Aces and The Academic were so nice as well; they were all just the best people to hang out with.
Lastly, what excites you the most about the future of Luna Bay?
Luna Bay: Just getting new music out; that's what we're all so excited to do. We're especially excited about the next two songs we've got this year to round up the EP. Then, also we're looking forward to seeing the shows get bigger. Like you said, in the space of like a year we've gone from Camden Assembly to Scala. It's crazy! If everything goes well with this tour and everything goes to plan, I'm just excited to see what next year brings. If we're playing bigger shows, that would be amazing! Just getting more music out to people is the plan.
Stream: "You've Got It All" – Luna Bay
— — — —
? © 2019
:: Stream Luna Bay ::
---