Artist-to-watch Lauran Hibberd has emerged as an unparalleled talent over the past year, proving her worth over and over again with her 'Everything Is Dogs' EP and recent single "Sweat Patch."
Written in collaboration by staff writer Luke Pettican and editor-in-chief Mitch Mosk.
Stream: 'Everything Is Dogs' – Lauran Hibberd
---
Emerging in 2017 with her debut single "Hunny Is This What Adults Do?", Lauran Hibberd has swiftly signaled herself as an artist to watch. Her first release provided a glimpse of the Isle of Wight rocker's unparalleled ability to cunningly craft confessional lyricism that's oozing with individuality. A trio of singles followed from Hibberd the year after, including the sprightly and cleverly catchy "Call Shotgun."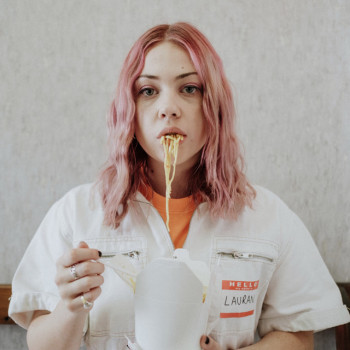 That track's infectious hook saw Hibberd command further acclaim leading to her hitting the road in a big way, and her hectic touring schedule shows no signs of slowing down soon. Having just completed a headline UK tour, she's hitting the road with The Regrettes across Europe and the UK this November. That extensive support tour rounds off a huge year for Hibberd which saw her support Hippo Campus across Europe, play Glastonbury, and of course, release her debut EP Everything Is Dogs.
You don't wanna go outside
Nothing ever hit you like my motorbike
I got you in the shins and
I broke your stride
It's cute that you cried
I don't wanna catch my breath
I only feel alive when you're around my neck
I whispered that I hated all your hoochie friends
They were nothing like me
And, if, I was you
I would probably love me too
You know it smells like sweet perfume
In the back of my van
And, if, she was cool
She would probably dig me too
You're gonna have to marry her, aren't you?
I guess they all lose
– "Hoochie," Lauran Hibberd
Since the EP's release, Hibberd has also dropped the blazingly brilliant "Sweat Patch." The track sees Hibberd chronicle observe habitual illegal drug use from the fringes in a grippingly witty fashion. Similarly to her other tracks, she grapples with common experiences and simultaneously distills them through a distinctive unique lens that stunningly sets her apart.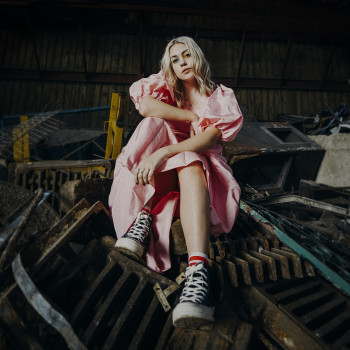 You think I'm your little pet
That you drag, drag, drag, drag down
I'm not over the idea,
I just hate having around
You don't ever see why there's
Not an upstairs underground
I will never be obsessed
that dress as how you got your
Sweat patch, sweat patch
Why don't we just talk about it?
Head flash, head flash
We will never talk about it
Yeah
– "Sweat Patch," Lauran Hibberd
Hibberd's relentless touring schedule won't come as a surprise to anyone that's had the pleasure of catching her live; once you've seen her once you'll undoubtedly be yearning to see her again. Her incredible lyricism comes to life in a live setting, while the effervescent energy that's embodied within her recorded tracks exponentially amplifies live utterly absorbing you into her commanding set. Throughout her set, she also continually intersperses comical anecdotes and observations that serve to create a warmly welcoming atmosphere.
Clocking in at around thirteen minutes, Everything Is Dogs is a relatively short listen, but in that time Lauran Hibberd seemingly effortlessly manages to cram in more personality, originality and diversity than most artists manage to embody within in their debut albums. With her electrifying live set and awe-inspiring talent, it's blazingly evident that the sky's the limit for Lauran Hibberd.
Dive into Atwood Magazine's track-by-track review of Everything Is Dogs below!
Stream: 'Everything Is Dogs' – Lauran Hibberd
Everything Is Dogs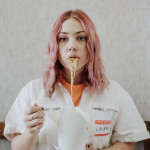 Sugardaddy 
"Sugardaddy" serves as an exuberant opener for Hibberd's debut EP. Behind the song's whimsical tongue-in-cheek nature, there's a deeper underlying message. Comically addressinging a yearning for a Sugardaddy actually serves to provide evidence of the ridiculousness of the situations that most young people are flung into. Ridiculous rents and ever-increasing costs of living has somewhat tainted the transition from adolescence to adult that was once an exhilarating experience.
To alleviate her lyrical message, Hibberd employs the use of absorbingly commanding guitar riffs and a silently commanding drum beat. The track's instrumentation coupled with her self-assured vocal delivery gives "Sugardaddy" an unconventional sincerity making the entirety of the track nothing short of intoxicating.
---
Speaking to Atwood Magazine this summer, Hibberd summarized herself thusly: "Be aware that I am dark humoured and never take myself to seriously. [My music is] full of character and energy that you'd be surprised can come from a lilac custom guitar and a girl in a pink fluffy skirt… I literally sing what I see and spruce up certain corners of my mind in the process."
On that basis alone, "Frankie's Girlfriend" is quintessential Lauran Hibberd. The tongue-in-cheek story of a friend's jealous partner arrives at our ears with a steel edge: Tight guitar chugs and explosive choruses help make it a dynamic, unrelenting release. "Hibberd takes something as normal and banal as jealousy and transforms it into a headbanging thrill," we wrote at the time of the single's release. A whimsical story shared through the lens of feverish indie rock, "Frankie's Girlfriend" marries fun and fury through and through.
---
An absolutely intoxicating affair, "Hoochie" earned Hibberd a well-deserved spot on Atwood Magazine's "Artists to Watch" radar earlier this year. A reclamation of self-worth in the wake of a relationship's end, the track oozes effortless cool with unapologetic confidence and raw overdrive. "Lauran Hibberd's savage charm is as energizing as it is seductive," we wrote back in April. That quality remains in "Hoochie" to this day: Hibberd comes to life with bold, enthusiastic passion as she cries out to her ex:
And if I was you,
I would probably love me too
You know it smells
like sweet perfume
in the back of my van
And if she was cool,
she would probably dig me too
You're gonna have to marry her in June
I guess that you'll lose
Guitars rage around Hibberd's unassuming vocals as, calm and collected, she calls out this (in)significant other. At the heart of it, what makes this song so exciting is how relentlessly (and unashamedly) loud it is. Hibberd shakes us awake from the start, and she never lets go; "Hoochie" drives hard and fast from start to finish, engaging us with its simultaneous intensity and charm.
---
Shark Week
The closer to Everything Is Dogs magnificently showcases a new previously unexplored side to Hibberd's sound. Her tongue-in-cheek nature is replaced by a warmly reflective outlook that arguably sees her deliver some of her most enthralling work to date. As she poignantly delivers the song's absorbing lyricism, her stunning voice floats above gentle guitar strums and softly rhythmic drum beats inducing an affectionate aura.
There's an undeniable immediacy to the song, but it's concurrently still drenched in a nostalgic longing. 'Shark Week' also sees Hibberd tap into her most intimate emotions to craft a song that draws from deeply personal emotions with still maintaining a personable accessibility. Hibberd's distinctive storytelling is what makes songs like "Frankie's Girlfriend" and "Sugardaddy' so endearing, but instead the charm of 'Shark Week' originates from its stirringly touching ambience.
The repetition of the commanding lyric "When Did The World Get Big" towards the end of the track obviously emphasises its importance, but also serves to exemplify the all-consuming nature of that statement. Our emotions and connections can feel so deeply intimate for so long, then suddenly they feel like the most momentous, and often overwhelming, things in the world. In the case of relationships, your experience can feel so insular and self-contained before your attachment is revealed to the world. In that uncovering process, your outlook can shift and somehow what once felt so indisputably certain can feel extremely ambiguous.
That repeated line has the potential to stimulate a range of different emotions and memories in the mind of each individual listener. Each iteration unravels a layer of emotional complexity, and the accompanying sonic soundscape also serves to amplify the statement's emotional impact.
To put it simply, 'Shark Week' isn't about Sharks. The precise experience that provided lyrical inspiration for this track isn't something I, or 50% of the population, can relate to but part of the beauty of this track is in its subjectivity. For many, it'll simply be a song that chronicles the alleviating tranquility that the mere presence of someone who understands and cares for you can bring. For others, it'll just be track that lets them ponder on the interconnected yet expansive nature of the world. The best songwriters can distill their experiences into accessible art, and with "Shark Week," and the rest of the EP, Lauran Hibberd has done just that.
— — — —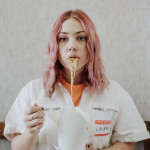 ? © Nathan Russell
:: Stream Lauran Hibberd ::
---