London six-piece Melt Yourself Down brought their infectious energy to London's Studio 9294 with their unrelenting enthusiasm for impassioned performance 
Stream: "It Is What It Is" – Melt Yourself Down
---
To try to describe Melt Yourself Down's live set with a series of adjectives almost feels like a disservice. Their awe-inspiring artistry was enthralling; enrapturing their adoring crowd from the outset. In the beginning, only the first few rows were moving with a zestful passion, but as the night progressed, the band's effervescent energy began to infect the rest of the crowd in a swarm-like fashion.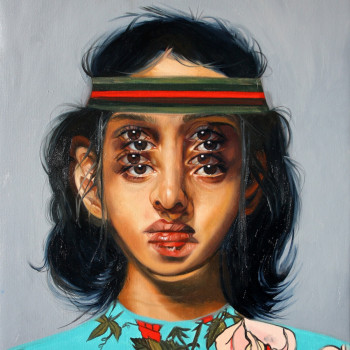 The London six-piece, founded by sax innovator Pete Wareham and fronted by lead vocalist Kush Gaya, was met with a rapturous and warm-welcome as they descended onto the stage. From the outset, they made sure the relatively intimate room was immediately crammed to the brim with exhilaratingly ferocious energy. Their ravishingly radiant ardor only increased as they continued to power through their defiantly distinct setlist of songs.
Although their fans practically remained in a collective feverish frenzy throughout, with the crowd practically erupting when the band dived into a ravishing performance of 'Fix My Life', that was alive with dazzlingly scintillating energy. That intensity arguably originates from the band's unparalleled ability to expertly intertwine influences from jazz, punk and Afrobeat to craft a singular sound that perfectly encapsulates the dynamism of each respective influence.
With an unmistakable ear for melody, a remarkable number of the tunes embedded within their live set are unapologetically infectious. Melt Yourself Down's songs manage to walk that fine line between predictability and complexity, with repeated gaps in rhythmic structure proving the listeners with apt opportunity to physically occupy those gaps with their own movements.
---
The band's unified lust for innovation was self-evident, but, not even once, did that unrelenting yearning for ingenuity stand in the way of the band's performative nature. This was perhaps best exemplified by Melt Yourself Down's engaging delivery of their standout track 'Release!'. Quite aptly, the band's euphoric performance induced the adoring audience to unburden themselves from their worries, prompting them to fully immerse themselves into the rich, atmospheric soundscape that was being masterfully crafted on-stage.
Even for the most avid of concertgoer, Melt Yourself Down's live set will enchant in unexpectedly brilliant ways. For a large portion of the night, the band were shrouded in hazy smoke, effectively subverting the norm of the vocalist taking centre-stage, while simultaneously emphasizing the importance of the band's collective-like nature and the crowd's ferocious intensity as an essential component of Melt Yourself Down's performance. Given the crowd's sprightly spirit and palpable passion, it's safe to say that a vast majority of the audience will be clamoring for tickets when Melt Yourself Down revisit the capital for another headline show.
— —
— — — —
? © 2019
:: Stream Melt Yourself Down ::
---