K-Pop superstars SEVENTEEN have their long-awaited return to Los Angeles' Kia Forum stage and put on nothing short of a stunning performance for their 'BE THE SUN' world tour.
Stream: 'SEVENTEEN 4th album repackage 'SECTOR 17'
---
Where there's magnetic charisma and high energy from start to finish, there's SEVENTEEN, the thirteen-piece performance powerhouse signed under PLEDIS Entertainment.
It goes without saying that each member was born for the stage, and their August 17th show at The Kia Forum in Inglewood was only one of countless instances where they proved this truer than ever.
It's been a long time since the guys have played shows in front of live audiences, and it's been even longer since they last stepped foot in Los Angeles. Being vocalist Joshua's hometown, this particular stop made it a night to remember for him and Los Angeles CARATs, SEVENTEEN's loyal and loving fanbase. With CARAT BONG lightsticks lighting up the arena like twinkling stars from the barricade to the nosebleeds, it's safe to say that SEVENTEEN were not the only ones shining brightly that night. Number four of twelve North American tour stops, the fully sold-out Los Angeles show was an awe-inspiring manifestation of the group's prowess, growth, and global impact since their 2015 debut.
As the lights dimmed and pre-show music video reels played on two screens cut out, erupting from pillars of flames and dozens of strobe lights, in all their glory, were the members SEVENTEEN.
Though the stage was already (literally) blazing, only SEVENTEEN would crank the heat even higher upon making their first steps on stage, and what better way to do this than start with 'HOT?' Keeping energy and spirits high, on both their ends and the audience's, rock-tinged 'March' and explosive, electronic 'HIT' followed.
---
The night began on pure, unbridled adrenaline, and just three songs in, SEVENTEEN had made it clear that they were a force to be reckoned with.
Derived from the title of their recent album, 'FACE THE SUN,' the 'BE THE SUN' tour title represents the group's collective goals and the heights they plan on reaching. Rapper Mingyu notes that no spot on Earth goes untouched by the sun each day, which perfectly symbolizes the level of power and influence SEVENTEEN are shooting for. Needless to say, their record-breaking album sales and sold-out arena shows make it look like the horizon is much closer than they think.
All the members rejoiced for 'Rock with you' to initiate the concert's second segment, leaving room for a series of subunit-based tracks where each team would showcase their specialty: dancing, singing, or rapping. Los Angeles CARATs' poster boy, Joshua, and New York native Vernon's all-English homage to early 2000's pop-punk, '2 MINUS 1,' would set the stage for the three units' following performances.
---
First came the hypnotic Performance Unit's hair-raising renditions of funky, synth-filled 'MOONWALKER' and the fan favourite house track, 'Wave.'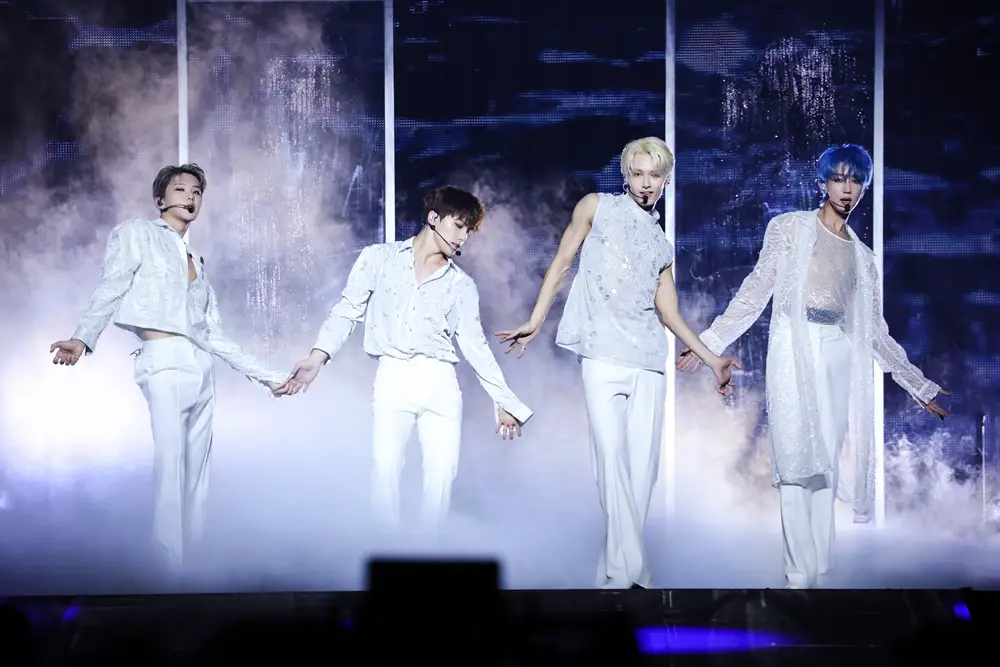 The Vocal Unit prepared two heartwarming ballads with warm and cozy 'Come to me' and made room for an audience sing-along in 'Imperfect Love.'
Ending the individual unit stages with a "bang" was the Hip Hop Unit with hyperpop-adjacent 'GAM3 BO1' and hard-hitting 'Back it up.'
As the audience reeled from the smashing unit stages with a series of short, but captivating, clips (otherwise referred to as VCRs) playing on the two big screens, all the members of SEVENTEEN reunited on the stage, now plastered in yellow signs and arrows, donned in fluorescent red coveralls and jumpsuits. A huge shift from the still resonant intensity of the performances each unit put on, the group moved on to present a string of short, cheeky skits with unmatched improv before jumping into feel-good oldie 'Mansae,' playful 'Left & Right,' and theatrical 'VERY NICE.'
One thing to note is rapper Vernon's display of musical knowledge and regard for a number of musicians in their respective hometowns on each date throughout the tour. During his segment of a small skit put on by the group, he would enter the stage singing a track from a native artist in each city. In Vancouver, it was Justin Bieber's 'Baby,' in Seattle, it was Jay Park's 'Mommae,' and in Los Angeles, it was 'The Next Episode' by Dr. Dre featuring Snoop Dogg. Not only does this show the care and research put into each stop on SEVENTEEN's end, but it's also become a fun tradition for fans on Twitter to predict the next song he'd choose as tour dates come by.
Now clad in reflective silver jackets and leather pants, the group showed their edgier and angstier sides with epoch-making 'Shadow' and 'Crush.'
The time had come for the second "ment," a term that refers to a period where the artists take a break from performing to give words to their audience, whether that be about what's to come or just a simple energy check of the crowd. In SEVENTEEN's case, it was both and more. If it's one thing the members can do, it's make the jam-packed, 17,000-person venue feel almost more intimate than home no matter where you landed inside it.
Despite being one of the larger acts in the K-Pop world, in terms of size and popularity, the people that stood onstage before the crowd that night were just as genuine and down to earth as the wide-eyed rookies they were 7 years ago. The absence of maknae (youngest member), Dino, who had tested positive for COVID-19 that morning, made the twelve-person stage somehow feel empty; but for SEVENTEEN (more specifically, rapper Wonwoo) and CARATs, it wasn't hard to make up for it by chanting his name throughout the entirety of the show.
Moving onto their most recent release, '_WORLD' from the repackaged album 'SECTOR 17,' it was now time for the guys to just let loose and have fun with the fans. Following that was the performance of their first group English title, 'Darl+ing,' where the members, most notably, Jun, roamed the stage and greeted fans all the way from the floor to the upper bowl.
---
The night was winding down, and there was not a more fitting song to precede the encore than stripped-back and mellow 'Our dawn is hotter than day.' As SEVENTEEN gave their parting words in the fourth and final ment, several of the non-English speaking members came prepared with English speeches, while others opted to speak through the translator expressing equally heartfelt gratitude. Despite the emotional farewells, they did not leave on a bittersweet note.
You wouldn't be able to tell that the guys had already performed the most strenuous songs at the start of the night. Ending with just as much energy as they started with, fresh and fun 'Snap Shoot' was the ultimate final song, with two members of the audience being called to freestyle dance along to the chorus onscreen.
SEVENTEEN roused the crowd for the last thirty minutes with a traditional never-ending encore of AJU NICE, the iconic chorus from their cult classic title, 'VERY NICE.' Before closing the curtains, vocalist Seungkwan passed his microphone to multiple fans, allowing them to belt his signature high note that would add just one more encore every time.
---
Venerated for their elaborate production quality, breathtaking choreography alongside live vocals, and the cinematic execution of it all, K-Pop concerts are visual experiences just as much as they are musical ones. And in true SEVENTEEN fashion, they took all these things and blew them out of the water, leaving them as undoubtedly one of the best acts of their generation.
In every sense of the way, 'BE THE SUN' had it all, and it is no surprise that SEVENTEEN hit the nail on the head for every stop.
Not just for their undeniable talent, but for their unalloyed authenticity shown through silly banter, earnest speeches, and tireless crowd engagement, every member shone in his own little way. From S.Coups tossing his bucket hat to a lucky fan, to Jeonghan using his arm sling as a purse, Hoshi's tiger schtick, and Woozi, The8, and DK's freestyle breakdancing, SEVENTEEN at their core are just fun and unforgettable.
And though it was my second time attending a SEVENTEEN concert, having seen them for the first time two and a half years ago at the 'ODE TO YOU' tour, 'BE THE SUN' reminded me of exactly why I fell in love with the group and their music six years ago. Beyond just the sonic diversity of their discography, the natural charm of each member, and their unparalleled stage presence, they're nothing more than thirteen best friends who share a passion for music and performing at the end of the day.
For all these reasons, I left yet another small piece of my heart with SEVENTEEN in Inglewood.
— —
Stream: 'SEVENTEEN 4th album repackage 'SECTOR 17'
— — — —
? © PLEDIS Entertainment
:: Stream Seventeen ::
---