elbé's stirring sophomore EP 'Sonder' is exhilarating and cathartic: A set of intimate upheavals aching with honesty, intent, and radiant sound.
Stream: "Following" – elbé
---
Brilliantly balancing on that colorful crossroads between indie rock and indie folk, Ireland's elbé make music full of fire and feeling, passion and raw energy. Their latest EP is exhilarating and cathartic: A set of intimate upheavals aching with honesty, intent, and radiant sound. The five-track Sonder may be short and sweet, but it packs a heavy punch and leaves listeners hungry for more.
Ran by the station,
Down from the old place,
Caught my eye,
But I'm no relation,
To smile is a waste,
Just up from the view,
From my youth,
Warm safe place west,
Peaks an interest in us.
Say you won't leave, when the day is dawning,
Say you won't fall through, hands hollow.
Say you won't be, anything but who you are.
– "Following," Elbé
Independently released October 29, Sonder is a celebration of life: It's wide-eyed wonder filtered through the haze of churning, layered guitars, dynamic drums, and soaring vocals. The brainchild of songwriter Seamus Allen along with bassist Kieran Fitzgerald, pianist/synth player Emily Naughton, and drummer Nora Frederich, Cork, Ireland's elbé debuted in 2019 with the Contours EP and an already strong alternative artistry. The four-piece have spent these past two years honing their chops and tightening their work, to the point where Sonder does feel like the next evolution – and not just "the next batch of songs."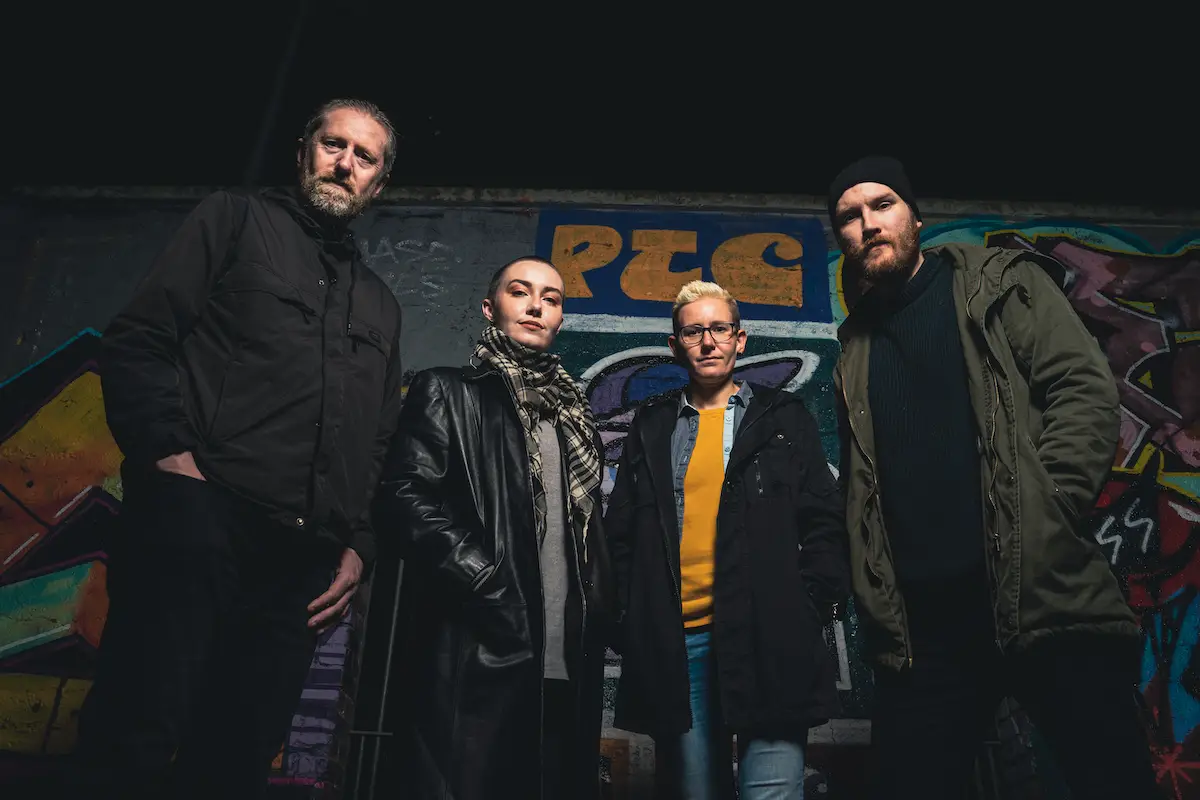 "Sonder EP was recorded during the summer of 2020 in Monique Recording Studios with Christian Best, in between lockdowns," Allen tells Atwood Magazine. "We believe that being able to play music again with your friends after a long break, greatly affected the making of the EP. We were all longing for a creative output, collaboration, and socialising. The most exciting part of recording the EP was meeting Emily who joined the band just a few weeks before on keys and working with producer Christian Best for the first time."
"Our vision was to create a bigger sound overall, but to keep some of the introverted elements that come with the songs as they are originally created. It's important to us to maintain the emotional element throughout the songs, but also to have a great rhythm and melodic sections throughout. This didn't change in the studio, but the songs did develop into something more through the experience of the studio. Certain verses and parts of choruses and backing instrumentation was written and recorded on the spot in the studio and made it onto the final recordings. We feel Sonder is a great introduction to the band – we are really proud of the songs and feel they complement each other well. We hope listeners can hear that we are influenced by a lot of different genres such as indie, folk, Irish traditional music, pop and alternative."
Elbé's band members add, "Seamus appears to be a man of little words, but the few words he sings are poetic and have deep metaphorical meaning."
---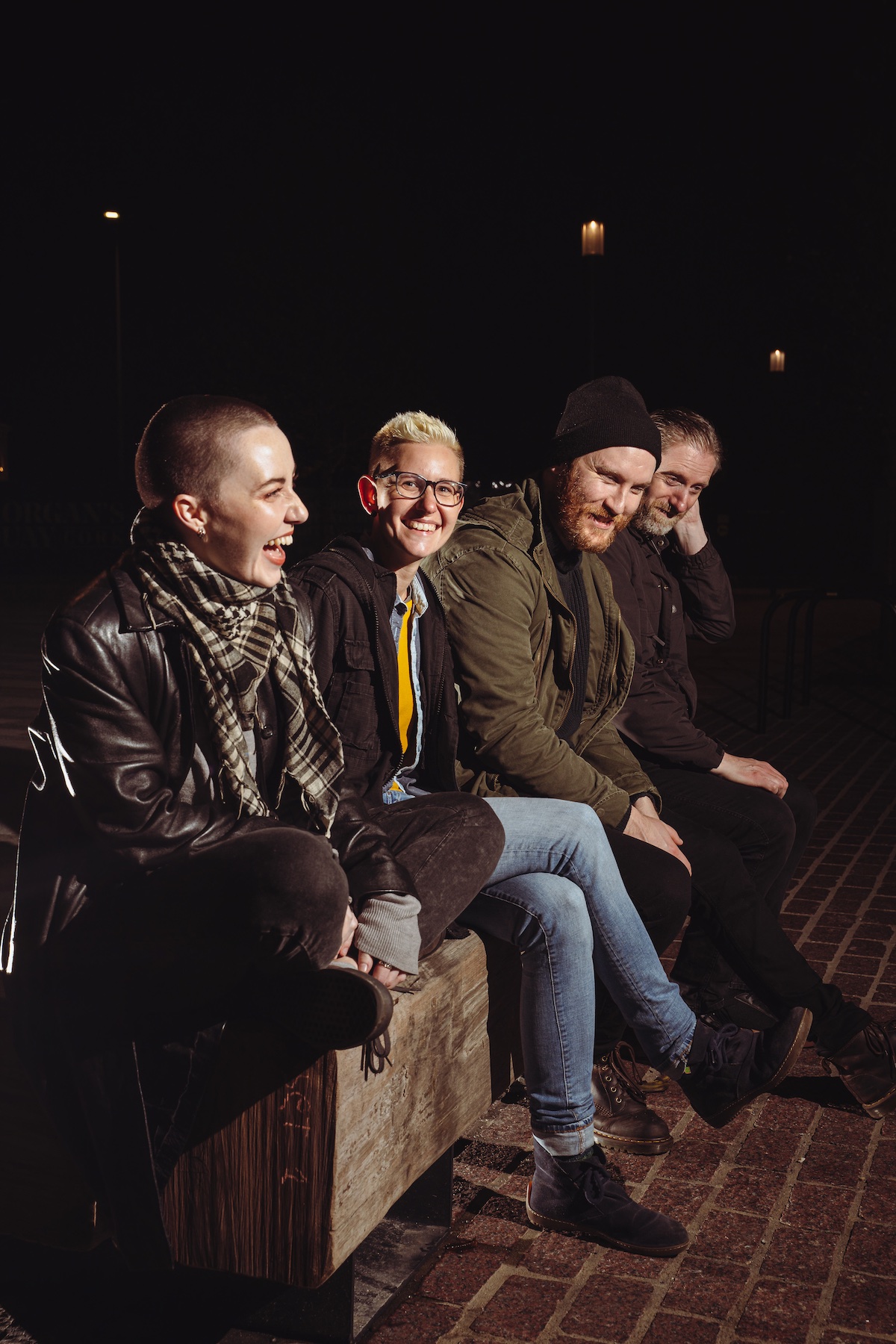 The EP's title is also deliberate, and speaks directly to the tone of elbé's music. "[The term] Sonder is the realization that each random passer-by is living a life as vivid and complex as your own," Allen explains. "The songs on the EP reflect this. The range of emotions and memories associated with the songs is imprinted in a person's life. The overall themes are positive and appreciative of the close family and friends that we all have, with some being personal and others being subjective."
Highlights abound on this fast and fleeting, heavy and heartfelt collection: The churning, rich opener "Following" sets the tone with warm melodies and a wealth of vibrant guitars, only to be followed by the equally compelling "These Moments," which unleashes a tender surrender through glistening sonics and grooving beats.
"Our favourite song is definitely 'Known To Move,'" the band says, referencing the gorgeous middle track – a ballad full of heart-on-sleeve emotion and sweet falsetto singing. "It was one of the first songs Seamus ever wrote and he always had a vision as to how it should sound. We never managed to capture this vision until we brought it to Christian Best in the studio and until Emily added her touches to the song. The way it turned out is 99% of the vision that Seamus had in his head all along – we would never make it to 100%!"
---
As for their favorite lines, "All our lyrics are thought out and actually take the most time generally," Allen says. "I put a lot of thought into them and there's meaning in all the lines. I personally enjoy people making their own interpretations of the lyrics as they aren't matter of factly in nature. Some of our favorites are:
"Courage in short says I'm a fool, joy is all I can see." – Known To Move
"Say you won't leave, when the day is dawning, say you won't fall through, hands hollow. Say you won't be anything but who you are." – Following
"This life it flows, through these veins, falls from these streets, through the people we know." – People We Know
There are so many reasons to fall for elbé: From emotive, alluring alternative soundscapes to visceral lyrics and beyond, this Cork band have tapped something special. Sonder is remarkably accessible and multi-faceted; an enviable release ready to capture our ears and our hearts.
"We hope that listeners feel more positive after listening, more connected to the people around them and remember some great memories they have made throughout their life," Allen shares. "We have taken a lot of confidence from releasing the EP. The reception from listeners and the reviews have been great and we are delighted to have gotten such an amazing response."
Experience the full record via our below stream, and peek inside elbé's Sonder EP with Atwood Magazine as the band goes track-by-track through the music and lyrics of their sophomore extended player!
— —
Stream: 'Sonder' – Elbé
:: Inside Sonder EP ::
— —
Following
'Following' is an elated, impelling tune lyrically and musically. Loosely written about a childhood memory of a faux treasure hunt orchestrated by Seamus' favourite uncle. The song celebrates people who lead by example or ethos and become role models to us.
These Moments
11am. Morning sun. Coffee and a warm can. The murmur of conversation across the campsite and distant music from a speaker in a tent. "These Moments" was partially written during a music festival and is about sharing good times with others and creating memories that we can hold onto in bad times.
Known To Move
"Known To Move" is a metaphor for the mixed feelings that come with all new things in life. The song was written by Seamus before emigrating to Canada, when feelings of pure excitement but also nervousness were compelling to him. Leaving for a new life in a different country is daunting; but exploring, making new friends and discovering new cultures helps us grow.
People We Know
The song is a homage to our friends, our families, our lovers, acquaintances; all who lend us an ear, their time or a laugh. The inspiration for the song came while hiking with friends when Seamus suddenly felt an overwhelming appreciation for his fellow hikers.
Only You
"Only You" is about the people who take us out of loneliness, either briefly or more indefinitely. In times of loneliness our internal voice is sometimes over critical, negative and hard to take. The people around us can bring great relief and a good feeling back into our lives.
— —
— — — —
? © Tristan Hollingsworth
:: Stream elbé ::
---