Vampire Weekend take us on a cross-country road trip in their 2013 break-up ballad "Hannah Hunt."
Stream: "Hannah Hunt" – Vampire Weekend
https://www.youtube.com/watch?v=uDwVMcEHG70
---
Going on a journey across the country and through a relationship's life and death, Vampire Weekend's classically cosmopolitan yet complex lyrics contrive a breakup ballad that is deeply personal and "niche," on feelings that are so deeply human and understood by really, everybody.
On the band's 3rd album Modern Vampires of the City, "Hannah Hunt" stands as the quintessence of Vampire Weekend's growth, straying from their vivacious, jaunty hooks about college relationships on their self-titled debut, and the springtime-esque breezy essence of Contra. The indie group upkeeps their personality, instrumental experimentation and overall eccentricity to keep you on your toes while delivering unprecedented lyrical maturity as they tread into darker concepts on this album.
Lyrical excellence coupled with Rostam Batmanji's incomparable production skills peak on the spellbinding 6th track, "Hannah Hunt." Storytelling and songwriting join hands in this lyrical and instrumental masterpiece, through perfectly mysterious metaphors, the sounds of ruffling trees, and a piano riff as relaxing as a downpour on a lazy Sunday morning.
The song softly blossoms with distant background chatter and everyday sounds while bass and a light piano riff ease their way in. As tranquil as a light wind, frontman Ezra Koenig delicately vocalizes the first verse, delving right into the song's recurring city-as-a-symbol theme:
Til me and Hannah Hunt,
saw crawling vines and weeping willows,
as we made our way
from Providence to Phoenix
"Hannah Hunt" paints the beginning of a couple's innocent, untouchable journey in the safety of Providence, the coastal capital of Rhode Island, and providence: "The protective care of God or of nature as a spiritual power." (Oxford Dictionary) The first verse moves forward,
A man of faith said hidden eyes
Could see what I was thinking
I just smiled and told him that was only true of Hannah
And we glided on through Waverly and Lincoln
The couple's earlier days are sheltered by love, faith in themselves, and glory as they glide on the east coast. This second half of the verse by itself exemplifies the relationship's profoundness; a pious man on the train tells our narrator that higher powers are all-aware of him and his own thoughts, only to be met with an assured denial that that couldn't be; as only Hannah could have capability of knowing him with that understanding and intimacy.
Gliding among the beauty of weeping willows and crawling vines across Waverley, Lincoln, Providence, and, the band's home state, New York – they make their way west and find themselves in troubled waters,
In Santa Barbara, Hannah cried
'I miss those freezing beaches,'
I walked into town
To buy some kindling for the fire,
Hannah tore the New York Times
up into pieces
Hannah grieves, pines for the upper east coast's freezing beaches under the warm western sun, while Ezra searches to rekindle their fire. Hannah tears The New York Times into pieces; to use the newspaper kindling for the fire, seeking comfort in and simultaneously setting the memories of their earlier eastern glory days ablaze, their own New York times. This double entendre is lulled just before the final verse is delivered for the first time, softly and in perfect harmony with Rostam – the calm before the storm.
If I can't trust you then damn it, Hannah
There's no future, there's no answer
Though we live on the US dollar
You and me, we got our own sense of time
The song's defining gentle piano riffs and musical serenity make way for the tipping point, an absolute emotional outburst – at 2:40, five drum hits explode before a fuller, louder piano riff to compliment Ezra belting that final verse once more, releasing all of a man's vulnerability and passion in the find a word that indicates something is brief of four lines.
Then just like that – the flames settle and diminish, as the song ends with the same hauntingly pretty piano chords but with a steady yet soft drum march, playing out as softly as it entered, but with just a little more direction.
Lo and behold, a song and a journey's final stop – they've made it to Phoenix, the southwestern sunny capital of Arizona. The phoenix, a bird that is reborn from its own ashes, bares a fate similar to that of Ezra in Hannah Hunt." After his eruption, the relationship burning down as it approached it's death, we witness his rebirth and rise from it's ashes.
As the peak performance of band so unpredictable, "Hannah Hunt" envelops you with unalloyed comfort by it's oh-so-relatable content shrouded by perfected production and simply beautiful metaphors.
Stream: "Hannah Hunt" – Vampire Weekend
https://www.youtube.com/watch?v=uDwVMcEHG70
— — — —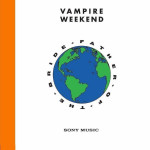 ? © Monika Mogi
Father of the Bride
an album by Vampire Weekend