Unless you can afford not to be, in life, consistency generally tends to be key. Which means Los Angeles-based artist Nihla has got a great thing going for her: she creates curated music every month, as her Twitter bio proudly proclaims. And starting in February of this year, the self-proclaimed "audiovisual experimental pop" artist has steadily kept that promise.
Today, Atwood Magazine is proud to premiere Nihla's new single "Lucy." "Lucy" is haunting picture of one woman's reality of Los Angeles, and a stunning example of Nihla's ability to tell an entire story in one song.
Listen: "Lucy" – Nihla
---
In "Lucy," Nihla's vocal style is hauntingly reminiscent of that of Lana del Rey's, with one exception–Nihla both tells and inhabits Lucy's story. She's within-and-without, a sort of Fitzgeraldian duality that Lana del Rey rarely achieves in her music.  "Lucy" paints a gritty picture, using Nihla's "City of Angels, City in Sin" as its backdrop. Rather than channel and build on the dreamy California that so many transplants choose to perpetuate, Nihla paints the city in all its debauched glory through the lens of one of its residents, Lucy.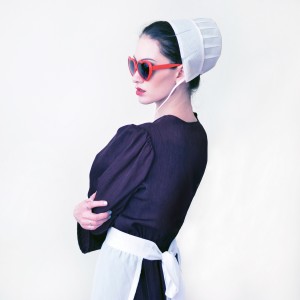 According to Nihla, "'Lucy' is both about my own experiences in LA and a character from a film who really stuck with me through the years. In the film she becomes involved in a strange form of underground prostitution catering to the wealthy men in her city. I wrote the song with her in mind, and for the girls working the corner in Hollywood late at night."
Between the dark pop/R&B beats and haunting background vocals, Nihla invites us in to Lucy's world. Which she shares, to an extent, with Nihla–Lucy's attitudes  somewhat mirror Nihla's ("Lucy doesn't give a fuck like me"), but Nihla is able to retain an air of mystery by keeping us questioning just how much their worlds and those of others collide. Much of Lucy's story belongs to other women in her city, who've "buried" their dreams and expectations "in Hollywood," realizing that the City of Angels is no more than just another a city in sin.
Lucy doesn't give a fuck who sees,
She doesn't shoot smack, but she'll do it if it's free,
Workin' three jobs and the money's still tight,
Lucky there's a spot at the bar tonight
Interestingly, the single artwork for "Lucy," feels rather timely: Nihla's outfit is distinctly reminiscent of the costume design for Hulu's also-uncannily-timely miniseries 
The Handmaid's Tale
, based off of Margaret Atwood's novel.  Puritanical black and white clashes with Nihla's red heart-shaped sunglasses and earbuds. Though the design for the miniseries and for the single are similar, there's one major difference: Lucy's dystopia is now. She's a woman who's been completely hardened by her world and that's what draws us to her–that edge, the small glimpse Nihla gives us of the reality of life for all the women that drift through our cities.
Lucy living on the fly like me,
We know it's not great, but the only way to be
Is a drifting woman on the city streets
Nihla's ability to inhabit and yet remain slightly distant from the character she's created lingers throughout the song, making its story even more melancholy. And yet it's an invitation to step into Lucy's shoes, to truly understand her reality and that of the women like her. With "Lucy," Nihla has both told a very real story and created a song with all the trappings of a breakout single.
— — — —