Every Friday, Atwood Magazine's staff share what they've been listening to that week – a song, an album, an artist – whatever's been having an impact on them, in the moment.
This week's weekly roundup features music by Kate Bollinger, The Bright Light Social Hour, The New Coast, DOLLY BING BING, The Venus in Scorpio, BINNY, Matte Black, Trope, The Tin Pigeons, Liam Mogan, and GUM!
— — — —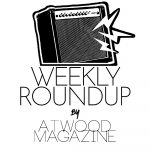 — —
:: "Grey Skies" – Kate Bollinger ::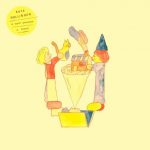 It's been almost two years since Charlottesville, Virginia singer/songwriter Kate Bollinger made a strong and everlasting impression on our ears and hearts – and as we suspected, the casual brilliance of "Tests" was just the tip of the iceberg. The Atwood artist-to-watch has continued to dazzle with a steady stream of songs over these past two years, gaining well-deserved traction on streaming platforms and asserting her individuality through 2019's I Don't Wanna Lose EP.
Bollinger's streak continues with "Grey Skies," the effortlessly radiant second single off her upcoming EP A word becomes a sound. Preceded by the recently re-released fan favorite (and EP lead single) "A Couple Things," "Grey Skies" is anything but: The sun-soaked lo-fi DIY immersion finds the indie artist painting a characteristically warm sonic portrait full of compelling, vulnerable emotion. "I don't want it if I can get it," she confesses midway through, her vocals resonating with confidence as her heart struggles with indecision and apathy. "I don't need it if I can have it…  then i turn around and change my mind, but it's gone, and I'll ask why…"
"The lyrics are a self-critique about how indecisive I am and how self-sabotaging it can be," the artist shared upon her track's release.
Bollinger's ability to inject a world of depth into subtle, stirring melodies is just one of her many strong suits; her stunning, sweet vocals and smart lyrics continue to stand out from those of her peers.
While it may be entitled "Grey Skies," Kate Bollinger's latest song is nothing but a sunny, blue dream come true.
:: "Enough" – The Bright Light Social Hour ::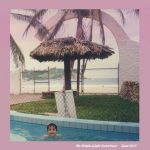 For Austin-based band The Bright Light Social Hour, music is a cathartic process. While the talented musicians were gearing up to release their second album Space Is Still The Place back in 2015, Alex O'Brien, the band's manager of four years and brother of band member Jackie, took away his life, having been previously diagnosed with bipolar 1 disorder.  "It was a terrible thing, but it was also the most beautiful thing I've ever experienced and probably will ever experience," Jackie says. "This was all happening as we started the record … The music deals with the ripples it caused in all of our lives, especially in our relationships, with an underlying theme of trying to wrap our heads around all of this." 
The touring band drove to LA in 2017 to record and complete their Jude Vol. 1 album, named after Alex's middle name, and are now gearing up for the release of the second installment to the cathartic series, out August 28th. The two albums are about what it means to lose someone and then be left to pick up the pieces, and their latest, indie-alternative single "Enough" forms a strong addition to the puzzle, rich in its exploration of profound, existential themes.
:: "Cool Off" – The New Coast ::
It was a pleasure to have the recent release by the New Coast, an indie-pop duo from Kent, England, sent my way. Nick Blyth and Chris Cheater have been performing under this moniker since 2016 when they put out their debut EP, Paraga Beach. "Cool Off" stays true to the '80s-era synth-pop that has been the duo's go-to style throughout that period, while also offering some pertinent commentary about our social media-filled age. "People are now so connected all the time, but at the same time so content with disconnection," the duo explains. "'Cool Off' is a nod to that feeling, not so much about being certain that something is over or wanting to give up, but more that it reflects the throwaway comments of a throwaway culture."
By the time the accompanying EP, Valentino Red, comes out in November, the notion of "cooling off" might be less urgent than it is right now in the midst of July. All the more reason to enjoy this bouncy new track in the summer months it was designed for, and thereby garner anticipation for the full-fledged release that is scheduled to follow in a few months' time.
:: "Kusje" – DOLLY BING BING ::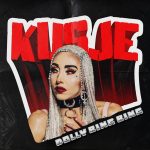 Being born in Brussels, my Belgian blood helped me to notice DOLLY BING BING, a Flemish artist whose new single "Kusje" is Dutch for "little kiss." But no matter what their nationality may be, fans are likely to have their attention piqued by this song and its post-apocalyptic music video. For ones, the odds of any of them having previously seen a lady in a leather bikini wielding a samurai sword and performing a choreographed dance within a car junkyard are probably pretty slim. But even more vital is the impressive artistry on display here.
New York producer ABSRDST has produced a commendable electronica beat for this track, and it's well-serviced by DOLLY's lyrics, which she describes as an overview of "online love and how to make the fantasies on the screen and the pleasures in the phone come true" In a period where we've been able to connect with our friends and loved ones almost exclusively through screens, such a commentary on "hardstyle cyberlife" comes at precisely the right moment. With "Kusje," DOLLY BING BING proves that she is a "glamorous alien popstar" and "a post-apocalyptic Gesamtkunstwerk" worthy of recognition.
:: "Roam" – The Venus in Scorpio ::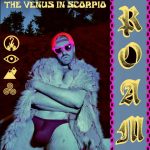 In these trying times the world is facing, we could all use a little nostalgia in our lives. The Venus in Scorpio's new single "Roam" takes listeners back to a time of retro '70s rock and new-wave.  The singer is candid about his turbulent past, detailing fleeing from a small town to discover true independence and freedom. The upbeat, vibrant track showcases moody, impassioned vocals atop static-like soundscapes and grungy guitars.
Agender, sex-positive, and queer, The Venus in Scorpio captures a genre-fusing sound that is mysterious and yet familiar. The daring talent's releases touch on powerful topics such as salvation and self-empowerment. The Venus in Scorpio's uniquely raw sound and effortless rebellion make the artist a compelling one to look out for.
:: "Deep End" – BINNY ::
BINNY returns with a splash with his intoxicating new release "Deep End." The artist has perfected the most addictive R&B recipe, infusing his music with ethereal melodies, soft, delicate vocals, and seductive lofi beats. "Deep End" is an anthem for millennials, throwing shade at the f-boys, whilst simultaneously admitting that it's ok to fall in love and reveal your feelings to someone.
The new video for "Deep End" further highlights BINNY's desire to deliver an aquatic atmosphere both sonically and visually. Transporting us underwater, the listener becomes surrounded by the waves of the ocean and the movement of the music. So if you've been missing the feeling of the ocean on your toes, then listen to "Deep End" and be carried away.
:: "Pure" – Matte Black ::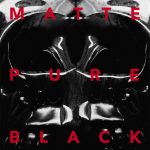 Electronic Southern California outfit Matte Black are a new musical collective on the rise.  Each being successful musicians and producers on their own, Alex Gonzales, Bidi Cobra, and Daniel Corrales joined forces to create the stunningly dark electro project Matte Black in early 2020. Their debut single "Pure" was crafted during Covid-19 and highlights throbbing melodies and spine-chilling vocals exuding a deep, industrial feel.  The tune details codependency in relationships and how it can drive us to our breaking point.
Witten in a home studio, Matte Black seamlessly encapsulates the essence of underground, techno, through lush, dark synths and gritty mechanical arrangements. Reminiscent of 80s icons like New Order and Depeche Mode, their deep intensity and ominous air create the perfect listening pleasure.
:: "Hyperextend" – Trope ::
Trope unveil their powerful and gritty new track "Hyperextend." Featuring crashing percussion, confident guitars, and fearless vocals, singer Diana Studenberg talks about the suffocating feeling of an abusive relationship and the all-encompassing ability it has to completely consume one's self-identity.
Studenberg shares, "Sometimes we spend years believing the negativity we're fed, which makes it challenging to trust our own voice and stand up for ourselves/carve our own space." Trope hope that their song may help to remind others that not only are they alone, but that there is light at the end of the tunnel and we must always remember to believe in who and what we are. It's easier said than done but listening to "Hyperextend" is sure to fill any listener with an overwhelming sense of determination and liberation.
:: "Good Goodbye" – The Tin Pigeons ::
Today UK Indie Pop Duo The Tin Pigeons have unveiled the video for their latest single "Good Goodbye". Filmed before the lockdown, the bittersweet yet heartwarming perfectly complements the whimsical and careful nature of the track itself. Beautifully capturing the warmth and affection embodied within a timeless romance, the video highlights that although goodbyes can be excruciatingly painful, the joy embodied within memories made and moments shared can soften agony of a loss.
With enticing instrumentation perfectly sitting alongside poignant lyricism, "Good Goodbye" evidences that Tin Pigeons as a duo that can seemingly effortlessly interweave sentimentality with joviality. While their festival-ready sound might not be gracing festival fields up and down the country, it's clear that the future is bright for this talented duo.
:: Out In The World – GUM ::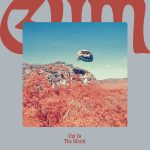 Being forever behind the curve on a circle, I'm still catching up on releases from the year, which means I've got document after document for each month, full of little tidbits. Recently, I've had a competition between Jay Watson, GUM, and Khruangbin, debating on whether Out In The World or Mordechai was the better neo-psychedelic release. And while I enjoyed the latter to the degree of brainstorming a review for it, I think this blurb speaks for itself: Well, well, well, it looks like I was a fan of GUM after all, just as I was a fan of Pond.
As far as introductory albums go, this might do the trick. Not that Flash in the Pan, Glamorous Damage, and Delorean Highway are bad records, just that they suffer from what I call the Foxygen dilemma; I like Foxygen until I remind myself I can't listen to Hang. But something clicked with Out In The World. Something Byrdsian, with plenty of lasering synth solo and guitar flourishes attached. I dunno, maybe the rhythm clicked on "Airwalkin'' or perhaps the instrumental break of "Low to Low" dazzled. Mostly, it was just the intuition of an album well-made rendered from guitars segueing to synths segueing back to guitars in no short-order, an impeccable feeling provided by "The Thrill of Doing It Right."
:: "Sixteenth Summer" – Liam Mogan ::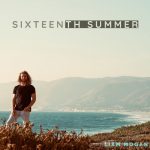 In a year as unusual as 2020 has proven to be, it's safe to say that most of our summer plans aren't going to turn out quite the way we would have liked them to. That makes it all the more enjoyable to live vicariously through Malibu's Liam Mogan, as he describes his almost-too-good-to-be-true experiences during the hot months of old.
Like "Castle on the Hill" by Ed Sheeran, only set at the beach, "Sixteenth Summer" finds its author reminiscing on the friends and early love interests of his adolescence. Mogan croons about the time when he and his fellow rebel hearts would party hard every Friday night and "kiss with those cherry lips," all the while with "underage liquor in our systems" Spicing up country music with some West Coast flair proves to be an effective approach for Mogan, whose knack for mashing up genres in such a manner has earned him the nickname "The Surfing Cowboy." Tender, lighthearted music of this nature is sure to make the ongoing trials of the Summer of COVID one degree more bearable.
— — — —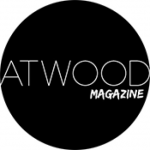 :: Weekly Roundup ::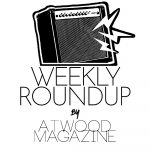 ---
:: This Week's Features ::
---