Philadelphia folk sister duo LULLANAS show us the power of feelings and old flames with calm country beats in "Pennsylvania Skies."
Stream: "Pennsylvania Skies" – LULLANAS
---
Getting over someone is like an endless game of fighting against a burning fire: It might be over, but that does not necessarily mean that the flames inside you are gone. They might be flaring up more each and every day. Eventually at some point, we accept it, and the flames get smaller, step by step… And then, that one night, where everything seemed alright in the first place, you encounter the person you tried to get over, and the old fire is burning inside you again.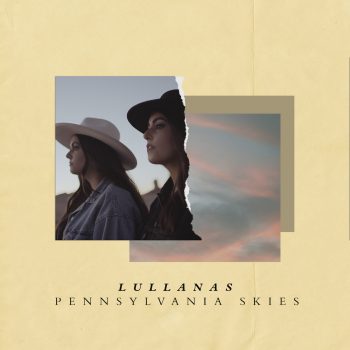 Atwood Magazine is very proud to be premiering "Pennsylvania Skies," LULLANAS' fourth overall song release and the latest single off their forthcoming debut EP Before Everything Got Real, out April 24th. Hailing from Philadelphia,  LULLANAS is the musical duo of twin sisters Atisha and Nishita Lulla. Their style is a mix of Americana warmth, folk eloquence, country storytelling, and unassuming pop ambition.
The girls grew up together in Pennsylvania, taking influences from The Beatles, Shania Twain, Eric Clapton, and more. While Nishita loves country and more traditional Nashville songwriting, Atisha finds inspiration in indie folk sounds. Ever since committing to their band, LULLANAS have taken every opportunity they can get to share their music with the world – from performing in a graveyard, to the produce section at Whole Foods, and more. One day, when visiting India to see their beloved grandmother, they ended up in a studio and recorded an impromptu version of their song "Don't Say," later uploading it without any expectations. The track ended up garnering more than a million Spotify streams, and fulfilled their dream of a record deal. Last summer, they recorded their debut EP with producer Peter Katis (The National). They released the first single, "Memphis," earlier this year.
"Pennsylvania Skies" follows "Memphis" as a second taste of LULLANAS' indie folk sound. As soon as the first light guitar chords of reach our ears, the lyrics throw us right into the song's intimate situation:
The moment you saw me
For the first time in a long time
We can imagine the scene right in front of our eyes: It is one of those nights, where you are out with your friends, and all of a sudden someone you used to care about catches your eye. That one person out of all the people in this world whom you would have never expected to see. As soon as you spot that person, it takes you right back to the day; the old times when you were going away together, not apart. After that, the usual questions and thoughts shot right in your head:
How you been?
Didn't keep in touch
You probably think I don't think about you much
I think about you too much
The number of things you might want to say to that particular person can feel overwhelming inside. All the unspoken words from the past come back to you like a lightning bolt. You still care about them so much that you don't want to say something wrong. When you haven't seen someone like this in a long time it is very hard to start a conversation. There is so much to say or to be quiet about. The rollercoaster of emotions inside your veins is real:
Oh, old flame
Why you gotta drive me insane
Why you gotta drive me mad
I thought I put you out
And now you're back
Just like that oh

You're swerving into my lane
And I kinda wanna crash
Cause it's a good kind of pain
Oh old flame

The memories start to kick in, and so do the long-forgotten feelings. The emotions are back, and you feel like a young teenager again. The flame is burning again. You realise how much you miss them. The metaphor of always leaving a light on for them in case they want to come back home, shows how much you wish they would come back to you. Now, both your lives are different. You've moved on. You have different realities, but the old flame from the days of your youth still seems to be on. Sometimes, things are just not destined to be under these skies:
I left the light on in my room
In case you ever wanted to come back home
For all the songs I write
All the faded lines
From all the times we've tried
Under these Pennsylvania skies
Feelings have the power to live on in your body forever. Even though things might end one day, the feelings you have for this person can live on forever. They have the power to fulfill you with positivity or negativity. At some point, this can even drive you insane. Sometimes, it is just never really over. These lyrics are accompanied by light guitar country folk chords, letting us think about dreamy Pennsylvania landscapes.
"With all the craziness and uncertainty in the world right now, we hope this track can take you back to a night out with close friends," LULLANAS explain, "where you run into someone you haven't kept in touch with for some time and just seeing their face warms your heart in a way no ones been able to since them. You forget all the reasons it didn't work out and they allow you to be present in that very moment. 'These feelings that come back so easy never left us.'"
"Pennsylvania Skies" arrives accompanied by a lyric video which Nishita and Atisha created together with Italian artist letteramuta. "We wanted the video to give listeners the feeling of being there for our writing process," the duo tell Atwood Magazine. "We often sit at a desk together in a room and sometimes doodle our lyrics out on a page. This lyric video is a window into our thought process and the images that came to our minds when we wrote them. We worked with an artist based out of Italy around the time Italy had their lockdown. She used her days inside to bring our illustrations and lyrics to life, and we are so grateful for that. She said our project was a good distraction for her, and we were all happy to make light out of a not so light situation together. "
"Pennsylvania Skies" is a song for the dreamers out there, looking for a little daily escape in times like these.
Stream LULLANAS' latest single exclusively on Atwood Magazine! Before Everything Got Real is out April 24, 2020 via Nettwerk!
Oh old flame
These feelings that come back so easy never left us
Old flame
Why you gotta drive me crazy
Old flame
Why you gotta drive me insane
Why you gotta drive me mad
I thought I put you out
And now you're back
Just like that oh
You're swerving into my lane
And I kinda wanna crash
Cause it's a good kind of pain
Oh old flame
— —
Stream: "Pennsylvania Skies" – LULLANAS
— — — —
? © Lenne Chai
:: Stream LULLANAS ::
---