Luvia showcases her singular sound with "Hunted," perfectly encapsulating an unbridled sense of melancholy.
— —
Figuring out who you are is an undeniably turbulent process where you seemingly have to let get of everything you thought you knew about yourself in order to discover your truth. It's turbulent and messy but ultimately your blunders, misapprehensions, and underestimations help you grow; often, your greatest missteps tell you the direction in which you should be heading. With "Hunted," Brighton's Luvia beautifully crafts her own sonic identity to portray the sombre side of such growth.
Atwood Magazine is proud to be premiering the music video for "Hunted," which serves as Luvia's first release of the year after dropping two stunning singles in 2018. On the track, her voice is instantly intriguing, feeling simultaneously strikingly familiar and magnificently distinct. Her intoxicating vocal performance effortlessly interweaves with the track's eerily compelling production to form an unmistakeable melancholic aura.
"Hunted" finds Luvia drawing influence from Lana Del Rey and Billie Eilish – two of most influential genre-defying artists in recent memory – to formulate a sound that is distinctly her own. The track's almost ominous opening blends uncertainty and apprehension to represent the tumultuously bewildering nature of letting go of the certainty and security that you've become familiarly accustomed to.
Hey when it rains
When it floods
When it gets you it steals you, takes you away
Hey feel it's heat, like a drug
let it sink in your breathe in, you feel it,
Gone once again to the flood
And, all, fall in love
Mmmm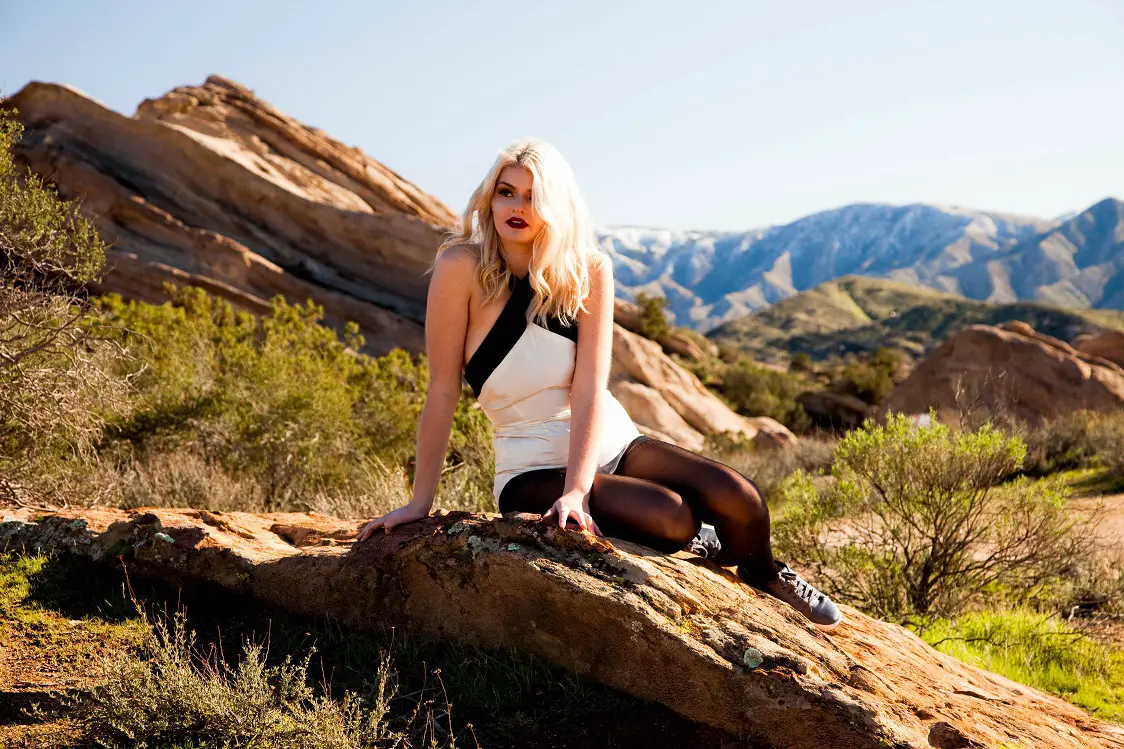 "'Hunted' has a few layers of meaning to it – the first addresses developing and growing as a person," Luvia tells Atwood Magazine. "The character starts off quite young and naïve. She's left to her own devices and starts to 'grow thorns' as she goes through her life making mistakes and growing from them. She then becomes older, 'the lion as she hunts' which represents how life has affected her."
The stunning remote setting of the video, directed by Evan Galeano, reflects the isolation and detachment from your former self, but the grandeur nature of the landscape serves to remind you of the beauty that can arise of your growth and evolution as a person. The incorporation of intimate close-up shots, only illuminated by minimal red lighting, creates a commanding familiarity that thrusts the listener even deeper into the song's stirring sentiment.
"I wanted to explore the themes of isolation present in the lyrics," Galeano explains. "We juxtapose Luvia's traversal through a barren, almost alien desert with projector images that flicker in and out in a confined space. Luvia's isolation is a form of growth, a decision to forge her own path. At the end of her journey, she climbs atop a mountain and rediscovers civilization on her own."
Luvia concurs, explaining how at the end of her song and video, her character has "become fierce and is trying to fill her life up with crazy experiences in order to learn from them and to excite herself. It deals with the extreme highs and lows of life, the desert being the low part and the rain and flood in the chorus being the highs. It brings out a crazy and manic side of her. The feeling is all-consuming, and she gets swept away within that mind set which inevitably leads her back to the desert. Each time she finds that she's more and more developed; she's changed from the rose to a lioness."
And I'm the lion as she hunts
as she runs away from love
Searching for the sweetest blood
that will give the sweetest rush
Just a lush in the night,
could never give it up if I tried
Feel it burn in my veins
Yeh deep down inside
See it shine, bright, across the night mmm
---
Although "Hunted" only serves as Luvia's third release, the track showcases the fact that's she's already firmly formed her own distinctive artistic identity. Having already made festival appearances across the UK at The Great Escape, 2000trees & Liverpool Sound City, it's evident we'll be hearing a lot more from Luvia soon.
Stream "Hunted" exclusively on Atwood Magazine!
Stream: "Hunted" – Luvia
— —
— — — —
? © Evan Galeano
:: Stream Luvia ::