Every Friday, Atwood Magazine's staff share what they've been listening to that week – a song, an album, an artist – whatever's been having an impact on them, in the moment. Here's this week's weekly roundup!
— — — —
— —
:: Anitta ::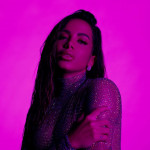 This is probably the first time I'm writing about a singer from my own country, so listen up people. Anitta is a pop/funk singer from Rio, and has been one of the biggest artists in Brazil for at least five years. When she released her album Bang in 2015, I became obsessed with her (and the record) and have been following her career since then. She's now cementing herself as an international artist, singing in portuguese as well as spanish and english and collaborating with artists like J Balvin, Alesso, Poo Bear, Sofía Reyes, and Rita Ora (and has been in the studio with Diplo, and recorded a song written by Pharrell).
Anitta was the first Brazilian artist to be invited by Spotify to be a part of the Spotify Singles campaign, and recorded a live version of her song "Veneno" as well as a cover of Ariana Grande's "thank u, next." While doing all that, she still finds the time to play shows in Brazil and collaborate with Brazilian artists, as well as release a Netflix documentary series about her own life, and was recently a judge at The Voice Mexico.
She's a powerhouse of a woman, artist, and businesswoman, a perfect example of hard work and what it means to make your dream come true, and I feel like she deserves to be known and talked about. I've been listening to her songs non-stop this week, and she recently announced that she's dropping a 10-track long visual album called Kisses on April 5th, with songs in Portuguese, English, and Spanish, and I can't wait to see what it looks and sounds like. If you're looking to get to know Anitta a little better, listen to her EP Solo, and the songs "Paradinha", "Bang", "Vai Malandra", and "Show das Poderosas" (the latter was her first hit song back home).
---
:: Mazy Fly – SPELLLING ::
Open your mind's eye. Imagine a spider: a single, long-legged spider making its way down a thread of gossamer. Now, behind that spider, imagine a choir of ghosts. They're swaying, and around them is a dark forest of pine. In the trees, a girl stands. The girl is wearing a cowboy hat and a wedding dress, and her name is Chrystia Cabral. The woman behind SPELLLING has written and produced an album that is singular – it is haunted and surreal and sounds like it's been abducted and probed and sent back to Earth. Mazy Fly (released February 2019 via Sacred Bones Records) is like a tonal painting of Twin Peaks mixed with The X-Files, a B horror film that hasn't been made.
Cabral's particular brand of R&B is experimental and bizarre, if one can even call it R&B. Across the album's 12 tracks, Cabral croons her velvety way across 80s and 90s synths, 3am dance tracks, songs that writhe and pulse and meander, making their way out of a universe Ray Bradbury could have dreamt up. The instrumentation is brash and bold, sounding at once childlike and ancient. The album is a haunted carnival, filled with off-kilter melodies and the occasional saxophone, Cabral's voice bending itself into strange shapes. It can be playful and whimsical; the second to last track, "Secret Thread," is saccharine. It almost feels like an affront after what precedes it. But the album also drops into real heaviness: around the two minute mark of "Real Fun," a slow, heavy, metal dirge begins. "Haunted Water" sounds like just that – something dark is lurking just under the surface. Despite all this, it's an incredibly cohesive album, best listened to at night, with candles lit, mind's eye open to something unsettling and new.
---
:: Punk – Chai ::
I put this album on knowing exactly zero about this group or their new record, other than that it had been well-received on Metacritic and it was only about a half-hour long, so it's not like I'd be losing too much of my time even if it turned out that I completely disagreed with the high consensus grade. After listening to Punk, however, you can count me on board the gleeful Chai bandwagon.
This album is infectious and joyous throughout, with positive feminist messages coated over the upbeat radio-oriented pop beats. I consider Punk to be a fine introduction to the world of Japanese girl groups and Far East disco-punk– can't say I'd tested those waters too thoroughly before this week.
---
:: "What's a Song" – Joel Baker ::
There's not a single artist around quite like Joel Baker. His influences are diverse and far-reaching, his lyricism is often heartbreaking, driven by insightfully introspective storytelling, and his voice oozes emotion, instantly endearing you to his beautiful songs. Joel Baker's discography is wonderfully varied comprising of incredible tracks such as the infectiously energetic "Don't Leave," the sentimentally romantic "Extraordinary" and the intriguing reflective "Rupi Kaur."
The latter is an awe-inspiringly absorbing track which sees Joel willingly dissect his own flaws and vulnerabilities in a truly profound way. There's a seemingly never-ending stream of songs which are self-idolizing, shifting the blame of a break-up to someone else's cruelness or viciousness, but "Rupi Kaur" is an almost overwhelming track that relatably reminds us that we're not perfect.
"What's a Song" serves as Joel Baker's next single and sees him revel in a desolate sense of hopelessness after a break-up. The almost anthemic chorus is perfectly complemented by the track's absorbing production and verses which astutely reflect on the colossal hole that's left in your life when someone important is no longer part of your life. "What's a Song" is an infectious delight that can proudly sit alongside his stunning discography.
---
:: Who's Gonna Love Me (When I'm Not Young) – ARMORS ::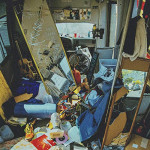 Armors, a band originating from the OC, just released their first full-length album, Who's Gonna Love Me (When I'm Not Young) earlier this month. I've been following this band for a while, and it excites me to say that this is their best work yet. Formed in 2014, the band has only previously released an EP, Collisions (2015), and a couple singles here and there. I'm glad that they've waited until now to release an album, because this one is very consistent and cohesive to their sound — it does a great job of establishing who they are as a band.
Although it's a short one, it's definitely a very complete, full-length work. Every song highlights the lead singer Olen Kittelsen's outstanding unique voice, but also has a lot more of the synth-pop edge than what I've heard from their previous work. This album has been on repeat for me for quite a bit now, with my favorites being "DOA," "Human Touch," and "I Don't Wanna Know." If you're looking for a new fresh sound, I highly, highly recommend this one!
---
:: "She Don't Know Why" – Fade Awaays ::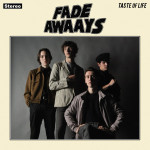 I have it on good authority that "She Don't Know Why" showed up on multiple Spotify Discovery Weekly playlists over the past few months – and for good reason! The lead single off Fade Awaays' debut album Taste of Life (independently released in January) is quintessential indie rock: A perfect rush of that raw, guitar-driven energy that we love so much in The Strokes, Arctic Monkeys, Weezer, The White Stripes, and so on. It's no surprise that an algorithm-driven database would find a song like this, and know that it would find favor with my ears and so many others.
Coming out of the gate with a swell of feedback that subsides into a rollicking chord progression, "She Don't Know Why" is the kind of song whose verses are as emotive as the chorus. Fade Awaays sing a self-deprecating millennial tale of aimlessness. "I stayed in bed all day and got high, but had nothing to say. I'm too young to be alone; smoke cigarettes, but I'm addicted to my phone," Reid MacMaster sings in the verse. "I think I hate myself, so that's why I keep trying to be somebody else. I want to live in the sun; I got no money, so I don't have no fun."
I wish that I wasn't such a bore
But I guess I needed something more
Why won't you tell me what's on your mind?
Rising steadily and with an increasingly dire volatility, "She Don't Know Why" ultimately bursts into a dramatic, exhilarating and surprisingly long chorus. Fade Awaays earn their place as an up-and-coming garage band as they take things up to eleven, pouring themselves out in an extended blaze of tense electricity:
Because she… don't… know why
I get so very frustrated with the fact
That I can never look you in the eye
I could be the first to jump ship
But it don't mean I'm ready to go
Why do you ask all the answers to
questions that you already know?
This is a song for the weary and worn who need to get the lead out. It's an emphatic shout for relief – an attempt to lift the burden of young adulthood and all the uncertainty it bears in our relationships, our life paths, and our ultimate purpose.
Or maybe it's none of that for you. The remarkable thing about a song this bombastic is that it will mean something different to everyone who listens to it. While I'm spending more time listening to the alternative churnings of Marsicans and Gang of Youths' new music, Fade Awaays' debut is exciting and extraordinarily promising: I hope they come to New York, and I can't wait to watch them grow and hone their sound.
---
:: "The Foggy Dew" – Ye Vagabonds ::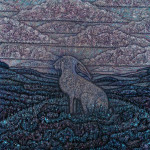 Ye Vagabonds have returned with their sophisticated harmonies and prolific storytelling, enriched with Irish folklore and tradition. The lead single of their newest album The Hare's Lament, "The Foggy Dew" recovers a forgotten version of an iconic Irish ballad, adapted to a modern audience while still holding onto its traditional roots.
Ye Vagabonds transform a timeless classic into something fresh and bold, matching the serene vocals with a poignant video by Claudius and Maret Gentinetta, from their short film Islander's Rest. Both mediums of storytelling are interwoven, perfectly complementing one another to create a multi-dimensional and colourful narrative that never loses its charming simplicity.
---
:: 666 Kill – Willie J Healey ::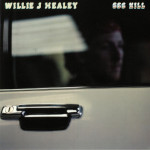 Willie J Healey's 666 Kill EP (released October 2018) was born from a creative experiment of writing and recording a record as quickly as possible (in this case, about a week). Ideas would come and he'd immediately act upon them, writing them down in his bedroom and then sonically bringing them to life in his garage/studio without allowing too much time to think about it. The result is calmly lo-fi chilled out Mac DeMaro vibes with disturbing darkness to the lyrics. The title track involves the devil climbing through the window and showing him his own death. 'It was beautiful' he adds nonchalantly, while "Lovelawn" references pulling a trigger to his head and "Learn Toulouse" a metaphoric grim reaper.
The EP is dreamier than Healey's debut album People and Their Dogs from 2017 and, despite being an experiment, so much more engaging. The title track exemplifies this- all spaced out with alien sounds dispersed throughout and uncomplicated lyricism gliding with the atmosphere. It feels like a real moment of getting lost in somebody's imagination, as though when acting upon his initial ideals Healey didn't lose any of the fantastical.
---
:: Still on My Mind – Dido ::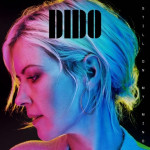 I've been listening to a lot of Dido as of late; there's something about her voice which is an instant madeleine. That is to say a madeleine de Proust, a trigger that fires off intense nostalgic feelings. That percussive pitter-patter on "Thank You" just seals the weird-happy melancholy. Problem is that on every record since No Angel, she's been stuck sonically trying to find something as interesting as that Moby-type housey roots music. Safe Trip Home could have been categorized as her most adventurous record and it still should be. but Still on My Mind captures a feeling that Safe Trip Home never could: the dance. Electropop and loving it, Dido's latest does away from the acoustic stylings to master those echoing, stadium-sized synths and electro-grooviness.
Oh she's still waxing love lost — it is Dido, after all. But the music is no longer somber, downtempo, and in the case of Still On My Mind's predecessor, a snoozefest. Even the ballads are shocked alive by the change in sound towards a more commercially appealing Still On My Mind. In that way, yes, Still On My Mind has no real groundbreaking artistic value — neither did Fly Like an Eagle or Carole King: Music — but as far as an artist's value? Well, Dido is a queen of Spades.
---
:: The First Two Records – Bikini Kill ::
I've been barreling through Jessica Hopper's The First Collection of Criticism by a Living Female Rock Critic, and it's been a fascinating read with tons of fascinating pieces that are equally as relevant as they were at time of publish, including explorations of Taylor Swift's calculating nature, punk's misogyny, and an in-depth look at R. Kelly's crimes. Through all of this, one of the artists that Hopper keeps coming back to is Bikini Kill, the soon-to-be reunited riot grrrls. While I'd had a peripheral knowledge of Bikini Kill, I'd never given them the deep dive they'd deserved and now that I've been diving into their entire streaming catalogue, it's easy to see how they influenced everyone from Paramore to Have Heart.
— — — —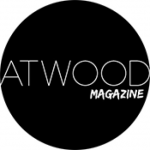 ---
:: This Week's Features ::