We're not part of your machine!
A rowdy rallying cry embracing diversity and individuality: MisterWives just dropped their new single "Machine" (Photo Finish / Republic) at a time when it is perhaps needed the most. With a large young demographic following, New York City indie pop band MisterWives choose to celebrate staying true to who you are and standing up for what's right in "Machine."
---
The first verse of "Machine" makes it clear that MisterWives did not create this song for attention or notoriety. The lyrics explain that the song was within them, and it needed to come out:
Pick apart every piece of me
I missed the point entirely
I only did this to be sane
Not for you to know my name
Serious, almost machine-like, synth tones and a ticking high hat color the music behind frontwoman Mandy Lee's powerful voice. As the song begins to build to the chorus, smooth guitar licks enter. Mandy Lee's vocals become higher and more melodic. It's as if the song is slowly breaking out of a machine-like structure and transforming into the soulful, uplifting sound that has come to define MisterWives since their introductory 2014 debut EP. The lyrics leading up to the chorus create a feeling of empowerment; they're allowing the listeners to know that standing up for yourself is vital, especially if you're being forced into a structure (or machine) that isn't right for you.
Oh I am tired of abiding by your rules, causing me to second guess my every second move. You don't know who I am or what I have been through, no, so don't dare tell me what I should and shouldn't do
After this, the song explodes into the chorus with celebratory brass and joyful melodies. The anthemic chorus is the epitome of MisterWives; Mandy Lee sings out with power,
Not here to lose, not here for you to choose
How we should be
'Cause we're not part of your machine
As the chorus continues, the music breaks down. The combination of the music and lyrics in the latter half of the chorus is simple, yet defining. They adamantly drive home the message,
We're not, we're not part
We're not part of your machine
We're not, we're not part
We're not part of your machine
When the chorus ends, a slick guitar lick and tapping drum kit transition into the second verse with ease. Mandy Lee's tone comes back down into a serious demeanor. The lyrics of the second verse begin to tap into how the industry has tried to make them be something they're not. It's as if they've been told to enter the "machine," if you will, time and time again, but they continue to stand their ground.
Don't feel like having a computer sing this phrase. Not looking for a higher name to write a song for me that sounds the same…Maybe I'm a dying bread, but I believe in individuality
Mandy Lee is able to sing this verse with such conviction. She can naturally fit lyrics into places unimaginable for most artists. She can stretch out syllables of a lyric to emphasize its value, which is exactly what she does with the prolonged "individuality."
Unlike a machine itself, the musical composition of "Machine" is pleasantly unpredictable. It continuously catches your ear as the song progresses. MisterWives drummer Etienne Bowler is incredible and innovative; he brings intricate changes to the beat that allow the song to stay fresh throughout its duration. That, paired with their saxophonist, trumpet player, guitarist, bass player, and keys is what gives MisterWives their incredibly unique and defining sound. Each member has his or her own voice that can easily stand on its own, however when they come together, they create magic.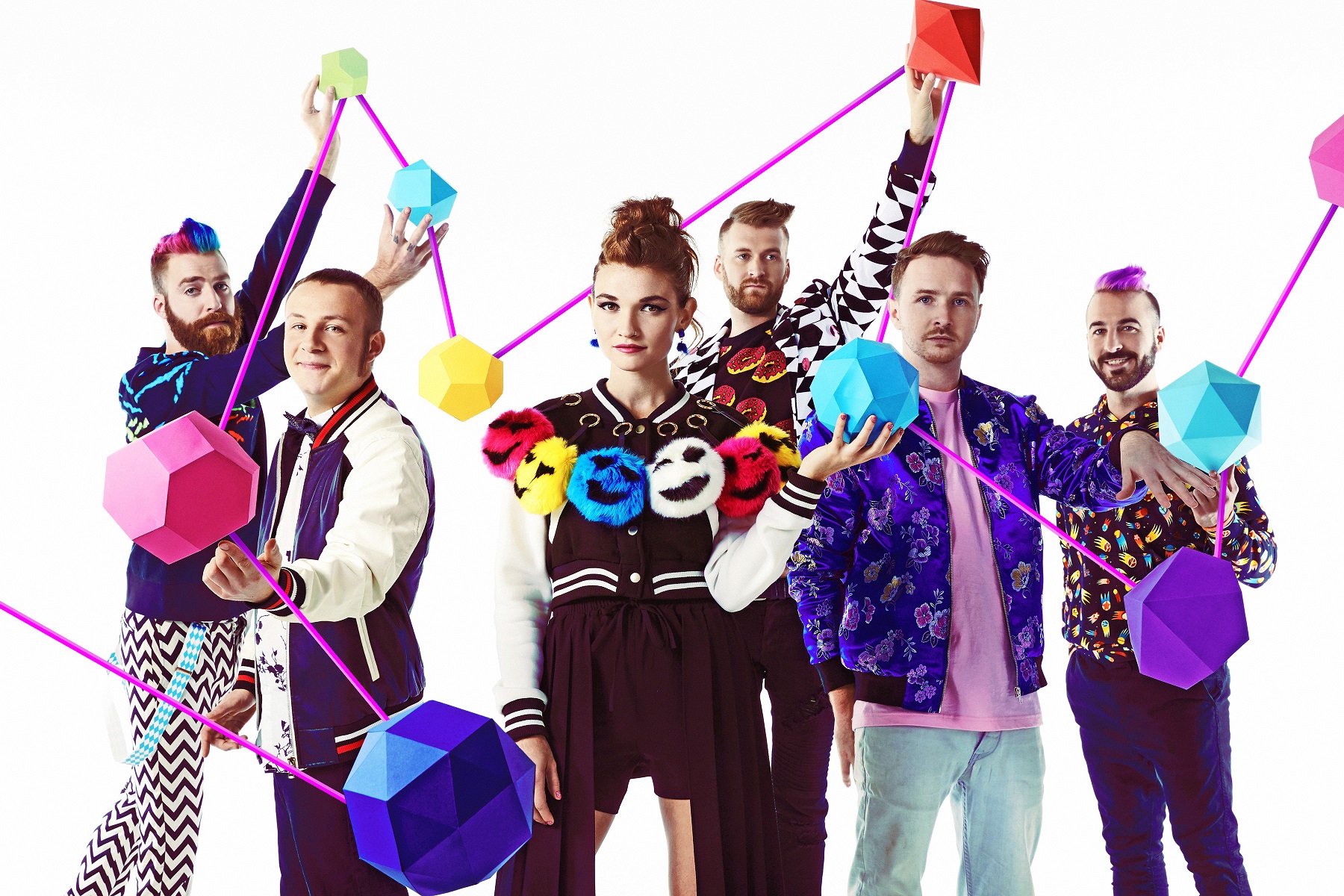 "'Machine' is a rallying cry to stand against a world that suppresses individuality and diversity," says MisterWives of their new anthem. "This song embodies the movement of celebrating our differences, staying true to ourselves, and always sticking it to the Sith Empire! (insert middle finger emoji)." The bridge of "Machine" is the moment of the song where they basically give a big middle finger to those who have tried to suppress them and others, and they're encouraging their listeners to do the same. It starts off with just keys and Mandy Lee. She's singing a mile a minute in what could be considered a rap, yet she keeps those melodic vocals in tact. It has a twinge of Chance the Rapper and a dash of No Doubt that allow you to feel the power they're transferring into your ears:
I'm a tough girl, I run my own world, and if you don't like it there's a door if you're not into it, I aint got no interest in any your business, just here for the music and there's nothing else to this bull shit.
Horns and drums pulsate in the background as Mandy Lee builds up to the final chorus with urgency. The song then beats on with harmonies and melodies easy to get lost in. It comes to a closure with a signature "Hey!" echoing into the distance.
Not here to lose, not here for you to choose
How we should be, cause we're not part of your machine
The execution of "Machine" shows you that MisterWives mean every bit of this song. The intricacies are stupendous, and the effort that went into every lyric and every note is so clear. MisterWives have made it their mission to never lose sight of who they are in an industry (and a world) that can be very controlling and manipulative. Much like The Beatles in their day, they take nothing from no one and do as they please. They write songs to stand up for what is right. "Machine" proves to be their most direct and deliberate message yet, a powerful protest anthem that still holds that intangible quality that makes MisterWives, MisterWives.
And let's face it, isn't that what made us fall in love with them in the first place?





cover © Mary Ellen Matthews
:: Listen to More from Misterwives ::
:: MisterWives Live ::
2017 Tour Dates
2/24 – Uncasville, CT – Mohegan Sun Arena
2/25 – Philadelphia, PA – Wells Fargo Center
2/26 – Portland, ME – Cross Insurance Center
2/28 – Pittsburgh, PA  Petersen Events Center
3/2 – New York, NY – Madison Square Garden
3/3 – National Harbor, MD – The Theater at MGM National
3/4 – Worcester, MA DCU Center
3/7 – Columbus, OH Schottenstein Center
3/8 – Cleveland, OH Wolstein Center at CSU
3/10 – Auburn Hills, MI – Palace of Auburn Hills
3/11 – Rosemont, IL – Allstate Arena
3/12 – Saint Paul, MN Xcel Entergy Center
3/14 – Des Moines, IA – Wells Fargo Arena
3/15 – Omaha, NE – Baxter Arena
3/17 – Denver, CO – Pepsi Center
3/18 – Orem, UT – UCCU Center
3/19 – Boise, ID – Taco Bell Arena
3/21 – Seattle, WA – WaMu Theater
3/22 – Portland, OR – Moda Center
3/24 – Las Vegas, NV Mandalay Bay Events Center
3/25 – Oakland, CA – Oracle Arena
3/26 – San Diego, CA Viejas Arena
3/28 – Inglewood, CA The Forum
3/29 – Phoenix, AZ – Talking Stick Resort Arena
3/31 – Allen, TX – Allen Event Center
4/1 – Houston, TX – Toyota Center
4/2 – Austin, TX – Frank Erwin Center
4/4 – Tulsa, OK – BOK Center
4/5 – St. Louis, MO – Scottrade Center
4/7 – Birmingham, AL – BJCC Arena
4/8 – Memphis, TN – FedEx Forum
4/9 – Louisville, KY – KFC Yum! Center
4/11 – Greensboro, NC – Greensboro Coliseum
4/12 – Duluth, GA – Infinite Energy Center
4/14 – Orlando, FL – Amway Arena
4/15 – Sunrise, FL – BB&T Center