Every song Roanoke's Macklyn sings on his heartfelt debut album 'Life + Love' is another prayer – an R&B, neo-soul anthem full of passion and sweet sincerity.
"Live" – Macklyn ft. Sareem Poems & Darien Brockington
---
"Can someone show me what it is to be a man in this world?" sings an impassioned, authentic Macklyn in his recently-released debut album. "Because time is moving, going, and our hearts show where we really are. Help us to grow up, be a better us, humbled and merciful than what we are. Clock is ticking, but we're on our phones. People are hurting and being left alone…" Every song Macklyn sings on his heartfelt Life + Love is another prayer – an R&B, neo-soul anthem full of passion and sweet sincerity. His music, as groovy and radiant as it is meaningful, acts as a call to action for us to wake up and fix our broken world. It's a reminder that change starts at home – yet perhaps most importantly, it's a reminder that we can be our best selves, if we try: Nothing is out of reach if we believe.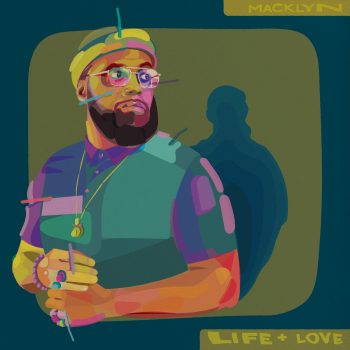 every day is the same
so mundane wondering
where you're going in your life
all you do feels in vain
feeling down, feeling drained,
comparing yourself to them
in your mind, struggling
with who you are in the clouds
a silver line, don't be down
'cause baby, you were meant to shine
irregardless of your problems
today's a brand new day
so open up those eyes and live your life!
Independently released June 17, 2021, Macklyn's debut album Life + Love is a soulful outpouring of just that – life lessons and unadulterated love. A Roanoke, Virginia-based singer/songwriter and rapper, Macklyn grew up singing in church and dedicated much of his adolescence and teenage years to pursuing music. He spent the first decade or so of his professional career involved in community engagement and activism – in 2015 he started Neighborhood, a movement focused on racial reconciliation, homelessness, and social justice – and ultimately returned to music in 2018, releasing his debut single "Keep On" in March of that year. A steady, slow stream of singles releases over the past three years found Macklyn developing not only his voice, but also his mission – his stated goal, through music, is "to meet people where they are that they would know God and that they are made in his image." His debut album arrives less than a year after his debut EP Until Tomorrow, an impassioned and glistening six-track EP full of moving sentiments and smoldering R&B.
For Macklyn, this LP is a long time coming – the fulfillment of a vision that required time, attention, and dedication.
"When I first began making music, I was enjoying it, and yet I knew the vibe wasn't really me," he tells Atwood Magazine. "As God has grown my love for it, I've begun finding my foundation, as a friend of mine likes to call it. Essentially, my lane. My previous music is enjoyable, but I've grown from that in many ways and now see just how perfectly this album fits my foundation, the genre, and where I can go from here."
Finding cohesion and a definitive musical identity requires not only intense reflection, but also significant trial and error. For Macklyn, all that hard work seems to have paid off over the past two years as he developed and put out both his debut EP, and now his debut album. As he explains, Life + Love actually grew out of a previous project he had been working on at the time.
"This album started as a project titled Dialect and actually had interludes and a few different tracks," Macklyn tells Atwood Magazine. "However, as 2020 happened and I began working on more music, I knew I wanted a certain foundation to my music. Dialect was an album quickly thrown together. So I revisited it and made changes. Thus Life + Love came to be!"
"My vision was to address different topics that we struggle with on the daily through the medium of R&B and Neo-soul. The second part of the vision was to make good music that paid homage to older styles of R&B and Neo-soul while still providing a modern flair. When Dialect was being made, I knew I was making quick songs. They didn't all have meaning and purpose. However, with Life + Love, I feel that changed in a major way. the songs "Time," "Coolin," and "Lion" were on the original project, and I felt those were the best tracks, but I then added the rest, as (one) I grew in my music prowess, and (two) the album grew into something more organic – something that felt like me and what I loved. It's funny because this title actually encapsulates the main focus of this album, which is about forgiveness, self care, relationships, and living, all under grace. However, once I finished the album I remember having a moment of brainstorming, and this title came to my mind clearly. I feel like it fit everything on the album perfectly."
---
Life + Love moves and grooves through hot pockets of depth and bright breaths of revelry.
From the hot vibes radiating off opener "Coolin'" and the enchanting, up-close-and-personal relief of "The Weekend," to the majestic, sweeping closure of "Soul Rest," Macklyn's debut stirs the heartstrings while getting our heads bopping and toes tapping. "I really want to do, like the Electric Slide or something to 'The Weekend,' he smiles, listing it alongside the songs "Live" and "Yesterday" as his personal highlights. Each of these songs, as is the case with most of this record, pack deep meanings into catchy tunes that help us find, embrace, and become our best selves.
For Macklyn, becoming his best (musical) self was a process of both introspection and collaboration. Several of his album's tracks including features, many of which add refreshing flavor and exciting nuance: Jayna Brown shines in "Coolin'," whereas London hip-hop artist K.I.N.E.T.I.K. lays a thick, roaring rap at the end of "Time." Fellow Roanoke resident Taye The Truth joins Macklyn for a spicy upheaval in "Soul Rest," Matthew Mosley and R-Swift add their emotive takes on fatherhood and acceptance to "Pops," and Sareem Poems and Darien Brockington soar in "Live."
There's a lot of love in these songs, and a lot to love about them; for Macklyn, two of his favorite lyrics say so much about who he is, and why he creates. "One is in the song 'Yesterday' when it says, "We will be better than yesterday. Rise through the struggles, enjoy each other in the pain." Another that has honestly spoken to me time and time again as I listen is from 'Live,' when artist Sareem Poems says, "If you ain't okay, know that that's okay." Sometimes we're pushed to get over things so quickly that we never really get time to process things. Hearing that reminds me that it's totally fine and to take my time as I go through whatever, and furthermore that God isn't rushing me either, so why am I rushing myself?"
---
These stand as a reminder that Macklyn and his music are here to heal; to help; to inspire, to encourage, and to connect.
Whether you open up your heart to a higher power or simply let the love in, Life + Love glows with resounding strength and a breathtaking, humbling inner beauty.
"I hope [listeners] take away that R&B and Neo-soul still slap!" Macklyn laughs. "But seriously, I hope they are inspired to live, to love, to forgive, and to be gracious to others. One major thing I have taken away from this process is the importance of a team. Outside of the features, mixing and mastering, production, artwork, and the end marketing processes of the release, I worked on and prepared the majority of this album by myself. God helped me get through it in many ways though, but I had gotten to a point where I realized I needed help, and had yet to ask for any. But when I did ask, people showed up to support in amazing ways, and I couldn't be more grateful."
Experience the full record via our below stream, and peek inside Macklyn's Life + Love with Atwood Magazine as Macklyn goes track-by-track through the music and lyrics of his debut album!
— —
Stream: 'Life + Love' – Macklyn
:: Inside Life + Love ::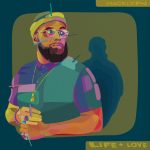 — —
Coolin ft. Jayna Brown
During a trip to Michigan for a performance, I came up with the song Coolin, as I needed an extra song for the performance. It was heavily inspired by the late J Dilla, and my goal was to encourage the listener to groove and relax. The song features America's Got Talent Golden Buzzer Winner Jayna Brown.
Yesterday
Believe it or not, this song came from a voisey track I created. Voisey is this app that allows people to have somewhat recording level songs for one minute of time. The song in its fullness is an encouragement for love and pressing on through a relationship. The vibe was inspired by Robert Glasper.
Time ft. K.I.N.E.T.I.K.
As I was in the beginning stages of this project, I knew I wanted a track that challenged listeners with their time. I wanted to push the reminder that we can spend time well and wisely, making better choices in how we live life. The rapper K.I.N.E.T.I.K. pushed that idea further with his verse.
Pops
Family relationships can be difficult, especially ones with our parents at times.The purpose of Pops was to share my own story of that struggle, while also showing the joy of progress, perseverance and forgiveness.
The Weekend
This track was one of the last written and recorded for the album. I wanted people to pursue self-care, to know that in a society that pushes continually working, resting and enjoying the day is also needed. The vintage feel of the track gives line dancing vibes, as I want this to feel like the perfect cookout song to dance to.
Live
During the first few months of COVID I felt fear and depression. I battled with myself on my purpose, and as I read through my bible in Ecclesiastes I was reminded of what life was about. Live is a reminder to enjoy the life we've been given by God, and to shine, and find joy he's given us in it.
Lion
This track is my personal story of growing up. The good, bad and ugly, and how God took care of me through it all.
Soul Rest
"Soul Rest" finishes the album by going deeper than even the weekend did. It's an encouragement to the listener that while we can enjoy the day, and while self-care is important, there's nothing like taking care of our souls.
— —
— — — —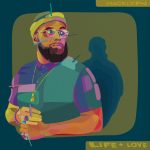 ? © Maurice Lipscomb (@map_el_iv)
:: Stream Macklyn ::
---
---