A fresh, exhilarating breath of psych, sun, and fun, The Flavians' self-titled EP is an energetic outpouring of passion, connection, and verve.
for fans of Mt. Joy, The Beatles, The Head and the Heart
Stream: "Better Than This" – The Flavians
---
We feel like this EP is a bit rawer, more emotionally extroverted, and perhaps it shows a more untainted picture of us as artists.
A fresh, exhilarating breath of psych, rock, sun, and fun, The Flavians' new EP is an energetic outpouring of passion, connection, and verve.
Buoyant and brimming with emotion, The Flavians captures the Berlin band's colorful creativity while diving deeper into matters of the heart and the self than ever before, once again reaffirming them as one of our top artists to watch in the psych rock space.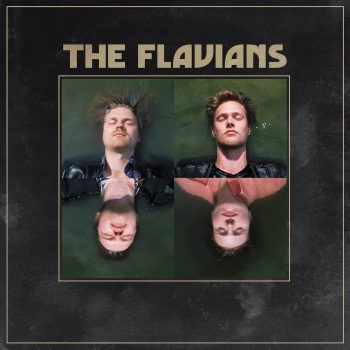 Don't stop, hit me again,
man let me tell you that
It won't get better than this.
I beg to differ here's the number to my friend,
he'll get you all for fifty dollars
just don't mention my name.
And try not to stare,
he'll be your best friend
or your worst nightmare.
What do you care?
Everything is all the same for you.
Keep saying that
it won't get better than this,
keep saying
that it won't get better than…
– "Better Than This," The Flavians
Independently released June 25, 2021, The Flavians arrives this summer as the latest record from Atwood artist-to-watch The Flavians who earned said title with their extraordinary debut album Ordinary People in an Ordinary World – itself released just over a year ago on January 31st. Described by Atwood Magazine as "a fresh breath of buoyant, down-to-earth music that will bring a smile to your face and a warmth to your soul," Ordinary People… introduced the colorful and sweet sounds of Sweden's Joakim Jägerhult (drums) and Liam Blomqvist (vocals & guitar), Czech Republic's Anna Vaverková (vocals & keys), and Britain's Thomas Wills (vocals & bass) – who together have formed one of the most promising indie rock bands their side of the Atlantic. Fans of everyone from The Beatles to Mt. Joy will readily fall for The Flavians' effortless, sun-kissed allure.
The Flavians are something of a classic rock lover's dream come true: A 2020s band mixing modern techniques with "classical" influences, blending folk, '60s pop, psychedelic, and rock elements into a colorful and distinguished sonic palette.
"It kind of all started out with us having available studio time from our University," the band says of their formation and first album. "We had just formed as a band and had just released our first singles. After they quite unexpectedly started to gain a bit of traction, we naively thought, hey, let's make an album, I think that's what bands are supposed to do! So, we chipped away at it over two years in various studios in Germany, Sweden and the UK and self-released it in January 2020. We started to conceive the idea of the album after we released our second single 'Non Stop Fun.' We realized around this time that all of the songs written up to that moment shared many similar characteristics. As they were all based on stories from the points of view of other people, we came up with the idea to shift the direction of the songwriting to make this into a form of concept album. Anna wrote a two-part song called 'Ordinary People in an Ordinary World,' and the name kind of stuck!"
While The Flavians EP shares similar characteristics to the band's first LP, its intimate lyricism and dynamic performances find us closer to the band than ever before. Part of that visceral quality comes from the way these songs were made: "The album was mostly recorded at a studio called TRIXX in Berlin. For the EP, we decided to record it ourselves in our basement studio," The Flavians explains. "Thing is, our basement is actually next door to TRIXX and so both musically and physically, the EP kind of starts where the album left off! Due to the DIY aesthetic of the recording, it definitely has more of a rough sound. The songs also got heavily influenced from being out gigging and touring in 2019. We actually performed 'Blinded by the Scenery' for the first time at Glastonbury Festival in the UK. We feel like this EP is a bit rawer, more emotionally extroverted, and perhaps it shows a more untainted picture of us as artists."
---
From thrilling opener "Blinded by the Scenery" to the dynamic overhaul of a closer "Is It Real," The Flavians captivates from start to finish, with highlights throughout. The dreamy "Ace of Base" is an instant standout, its sweet and soulful dose of musical sunshine making for an invigorating seduction. The bustling single "Better Than This," with its charming melodies and inviting chorus, has also found favor with fans online.
For the band, choosing favorites is an impossible task. "It goes in waves, it's that kind of thing, but right now we'd Say 'Black Bat,'" they concede. "We recently shot a dreamy music video for it in the garden of a Prussian palace that brought some of the melodic and rhythmic elements to life. We're really happy with it!"
I carved your name in the tree by the meadow
Wounding all your bark, and your heart was mine to keep
As the day breaks I wake up beside you,
sunlight hits your eyes, and that smile,
stay there for a while.
What's a dream if none, if you have to dream alone?
Come on, bring me life, bring me joy and delight
As the black bat surrenders the night
Bring me life, bring me joy and delight.
List your fears, write down all your sorrows,
Fold a paper plane
Let the breeze, blow it all away.
– "Black Bat," The Flavians
"Black Bat" is a beautiful reckoning, with Anna Vaverková's emotional performance dazzling the ears as she sings amidst a stunning array of churning, sweeping guitars, sweet, dulcet pianos, radiant orchestral strings, and swooping vocal harmonies.
"Speaking of music videos again for a moment, we also loved the process of writing and filming our video for 'Blinded by the Scenery' with our dear friend Chris Angel Walker," The Flavians add. "We shot it in a 1920s style and somehow managed to spin this little detective story that ended with a failed heist and fight scene! If you are into sci-fi stop motion films, check out his band Substereo on Youtube. Their recent releases are unbelievable!"
Wait, what are you talking about?
Can't believe the words from your mouth.
Pick it apart, where do we start.
When everything is awful, living on the razors edge.
Soul through the door, can't take this anymore.
Talk to me, blinded by the scenery,
take a breath and count to three,
tell me where it hurts.
Hey, where are you going tonight?
F-f-f-follow the neon lights,
You'll find me at the
Sgt. very lonely hearts club band.
Talk to me, blinded by the scenery,
take a breath and count to three,
tell me where it hurts.
– "Blinded by the Scenery," The Flavians
---
The Flavians spent a significant amount of time invested in this EP's lyrical content, which brings their sounds to life on a deep, connective level. "Almost all the lyrics from the EP are in one way or another taken from personal experiences, which sometimes can be hard for listeners to connect with, I suppose," Liam Blomqvist tells Atwood Magazine. "I think 'Is It Real' does a good job of telling the story, while still touching on a relatable topic. People can hopefully recognize themselves in the lyrics and make it their own in some kind of way. Also, 'Ace of Base' may be relatable to anyone who also enjoyed a topsy-turvy start to the last lockdown! We also love the 'come a little closer, I need heat' harmonies from 'Ace of Base.' That was fun to record!"
Whatever you're in need of as we head into the summer heat, The Flavians is sure to add a spark to your every day. A lively, radiant EP, it achieves what The Flavians have always seemed to do best: Turning the ordinary into the extraordinary.
Waking up in a haze,
I'm wearing shit-stained undies
hearing ace of base on repeat,
how did I fall this deep?
I'm in an altered state,
where nothing makes sense
and sense makes nothing to me,
that's where she walks in, saying:
Come a little closer I need heat
Come a little closer I need heat
"We hope people will hear that it comes from an honest and more exposed place. That's at least how we feel about it!" The Flavians share. "Our main surprise from this process is that we're able to do quite a lot with very little as long as we've got an open mind, time, creativity and a LOT of patience. Whenever we couldn't do something, we had great friends that could help us through the difficult patches. We're very grateful for them and it couldn't be done without them!"
Experience the full record via our below stream, and peek inside The Flavians' The Flavians EP with Atwood Magazine as The Flavians go track-by-track through the music and lyrics of their latest release!
— —
Stream: 'The Flavians' – The Flavians
:: Inside The Flavians ::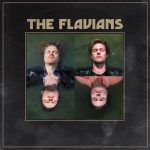 — —
Blinded by the Scenery
As stated before, we played Blinded for the first time in the summer of 2019 in England while on tour. However, what we didn't say before is that we finished the lyrics a just few days prior! We formed the narrative by cutting up Daily Mail articles on Tom's parents kitchen table and jumbled up lots of different stories. There is usually an enormous amount of sensationalist shite written in that newspaper. But, when we stumbled across a beautiful story about a Médecins Sans Frontières doctor in Syria, we knew for the first time where the song was going and we carried on from there!
Ace of Base
This song is one of our new favourites to play. Inspired by drug fueled teenage house parties, we got a bit nostalgic about our formative years and looked back upon what it was like to all grow up in tiny towns in both Sweden and the UK. Anna is from Prague so she didn't really experience the 'small town monotony' but, the rest of us sure hell did! It's funny how we all have the same kinds of silly stories about getting into trouble and falling flat on our faces!
Black Bat
This one may be the most sentimental on the EP. It touches on the topics of alienation and loss with the 'Black Bat' (no relation to Wuhan soup) as an analogous depression that swoops in when the sun goes down. A lot of us really like this one. It may be our favourite.
Better Than This
Another story about teenage debauchery… noticing a trend? This song is specifically about the relationship between a buyer and his dealer and is a little more autobiographical than Ace of Base. We won't say which person in the band this story is about. But, what we will say is that a guy who used to deal to one of us actually did go to prison for stabbing a rival gang member in a circus. I guess we were thinking back on this and it made its way into a song!
Is It Real
Is it Real took quite a bit of tweaking to get right and I think we worked on this one the most. We tried it slower with Anna singing, changed the key to try for Tom but, in the end, the song suited Liam the best. We tend to do this with most of our song ideas as each singer in the band brings their own distinct energy to a performance. We like to experiment with this! This song was partly inspired by a trip to California that Anna and Liam took. Without doubt, they have a different concept of 'reality' over there in LA! One day while walking around Hollywood, they both accidentally found themselves on a tour of one of the Scientology Churches. For fear of getting harassed we won't say any more. But, it did influence the song.
— —
— — — —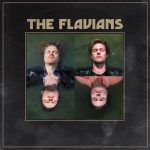 ? © Tobias Humble
The Flavians
an album by The Flavians
---