20-year-old Brooklyn-based Margaux has created an intimately hypnotic experience in debut EP 'More Brilliant Is the Hand that Throws the Coin,' a hazy and utterly immersive sonic daydream.
Stream: "Palm" – Margaux
---
Climbing out of somebody's memory; clinging to what's clung by family…
Twenty-year-old Margaux Bouchegnies writes music like one would a diary entry: Intimate and in-depth, personal and relatable, her songs sweep us off our feet as they immerse us in an artist's turbulent coming-of-age. With 20 minutes of dramatic, stunningly beautiful music, her debut EP More Brilliant Is the Hand that Throws the Coin quickly establishes Margaux as an artist-to-watch over the next year and beyond.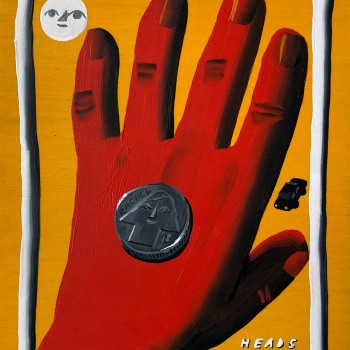 December came too fast
I thought about the things you said
Like hoping this would last
But now it seems we're out of time
A heart that breaks so soon
The rest of it depends on you
A heart that changed so soon
Lay down, this is your final offer
Cave in, let go of what you wanted
Thought you had the reigns now
tangled in the chains now
– "Cave In," Margaux
Released November 15, 2019 via Massif Records, More Brilliant Is the Hand that Throws the Coin hails the emergence of Seattle-born, Brooklyn-based Margaux. Making a delightfully nuanced, atmospheric yet grounded blend of (what one might consider) "dream pop, grunge, and "indie folk," Margaux is currently a full-time student at the New School in NYC. She released her debut single "Palm" in early October, followed by the song "Cave In" and shortly thereafter, the full EP — meaning this music and the artist herself are as fresh as it gets.
Embarking on More Brilliant Is the Hand that Throws the Coin feels like a journey into the wilderness. "Cave In" opens the record softly and slowly, eventually ramping up with garage-y ruthlessness until we're headbanging along to the artist's repeated insistence: "Thought you had the reigns now, tangled in the chains now." The gorgeous "Faced with Fire" finds Margaux diving inward to explore feelings of love and surrender, complete with references to notable female poets and haunting, sweet harmonies. "Hot Faced" is something of a reclaiming of the artist's womanhood and individuality – an inspiring anthem responding to the pressure and expectations our society levies on women.
While each of Margaux's songs is truly as wondrous as the last, there is perhaps no better way to summarize the newcomer's music all at once than through a listen to her debut single "Palm," which explores feelings of connection and blooming affection alongside personal growth, insecurity, and confidence. Rollicking and jazzy in its first half and cinematically heavy in its second half, "Palm" puts the artist's full musical prowess on display as she essentially merges two sonically distinct sections into a single cohesive and singular musical experience.
Closing her EP with the sweet, richly colored "Smaller Home," Margaux leaves us itching for more despite having only just begun. More Brilliant Is the Hand that Throws the Coin faithfully captures a coming-of-age tale, yet there is so much more she hasn't said yet.
Crossing over eyes closed
In the past, going back
In this bedroom, something left behind
I'd like to think about the things that
Changed since when I was
Last home is it smaller now
And did you think about the things
That changed me or does even matter
Will you still be the same
I'm on my way
I'm moving every day
Can't stay an age
Speak like I've gone away
Margaux's music is diverse; with her voice and guitar serving as a base musical core, an array of instrumentation helps every track stand out – from the dazzling orchestral strings supporting "Hot Faced" and the subtle keys in "Palm," to the acoustic guitar work and lilting brass horns in "Smaller Home," and the bells and pedal steel work in "Faced with Fire."
Faced with fire
A glow that marks a night of reverie
It seems so quiet and the
Moon is gleaming privately for
You and me beside the glass
a honey mouth a faded past
home of possibility
Take a seismic breath
I know, you're tired
And I see that your desire
is to stay still, stay still.
– "Faced with Fire," Margaux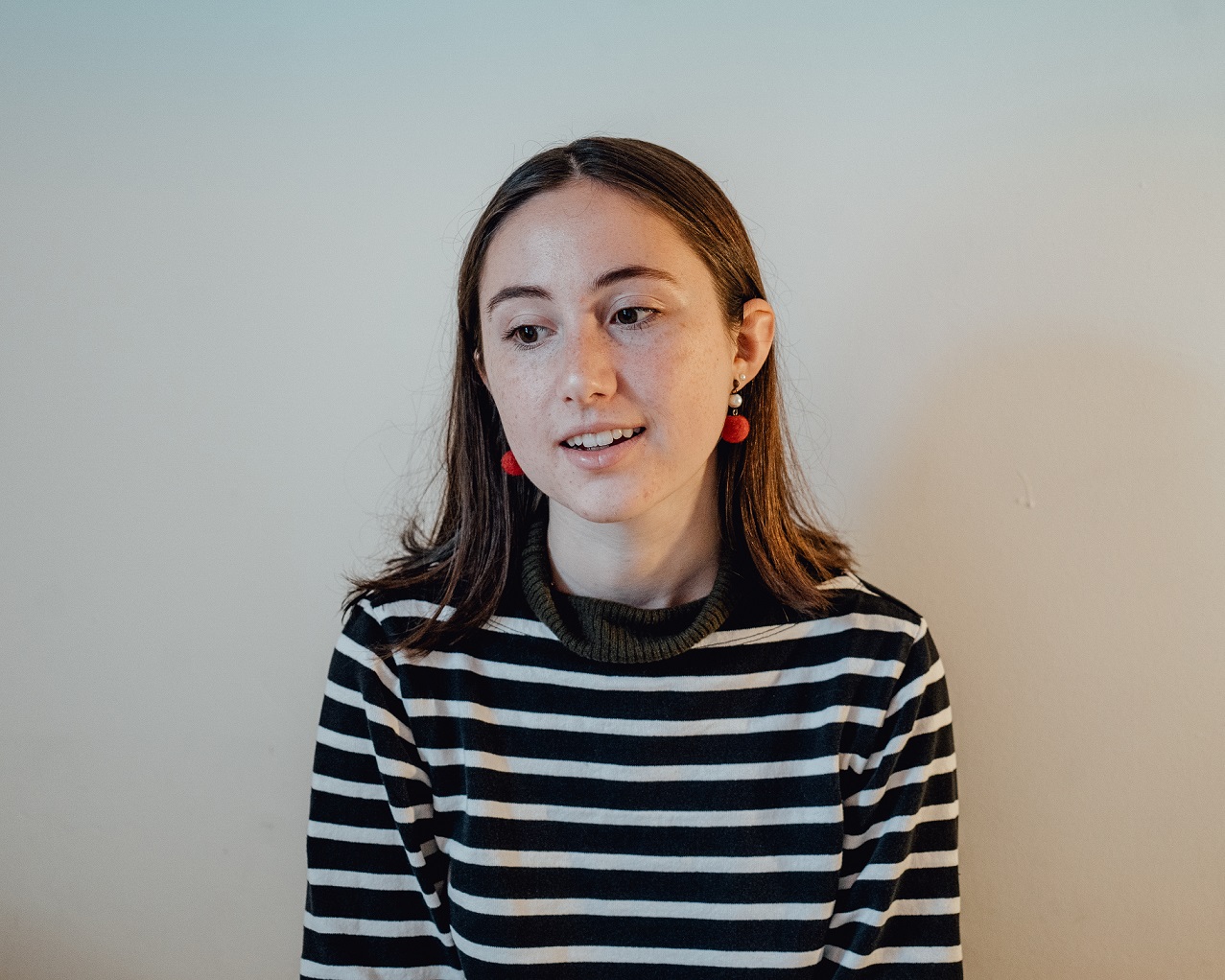 More Brilliant Is the Hand that Throws the Coin is brilliant, understated, and absolutely enchanting.
It's the kind of debut EP every artist should aspire to release: Simple yet stunningly complex, overflowing with heavy impassioned emotions, and packed with enough sonic treats and musical surprises to keep us coming back time and time again. In short, Margaux has crafted the perfect introduction, and now that it's released, it's ours to keep. Raw and relentless, this is one hazy sonic daydream we'll be playing on repeat this winter.
Experience the full record via our exclusive stream, and peek inside Marguax's More Brilliant Is the Hand that Throws the Coin EP with Atwood Magazine as the artist-to-watch goes track-by-track through the music and lyrics of her stunning debut record!
'More Brilliant Is the Hand that Throws the Coin' – Margaux
:: Inside More Brilliant Is the Hand that Throws the Coin ::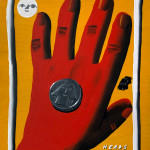 — —
Cave In
"Cave In" is about feeling stuck inside someone's perception of me as a younger version of myself and the seemingly futile effort to change their view. I think this is a pretty common point of strife in the desire to grow up and grow up quickly. I wrote this song when I was feeling particularly frustrated and impatient in the face of my own self-made constraints and those imposed by others. I really wanted to lean into the kind of angsty power chords that you might hear coming from a bedroom post-door slam.
Faced with Fire
"Faced with Fire" was written when I was both speculating and longing to know what it could feel like to be completely in love. There are a couple of nods to the writing of Susan Sontag and Emily Dickinson in there, both of which have moved me in ways that feel in line with what I thought romantic love might feel like at the time. I had a really specific vision and mood in mind and wanted to put as much care and patience as I could into articulating what I was feeling.
Hot Faced
I wrote "Hot Faced" when I was feeling angry about how conditioned I've been as a young woman to act so submissive and small. This is one of the only songs I've ever written most of the words first without the intention of putting them to a melody. I really just wanted to focus on being honest and expressing the built-up energy that comes with constant self-regulation.
Palm
I wrote "Palm" a few summers ago when the lines of unconditional love and care for a friend felt blurred by romantic feelings. The gist of the song is really about big feelings that come from an innocent place but feel restricted by boundaries that seem like they shouldn't be crossed. When I wrote this song, I wanted to evoke that sense of innocence through a simple and cyclical progression with flares of insecurity. Halfway through is when the time cuts in half and boundaries are broken with everything unleashed. The outro is really meant to represent the flood of feelings that come with being completely infatuated by someone.
Smaller Home
I wrote "Smaller Home" the second time I went home for winter break and was feeling the ambiguity and tension of seeing myself differently amidst familiar and familial surroundings treating me as unchanged. Uprooting from Seattle to NYC brought on some big kinds of growth and identity shifts that led to what felt the loss of a previous self. It's both freeing and strange but especially made obvious by how the people around you respond. Growing up is a pretty universal experience and I wanted to express the aspects that felt most nuanced throughout my experience.
— —
— — — —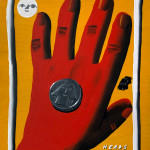 ? © Emma Bjornsen
More Brilliant Is the Hand that Throws the Coin
an EP by Margaux
---