An intimate and electric indie pop experience, ella jane's debut EP 'THIS IS NOT WHAT IT LOOKS LIKE!' is a vulnerable and honest coming-of-age record that leaves no stone unturned and no feeling untapped.
Stream: "bored&blind" – ella jane
---
Our teenage years are precious: Each one seemingly more seismic than the last, our teens house some of the most tempestuous and unstable, formative and beautiful moments of our early years – often times laying the foundation for our journey from youth into young adulthood. It's an adventure of self-discovery and inner reckoning; of chaos and balance; of impulsivity and control. The trials and tribulations, magical days and radical nights of teenage life have been enshrined again and again through movies, books, and music – with recent narrators like Lorde, Troye Sivan, and Lil Nas X beginning their careers through songs that speak to the drama, and wonder, of this time of growth that colors every person's story.
Add to that list ella jane, whose buoyant and bustling debut EP navigates the many bumps in the road with grace, capturing her own whirlwind late teenage years with vivid imagery and tantalizing, seductively sweet sonic circuitry. An intimate and electric indie pop experience, jane's THIS IS NOT WHAT IT LOOKS LIKE! is a vulnerable and honest coming-of-age record that leaves no stone unturned and no feeling untapped. It's euphoric; it's limitless and immortal; it's heartbroken; it's anxious and depressed. It's a confessional album of individuality and universality; of passion and empathy; of longing and loneliness; and perhaps most special of all, of a young artist's awakening.
Honestly I'm kinda burned out
I've been waiting so long
I guess I've just been watching your mouth
Tryna form the words of a love song
And honey, will you sing it for me?
Get it stuck inside my head
Cutting letters out of a magazine,
I'll write myself a ransom love note instead
Well how many figures
Will it take for you to bring me back my heart
'Cause right now it's sitting in your basement
Hidden in the back with some stolen art
And hey Mona Lisa,
While you're smiling, will you give him one for me?
'Cause I locked myself inside his coffin
And I was dumb enough
To throw away the key
Out September 10, 2021 via FADER Label, ella jane's THIS IS NOT WHAT IT LOOKS LIKE! is an exciting introduction full of tension and release. Arriving a year and a half after the New York native debuted with "The City" (shortly before her city locked down), the 25-minute EP showcases jane's lyrical prowess, her vocal talents, and her acute ability to package every moment with hints of darkness and light, pain and beauty. In many ways, she reminds us of The Love Club-era Lorde, both in her dynamic indie pop ethos and in her ability to capture fleeting emotions and special little moments in time. An artist with millions of streams already to her name, jane is a star on the rise.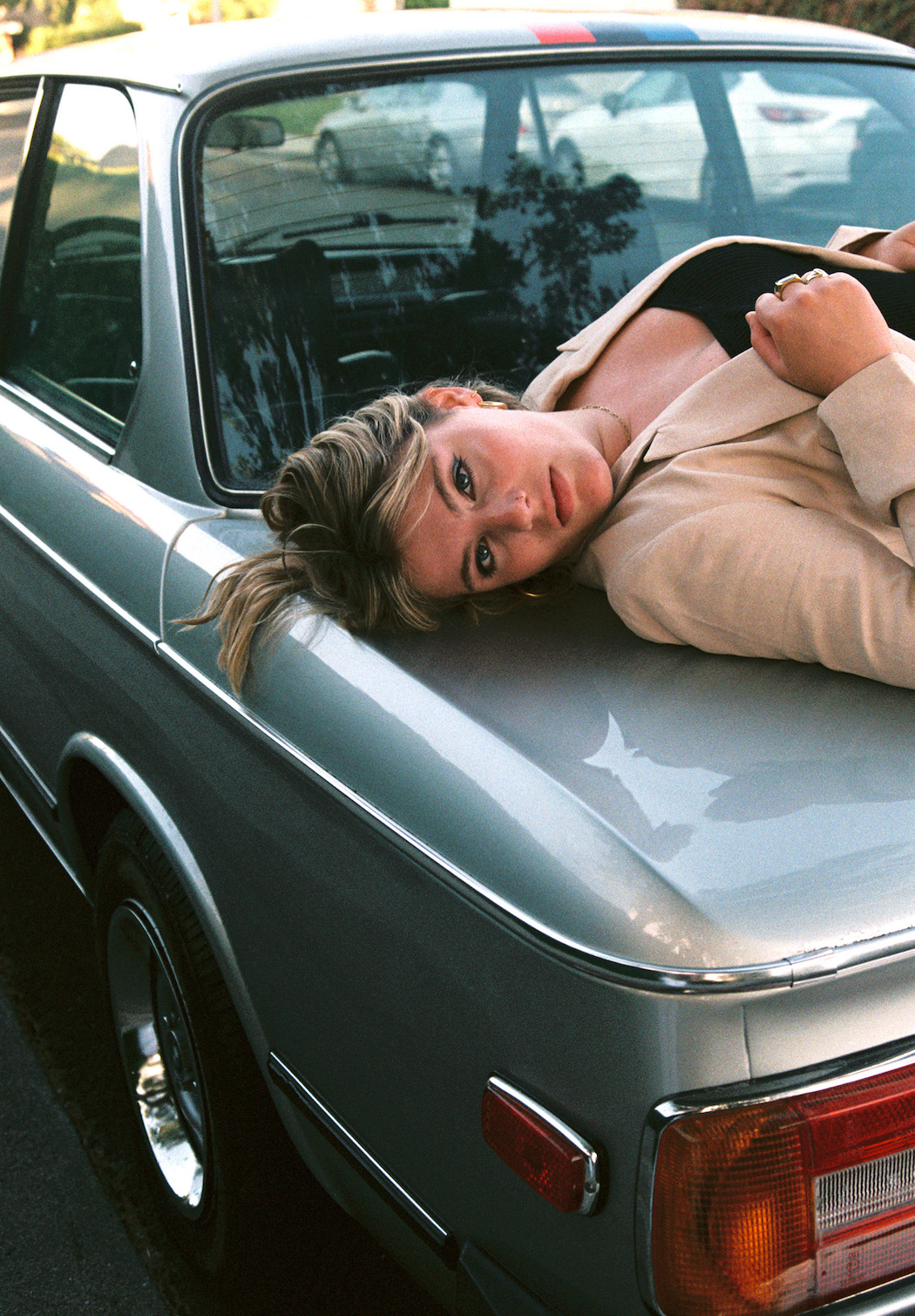 "This EP is a collection of songs I wrote throughout high school, from ages 15-18," the now 19-year-old jane tells Atwood Magazine. "Though most of the songs are singles that were previously released, packaging them all up in the form of a project serves a very symbolic purpose for me. It represents the changes I went through – the changes that we all go through during that time in our lives – and the significance those changes can have for us. Part of the reason I love songwriting is for its ability to preserve and record, like a time capsule. Art gives us immortality. I feel lucky to have this music to mark that period in my life, and that I get to share it with other people and maybe even give them time capsules of their own."
"This is kind of the last opportunity I'll get to have where I'm not going into it with a finished, cohesive project in mind," she adds. "These songs existed because of circumstance, not obligation, so none of the writing served a larger purpose other than acting as a singular outlet. Putting these songs together in the form of this EP allows me to recognize that, and leave it behind as I begin to write with full projects in mind."
I waited up for your call
You never told me you would
But the way that you smiled was a promise, I swear
Fell asleep by the phone
I missed a message or two
Deleted them 'cause they weren't you
I wrecked my house a hundred times
just to see you walk into a room
But there was money in your laugh, so babe
There's nothing else I could do
---
Part of the reason I love songwriting is for its ability to preserve and record, like a time capsule. Art gives us immortality.
Jane's relatable storytelling spans from reflections on love and desire, to retellings of nights filled with limitless possibility, and those spent alone dwelling on questions of purpose, place, and identity. It's a cataclysm of emotional turbulence erupting within hot, instantly catchy pop anthems and cool, aching heart-on-sleeve ballads that depict a life in motion, carving out a safe space to figure things out in today's fast-paced, ever-changing world.
"Because the songs on this EP spanned a relatively long period of time, they reflect not only the changes I was experiencing in my personal life, but also the changes in my musical inspiration and writing style," jane explains. "So as a result I think this project shows my versatility as a writer, but also that my personality and lyrical ability is the common thread running through each song."
As for the wee bit dramatic title? "The phrase "this is not what it looks like" was actually a lyric from another song I wrote in high school that didn't make the tracklist, called "me & my head." The chorus started, "this is not what it looks like! / like i'm fallin' / like i'm fallin' fallin' for you." The song was kind of silly, but that phrase sort of stuck with me, and I knew for many years that I wanted it to be the title of my first project."
---
While nearly all of its songs were pre-release singles, THIS IS NOT WHAT IT LOOKS LIKE! will always be best listened to as one 25-minute long record – one full of ups and downs, cinematic highs, spine-tingling lows, and all that sweet stuff in-between. From the intimate upheaval of opener "The City" and the stunning acoustic track "Thief," to the hustle and bustle of faster, dynamic standouts "nothing else i could do" and "bored&blind," jane keeps listeners captivated the whole way through. Tales of romance and disillusionment make the groovy "AUGUST IS A FEVER" an intoxicating immersion. Later on, the poignant piano work, dazzling sampling, and haunting vocal harmonies of EP closer "through the looking glass" ensure jane leaves us on edge, longing for more. Jane cites those two songs as two of her favorites on the EP, with the second verse of "nothing else i could do" housing her lyrical highlight:
i miss the shape of your voice
i miss the nape of your neck
i miss the weight of your words
i miss the bruises they left
Ultimately, THIS IS NOT WHAT IT LOOKS LIKE! marks the first of many steps to come from a thrilling newcomer on a journey of self-discovery and understanding. "Don't dwell on the past, but don't be afraid of it," jane shares. "That's what I've learned from putting this out, as I've had to come face to face with struggles that I've dealt with years ago. It's been a nice way to recognize the validity of my problems then, while still letting them go."
Experience the full record via our below stream, and peek inside ella jane's THIS IS NOT WHAT IT LOOKS LIKE! EP with Atwood Magazine as the artist goes track-by-track through the music and lyrics of her debut EP!
— —
Stream: 'THIS IS NOT WHAT IT LOOKS LIKE!' – ella jane
:: Inside THIS IS NOT WHAT IT LOOKS LIKE! ::
— —
The City
The first song I ever released!! I made the original demo in garageband on my phone in sophomore year of high school. Flash forward to the end of my junior year, I took that demo to a local college studio and recorded it with the help of the school's resident sound engineer. That was my first time in a real studio; little did I know, though, it would be my last for a year… the pandemic hit the following spring, right after I released the song.
nothing else i could do
I actually wrote this song based on The Great Gatsby for my a final project in my senior year English class, lol. Prior to making it I had been dealing with a really bad bout of writer's block, and "nothing else" got me out of that. writing it just came so naturally, and it really solidified my love of writing pop music.
AUGUST IS A FEVER
My favorite song I've ever written, I think!!!l I also produced most of it, which makes the final product that much more rewarding knowing the involvement I had with it. It just feels the most me out of anything I've put out. Plus, I got a bunch of my college friends to sing along for the last chorus, so hearing their voices on it just transports me to a really good night with people I love.
bored&blind
I love this song, but more than that, I love getting to see the drastic transformation it went through to get to the final version. I wrote it at 15 on my guitar, and it stayed a guitar demo for a while. Normally I have a very clear vision of what I want a song's production to sound like in my head, but for this one I was drawing a blank. It was my producer Mike Irish who really gave it a new life. I heard the version he made and immediately knew that was it.
Thief
Thief means so much to me. I wrote it at 17 about my personal struggle with depression. It was one of my most emotional release processes because of how vulnerable the song is, but the payoff was that much more rewarding because I got to see people connecting with my music / what I have to say on a deeper level than my previous releases.
The Sellout
This song is the most similar to Thief out of all of the others, with its earthy, 70's-inspired sound and stripped-back production. When I wrote it, I was listening to a lot of Simon and Garfunkel, Carol King, and the Rolling Stones. It's about beginning the recovery process after being in a dark place for so long, and how scary yet hopeful that can be.
through the looking glass
I wrote this song the same summer as bored&blind, when I was 15 – it's about my own struggle with body image. Because my songs tend to be so personal and diaristic, they end up being very therapeutic and cathartic to write. ttlg was produced by Doug Schadt, and he did such a fantastic job at transforming it from its earliest iterations.
— —
— — — —
? © Jade Sadler
:: Stream ella jane ::
---