When a season feels like a long, long, pause…
Being apart from the one you love isn't a simply "difficult" experience. It means not being whole: Having something missing from your everyday world, something that filled the room with warmth and your insides with joy. That incomplete, unfulfilled sense means you're only half living, waiting in transit for the day when two are reunited to become one. On "A Lot Becomes a Little," Maps & His Mothball Fleet captures the love and strain of a relationship separated by that physical distance. We feel the weight of two magnets yearning to come together again.
Books on the shelf are probably there
for somebody else
who don't come around no more
You keep to yourself and never rely
on anyone's help
to show you around no more
"A Lot Becomes a Little" – Maps & His Mothball Fleet
[youtube=https://youtu.be/k8kXaLz6-m4?t=0s]
---
Atwood Magazine is proud to be premiering the music video for "A Lot Becomes a Little," the single off Maps & His Mothball Fleet's 2016 debut album Fighting Season (August 2016 via Azteca Records / Humanscale). For Matt Wanamaker, making music was never the plan; surviving was. Following the breakup of his long time band and a layoff, he escaped to the Navy to surround himself with orderly work and anonymity, eventually finding himself at war in Afghanistan in 2013. He spent his days helping to build hospitals and runways, but his nights back at base were lonely and quiet. He spent that time writing and, after receiving a care package with a handheld cassette dictation machine, recording.
Save everything you do
(I'll wait for June)
And everything you feel
(then I'll wait for October)
Until a lot becomes a little again
Wanamaker then sent his tapes home to friends so they could share in his experience, and they overdubbed their own parts onto his records as a means of further connection. The artist – nicknamed Maps by a young neice who couldn't pronounce his name – explains how Mothball Fleets are collections of rusting Navy ships that are no longer needed, but kept afloat in case they may be needed later. The relationships rebuilt by this overdubbing-by-mail process "brought once shelved musical collaborations back to life." In this way, Maps & His Mothball Fleet is a celebration and statement of the artist, the established capturing of a moment in time with eyes squarely on the future.
Wanamaker considers Fighting Season "as much an album as it is a journal of those long months away from home." The single "A Lot Becomes a Little" was written as a call-and-response between a man and woman spending an extended time geographically apart. "She is breaking that time up in to small chunks…just taking it from one seasonal milestone to the next," Maps explains.
Hiding from town, keeping a list
that never goes down enough
and trying to keep routine
Nobody knows how many nights
you spent on the phone lying
that you don't sink like the screen porch
Directed and edited by Christopher Marston at La Regina Studio, the music video for "A Lot Becomes a Little" features Hayley Richardson and Matt Wanamaker, with Dan Friedberg making a cameo on lead guitar. Shots include Farley's Bookstore in New Hope, PA, the Delaware riverfront, and Philadelphia's 30th Street Station. We feel the physical separation of those two bodies, an inconquerable tangible divide. Love alone holds this bond together, each person's patience powerfully resilient.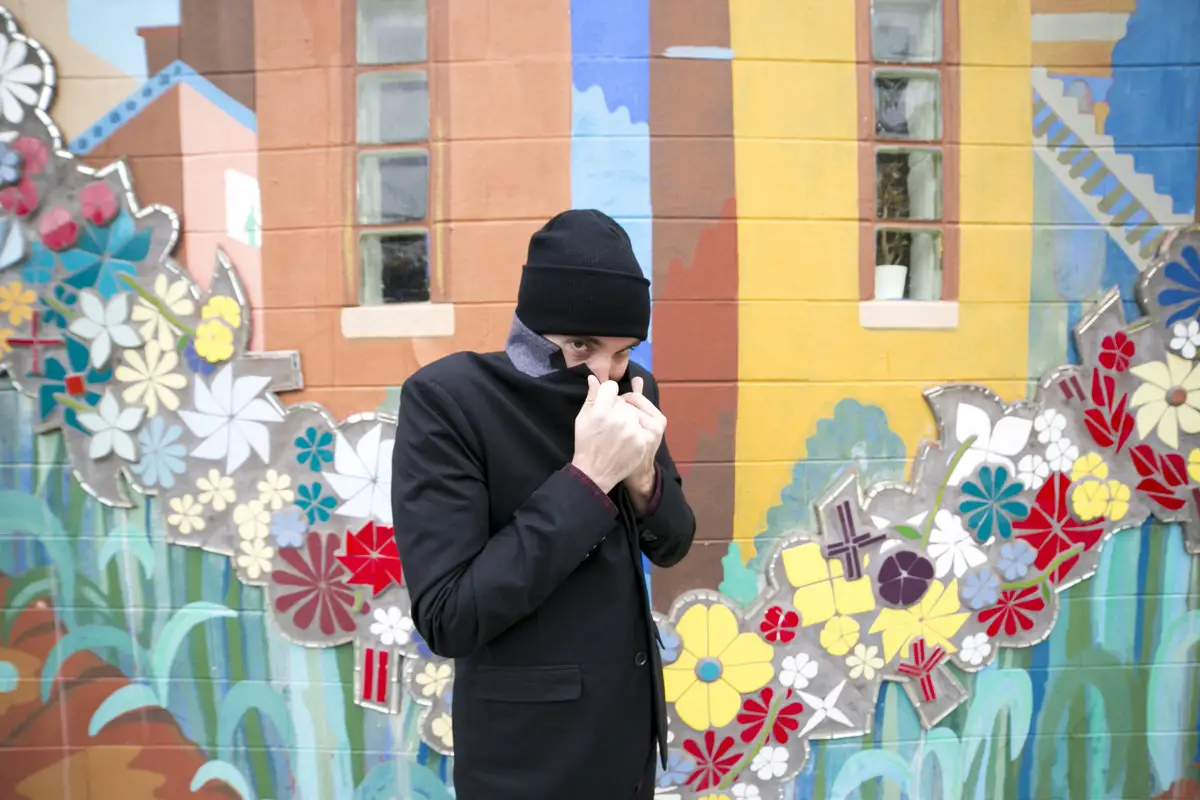 There's a melancholy hanging around this song, a darkness on the edge of Maps & His Mothball Fleet's music. Beneath the song's fast pace and peppy step is the pain of separation; it's all both parties can do to stay hopeful. A deeper listen to the lyrics finds the narrator clinging to hope as the last and only resort. It's all you can do to keep your spirits up when you're so far away from the one you love.
With the music video for "A Lot Becomes a Little" now released, Maps & His Mothball Fleet has hit a crucial turning point: It's time to move on from this period in time, and find new pastures to explore. While Wanamaker embarks on new journeys, be sure to revisit his debut excursion. Fighting Season is a brilliant folk-pop exploration of human relationships, potent emotions, and the push and pull of a life at war.
— — — —
cover © Rovi
:: Maps & His Mothball Fleet ::
[soundcloud url="https://api.soundcloud.com/users/182092658″ params="color=ff5500&auto_play=false&hide_related=false&show_comments=true&show_user=true&show_reposts=false" width="100%" height="300″ iframe="true" /]