How Duke Ellington's redux of Tchaikovsky's Nutcracker Suite inspired Mr. Sun's modern string band version.

Stream: "Pea Shooter Parade (March)" – Mr. Sun
---
According to the Pyotr Ilyich Tchaikovsky's note on the manuscript score, the orchestration for The Nutcracker Suite was completed on August 20th, 1892.  A complete performance of The Nutcracker Suite lasts around 20 to 25 minutes. The suite quickly became a popular favorite.
By the time Duke Ellington recorded The Nutcracker Suite for the Columbia label in the summer of 1960, he had already led a four-decade career as a peerless innovator and legendary orchestra leader. It should be noted that Billy Strayhorn, Ellington's longtime collaborator, is listed as a creator of the work, along with Ellington and Tchaikovsky.
The Nutcracker was Ellington's first album-length project devoted to the work of another composer. And instead of "jazzing up" The Nutcracker, Ellington re-envisions the piece, rewriting parts and developing new melodies. In the spirit of playfulness, Ellington even changed song titles: "Dance of the Reed-Pipes" becomes "Toot Toot Tootie Toot (Dance of the Reed-Pipes)."
---
According to Katherine Baber, Ph.D., Professor of Music and Director of the Salzburg Program, University of Redlands, in this song, "Where Tchaikovsky had piping flutes and bassoons over a quiet string ostinato, Ellington has the reed section divided into clarinets and saxes in close alternation, over a relaxed groove in the rhythm section, with more forceful interjections from the brass. The melancholy, resonant English horn solo becomes a series of broad smears with cup mutes in the trombones. Where the middle portion of Tchaikovsky's dance is an exoticized whirling dervish, with trumpets over an ostinato in the low strings and brass, Ellington instead lets the band break out into an improvisatory section with the clarinet in the lead."
The reimagined suite has a distinct Ellingtonian signature without dismissing Tchaikovsky's original conception. We always know what we're listening to and how it differs from the original. Listening to "Entr'act," we hear the composer's orchestral textures, the colorful voices and nuanced dynamics of four different soloists, and we experience the totality of the piece as being more than just the sum of its parts. This occurs in slightly more than 60 seconds.
In the spirit of celebrating Ellington's interpretation of Tchaikovsky's Nutcracker, Mr. Sun, a Nashville-based American string band group, led by Darol Anger, has likewise reinterpreted Ellington's re-envisioning of the piece. Having seen Mr. Sun's performances, I know that there is a mixture of genius and playfulness in their musical approach and style. In this project, Mr. Sun has taken on the towering challenge of reinterpreting two legendary composers' works. And with American string instruments, no less. How could this be accomplished?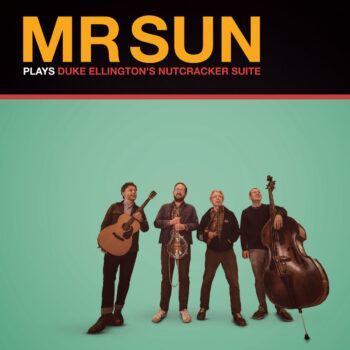 Mr. Sun premiered the work at the Freshgrass Festival in fall of 2023, concurrent with the song release of "Pea Shooter Parade" ahead of the full album. The project has been generously underwritten by the Freshgrass Foundation. Tchaikovsky's extraordinary Nutcracker Suite contains some of the most beloved and familiar melodies in the Western world. Mr. Sun has seized upon the inspiration of Duke Ellington's brilliant, sly and urbane re-interpretation of Tchaikovsky's Suite as an opportunity to salute and re-invent this wildly multi-faceted work anew, through the lens of the American String Band, a musical form which now contains many styles and is presently engaged in a marathon upheaval of innovation and expansion.
Darol Anger, renowned musician, has an extensive history of performing and commissioning a wide range of arrangements and compositions for various musical ensembles. These include jazz groups, string orchestras, Bluegrass bands, string quartets, and full orchestras, collaborating with esteemed ensembles such as The Berklee World Strings, Turtle Island String Quartet, The Kansas Prairie Orchestra, 4 Generations Of Jazz Violin, and The Wintergrass Orchestra, among others. Joining Anger is the talented mandolinist Joe K. Walsh, who has garnered recognition during his award-winning four-year tenure with the Gibson Brothers. Like Anger, Walsh has also held a professorship at Berklee. Interestingly, the project was actually conceived by Walsh himself, as confirmed by Anger.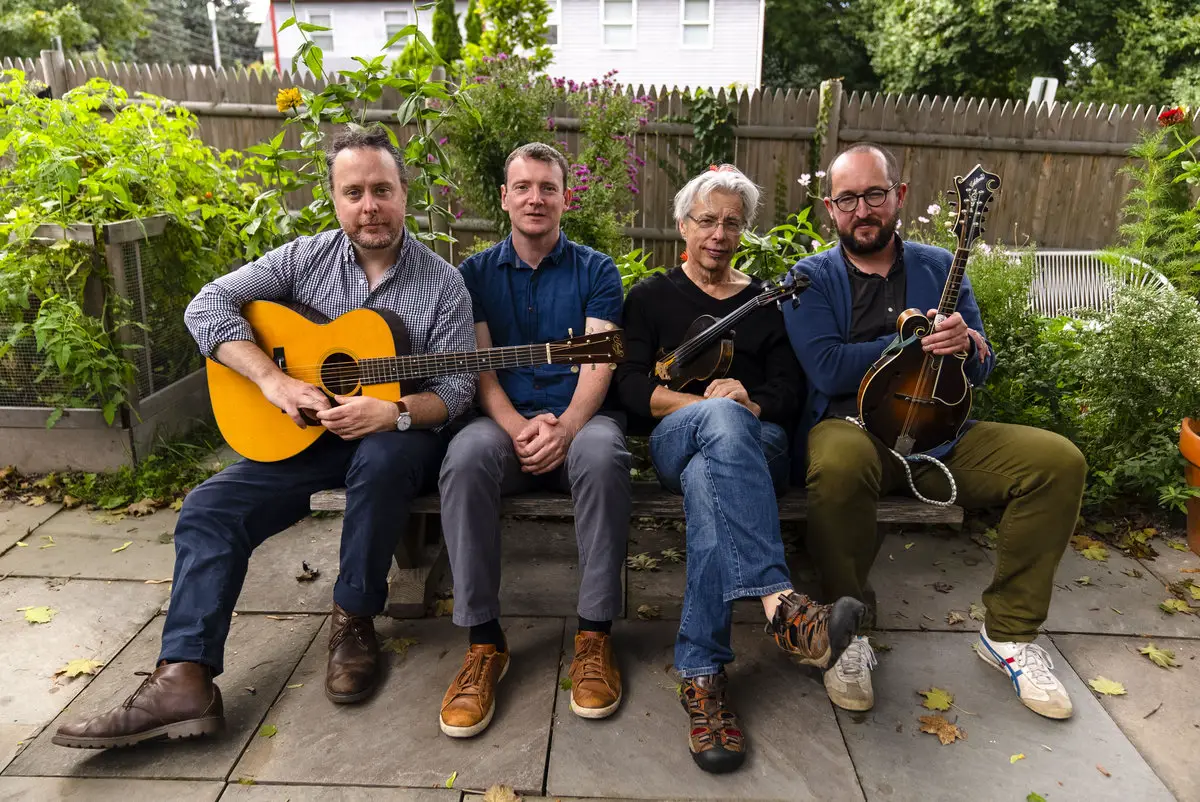 Adding to the group's diverse talents is guitar virtuoso Grant Gordy, a former member of David Grisman's ensemble. Gordy is a master of various musical styles, including bluegrass, R&B, rock, and jazz. Lastly, veteran jazz musician Aidan O'Donnell brings his wealth of experience to the group. O'Donnell has had compositions commissioned and performed for big bands, string quartets, and jazz ensembles. As a bass player, he effortlessly transitions between being a featured soloist and playing a supportive role.
Each member of the ensemble possesses significant skills in composition and arrangement. Joe K. Walsh has been leading classes and ensembles focused on musical analysis, arrangement, and composition at Berklee College since 2013. He has been composing and recording for string ensembles of various sizes since 2002, both as a student and as a professor at Berklee. Aidan O'Donnell has had his pieces commissioned and performed by big bands, string quartets, and jazz groups. His versatility as a bass player allows him to excel as a soloist or provide solid support within the ensemble. Grant Gordy has composed, arranged, and recorded numerous pieces for string ensembles of different configurations. He exhibits exceptional proficiency in ear training, music theory, composition software, and improvisation.
As mentioned, I have seen Mr. Sun perform a few times. Despite the complexity of the songs and the musical firepower the players possess, each player brings exuberant joy to their performances, bobbing their heads and tapping their feet like audience members. Anger is known to drum his violin with his bow, smiling. During the performances, I was struck by the dialog between musicians, like they were passing solos back and forth to each other, sometimes finishing each other's licks. I could hear the musicians grunting and chortling, as if they were on a soccer field, trying to impress each other with acrobatics and impossible plays. It wasn't that they were competing against each other. They were enthusiastically trying to dazzle each other, as if to say, "Hey, that was cool, check this out." Meanwhile the audience was the beneficiary of their playful virtuosity. Darol says, "Cracking each other up is one of our favorite pastimes."
---
All of this to say that the playfulness in the execution of extremely complex music gives a sense of humor to the whole enterprise. We're invited into the technical tricks and musician's virtuosity without being overwhelmed. It's like watching magicians perform impossible feats with a smile, making things disappear and reappear, without breaking a sweat. This is the gift Mr. Sun gives to an audience.
As Darol Anger wrote to me, "We have transmogrified the legendary and mind-blowing Ellington/Strayhorn Nutcracker Suite into a recording by our Acoustic String Band, the one and only Mr. Sun. It's been beyond fun. We've gotten additional string players on there for the big horny sound. We skipped the drums, but there's plenty of acoustic rhythms including a full menu of the violin percussion [popularized by Darol over the last 25 years]. We're not going to rule anything out, including cellos, mandocellos, dobros and banjos. Maybe."
A huge amount of work has gone into this project, arranging, translating, transposition, further adaptation and inspiration have brought this music to a new life as a string band. Just as Strayhorn and Ellington completely re-imagined Tchaikovsky's vision, Mr. Sun has done the same, in the tradition of The Hot Club Of France, the David Grisman Quintet, the Turtle Island String Quartet, and the Republic Of Strings.
Darol added, "The pieces range from close interpretations of Strayhorn's original charts to intense extrapolations based on the spirit of the material. Mr. Sun generally played original improvised solos, though a few beautiful statements by giants such as Johnny Hodges and Paul Gonsalves were transcribed directly and played in their spirit. Much of the startling original horn voicing has been preserved in bowed string and multi-mandolin parts adding a punchy edge. There is one new additional piece, drawn directly from Tchaikovsky's Ballet, which takes three themes and sets them in classic 'Dawg Music' format; and the 'Russian Dance' is now hilariously full-on Bluegrass with banjo guest Alison Brown, but still using the spy-movie intros, outros, and background lines of Strayhorn's original. Jerry Douglas interprets an iconic Lawrence Brown trombone solo on 'Danse Of The Floreadores,' now re-titled 'Don't Walk On The Flowers.'"
It is exactly this mixture of astounding musical skill and playfulness that makes this album something to be both admired and enjoyed.
"Russian Dance," as Darol mentioned, is a full-on bluegrass tune now. We hear the tune as Tchaikovsky wrote it underneath the texturing of banjo, guitar, and fiddle, but now the tune is ingested through Anger's "Dawg" styling. Any reasonably serious person will fall over guffawing at the reconfiguration of the tune. While Mr. Sun's "Russian Dance" is technically excellent, there is comedy in its presentation. Our expectations are tossed out on their heads.
Similarly Mr. Sun's "Sugar Rum Cherry" has more to do with Ellington's than Tchaikovsky's "Dance of the Sugar-Plum Fairy." Ellington opens with baritone and tenor saxes trading melodies to the drumbeat. The melody continues while trumpets and a trombone play in the background. The bass phrase that Ellington repeats throughout his version is even more funky and prominent in Mr. Sun's. I kept switching back and forth between Tchaikovsky, Ellington and Mr. Sun to hear the differences. There is a great deal of layering in the Mr. Sun version with the musicians playing multiple roles. Anger's fiddle (or his overdubbed fiddle sounds) recalls a horn section. Gordy's guitar, Walsh's mandolin and Darol's fiddle trade places, exchanging melodic dialog throughout the piece. Could this version be even sexier than Ellington's? That's up to you to decide.
Mr. Sun transforms Ellington's jazz masterpiece "Peanut Brittle Brigade (March)" into a swing jazz tune, recalling the band's deep roots in Dawg music. Gordy's impeccable guitar struts a solo, playing his unique brand of chromatic crisscrossing. Gordy's playing is followed by Walsh's slick mandolin soloing; the transition so subtle, I had to listen again. The band's familiarity of playing together is evident in the exchange of intricate solo parts, weaving in and out, seamlessly. While Ellington's "Peanut Brittle Brigade" is a "walking" march, Mr. Sun's "Pea Shooter Parade" is more of a hundred-meter dash. Tchaikovsky would have approved of both, I think.
Mr. Sun Plays Duke Ellington's The Nutcracker Suite is sure to be a classic. I can imagine both Tchaikovsky and Ellington tapping their toes and smiling when listening to Mr. Sun's Nutcracker. I'm sure they would have gotten all the sophisticated humor buried in the tunes: the new arrangements, the new song titles, the transpositions, the new melodies, the substitutions, and the incredibly executed time signatures. And we, the listeners, can explore this masterpiece to whatever depth we desire, or just sit back and enjoy the music. Or both.
— —
— —
Mike Fiorito is an author and a freelance music reviewer. His book Falling from Trees won the 2022 Independent Press Distinguished Book Award. Mike's latest book, Mescalito Riding His White Horse, Inspired by the Music of Peter Rowan, is available for sale now. For more information, please go to MikeFiorito.com!
— — — —
Connect to Mr Sun on Facebook
 © 2023
:: Stream Mr Sun ::
---