Mini Trees' debut album 'Always in Motion' is a beautifully intimate reckoning: A warm, wondrous, and dazzling indie pop soundtrack to personal growth, connection, and deeper understanding.
Stream: 'Always in Motion' – Mini Trees
---
Just want to feel some rush before it comes undone. If I'm honest with myself it's what I'd choose, but I lost my sense of wonder in my youth…
A radiant upheaval through and through, Mini Trees' debut album is a testament to the fact that we can explore the depths of life without dwelling in darkness. Born in the throes of existence and pondering many of life's biggest questions, Always in Motion is a beautifully intimate reckoning: A warm, wondrous, and dazzling indie pop soundtrack to personal growth, connection, and understanding.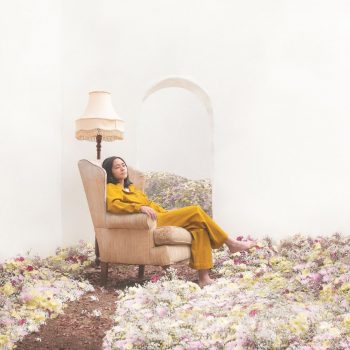 Underwater, carried away from shore
Float off my feet, whipping back and forth
Forever adrift
Felt it stinging, washed up against me
Tide turns quickly, slipping back a mile
I'm losing the fight
Will a wave sink me to the bottom, dazed and unstable
When I wind up giving in to the current, lost and labored
Never learned to stay tethered in place
Cause I don't know how to take it
Always in motion
Away from feeling something
Afraid of exposing myself to be someone else
– "Underwater," Mini Trees
Released September 17, 2021 via Run for Cover Records, Always in Motion is an enthralling and dreamy experience from end to end – not to mention an exceptional debut album from one of Los Angeles' brightest sparks of musical light. After introducing her artistry with waves harmony-laden and reverb-drenched music in 2018, Lexi Vega (aka Mini Trees) released her debut EP Steady Me in mid-2019. Produced by Jon Joseph, the five-track indie pop set is an ethereal indulgence, and a fine introduction to Vega's creative mind. She released her sophomore EP Slip Away just over a year later, using a more expansive sound to capture what she described as "a series of vulnerable confessions and cathartic realizations." Featuring the record at the time, Atwood Magazine praised it as an "intimate, ambient, and hypnotic sun-kissed set of songs."
The same can be said of Always in Motion's ten songs, which expertly convey a wealth of raw emotion and vulnerable sentiments through glistening, effervescent melodies and Vega's stunning vocal performances. Mini Trees invites us to bask in the wonder of a sonic daydream as she explores some of the questions that all too often keep us up late at night: Why are we here? Who are we; who are we supposed to be? Who do we want to be? Where are we going, and how are we going to get there? As this is Vega's first full-length offering, one could construe these topics as contributing to some kind of "coming-of-age" young adult narrative, but the truth is that Always in Motion's themes are evergreen: We never really stop asking these questions, whether we're in our teens, twenties, fifties, or nineties.
Cold under my bare feet
I was standing above the sink, thinking out loud
And I've been wishing you were here with me
Never knowing you're everything I needed right now
So tell me when you fall asleep are you still next to me?
I know you told me then I couldn't lose you
When colors slowly turn to spring my thoughts are echoing
Another moment passing, well can we slow it down
Before you find me out…
I hate entertaining the voice lingering in my brain
It was never the same
In a state of complaining, but I'll love you til the last spring
And let it wash away with the rain
Til it's all but drowned
– "Spring," Mini Trees
"I started writing these songs with the intent of a third EP, but when everything shut down and all plans for touring went out the window, I figured it made sense to shift my attention to writing an album instead," Lexi Vega tells Atwood Magazine. "At times it was difficult to tap into a creative mindset, but it also helped to have an outlet to process all of the anxiety and dread brought on by the pandemic. I felt a lot more freedom to try writing in some new directions, sonically, since an album gives you more space to do that, whereas in previous releases I think I felt a little more restricted to a particular sound or style. Lyrically, there are some similar themes that have carried over from previous releases, but I'd like to think that the album showcases a bit of maturity. I don't think I had a clear vision before I sat down to start writing the album, so Jon (Joseph, my producer) and I kinda just rolled with the punches as we went. It helps that the entire album was written in a shorter span of time; I think that organically tied everything together."
"I think Always in Motion is a good introduction to Mini Trees because it feels (to me) like a natural follow up to my past releases, but it also explores some newer sounds that weren't previously present on the EPs," she adds. "Since there are some twists and turns on the album, I think it better captures the many styles of music that influence my writing. The lyrics are as personal as ever, so anyone who hears this record should have an idea of the type of vulnerability I like to delve into through my writing."
Speaking to the title, she explains, "Always in Motion is a lyric from the song "Underwater" (track 3) that I felt captured the message of the album really well. Throughout the record I reflect on the fact that life keeps moving forward, for better or for worse."
---
Considering the fact that this album was concocted entirely during a global pandemic, perhaps it should come as no surprise that it unapologetically confronts some of our bigger life questions. What's so striking, however, is Mini Trees' ability to accomplish this task with such light. Her songs are buoyant, passionate worlds unto themselves – full of swirling guitars, driving drums, synths and strings, soaring harmonies and deep grooves.  There's the thick bass that pulses throughout "Cracks in the Pavement," and the cinematic sense of wonder that penetrates opening track "Moments in Better" and the sweetly stirring single, "Spring."
"I can't really choose a favorite song out of the bunch because they're each special for their own reasons," Vega says of the album. "I will say however that the final chorus of 'Carrying On,' where I belt "was it all a wash?" was a fun moment in the studio. I didn't originally write the melody to be belted that way, but my producer Jon pushed me to do it and I kind of didn't realize I could until I tried. Now I feel like that moment totally makes the song."
Sun-soaked and roaring with feeling, "Carrying On" is one of the album's fiercest anthems – with a dynamic rock beat pushing a dulcet, gentle melody forward and upward to a massive and intoxicating chorus full of cathartic release:
Oh how many times I replay in my mind the same old dialogue
I try to convince myself we'll see it through
But it won't come easy
Is it over like that? Was it all a wash?
"Don't focus on the past"
Are we just fooling ourselves?
It's a momentary lapse, someday when we look back
But it haunts me that I can't seem to be carrying on
---
Vega also cites her pride for the lyrics in "Otherwise," "because of how they float back and forth between narrative, describing when I was caring for my friend who had just lost a loved one, and inner monologue questions around my own loss and the grief I still struggle with today." An intimate and deeply moving six-minute closer, this song proves a fitting end to the overall album, ultimately leaving listeners in the company of our own thoughts as Mini Trees shimmers, shines, and then fades to black.
Find you out along the curb edge, I'll stay a little while
Fumbling to get the words out when I try to make you smile
If the truth is nothing makes sense, it feels cruel otherwise
A drunken daze out on the pavement, trying anything to cover up the quiet
Driving late along the freeway, it didn't feel right to leave you there
But I can check in once a week and offer nothing to make it fair
If it's true that nothing matters, wondering what was it all for?
But some things just don't have their answers
So I don't ask those kind of questions anymore
Is it true that we have meaning?
I'll spend my lifetime chasing it
A reason for our inexistence,
but there's no certainty til we reach the end
---
An immersive and dreamy indie pop experience, Mini Trees' album is an undeniable triumph.
For those not yet familiar with Lexi Vega's artistry, they are sure to come away with a deep respect for her work. For longtime fans of Mini Trees, Always in Motion serves as an impressive expansion – a transformation of the band's sound, and the ultimate realization – to date – of Vega's full potential.
"I'd like to think there are a lot of things listeners can relate to and connect to on this album," Vega shares. "Things that are inherent to the human experience like anxiety, grief, etc. For me, I think writing this record has helped me feel a little more at peace with the unknowns in life."
After listening to this album, the unknowns don't feel quite as scary anymore. At least we know we're not alone, and that like it or not, life is always in motion.
— —
— — — —
? © Nina Raj

:: Stream Mini Trees ::
---