NYC indie rock band Meyru dive into their sophomore album 'Slow Up,' a charged, charming, and unrelenting record ready to light a fire deep inside.
Stream: "Off White" – Meyru
---
It's about realizing that maybe it's time to mature or grow up a bit… but ultimately failing to come to terms with that.
The spirit of 2020s New York City ripples through Meyru's sophomore album.
It's an intoxicating, invigorating, even romantic energy: The kind that inspires us to try our hardest, go the extra mile, and push past our limits. Take in too much of that mindset and you risk losing yourself in a fog of overexertion, but it's alluring nonetheless – especially when packaged up in nine captivating songs. Blues and gritty, dynamic and raw, Meyru's Slow Up is a charged, charming, and unrelenting indie rock record ready to light a fire inside.
Off white, ya call back
To say you want it all
ya took time, to trade tracks
I let you fall
And I know, you think
It's everywhere
And I'm listening to you
It's not your fault
When I pull back
I'm shooting down the truth
– "Off White," Meyru
Independently released June 23, 2022, Slow Up proves a radiant and rollicking follow-up to Meyru's self-recorded 2019 debut, Good to See You. The New York-based five-piece of Nic Grunewald, Steven Spiegel, Tommy Gambon, Matt Langner, and Tyler Brown sound bolder and more sure of themselves than ever before on a record that yearns for meaning and connection: Those brief moments in our daily lives that make it all worthwhile. Working with Sam Skinner (Pinegrove, Forth Wanderers) and their own long-time collaborator and Brooklyn based producer, Cal Maro, Slow Up showcases Meyru's lyrical growth as well as their organic evolution as a full rock band unit: Even their spacier songs are tight, with everyone working together to create a seamless, enchanting and emotionally potent journey.
"We started writing the songs on Slow Up in early 2020," frontman Nic Grunewald tells Atwood Magazine. "Having the momentum of playing live shows stripped from us almost felt a sudden comedown from an amazing high. Fortunately, it gave us the chance to do something we hadn't truly focused on since our first record: write. The timing was funny for these songs because it came at a time when everyone seemed to be in a weird and uncertain place that felt like "where do we go from here?" Because of this, the theme of the album started to become clearer. Our vision and momentum started coming back through these songs, which is why this record is so important to us."
"Our vision changed pretty significantly during the actual recording process," he adds. "At first, having written the songs in our Brooklyn apartment, they felt like they should be as minimal as possible to give the listener insight into the purest sense of the songs. Being able to record live with the help of our producers Sam Skinner (Pinegrove) and Cal Maro gave us just that but with the energy and depth that we achieve through playing together. Slow Up is welcoming. It finds us at our truest form, but with a fresh take on what we've always done best. The sounds and tones on this record in particular really shine through. Focusing on finding original sounds instead of harping on references played a big role in production decisions. From the opening guitar on the first track, 'Theatre Party,' you can immediately sense that."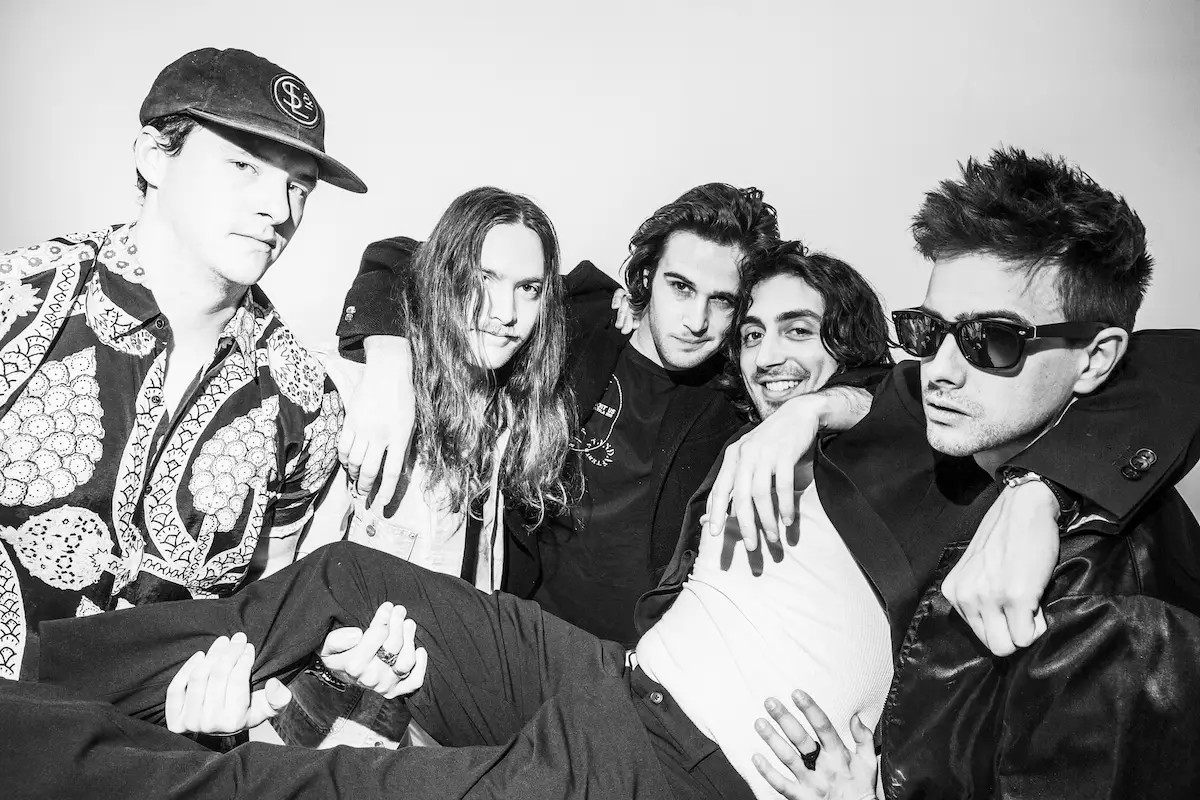 The album's title is a nod to where Meyru's members are and have been throughout their time making this record.
"As a band we care deeply about making albums as opposed to one off singles," Grunewald explains. "We always like to have a full body of work that has a theme or a consistent thought throughout. When we wrote this record, I don't think we really had any idea what that theme would be, but now that it's done, it's pretty clear across the board. "Slow Up" has a lot of meanings to all of us personally, but I think in general it's about taking a step back from the fast pace of our first 5 years in NYC and as a band. It's about realizing that maybe it's time to mature or grow up a bit… but ultimately failing to come to terms with that."
It's hard to stop and smell the roses when you've got places to be, people to see, and things to do. Those initial COVID-19 pandemic lockdowns helped us all to slow down and center ourselves, but even a renewed perspective can be easily forgotten once the world "opens up" and life springs anew. Meyru reckon with life's nonstop hustle and bustle throughout Slow Up, injecting their charismatic energy and undeniable drive into reflective songs of intimate connection to oneself, to our loved ones, and to our surroundings. We can feel this heated dynamic take shape throughout opener "Theatre Party," a fittingly feverish entrance that establishes Meyru's sonic palette and lyrical introspection.
I know what you think
When you're telling your lies.
That your head's not on straight
And when you say goodbye
You'll walk where you want
And if it leads you back tonight
You'll wake, turn away,
all that you had implied
And i know that its cheap
To feel cheated inside
When all you said to me
Was confusion and lies
But it's not what you think
I'm just wasting my time
I try and i scream
But can't push you aside
---
Highlights abound, from the colorfully captivating heartbreaker "Off White" to the smile-inducing groove "I'd Ask.. But I Know You're Alright," and the smoldering, cinematic eight-minute epic "Marcy." In reviewing the song "Playing This Alone" late last year, Atwood praised Grunewald's impassioned singing, the track's swinging groove, and its radiant lead guitar soloing. ""Playing This Alone" feels like a mesh of Wilco and early Arctic Monkeys-meets-Grease. It's a fun and smoldering song: Romantic, soulful, and sweet." The song is an intimate outpouring of honesty and vulnerability dwelling in romance's dark depths, and like so many of Slow Up's tracks, it leaves us longing for more.
"'Marcy' is without a doubt our favorite track on the record," Grunewald says with a smile. "It's almost 8 minutes long and it's the most complex and grandiose piece of music we've written and it's definitely the peak of the album." As for favorite lyrics, he cites a line from the album's title track, 'Slow Up'. "I bought something new just for you, but it won't turn on." I don't know why but we all feel like it's the saddest line on the album. It also embodies the meaning of the entire record in one line; attempting to commit or grow up and trying to take the right steps… but not doing any of it successfully."
With Slow Up, Meyru have affirmed their place as one of the city's hidden alternative / indie rock gems.
With this album, they are ready rise through the noise, rise out of the rough, and shine.
"We just hope that our fans connect with it emotionally," Grunewald shares. "I hope that it paints a specific picture in everyone's minds and that it's not listened to passively. We don't write songs just to be catchy or to fit a certain mold; we write songs that are honest and we hope that people feel the sincerity. Everything we write comes from a real place and I hope that our listeners are able to connect with that."
Experience the full record via our below stream, and peek inside Meyru's Slow Up with Atwood Magazine as the band goes track-by-track through the music and lyrics of their sophomore LP!
— —
Stream: 'Slow Up' – Meyru
:: Inside Slow Up ::
— —
Theatre Party
Theatre Party is a little unnerving. There's always a sense of paranoia and creepiness throughout, but the parts where the band crashes in really make it special. It was one of the first songs written on the record and has always felt like the most "Meyru."
Off White
This one was written from a truly honest place. It came together fast when it was written and we recorded it all in one day. It's short, it's fast and it cuts deep.
Rosemary Telesco
Our guitarist, Steve, had this riff for maybe like 3 years before we turned it into a song. We always knew there was something there, but it took Tom adding the central melodic bass line to complete it. If you want to feel content right where you are, this is the song. And the lyrics reflect that.
Playing This Alone
A modern take on a classic love story with a not so happy ending. The 6/8 beat and rough guitars re-enforce that old school feeling.
Marcy
Marcy is the band at our peak. The back-half jam on this song naturally came together in a one off session at our rehearsal studio in Brooklyn. The amount of little gems in it make it such a fun listen and always make you want to come back for more.
I'd Ask.. But I Know You're Alright
Without a doubt the pop song of the record. We honestly went back and forth on whether or not this really fit "the Meyru mold" but I'm glad we didn't let that get to us and decided to keep it on the album. This song is our love letter to the band and our hate letter to the industry.
Slow Up
Lyrically our favorite track on the album. This song feels like holding a lump in your throat and trying to convey your emotions to someone else but failing. Also we're awful at growing up.
Landline
So we had this one fully written and ready to record but then the night of our recording session our producer told us the melody sounded too much like a Radiohead track we all love… thankfully we were able to rework it all in one night and we're proud to say it's fully our own haha. (wait for the drop at the end)
At Some Point
I think we have too many songs about unrequited love lmao. We keep trying to write about different things but Nic always seems to have a theme lyrically.
— —
— — — —
? © Kevin Condon
:: Stream Meyru ::
---