This National Hispanic Heritage Month, Atwood Magazine has invited artists to participate in a series of short essays in observance and celebration of the month's significance. Today's submission comes from San Diego, California-based indie rock band Los Saints' frontman, Angel Mariscal!
"Ties That Bind"
an essay by Angel Mariscal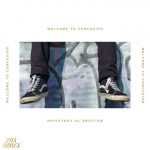 •• ••
My name is Angel Mariscal from Los Saints and I am Latino. My mom is from Tijuana and while my dad was born in the United States, his mom was from Michuacan and his dad was from Jalisco. I was born and raised on the outskirts of San Diego, a city home to a huge number of ethnic backgrounds and cultures of all kinds. A big part that makes up San Diego's diversified culture is the heritage culture, which San Diego allows me and my family to celebrate in a great number of ways.
I reside in Chula Vista, which is a city located right next to the border of Mexico, or more specifically, Tijuana. Growing up, me and my family would go to Tijuana very frequently, almost every weekend. If it wasn't for a family event or gathering, it was to go eat, or take a nice drive along the coast of Ensenada. Because of these frequent reminders, I've never forgotten where I come from. I'm thankful for the existence of Hispanic Heritage Month, because although I don't frequently visit Mexico as much as I used to, it allows me to celebrate my family's history and a culture that has meant so much to me personally.
But it's not all about history. I take pride in the many amazing events that highlight and celebrate the ways that Hispanic identity continues to evolve to this day. Within San Diego, there are multiple events that are hosted in communities such as Barrio Logan and Chicano Park, both of which are communities that are extremely rich and diverse in Hispanic culture. If you witness these gatherings, you'll see how much importance the participants place on creative expression with dances like folklorico. This is a dance that is best described as a traditional Mexican dance that reflects the traditions and beliefs of people that come from Hispanic descent. The women that do these traditional dances wear dresses that have a ranchero design with a bright main color and ribbons around the edges with a different bright color.
Another traditional event that involves these brightly colored dresses is an event called a "Charreada." A charreada is a Mexican rodeo. My mom's side of the family has always been in these events along with my uncles and aunt. And while both folkloricos and charreadas are traditional events that have been handed down across many generations, it's a tradition that continues to grow and one that crosses borders, as it is one that is practiced in the U.S in about 30 states!
Although these larger events are important for the communities, Hispanic Heritage Month is also about the everyday cultural connections that bind us together. My family can't always attend the larger public events, but we always make a point of celebrating with smaller family gatherings–and I know we're not alone. The truth is that these kinds of informal get-togethers are the lifeblood of our communities. Los Saints, for example, could never have happened without me and my cousin, Emi, being able to stay very close to each other throughout the years as our younger selves at our constant small family reunions. These kinds of traditions and the emphasis on family are what keep hispanic culture alive and vital. – Angel Mariscal, Los Saints
— —
Stream: 'Welcome to Confusion' – Los Saints
---
— — — —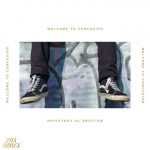 ? © Stu Alfano
:: Stream Los Saints ::