Radiant, rollicking indie rock simmers and soars on Pageants' sophomore album 'Sun and Settled Days', an effervescent record of healing, reflection, connection, and moving forward.
Stream: "Just Tell Me" – Pageants
---
This record is really about coming out of a dark time into a newly liberated, optimistic version of myself. I wanted the record title to reflect where I'm at now: At ease, chillin' in the sun, settled and thriving.
Pageants' sophomore album shines with the resounding light of a sage, knowing smile: It's the calm after the storm, weathered but refreshed and ready to revel in the rays of a promising new dawn. Radiant, rollicking indie rock simmers and soars on Sun and Settled Days, an effervescent record of healing, reflection, connection, and moving forward. Invigorating, dynamic performances ignite a fire within as Pageants explode, bigger and better than ever.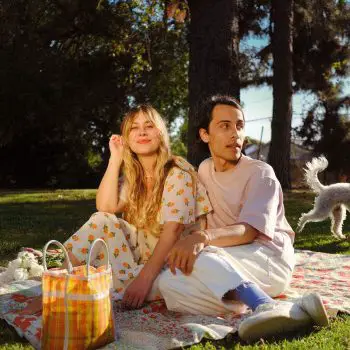 I didn't know to make it happen
I had to look at thee
All the way through the mirror
You had to run to me
Heard the news, is it true
That part of you always knew?
We swim out into the ocean
But we will have to leave
For the weight is gettin' real
It's sinkin' me
We're higher than the moon over you
Looks like we ruined the mood
I've been tryin' all this time
To tell you but you're minding all your business like
You don't wanna tell me
Just tell me pleasе
Independently released July 30, 2021, Sun and Settled Days is a hard-earned breath of fresh air: A musical indulgence and escape. The follow-up to Pageants' 2018 debut album Forever finds the Long Beach, California duo of Rebecca Coleman and Devin O'Brien dwelling in a space of joy and grace. Following a period of turbulence, tension, and strain, bandmates and partners have found plenty of reasons to smile and feel good, and they're embracing them for all they're worth.
"This record was a healing process for us in so many ways," vocalist, guitarist, and keyboardist Coleman tells Atwood Magazine (O'Brien plays bass, guitar and drum programming, while Coleman also spearheads as their project's primary songwriter). "The songs were written over a wide span of time, most of which I was processing some trauma from about ten years ago. The more recently written songs on the record are mostly about missing my boyfriend and bandmate Devin, since he had been on a series of long tours with Cherry Glazerr for about three years. I found myself at a breaking point and a lot of that came through on this record. Making this record allowed both Devin and I to reflect back on some really rough moments in our lives and relationship and come together to make it into something new and optimistic."
"At the beginning, my vision was just to make a record in general. It just didn't seem entirely possible at the time with the state things were in. When we began recording, Devin was on a short break from touring. We maybe had three days to do basic tracking and vocals. In a lot of ways it felt like we weren't really even a legitimate band since I would lose Devin to the road again in just a few days. Still, we did what we could and things were turning out pretty nicely. About a year later, Devin left Cherry Glazerr and we got back into our home studio. When the pandemic hit, I secretly knew that this was our chance to finish our record. That's when the transformation of what I thought was possible really took place. We finally got to put the time into it. All those hours doing overdubs, mixing, and adding last minute touches really allowed the songs to take on a magical quality that I'm not sure they would have had otherwise."
Can you stay home with me
And watch a little
Watch a little TV
If you listen to me
Then what makes me so
What makes me so complicating
I wanna fight for you but it might be crazy
I wanna like the view but it looks so hazy
I know there's more to do but they're all so maybe
I wanna fight for you but it might be crazy
What if we lived in a dream
Check it out now like you're
You're just so intoxicating
What if we went to sleep
At a reasonable hour instead of 3 AM in the morning
---
Compared to its predecessor, Sun and Settled Days does feel like a transformation: Pageants have honed their craft and dived even deeper, with stunning emotional and sonic clarity, into the spark that made them so special in the first place. The duo channel summery dream pop, surf and even shoegaze influences into a vivid spectrum of sound that calls to mind artists like Tennis, MUNA, The Cranberries, and beyond. They attack their song with urgency and unbridled passion, sometimes forgoing a traditional "intro" altogether just so they can jump into the meat of the moment ("Getting Real" and "It Might Be Crazy" get right into it, in this fashion).
"This record is really about coming out of a dark time into a newly liberated, optimistic version of myself," Coleman explains. "I wanted the record title to reflect where I'm at now: At ease, chillin' in the sun, settled and thriving. I'd like to think that if our first record Forever was a first impression, Sun and Settled Days is kind of like the first time you get coffee with a new friend. We really worked hard to reveal things both lyrically and sonically that, in the past, we may have tried to obfuscate or drench in reverb. I've decided that I want to be more direct with my intentions and I feel that these songs encapsulate that sentiment both in the approach to my words and the clarity of my voice. At the end of the day our goal is to make records that evolve as we do and a lot of that evolution this time around was learning to be comfortable in our own skin."
All bets aside I'll keep you in mind
On the axis of the frozen tide
Until they find all there is to hide
On the outside of the quarantine
A new divine will it all subside
By beginning of the Summertime
A linking light I could socialize
From a distance I could turn the tide
Who, who do you
Who you think you're gonna turn into
All the rest of them make more
Throwin' him under
---
Highlights abound across eleven buoyant tracks that roar with a might and charm all their own. Coleman cites a few personal favorites. "I love the second track on the record, 'All Bets Aside,' because it feels perfect for driving around on a summer day. Devin secretly sings on it too! I'm really hyped on the music video we made for it with our friends Cogey & Sam too. It's '90s beanie baby themed," she laughs. "I'm also in love with all of the bass lines and lead guitar Devin laied down throughout the record. My one claim to fame guitar-wise is the dueling guitar solo on 'Feeling,' which I am very jazzed on (about 2:03 into the song)."
As Pageants' chief lyricist, Coleman also cites one of the verses of "Feeling":
"Lost the light unfailingly
And banished me to my chambers
As a star ignites ablazin'
A reckoning to my failures"
"I had the rest of the song finished when I decided to add this minor alt-version of the verse," she explains. "I wrote this song in an attempt to process my experience of removing myself from a relationship with an abusive person I used to play music with. Writing this song helped me to take a step in the direction of putting a narrative to my experience and offering myself some validation and forgiveness."
---
The true beauty of Sun and Settled Days is that it does channel the sun's light and heat from start to finish, opening sweetly with "Just Tell Me" and "All Bets Aside" and seamlessly closing just as powerfully through the harmony-laden slow-burn caress of "Stars" and the churning, chugging "Give It Up."
I feel the same
As I did yesterday
I recount the days
Turns out you're plain
Oh, I'll just admit it, I'm a little bit fucked up
But I am normal, I have my wisdom
Don't wanna tell you again, it's just how come
You always listen to them?
Give it up, give it up
My complain' ways
They go unchanged
But it's 'cause I'm in pain
My past comes like a pourin' rain
"I hope that listeners can vibe to these tunes and hopefully get one or two of them stuck in their head," Coleman shares. "Healing old wounds is a theme of this record and I hope that people can relate to that in their own way. Making this record took a lot of patience and a bit of turmoil, but at the end of the day I think that all of that makes releasing it even more fulfilling."
Experience the full record via our below stream, and peek inside Pageants' Sun and Settled Days with Atwood Magazine as the band goes track-by-track through the music and lyrics of their sophomore LP!
— —
Stream: 'Sun and Settled Days' – Pageants
:: Inside Sun and Settled Days ::
— —
Just Tell Me
This one is about the pitfalls and blind spots of a friendship that has long since passed its expiration date. I wrote this at a time when I was struggling to look past the good times in my friendship—past my friend's true potential—and just accept that they'd done me dirty for the last time.
All Bets Aside
When I started writing this song in the early months of 2020, what began as an expression of my anxieties about climate change and our administration at the time quickly morphed into a Pandora's box of quarantine woes. Trying to make lemonade out of lemons, I pronounce 'quarantine' like 'valentine' in this track for a "cute" optimistic approach.
It Might Be Crazy
This song expresses a simple plea at a time of uncertainty and doubt. I feel like what's being expressed is easy and unadulterated, but at the same time it's a sentiment that's difficult to express. Devin and I get into arguments sometimes, mostly because he thrives on chaos and I'm a creature of comfort. I used one of these arguments as the jumping off point for the song but it ended up hitting harder as time progressed. With our relationship spread thin across the continent and my vision of what was possible in my music career narrowing on the daily, it became a song that dealt with the reality of my circumstances. This was a time in my life when I realized that everything I'd been working for might have been in vain, but I chose to keep fighting for who and what I love.
Where Did The Time Go
This track recalls fleeting memories of the sense of aimlessness I was feeling in the years after touring as a teenager in the early 00's. I felt stuck in a lot of ways. Influenced by the promise of an up-and-coming band and an ailing industry, I felt pressure to catapult my music career to the next level but found myself struggling to cope. It's about feeling so close to something you want so badly, but it's just out of reach. It's about breaking free from the grip of past trauma and coming out on the other side with a fresh perspective.
Feeling
I wrote this song in an attempt to process my experience of removing myself from a relationship with an abusive person I used to play music with. Writing this song helped me to take a step in the direction of putting a narrative to my experience and offering myself some validation and forgiveness.
No, Not Okay
Written while Devin was in the thick of tour, I was juggling conflicting emotions: Wanting my boyfriend to thrive and have fun while working towards a fulfilling music career, and feeling left behind and wanting my life partner back. I wasn't going to tell him what to do, so this song was my way of venting my exhaustion with the situation.
Please Hurry
I wrote this while Devin was on the last leg of a long tour. I was feeling pretty uncertain of the state of things as they were: Years of touring without an end in sight, a project on hold at home, and a new-ish long distance relationship starting to show wear and tear. My frustration and uncertainty hit a breaking point and I wrote this diddy. Even if it doesn't sound like it, I felt like I was channeling the Ramones.
Worse
This song was written during a time when I wasn't feeling fulfilled in my life or relationship. Devin was on tour (surprise) and I felt like things were just worse than I knew they should be. All we could really do to see each other was FaceTime when we could, and try to talk on the phone every day. When we did get the chance to FaceTime, we'd always kiss the screen at the end of our call. So sad lol. This song turned out to be sort of a self-soothing lullaby for my overwhelmed psyche.
Getting Real
This one's about returning to real life post touring as a teenager and prophesying the imminent fall of a toxic ex-bandmate.
Stars
I wrote this song at a time when I was feeling trapped within my circumstances. I was fresh out of the band I had toured with as a teenager and was living in a place where I wasn't happy, had no money, and was feeling pretty depressed about the outlook of my future. Sometimes it felt easier to just lie around at home instead of facing what I had gone through. Still, I remained optimistic, and when I really stopped to count my blessings, I felt like I could see the universe sorting itself out by way of the stars aligning.
Give It Up
The last song on the record is about not becoming a victim of the past and reaffirming self-worth. I've been criticized in many ways. It often weighs on me and can manifest in my self image, but this song serves as a reminder that, despite my flaws and quirks and bad days, I deserve respect and consideration.
— —
— — — —
? © Tabor Allen
:: Stream Pageants ::
---