Trailblazing French pop band La Femme deliver a kaleidoscopic hour of genre-bending music in 'Paradigmes', a beautifully expressive and expansive record that is as dynamically diverse as it is definitively "La Femme."
Stream: "Cool Colorado" – La Femme
---
"Paradigmes"… it means nothing and everything at the same time.
The best way to prepare for listening to La Femme's third album is by not preparing at all: The trailblazing French pop band deliver a kaleidoscopic hour of genre-bending music in Paradigmes, a beautifully expressive and expansive record that is as dynamically diverse as it is definitively La Femme.
Je, je, je, je pense que le, le, plus grand problème de l'homme
C'est d'éprouver sans cesse un désir d'expansion et sans limite
Tandis qu'il vit dans un monde rempli, lui
De limites physiques et cartésiennes
Euh
Si l'on s'en réfère à la pensée nihiliste et aux philosophes tragiques
Nous parvenons mieux à comprendre l'insignifiance vertigineuse
De nos existences, et par ce fait
Le vide de nos vies nous apparaît alors évident
Sans être ni optimiste, ni pessimiste
Mais si l'on se positionne en tant que, que philosophe cynique pur
Et c'est, euh, par conséquent par l'usage d'artifices que nous arrivons
À nous déconnecter de cette réalité pascalienne qui nous effraie tant
Mais tout cela reste de l'ordre du concept et demeure incertain
– "Disconnexion," La Femme
Released April 2, 2021 via Disque Pointu, Paradigmes is the kind of experimental pop record that transcends most, if not all barriers to entry. An enthralling tapestry of psych rock, electro pop, and the vast worlds in-between, the follow-up to to 2016's Mystère finds Biarritz-born, Paris-based La Femme tossing the rulebook out the window, finding beauty (and some funky semblance of order?) in chaos, paying tribute to their own musical heroes and favorite spaces, and generally having fun with the coalescence of the vintage and the modern.
For the band's founding members Sacha Got and Marlon Magnée, Paradigmes is both an expansion on and a transformation from its predecessor, Mystère. The now-six piece group spent years working with an array of musicians and vocalists from around the globe, ultimately bringing together fifteen unique songs – each of which is a world unto itself.
"We did it in a messy way, in many different places… We rented some house in Meaux, Andalousia, Los Angeles; we worked in our home studio too in Paris, Biarritz, and Normandy. And we worked at Melodium studio in Montreal," the band tells Atwood Magazine.
---
Such a breadth of creative spaces would inevitably lead an artist to experiment with new sounds, styles, colors, and shapes – and La Femme dove in headfirst.
"It's going farther into the production," Sacha Got says. "More little details, and maybe there are more pop songs with classical structures – verse and chorus. There are also more additional musicians on this record like banjo, horns – Molly Lewis the great whistler, or Mathilde Fernandez for example, who did the choir on 'lachez de chevaux.'"
"We didn't have a specific vision," he adds. "It's just working track by track separately… There is no global vision of the record except being eclectic, original, and with strong melodies."
"For every record it's the same mindset, just that we have a bunch of songs and demos – over 100 – and we take the best ones and put them together so there's not really a specific direction. It's just the best songs and a bit of everything and then we build it like that. It's more like a compilation of many titles that we wrote at different times in the years. It's not like we go to a studio and say 'this record is going to sound like that'. It's more messy, from different places.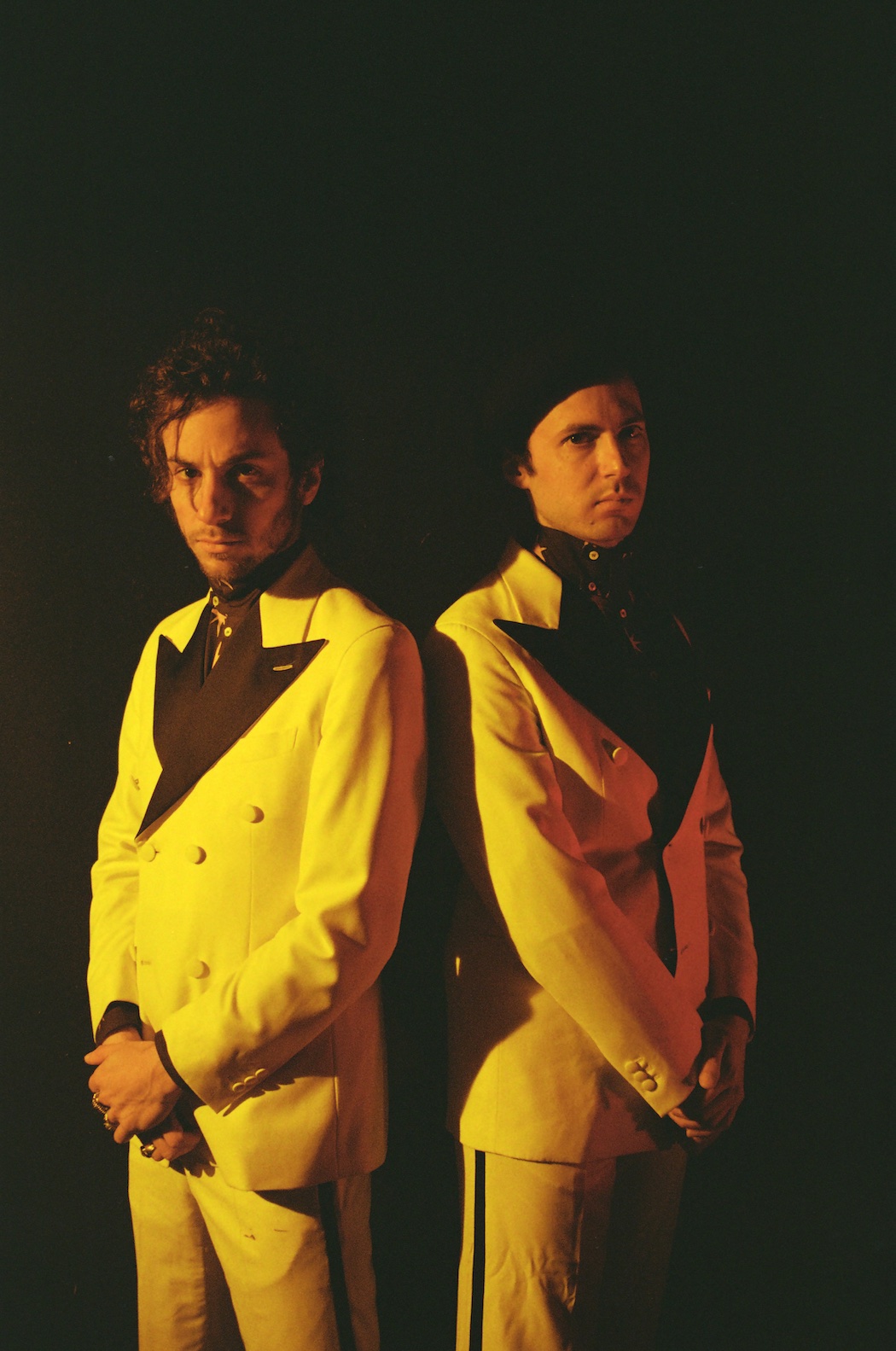 Still, La Femme – which, in addition to Got and Magnée, consists of bassist Sam Lefevre, drummer Noé Delmas, and vocalists including Alma Jodorowsky, Clara Luciani, Clémence Quélennec, Grâce Hartzel and Jane Peynot – found a special umbrella under which they could consolidate and add some structure to their wide-spanning far-reaching songs. The title Paradigmes – the French word for "paradigm" – conjures up visions of expectations and deviations from the norm; of archetypes that work and those that don't; of rules that were made to be broken, and those we try our best to follow.
"We liked this word even before we knew what it meant, and when I saw what it means, I thought it was great. Like, it means nothing and everything at the same time. I like that – and it looks like a very intelligent word, so I thought that if we keep this name, we're going to have to talk about that, and it's gonna make us more intelligent because the paradigms are everywhere!"
This world of paradigms opens with the effervescent "Paradigme," whose buoyant melodies, colorful vocal harmonies and swirling keyboards make for a dreamy, enthralling introduction. A "shady song for broken chaps," La Femme describe their title track as "hardcore jazz," and out of this strong start, they proceed to soar.
Dans la nuit froide, je pleure des larmes de glace
Et pas une lueur d'espoir là où je passe
Les âmes du soir qu'on croise sur les trottoirs sont souvent perdues
Et portent en elles, désirs tordus et idées noires
Comme tous les chats qui traînent sur les boulevards
Je suis seul ce soir, encore déchiré dans cette noyade
Et la nuit est froide à еn crever
Papa, maman, j'ai mal, je crois quе je suis blessé
Sur le bord de la route on m'a laissé traîner
La nuit est sale et ma tête est en pleurs sur le pavé
Pendant la nuit, les paradigmes s'effacent
Les masques tombent pour célébrer le néant et la folie
Dans cette énigme qu'on appelle la vie
J'ai envie de courir et de pleurer
---
Be it on the inspired "Le sang de mon prochain," the sweeping feel-good psych rock vibes of "Cool Colorado," the driving punk of "Foutre le bordel," or the bittersweet, hypnotizing "Nouvelle-Orléans" – an ode to one of their favorite American cities – La Femme fill the airwaves with alluring, irresistible sound. Roaring highs and sweeping lows keep listeners on our feet, while a variety of singers and instrumentalists make every moment feel fresh and new. Highlights abound – from mesmerizing singles like "Disconnexion" and the movingly intimate "Le jardin," to deeper cuts like the unique Western-electro fusion "Lâcher de chevaux," the hushed "Divine créature," and the album's evocative final tracks "Va" and "Tu t'en lasses."
Sacha Got cites a number of favorite moments – "maybe the banjo solo in 'disconnexion' is a climax! Or the introduction of 'Pasadena' with the guitar intro – it gives me chills!" He also finds the lyrics of "Le jardin" and "Va" to be the deepest on the record; both songs offer reflective takes on time's movement and life's change."
La luz entra en tu casa cuando no la esperas
Y de la tormenta es difícil de salir
Todo puede ir muy rápido, mal y bien, entonces
No esperes nada de la vida
Porque la vida es una puta que pagas con tu cuerpo
Y quizás, esta noche te quedes dormido en un hospital
O quizás en mis abrazos, en un jardín de albaricoques
Todo puede ir muy rápido, bien o mal
Una alegría reemplaza una desgracia
Lo que es peor te hace olvidar lo que es malo
Y el azar a menudo domina tu destino, tu destino, tu destino
Un día es la bandera pirata y el otro la bandera blanca
La paz antes de la guerra y viceversa
Porque la vida es una tómbola, mañana puede ser el fin del mundo
Y porque no sabes lo que va a pasar, me gustaría decirte que
No esperes nada de la vida
Pero cuando la luz entra por tu ventana no te pongas en la sombra
No temas la vida, o la locura porque todos estamos locos
Bajo los ojos de la Macarena
---
Ultimately, the greatest joy comes from continuing to make and release their art. "We are very happy to put out a new record," Got says. "Every record we put out, it's like a miracle for us, like if you're having a baby. This time we went far more into video too – we made video clips for each song of the record, that are going to be connected together in a movie. It's the first time we went on this format, and it's good to go into something new!"
The full Paradigmes film is still forthcoming, but there's still more than enough to take away from La Femme's Paradigmes album as it is. Enveloping our minds in an entrancing genre-defiant miasma of sonic wonder, Paradigmes subverts expectation while dazzling every second along the way.
"We want to bring sensation to people, so that they feel deep and emotional, like when you have this sensation inside your body and chills," La Femme say. "If it can help, it's amazing; I just don't hope it can put you in a worse place. I hope at the end of the listening, maybe you're going to find your own paradigm."
---
A singular journey like none other, Paradigmes is absolutely exhilarating.
Experience the full record via our below stream, and peek inside La Femme's Paradigmes with Atwood Magazine as Sacha Got and Marlon Magnée take us track-by-track through the music and lyrics of the band's third LP!
We want to bring sensation to people, so that they feel deep and emotional, like when you have this sensation inside your body and chills.
— —
Stream: 'Paradigmes' – La Femme
:: Inside Paradigmes ::
— —
Paradigme
It's hardcore jazz, we tried to mix early New Orleans jazz with 70's Motown and a futuristic sound design , we got inspired by old choir like Boswell sisters and '30s harmonies. It's a shady song for broken chaps.
Le sang de mon prochain
it's a vampire song like 60's / 90's breakbeat style , we wrote it in 2012 and didn't touch at it since this is time, finally it was good to dig git later and we decide to put it on the record .
Cool Colorado
It's like in the sixties, a song for backpacking on the road? When you feel a vibe of freedom and you're in the street without having penalties. When you live.
Foutre le bordel
A punky song for going party hard and raging, there is some funny lyrics… But I think it's hard to translate it well in English. 'cause it's like street language. At a moment it's say, "throw up on my asshole." It means that sometime you have to not care and go wild.
Nouvelle-Orléans
It's a mix of France gall and '90s songs. We made an homage for New Orleans, a city that we love. It was for a rap instrumental at the beginning, then we put some lyrics on it and it's kind of a deep song, a bit sad but with a lot of hope, with a dance-y instrumental. We like those contrasts.
Pasadena
A song about the love at school, very nostalgic. It's about the moment in college when everybody is shy and asking the friend of the friend for having a kiss behind the gymnasium. This one sounds more like '90s MTV coolio style, the period when we grew up.
Lacher de chevaux
We tried to mix Ennio Morricone western music with Giorgio Moroder electro. Two of our favorite Italian composers, it's like an epic ride on horses then meet a car of tuning.
Disconnexion
The idea was to go fucked up in this song, it's like a disco slam / country opera style. We thought it was interesting to mix all those styles, it's like you don't know what's gonna happen at the next verse, like a big surprise. We recorded the banjo part in Memphis with Randal Morton, a purist in country music – and at the end, you can hear Aurelie Magnée, an opera singer. It's a big mess.
Foreigner
The most cheesy song. It was like making fun of the '90s / 2000 boys bands, like 2 be 3 or ozon. We started to do a loop with the instrumental of "disconexion," and then we got very cheesy with the lyrics. Just to have fun, for having a break of the serious. Then we thought it was too much to put it on the record, 'cause it was not serious enough… But finally, for the same reason, we decided to put it in the record.
Force et respect
It's like reggeatone / opera style. We were hanging out in a place call Starnight in Paris and they was playing reggeatone like Chaka demus . we mixed it with some real sound and instrument and 60's and opera choir , its a weird crossover .
Divine creature
An electronic dark song,  for listening at KitKatClub in Berlin.
Mon ami
A song in homage for our old friend Pierre, who passed away ten years ago. At the beginning it sounds a bit like suicide the band… The melody is kind of positive, but the lyrics are sad.
Le jardin
It's our first song in Spanish, it's like a mix between Jeanette and the Pixies. We love slow songs a lot, too. It's saying that everything can go very quick in the live, from up to down, and it's crazy how it can go fast, so you have to live with that.
Va
A song inspired by the '70s Turkish psych scene and  artist like zafer dilek, it talks about going on  travel, and don't look back. Leaving the place where you are, it's sometimes a bit sad to say goodbye to your family or friend; you don't know when you're gonna see them again, but it's life – you have to go and look in front of you and live.
Tu t'en lasse
A song for chilling with an epic clarinet solo at the end. We put it at the end 'cause we love to put a slow song at the end, for the guys who listen to all the record and fall asleep on this one.
— —
— — — —
? © JF Julian
:: Stream La Femme ::
---