One of the most acclaimed rap groups of all time, Public Enemy updates the abrasive sounds and political pointedness of its late-'80s heyday to astonishing effects on 'What You Gonna Do When The Grid Goes Down'.
•• •• •• ••
"If they're callin' my music 'noise,'" rapper Chuck D once said. "If they're saying that I'm really getting out of character being a black person in America, then fine – I'm bringin' more noise."
True to his word, this man and his eclectic crew (known collectively as Public Enemy) would provide rap music with some of its most indispensable noise in history, most of all on their pair of landmark records It Takes A Nation of Millions to Hold Us Back (1987) and Fear of a Black Planet (1990). Thirty years later, Public Enemy has never ceased bringing the noise. Their catalogue has now ballooned to 15 studio albums, the latest of which is fresh out of the gates: What You Gonna Do When The Grid Goes Down?
'What You Gonna Do When The Grid Goes Down' – Public Enemy
---
It's a record that harkens back to Public Enemy's glory days while also making some distinct changes, some of which are necessitated by law. One of the many elements that contributed to the raucousness of the group's earlier output was the extensive range of samples that would come pelting you furiously on each track. Modern-day copyright standards being what they are, that artistic approach is no longer tenable, much to the chagrin of P.E. and their like-minded peers of this era like the Beastie Boys and Eric B. & Rakim.
Furthermore, those who tune into Public Enemy mainly to hear Flavor Flav's wacky hollering would probably fare better with one of their 14 other albums. Whereas the light-hearted Flav once served as the ideal counterbalance to Chuck D's confrontational political raps, this time around the P.E. hype-man is restricted to a relative handful of appearances. Some of that can likely be attributed to the recent friction that arose between Flavor Flav and the rest of the group, yet his presence is still welcome when he does pop back in, including on the surprisingly abrasive "State of the Union (STFU)."
By contrast, the old-school hip-hop nostalgists who constitute this record's primary audience are sure to be pleased by the substantial number of veteran rappers who have been recruited for guest appearances. One of the most enjoyable of these is Public Enemy Number One given that it is the first album Public Enemy has released under their original record company since 1998, it only seems fitting that the group should reunite with their old Def Jam labelmates, Run-DMC and Beastie Boys, while also slipping in a clever lyrical reference to the latter's "Paul Revere."  It's also enticing to see P.E. aligned with both Cypress Hill and George Clinton on "GRID" – who knew that the all-time champions of political rap, Latin hip-hop and G-funk could be merged together so seamlessly on the same track?
Watch: "State Of The Union (STFU)" – Public Enemy ft. DJ Premier
---
Another important element that connects What You Gonna Do… to the crew's back catalogue is the record's frequent incorporation of rock music. Public Enemy were one of the rap crews in the 1980's along with several of the aforementioned ones to capitalize on rock's established popularity in an effort to see hip-hop gain similar mainstream acceptance. Some reverberations of that approach can be heard 30-plus years later on guitar riff-heavy tracks such as "Yesterday Man," "Go At It" and "Smash the Crowd."
On top of those raging chords, Chuck D can be heard expressing just about everything you might expect an African-American political activist to have on his mind in 2020. The "grid" referenced in the album's title symbolizes the destructive media that society has become overly dependent on, and it's shown no mercy from the veterans of similarly-themed "She Watch Channel Zero?!?!" and "Burn Hollywood Burn." Along with making room for many of their fellow old-school rappers, What You Gonna Do… also pays homage to those of them who have left us "Rest In Beats" instructs us fans to Salute in tribute, light a candle, play a song, as their legacies continue on and on and on."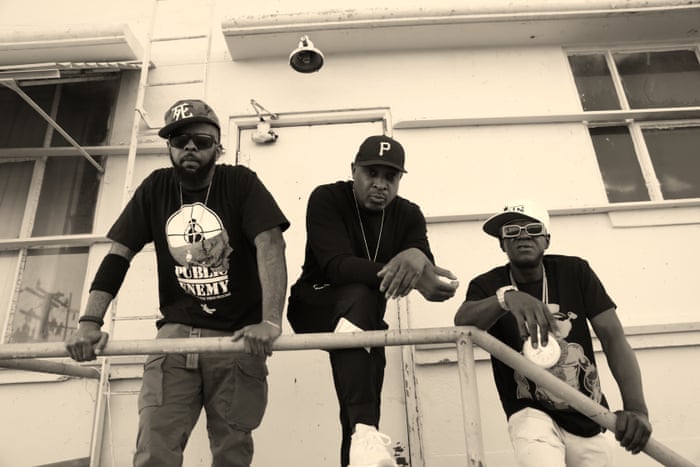 Perhaps the most effective channeling of Public Enemy's back catalogue is the remix of the immortal "Fight the Power." The group's most iconic track is also famous for its prominent appearance in Spike Lee's Do The Right Thing a film that gained increased visibility this year due to its climactic imagery of a fiery riot ensuing after a black man is choked to death by white police officers. "Fight the Power: Remix 2020" emphasizes how Radio Raheem's untimely demise in that film has wound up serving as a tragic prelude to Breonna Taylor and George Floyd's killings in 2020. All the while, "our fight and our freedoms will never wane." This remix is a more-than-worthy update of the 1989 classic, sounding just as urgent in 2020 as the original track did back in its time.
So, sure, there may be less sampling and fewer cries of "Yeah, boyeeeeee!" on Flavor Flav's part but just about everything else that has earned Public Enemy its undying admiration across the global hip-hop community is maintained on What You Gonna Do When The Grid Goes Down? This is sure to go down as one of 2020's finest rap albums.
— — — —
? © Public Enemy
What You Gonna Do When The Grid Goes Down?
an album by Public Enemy
---