Every Friday, Atwood Magazine's staff share what they've been listening to that week – a song, an album, an artist – whatever's been having an impact on them, in the moment.
This week's weekly roundup features music by Khazali, Open Mike Eagle, Johnny Hunter, Penny and Sparrow, Barbudo, Kae Sera, Hands Down, Parcels, Moxi, LEVVELS, Kayo Dot, Kay Slice, South Club, & Neon Dreams!
•• •• •• ••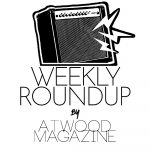 — —
—
:: "Better with the Devil" – Khazali ::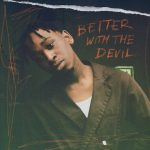 A sultry outpouring of smoldering and feverish R&B-inflected alt-pop comes to life in Khazali's "Better with the Devil," building just the kind of musical fire we need to lead us from summer into the colder months ahead. The Moroccan-born, West London-based artist comes to life with visceral allure in his latest single since April's debut EP Going Home Vol. 1 – singing smoothly over a moody groove full of glistening synth and buoyant bass beats.
I can see the sunrise
Setting over LA
Air beneath the palm trees
Take me to the slow breeze
Don't go steeping over oh, I drop it all for you
Cause I don't know why
Don't go steeping over oh, I drop it all for you
Cause I don't know why
For Khazali, this song explores "that feeling of sticking with yourself and knowing your instincts, no matter what — whether it's fun or scary. 'Better with the Devil' is an exciting feeling, and will make you feel like you're cruising down a desert road in a vintage car."
"Better with the Devil" is hot, heavy and utterly intoxicating: A radiant slow jam that gets us up in our feels, vibing along to a stinging pulse. We can't wait to hear more from Khazali this fall.
Better with the devil I know
Turning 'cause I'm facing my love
Don't you know where to go
Is it obvious, no?
Since it's better with the devil I know
:: "Burner Account" – Open Mike Eagle ::
It's been almost a year since Open Mike Eagle released his deeply referential breakup album Anime, Trauma and Divorce. It was at turns funny and heartbreaking, woozy and almost comically straightforward (see "The Black Mirror Episode"). Today, he's released his first official new music since, a single called "Burner Account," featuring rap duo Armand Hammer (who Eagle is about to tour with) and produced by Quelle Chris. The track lacks the melodic tendencies of Anime, Trauma and Divorce's softly sung hooks, its beat harder and darker. Chris' gnarled beat drives the song ahead as Eagle's signature conversational flow is on full display, complemented perfectly by Elucid and Billy Woods' rhythmic verses. It's an exciting direction for Eagle, and hopefully more music is on the way.
:: "Life" – Johnny Hunter ::
Many come to Australia so as to live life to the fullest. It's a place where you can finally do that scuba diving outing, backpacking trip through the Outback, or whatever else it may be that you have long since dreamed of achieving. Thus, it only makes sense that a native group of Aussies would come up with a song in which they, too, celebrate "Life" as much as they can.
"To find life is to find happiness," the four members of the quartet "Johnny Hunter" express. "It is the ultimate end and purpose of our existence." That sentiment is further embodied in the song's lyrics, in which lead singer Nick Hutt confides that, "When I find life, I'll be sailing like a swan, rising like the heat, I'll be living and breathing." The boisterous, riff-heavy guitar soundtrack that accompanies these words makes it seem as though this will be quite the exciting trek, indeed.
Johnny Hunter has shown promise over the past year-ish, both with their debut EP Early Trauma and standalone single "The Floor." And now, they've officially demonstrated that "Life" is something of which they are very full.
:: "Adeline" – Penny and Sparrow ::
There's something beautiful, if also wondrous and mildly bittersweet, about accepting life's big unknowns: Of surrendering to powers outside our control, accepting the things we do have agency over, and living our lives to the fullest outside of the shadows of fear and dread. Penny and Sparrow's new single "Adeline" – the duo's first original release since 2019's acclaimed sixth studio album, Finch – is all about letting go and breathing freely; about dwelling in a brighter space after relenting and going with life's natural ebb and flow. Intimate and effervescent, it's a beautiful show of emotional radiance from Andy Baxter and Kyle Jahnke.
My Adeline, I'm on the road
Feeling Semper Fi, missing those pheromones
Mmmhmm
Optional clothes, send me a sign
Call and tell a damn fine joke, hotel FaceTime
Mmhmmm
Whether There's a god or there's not a god
Inside the bright light… I won't make you pick a side
Mmhmmm
"We don't know what happens when we die, and we don't think you do either," Penny and Sparrow tell Atwood Magazine. "That's ok. Actually it's more than okay – it's beautiful. There used to be dread like a toothache about hell & sheep & goats & forever, and now that stuff doesn't keep us up at night anymore. It's huge and unknowable and that's totally fine by us. We sleep really well now. The song "Adeline" comes from that place of good sleep. It comes from a place full of all the deep rest you can get when you aren't scared of the afterlife. It's a love song, it's a cosmic shrug, and it's an unexpected kiss from your hot agnostic friend."
"'Adeline' is the first new song we've released in a long time, and it was written and produced entirely by us. We're proud of that fact."
There's something really special about hearing these deep, vast, unsettling ideas seemingly settled – even if the big questions still don't have any answers. Maybe "Adeline" can help us sleep soundly at night too, and avoid some of those fears that creep upon us when our minds are finally settled and away from the day's distractions. That's my hope for all who listen to this sweet, sweet song.
Break a body open. when it's over weigh the soul…
it's ineffable, try it
Addie I'll be right here…
Working my seventh step
Tough call, when you're not sure if there's a heaven at all
But dammit I hope so
Being with you feels good out loud
Afterlife comes after right now
And I'm fully here
Thinking THIS is mountaintop
Hoping that you would be caught
Dead with me
Dammit I hope so
:: "Sunshine" – Barbudo ::
Barbudo brings the vitamin D for autumn with their funky new track "Sunshine." The pop-punk duo keep us feeling alive as we move into the colder months, with "Sunshine" bursting in a disco aura. This ray of light is beaming with fresh vibes with a shadow of timeless sounds inspired by the classic 80's group WHAM. The track surfs over a tropical beat with juicy vintage synths and catchy hooks making this a real feel-good single.
The single touches on the anger of not being able to put trust in things, losing faith and being tormented with frustration from misinformation. The duo share, "Times have been hard for many of us recently and so offsetting the message, we wanted to create something that sounded summery and uplifting but with a deeper message below the surface."
:: "Personal" – LEVVELS ::
Opening up to someone can be so freeing yet it can also bring so much sorrow and anguish as well. Rock/electro outfit LEVVELS, in their tune "Personal", sing of the mental and physical pain that can arise from vulnerability. Listeners are seduced by the warm vocals, striking synths and bold bass. The tune's dark and haunting intensity evokes feelings of 80s bands like Depeche Mode and The Cure.
LEVVELS possess a daring darkwave sound that is truly addictive. The project has worked with prominent people in the industry.  Collaborating with Los Angeles production and songwriting duo HEAVY (Lovelytheband, Goo Goo Dolls), they were a big part of crafting their initial release. This new track has that same lush, retro feel.
:: "Get Out of the Tower"- Kayo Dot ::
Avant-garde metal and rock act Kayo Dot are back with "Get Out of the Tower," a new single from their forthcoming record Moss Grew on the Swords and Plowshares Alike. Combining shredding guitars, cavernous bass and drums, and harrowing vocals, "Get Out of the Tower" sounds like the experimental metal interpretation of the dark sounds of 80's post-punk and new wave. At seven minutes long, the track is a controlled burn, shifting from an atmospheric beginning and middle to a more persistent and heavier energy in its final moments. This track is dark, textured, experimental, and nothing short of intense.
:: "Free" – Parcels ::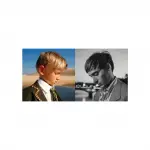 Golden and glistening, Parcels' first single of the year remains a shining spark of light and wonder – not to mention the start of an exciting new era for the Australian five-piece. "Free," the first track taken off the band's whopping new double album Day/Night (out November 5 via Because Music), is a dulcet, feel-good breeze of bright grooves taken from the sweeter side of life. It's a song of love; of celebration; of connection and vulnerability, and reveling in the wonder of life's magic. Frontman Jules Crommelin has never sounded better as he sings full of passion and joie de vivre:
We've been enough, we've seen enough
We've lived it up and had to stop
We're beaten up, we're beaten up
We're beaten up and had it tough
Im near enough, your near enough
We're at the point of giving up
We're giving up, We're given up, We're giving up
I'm deep in love. Is it all that kind?
To leave a love for a new taste, the scene of us
With an old point of view, I need a lot
But never really knew
I feel this need to be free
Can we feel and be real?
"Jules wrote this song one morning when we were in lockdown, split up across separate sides of the globe," Parcels tell Atwood Magazine. "While the lyrics appeared to grapple with complications in his long-distance relationships, it couldn't help but feel like a letter to the rest of the band at the same time. To express oneself openly and truly without fear is a freedom many of us don't even realize we're without. Recognizing it is an uplifting moment because then we can start to work on it. In Jules' case, this manifested in 'Free' – a hopeful call across the world for vulnerability and realness from a sunny garden in Mullumbimby."
"We recorded it live together in the upstairs living room of La Frette studios with a percussionist named Pedro on congas. His playing brought an energy to the first take of the day that lit up the room and the groove sat nicer than it ever had before. We tracked all day but nothing topped the magic in that first moment. In the end that take became the song."
Like an updated, more poetic, and all-around better version of "Always Look On The Bright Side of Life," "Free" captures a raw feeling for which the English language has few words. Maybe the title says it all; perhaps it's just the tip of the iceberg. Either way, that sense of limitless wonder and reckoning comes into view as Parcels build to buoyant rapture. Their latest singles "Comingback" and Somethinggreater" have continued to showcase the band's singular artistry, but nothing comes lose to, or shines quite as bright as "Free."
I need your love
But can I breath this time?
Cause I see your love in a new way
Am I deep enough
To see through you
I feel this need to be free
Can we feel and be real?
I feel this need to be free
Can we feel and be free?
I'm clearin up, I'm clearin up
I'm clearer to what happens but
I'm giving up, I'm giving up
I'm giving up and now it's time for me
To love, me to love
Once you see the need to love
A deeper love, a deeper love, a deeper love
:: "on a starry night (Star Dust)" – South Club ::
South Club is a Korean indie rock band formed in 2017. I have to say, I will always protect them at any cost. All of their songs remind me in one way or another of the beauty of being young, feeling free, performing with a hangover – yes, they actually did it. That's also why I can say they're my babies, I'm just like them and they're just like me.
The most fascinating thing about the group is definitely the writing of the frontman, though. Nam Tae Hyun truly got the soul and voice of a poet who's always got too many things to say and too many emotions to express, but too little time (and not enough songs!) to actually do it. "On a starry night (Star Dust)" perfectly shows the band's carefreeness. You can just feel how happy they feel creating music just because they love doing it, while enjoying the company of their friends. In fact, the song is about seizing the moment, letting yourself go and run away to find love, on a starry night indeed. I guess I shouldn't listen to this song for a while, as the urge to run off and see a South Club concert is getting stronger and stronger.
:: "Back to Me" – Moxi ::
Many times in life we lose ourselves, but through self-exploration we find our true identity once again. Moxi's single "Back to Me" is so powerful because it is all about discovering ourselves once more through recovery and healing. The rich vibrant vocals, moody synths and energetic melody really make the tune pop. We all have the ability to become better versions of us and this soaring anthem is a reminder of that.
Moxi is known to pair contemporary pop with a cinematic '80s sound. The duo truly grips listeners with their dark electronic flair. A husband and wife duo, Anna Toy's haunting vocals meld seamlessly with Andy Toy's innovative compositions. A few years ago the pair took up meditation. This intoxicating offering encapsulates being in that serenely meditative space.
:: "The Moon" – Kae Sera ::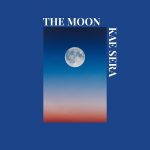 Kae Sera is showing us the mystical magic of blending sounds and feelings to create her latest single "The Moon." Narrating the thoughts and feelings of receiving unsolicited messages late at night under the light of the moon, the amorous single feels melancholic and superlunary in its delivery. She shares, "It is definitely a heartbreak song for those who are seeking answers about post break up communication".
With a fresh garage-esque beat that glows up the soundscape, "The Moon" is totally celestial with shimmering ripples of muffled, softened chime sounds. The eerie and stunning backing sounds fill the track with a moon-lit foggy breeze adding to the emotion of confusion and need for clarity when dealing with heartbreak. This is something different and calming, well worth checking out!
:: Never Been That Happy – Hands Down ::
Writing for Atwood has given me more contact with indie Swedish music than ever before in my life. But hey, I definitely don't mind, as long as what I encounter is as instantly pleasurable as that which Stockholm native Filip Sjörgren has cooked up in his latest EP, Never Been That Happy.
Sjörgren, who performs under the name Hands Down, is quite the prolific music-maker, one who works as a producer and sound technician at a Stockholm studio when he's not busy authoring his personal records. Making room for the latter endeavor has just yielded 11 minutes' worth of fine payoff. His new EP toys with a variety of emotions (just because he's never been so happy as he is now doesn't mean he was ever that happy to begin with, as he points out) as well as a solid range of instruments. Some soothing violins and rough guitar riffs make their way in"Meet Me At The Bar;" some nice piano-playing makes its way into "Too Late;" and alluring alt-pop synths are stitched in all across. Having teased us with this solid EP, Hands Down can only be expected to deliver even further when the accompanying full-length album drops in October.
:: "Breeze" – Kay Slice ::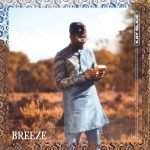 Maybe it's the name of this song, but Kay Slice's latest single is a true and utterly blissful "Breeze." The Dutch-Ghanaian Afrofusion artist pays homage to his mother on a track that soars with soft, feel-good beats and heart-on-sleeve lyrics that recognize and give tribute to where we come from: The people who raise us, made sacrifices for us, and set the course for our lives.
May I have this dance?
I know I was a handful
Did a great job
Made sure I had a dance floor
Made that spark gallons full of candles
Now it is my turn it is time for you to enjoy
Let it go (Let it go) that is what I suppose
There ya go (There ya go) you're the shine to my glow
Imma strike like a lightning to enlighten your show
Take your time leave it in… That's the key to the doo
"The song came to me during my recent stay in Ghana," he tells Atwood Magazine. "It was like Mama Ghana was talking to me. I came up with the melody and bass line, and from there, it was just a matter of perfecting it with Bora and the band. The song is about giving tribute and honour to our providers, to the people that nurtured and helped us become who we are today. It's also about that urge I and a lot of people around me have to return the favour and provide for the people that provided for us."
Bouncy and buoyant, "Breeze" is a three minutes of dazzling, sun-kissed wonder. Slice emerges as a voice of passion and purpose; his performance is assertive and free, full of passion and emotion while ultimately channeling the kind of humility you can't see, but can immediately feel. An irresistible outpouring, "Breeze" is the perfect addition to our late-summer reverie.
Follow Me
We could be like a kite in the breeze
Follow me Follow me
Like I'm B, Imma lead destiny
Follow me Follow me
:: "Say It Out Loud" – Neon Dreams ::
A feel-good cinematic pop anthem, "Say It Out Loud" yearns to be the key song to the next coming-of-age blockbuster. Together with South African artist Mthandazo Gatya, Neon Dreams – the Canadian alt-pop duo of vocalist Frank Kadillac and drummer Adrian Morris – craft an iridescent upheaval of feeling full of wonder and sweet, exhilarating feeling. Upbeat and energizing – think American Authors and Neon Trees – "Say It Out Loud" longs for release, and it pushes all who listen into a space of emotional euphoria and liberation. Kadillac lets loose in a radiant, beaming chorus:
Is there somewhere else you want to be?
Somewhere in your wildest dreams?
Just say it out loud
Say it out loud
Oh, You don't wanna hurt me just say it
It's gonna hurt me if you don't say it now
Won't you say it now?
"I want to be the soundtrack to the next generation," Kadillac tells Atwood Magazine. "I'm not writing for a bunch of cool kids. I'm writing for the kid sitting in the hallway eating lunch; the kid that has the perfect family but just doesn't fit into it; the people who feel out of place." Ultimately, Neon Dreams' latest release is a true sonic manifestation of their name: A neon dream come to life in song. Alt-pop cheer never resonated so lovingly.
— — — —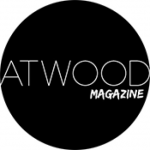 :: Weekly Roundup ::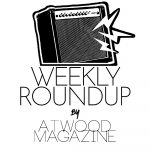 ---
:: This Week's Features ::
---