On 'Unlimited Love,' their twelfth album in 38 years, the Red Hot Chili Peppers are melodic, energetic, and a whole lot of fun to listen to. Plus, it sure is swell to have John Frusciante back in the lineup.
Stream: 'Unlimited Love' – Red Hot Chili Peppers
---
It's been almost forty years since a handful of cocky Californian guys in their early 20s put together their self-titled debut album, The Red Hot Chili Peppers.
Today, their ages have just about tripled, and their reputations across the global rock n' roll community have multiplied many times more than that. Yet as one sits down to listen to their twelfth studio album, Unlimited Love, an obvious question lingers on: Now that the 2020s are upon us, are the Red Hot Chili Peppers positioned to achieve their fifth decade of rock prominence?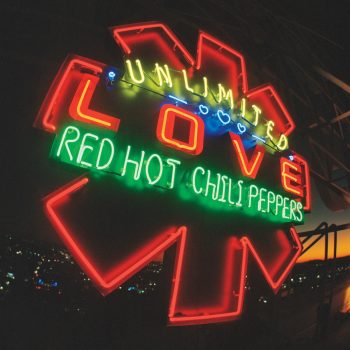 Thankfully, as the record's 73-minute runtime progresses, one increasingly gets the feeling that the answer is, "Hell Yes, They Are!" Even in this veteran phase of their careers, these guys still take their duties as musicians very seriously; never once do they produce the feeling of being old-timers who are simply going through the motions. Instead, texture, craftsmanship, and copious amounts of energy are on prominent display all throughout their twelfth LP. 
Unlimited Love is also nearly-boundless in its variety of atmospheres. There are times where the band goes straight for high-octane rock; tracks like "These Are The Ways" allow Flea, Chad Smith and John Frusciante to let their instruments rage freely. And boy, do their decades of experience show. Other tracks are more funk-inspired but are similarly fast-paced and energetic. "Poster Child," bolstered by a springy electric guitar and a guest spot by Puerto Rican percussionist Lenny Castro, is among the finest examples of said approach.
Melly Mell and Richard Hell were dancing at the Taco Bell
When someone heard a rebel yell, I think it was an infidel
Adam Ant and Robert Plant were centers of a sycophant
Enlisted by Ulysses Grant to record at the Record Plant
Islamabad is on the nod, Havana at the riot squad
And if you want to be a Mod, you'll have to meet me at the quad
You got the best of my loco
I'll take the rest of your showboat
You got the best of my Yoko
I'll take the rest of your low note
Parliament's Atomic Dog, their hats were filling up with fog
We talk about the life and death of everything in analog
The seventies were such a win, singing the Led Zeppelin
Lizzie looking mighty thin, the Thomson's had another twin
I thought I won the lottery, the numbers never thought of me
Ramones had a lobotomy, so spin me like a pottery
---
Conversely, several songs are on the slower side, but these prove to be plenty effective in their own right. "Not The One" and "Aquatic Mouth Dance" showcase the chill part of the Chilis, and both of these tracks impressively demonstrate that Flea is skilled in ways beyond his famous bass, as he contributes a solid handful of deft trumpet and keyboard notes. Frusciante's acoustic work achieves a comparable laid-back feel, most of all on the grand and gentle album closer, "Tangelo." Unlimited Love is the first RHCP album to feature Frusciante since he left the band for a full decade starting in 2009, and his seamless return is one of the key reasons for the record's success. 
Of course, on top of this ever-impeccable instrumental work by the band's key players — not to mention Rick Rubin and team, who did much of the mixing and engineering here — are the vocal contributions of famed frontman Anthony Kiedis. He's the not-so-common example of a rock band's lead singer who usually doesn't play an instrument as well. But he's always been able to make up for that by doing a ton of great singing and a ton of solid rapping. Those two halves of his creative personality are on proud display all across Unlimited Love.
"One Way Traffic" is the song that best encapsulates his hip-hop persona, not to mention the born-to-be-free spirit that has invigorated some of RHCP's best music, especially on 1999's Californication. "It was all that I imagined— born to ride, enthusiasm," Kiedis cleverly raps of the highway adventures detailed throughout the song. "My friends said, 'Havin' fun yet?' We drove off into the sunset." This guy has plenty of road trippin' left to do, it's clear.
---
On top of being a capable MC, Kiedis remains a talented singer. One of his finest bits of singing, not to mention penmanship, appears on "Veronica," a song that describes the perilous destinies of three ladies named Veronica, Nebraska, and Maria. "Everyone goes for a ride," Kiedis sings, but this ride isn't nearly the same carefree road trip he just took us on in "One Way Traffic." Instead, it's one defined by "danger, danger" in which "everyone loses their mind." To inject a hint of menace into the glorious fun that characterizes much of Unlimited Love definitely contributes to the thematic richness of the record.
By the time Unlimited Love concludes, it's clear that the free-spiritedness and veteran rock expertise of the Red Hot Chili Peppers have carried this album to a tremendously successful final form.
All of the positive qualities that has characterized their music for decades are included to the fullest extent on LP #12.
— —
— — — —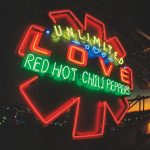 ? © Clara Balzary
:: Stream Red Hot Chili Peppers ::
---