This Pride Month, Atwood Magazine has invited artists to participate in a series of short essays in observance and celebration of the month's significance. Today's submission comes from Romy Hoffman of LA-based post-punk band Agender.
Consisting of Australian lead singer Romy Hoffman, bassist Cristy Michel, drummer Christy Greenwood and synth player Sara Rivas, Agender make "schizo, synthy, paranoid post-punk with a dash of dysmorphic desire." They released their debut album Fixations in 2014, which established the band as a standout force in the post-punk space. Their recently released sophomore album, the punk-heavy No Nostalgia, builds upon their debut's foundations while asserting its own refreshing passion, fervor, and grit.
Agender describe their new record as both existential and celebratory, yet introspective and humorous all at once. "The album reads as a newspaper or a collage," Romy Hoffman explains. "It's a political, spiritual, philosophical look at modern society- the information age. It's an anthropological look at the absurd current state of affairs. It's focused yet unhinged, self reflective, observant, brash, tongue in cheek, serious yet playful. Excavations and observations of the mind of an anxiously attached, overthinking, spiritual human."
In her essay, Agender's Romy Hoffman laments on the queer art and music of the '90s that helped shaped her into who she is today.
"QUEER CORE"
an essay by Agender's Romy Hoffman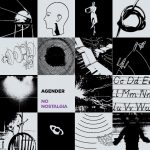 •• ••
I was lucky enough to be a teenager in the '90s.
It was a fun time. No internet, no social media, real life adventures and interactions. General laissez faire for life.  Your parents couldn't call you when you were out with your friends. You'd rent VHS movies from the movie store and try and lie your way out of having to pay late fees.
I grew up in Sydney, Australia, far away from the epicenter of cool America. I used to hang out at record stores on the weekends. That's where I got all of my pop culture info from- reading fanzines, checking out new albums by all the cool '90s bands, seeing bands do in stores. I loved Babes in Toyland, Helium, Sonic Youth, the Kill Rock Stars discography.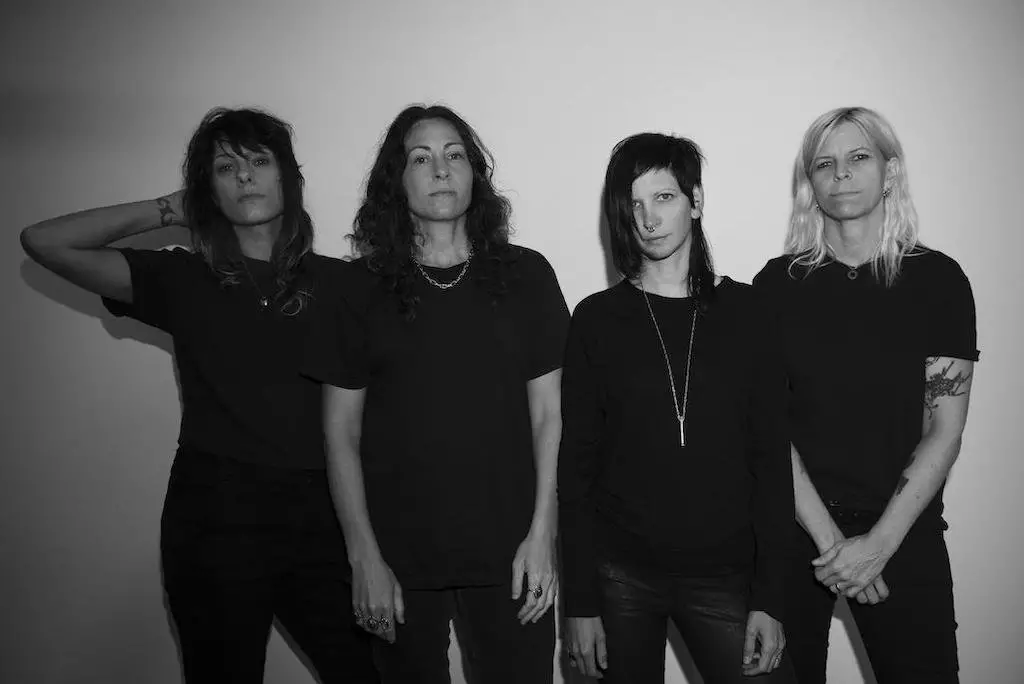 One day, in 1996, while flipping through a crate of records at my favourite record store Waterfront Records (where I got to see Bikini Kill do an in store in 1996) I came across an album cover, which particularly piqued my interest. On the cover, two girls are poised in their respective lanes of an athletics racetrack. They're crouched down in their starting positions, only they're looking into each others eyes and one of the girls' hands is crossed over into the other girls' lane. Their fingers are touching. And also, I can definitely tell that one of the girls is a girl, but is the other girl a girl? Yeah, she is, she's just a super cute tomboy. Behind these two girls, who are getting ready to race, are a group of butch women.
I was intrigued. Something about this cover made me happy, relieved. I then turned over the cover. I was now gazing at the back. My heart skipped a beat as I looked at a montage of photos. There was a photo of the bleachers surrounding the track, littered with girls. Lesbians. There were two other photos of the girls from the cover. In one they are kissing on the side of the racetrack. In the other, they are embracing, as the other racers are finishing the race. The two girls had clearly finished the race. They won.
And I won. I won the jackpot discovering this album. Seeing two girls kiss in the middle of a sports utopia. I instantly felt less alone. Ahhh, there are girls somewhere out there in the world who are like me.
This record that suddenly changed my life was Team Dresch's 1995 album, Personal Best. A title I'd later realise was an homage to the 1982 film of the same name. A film about two female athletes who train together and form a friendship that evolves into a romantic relationship.
That same year, in 1995, I told my parents I was going to a friend house. I caught a bus by myself to a movie theatre to see a new film I'd read about in one of the fanzines I flipped through at the record store. 'The Incredibly True Adventures of Two Girls in Love'.  The bus ride was an hour long. I was dedicated, and also nervous to be going to a cinema to see a movie about two girls in love. What if someone I knew saw me? It felt risky, but I had to see more of these girls who were out there. These girls who were like me. A teenage girl who liked girls.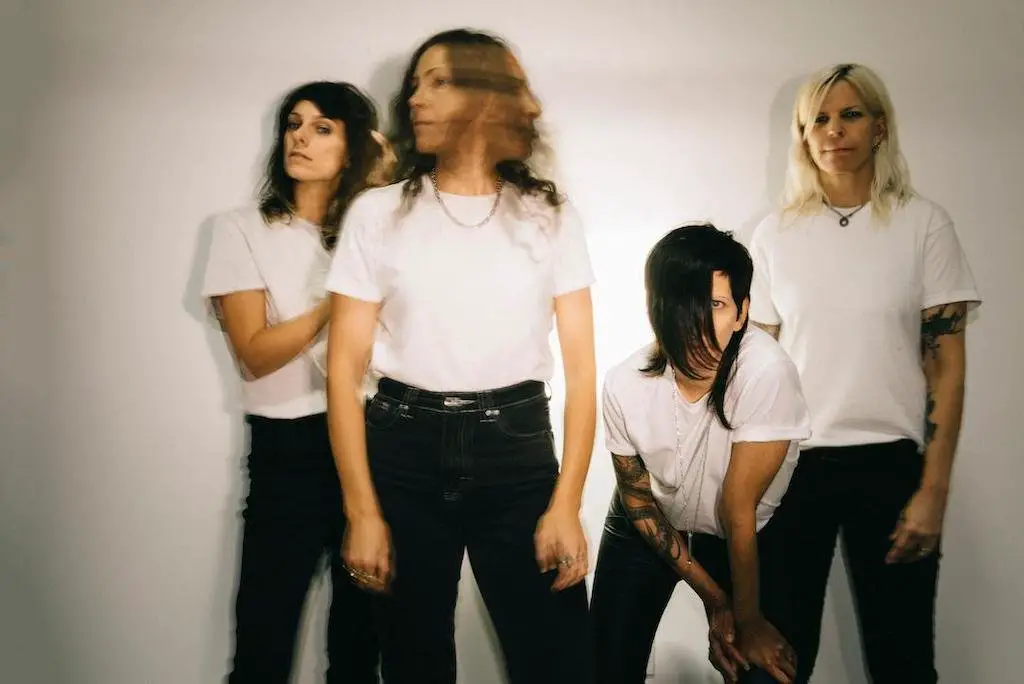 This is all to say that in the '90s, movies, music, and fanzines shaped me. They raised me.
Even though there was very little queer representation in media back then, the little glimpses I got truly saved me. To the music of the Queercore movement that was happening at the time, thank you, thank you. You inspired me to start writing my own music on a four track in my bedroom.  And '90s films such as Go Fish, Watermelon Woman, All Over Me, High Art, My Own Private Idaho, and The Living End opened my eyes to a whole new world resplendent with queer characters. These movies made me feel alive and seen.
This era shaped me. It's part of the reason why I always wanted to eventually live in America. To be closer to the things that raised me. I owe my life to the queer music and films of the '90s. If I ever freak out about my age and how time has flown by, I think, "at least I got to be there in the '90s and witness it first hand." Something about being there, in the middle of it, touched by it in real time, keeps me young forever. – Romy Hoffman
— —
Stream: 'No Nostalgia' – Agender
— — — —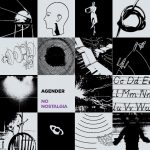 ? © Lindsey Byrnes
:: Agender ::