'Sego Sucks' is a modern-day punk album that contains multitudes – headbangers and a piano ballad, wit and sincerity, "Whatever Forever" indifference and emotional depth.
— —
Verdict: DOES NOT SUCK!
Sego are an LA-based indie rock band self-described as "a gosh-damn choose your own adventure story of music for adrenaline huffers and introspective socio-philosophical types alike." Whether you dig vulgar, sharp lyrics with lines so brilliant they set off electric fireworks in your mind or shredding guitars, bass lines and beats you can, and must, get down to — Sego's doin' it and doin' it big on their sophomore album and — SPOILER ALERT! — it doesn't suck in the slightest.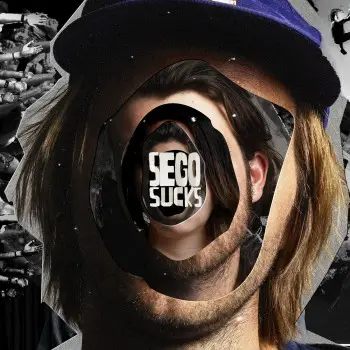 Out tomorrow, April 5th, via Roll Call Records, Sego Sucks is a ten-track LP marking the band's transition from two to four members. Originally Spencer Petersen and Thomas Carroll, Alyssa Davey (bass) and Brandon McBride (guitars and keys) joined the band in 2018.
What started out as a hashtag from some disgruntled audience member, 'Sego Sucks' ended up encapsulating the ethos behind this entire record.
The band humorously turned their album title into a meme, gathering a collection of Instagram videos where iconic people provide verbal declarations for anyone in doubt — "sego sucks." The collection features appearances by Gilbert Gottfried, Martin Gore of Depeche Mode (mysteriously, from behind a shrub), Jenny Lee of Warpaint, Doug "SA" Martinez of 311, Flavor Flav (my personal favorite), Troy Lloyd (providing variations on theme), El Ten Eleven, and The Moth and The Flame (in luxurious relaxation by the warmth of a fire).
The band are not attempting to perform their punk or insite anarchy by naming their album Sego Sucks, they just don't take themselves too seriously and it's refreshing.
"The more I give in to the modern temptation to generate opinions and clever commentary about everything swirling around me, the more I realize I'm not an authority on much of anything. It's probably fine not to have an opinion on everything. It's probably fine not to be liked by everyone all the time."
In reclaiming an insult and transforming it into an ethos, Sego created a modern day punk album that tells a bittersweet story composed of both satire and sincerity.
Sego Sucks embodies Petersen's journey negotiating his Angeleno transplant identity — the struggle of being drawn to the saturated, neon land of "success" and the roots of home (Utah) simultaneously. Much more than a collection of headbangers with "Whatever Forever" indifference, Sego Sucks has guts and emotional depth.
---
"Neon Me Out" opens the album with hype. It's a shock to the system that gets the blood pumping. Filled with the profanities of our current social climate — personal brands, social media validation, wealth, clickbait and hot takes— the track demonstrates that it's hard to resist the colorful, glowing artificial.
Took my life for granted
Till I saw myself in pixels
All alone and lost for words
So take a thousand pictures
"Neon Me Out" is riddled with sonic imperfections— pops, feedback, noise— to contrast our cultural expectation of achieving perfection. Petersen's neutral, flat melodies add a quality of numbness that pairs nicely with the charged energy of the instrumentation. Although continuing to contribute Beck-esque monotone vocals throughout the entirety of the album, Petersen's stylings never sound stale. The monotone flow isn't sleepy— it's wired, wide awake and surprises with moments of complexity.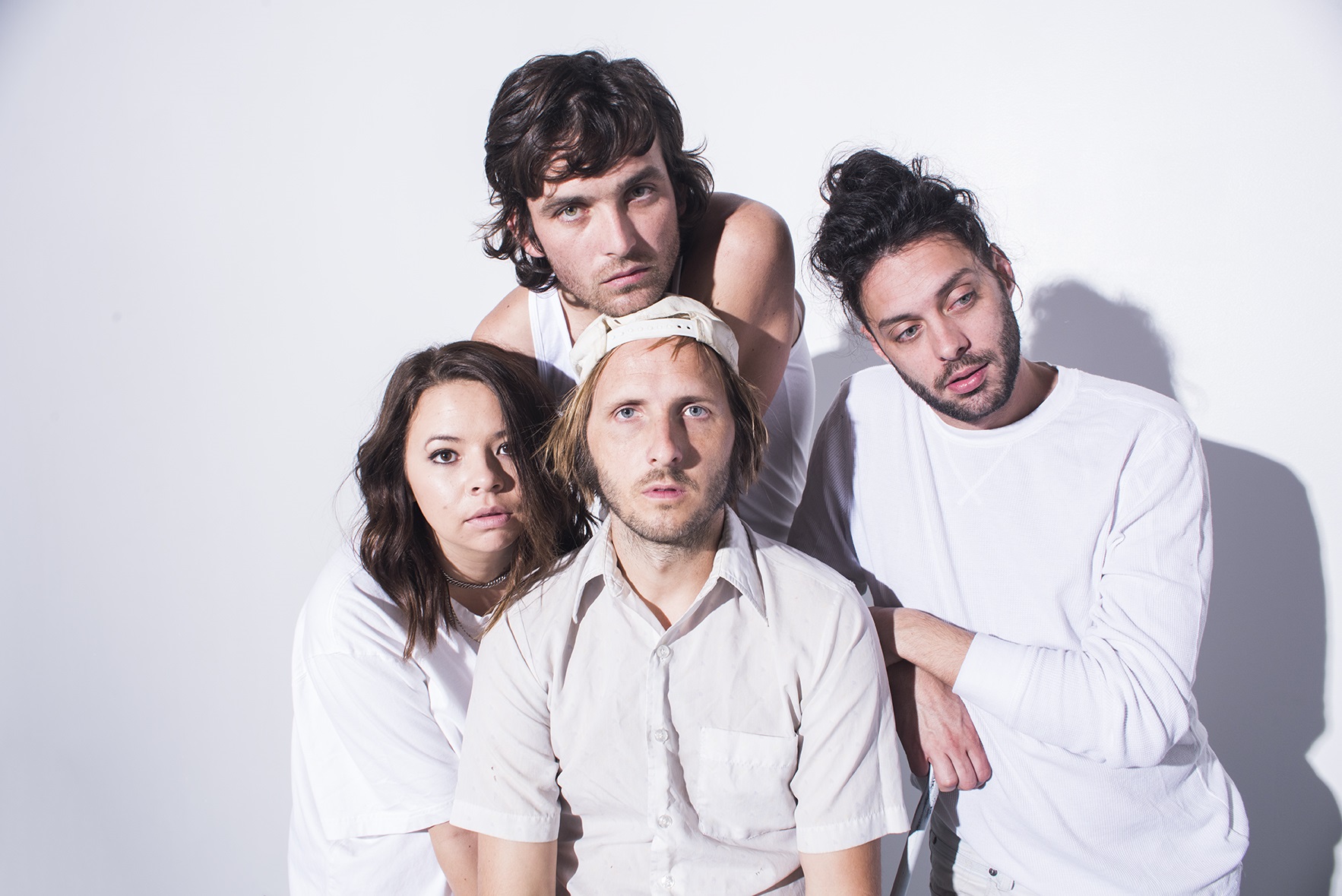 Following "Neon Me Out" with a similar satirical agenda, "Give Me" shuts down the american dream as the album's anti-national anthem. As trained American consumers— we think we deserve things and we think we can believe in things. But do we deserve things? Should we believe?
I pledge allegiance
To the new nation
The black, white and grey
Truth and cliche
Sonically mimicking the chaos of our country, "Give Me" uses layers of harsh instrumentation to create an unstable, noisy environment, featuring satirical and absurd call and response chants ("USA! USA! USA!" and "make that money") and emergency siren sounds with guitar.
"Shame," one of the pre-released singles, kicks off harsh and slappy but suddenly cuts the weight with the buzzy pre-chorus acoustic break. As if you've been knocked out— seeing stars and hearing ooo's from the angels— "Shame" pushes the album in the direction of emotional detachment.
I don't really know what else I could say
But I don't really know anything anyway.
I don't really know where I went wrong
Banging on my head but I'm already numb
---
"Whatever Forever" oozes with an attitude of perpetual indifference. Running through a slew of vulgar acts we all commit— whether you're brave enough to admit to it or not— "Whatever Forever" calls out the all too human habit of hiding behind excuses. Subverting what is typically thought of as an unbreakable defence, the track paints indifference as a fragile facade.
The album truly pivots on "Anvil Hands." Capturing the way our hometowns call us back, remind us why we left, and attempt to seduce us into staying, "Anvil Hands" manages to create a psychedelic, disturbing and soft moment all at once.
Slide down the razor blade
To a sea of lemonade
Will you keep calling me
When my memory starts to fade
The sonic tone and textures sooth and sweeten— the keys shine with pulsating, shimmering synths and accompany the muted cymbal-focused percussion and the slow strummed guitar chords. "Anvil Hands" highlights Sego's capacity to compose chaos building sound by steadily introducing competing rhythmic layers.
Maintaining the dreamy vibes of the latter half of the album atop a stubborn bassline, "Buy Time" is energized sonic sunshine. Opening with simple percussion and a pretty little guitar riff, the electronic textures begin to layer in— ascending theremin-esque squealing synths and noisey sonic absurdities attempt to mask regret.
Plenty of space to fill
Plenty of days left over
Plenty of time to kill
Plenty till there's not enough
Sego Sucks wraps things up with a bold and wildly rewarding move— culminating the album with a piano ballad (Sego style). "Coming Home" highlights McBride's virtuosic keys and Sego's knack for resisting the confines of a singular sonic identity. Sego Sucks concludes on a high note leaving us with an energy of infinite potential that can only be transmitted through a band who has certainly hit their stride.
I'm on the other side
It's not much greener over here
Waiting for your time to die
Validating all your fears
I'm coming home
Sego are headed home, back to Provo, UT, for their album release show at Velour on April 5th. Catch the band on tour in your city, dates and locations listed below. Experience the full record tomorrow, and peek inside Sego's Sego Sucks today with Atwood Magazine as the band provide their track-by-track take on the songs comprising their sophomore album.
:: Inside Sego Sucks ::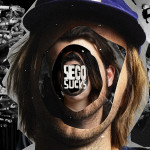 — —
Neon
Oh dear.  We gave everyone in the world a bullhorn… Side note, this has been a favorite at our live show for a bit and often referred back to us as "Meeahh Meow."  I'm glad we can finally clear the air here.
Give Me
The older I get, the less I feel that I deserve much of anything.  It's a lovely idea though, to get everything you want.
Heart Attack
My first year in college was met with a deluge of summer sales pitches.  I had a lot of friends accrue vast wealth.  I had a lot of friends lose all of their money.  I remained somewhat the same.
Shame
There are a lot of opinions flying around these days, and more so, the expectation of a hot take.  Upon closer inspection, I'm qualified to weigh in on very little.  That's fine.
Whatever Forever
When making a song, it's all too often that the first try sticks.  I had a page of bullet points that I rambled off as a place saver for when we would "do it right."  Nothing changed.
Sucker / Saint
I've never been big on absolutes.  I suppose that sentence sounds quite absolute.  I'm full of contradictions.  I'm from Utah.  I live in Los Angeles.  Lots of built in assumptions.
Anvil Hands
Here's to all of the good ol' boys in all the hometowns across the country. Whenever I visit my hometown, I try to visit the La Casita restaurant, where one will run into all of the classic home towners.  It's a mix of "proud of my roots" folks with an equal portion of "never escaped" folks.
High Tide
When we first released music, a critic accused us of being too "synthy," so I wrote Micky Macali. Until last year, I'd never really heard (or noticed) the term "guitar band," which was used in a derogatory fashion.  So, I thought, "I want to make a really loud 'guitar song.'"
Buy Time
This is my favorite sounding song on the record.  Something about how it came together in the studio with Dave captured a magic that works well with the feeling of regret in the song.
Coming Home
When I chose to move to Los Angeles, I had a conversation with my dad about "the plan."  Basically, I'd give it a year, assess and evaluate progress and if it was upward, then I would stay another year.  He still asks "So, have you guys made it yet?"  It's a difficult question to answer.
— —
— — — —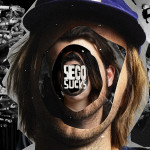 ? © 2019
:: Stream Sego ::
---
:: Sego 2019 Tour ::
4/5: Provo, UT @ Velour (release show)
4/26: Austin, TX @ Mohawk%
4/27: Dallas, TX @ Three Links%
4/28: Houston, TX @ Continental Club
5/1: Tampa, FL @ Crowbar
5/2: Orlando, FL @ Will's Pub
5/3: Atlanta, GA @ 529
5/4: Raleigh, NC @ Kings Barcade
5/6: Washington, DC @ Songbyrd
5/7: Philadelphia, PA @ Johnny Brenda's
5/9: Brooklyn, NY @ Baby's All Right
5/10: Boston, MA @ Great Scott
5/11: Ithaca, NY @ The Haunt
5/12: Cleveland, OH @ Beachland Tavern
5/13: Detroit, MI @ Loving Touch
5/15: St. Louis, MO @ Fubar
5/16: Milwaukee, WI @ Colectivo
5/17: Minneapolis, MN @ 7th Street Entry
5/18: Chicago, IL @ Schubas
5/20: Kansas City, MO @ recordBAR
5/21: Denver, CO @ Hi Dive
5/22: Salt Lake City, UT @ Kilby Court
5/23: Boise, ID @ The Olympic
5/24: Seattle, WA @ Sunset
5/25: Spokane, WA @ Lucky You Lounge
5/26: Portland, OR @ Liquor Store
5/30: San Diego, CA @ Soda Bar
5/31: Los Angeles, CA @ Moroccan Lounge
6/1: San Francisco, CA @ Cafe du Nord