Shakey Graves' 'Look Alive' EP was born out of "exploration without purpose" — and wound up as perhaps some of the band's best work to date.
Stream: 'Look Alive EP' – Shakey Graves
---
Shakey Graves is beloved. So beloved, in fact, that Alejandro Rose-Garcia's hometown of Austin, TX has declared Shakey Graves Day an annual holiday. Rose-Garcia boasts the kind of cult following most musicians would kill for, with fans that know every lyric to every song in his unreleased back catalog. He released one "official" album on his own via Dualtone Records, And The War Came, and for a while, it was the only album on his Spotify. If you'd only casually glanced at a streaming platform, you might not think he's made very much music. But his most avid fans know the truth: hidden on his Bandcamp are dozens of songs, including his first homemade album, some demos, and some yet-to-be released, that are released for free or pay-what-you-want every year on Shakey Graves Day. More recently, he officially released two of those demo albums under one title, Shakey Graves And the Horse He Rode In On. The more you dig, the more you realize that the man has written more songs than he knows what to do with.
Shakey Graves began as a one-man-band: Rose-Garcia, his guitar, and a suitcase drum. Then came 2018's Can't Wake Up, a notable departure from his past work. It had more of an indie rock sound than he'd ever explored, and even more noteworthy, he had a band. Joining Rose-Garcia was guitarist Pat O'Connor, drummer Chris "Boo" Boosahda, and bassist Jon Shaw. The three are now staples in the band, joining Rose-Garcia on tours and in co-writing and producing new music. Earlier this year, Shakey Graves set off on the "For the Record Tour," playing in small venues to enraptured fans. The idea of the tour was to create the record in real time, and many of those performances were recorded. Rose-Garcia has seemingly always been searching for something new, and with his brand new EP Look Alive (released May 4, 2020), he seems to have stumbled upon some of his best work yet.
Last year, Rose-Garcia fulfilled a longtime dream of establishing his own studio. He found a small house in Goforth, TX, filled it with instruments and recording equipment, and thus, Hello Gorgeous was born. Rose-Garcia has always been generous with fans, but the docuseries (Hello Gorgeous) and its accompanying EP offers a new level — "I was looking for more exploration without purpose in my own life, and I felt that if I shared my hunger for this idea with other people, I could perhaps encourage someone who's too scared of results to start, to just start."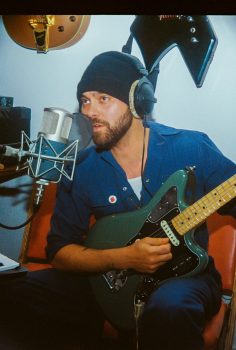 The timing of the EPs release has been both frightening and exciting for Rose-Garcia, who says, "In more ways than I realized, I was ready for a reset. I'm always urging myself to view things differently, everything from global politics to household politics. Right now, the unsustainable aspects of life have never been clearer and I know the world can't live on song alone…We are now all trying to wake up each day in the same four walls with a new view of the world." The lyrics to the opening track, "Look Alive," feel particularly apt and oddly prescient:
As of now
I exist
it takes a little while
to get used to this rotation
Either way I'll make it through the day
What I wouldn't do
for a little motivation
to look alive
Co-written with Finneas O'Connell and Rayland Baxter, the song captures the meandering, slightly melancholy, up-and-down feelings of our present situation. It marks another shift in sound for the band, and the EP feels fresh. Where Can't Wake Up was meticulous and driving, Look Alive is where Rose-Garcia has settled into the groove of having a band. He sounds relaxed, refreshed, the songwriting more organic. The musical style ranges from Rose-Garcia's earliest country/Americana sounds to off-kilter blues, and no two songs are alike. Though only four songs in length, the EP is an incredibly satisfying new body of work from Shakey Graves.
---
"Look Alive," "The Recipe," and "Under the Hood" all featured in the end of a Hello Gorgeous episode, and "Not Everything Grows" is something of an Easter egg for those who were around for Shakey Graves Day this year — it was released for that day only on a different EP, there called "Chapter 1: The Tablet Speaks." That song in particular features some of his most interesting writing to date. It's an acoustic highway song, full of old country riffs and odd meters. "The Recipe" is a swampy, bluesy play on Twisted Sister's "We're Not Gonna Take It," written after Rose-Garcia saw a busker playing classical violin while singing the song's lyrics loudly over the top. The EP's closer, "Under the Hood," has a crunchy noise vibe, a la Radiohead.
Look Alive is an eclectic EP made with a collaborative spirit, filled with the sense of humor and stories that made Rose-Garcia's music so special from the very beginning.
Though he worried about releasing this record at this precipitous moment in time, he needn't have. These songs feel vital.
Whattaya got under the hood?
Life is good for a beautiful stranger
Shakey has always pulled strangers into his orbit, and it's always a beautiful ride.
You can stream all three episodes of Hello Gorgeous on the band's YouTube channel, as well as join a Zoom "live-stream concert/hang/call-in/quiz show/performance" on Monday, May 11, to raise money for MusiCares, which is currently helping those affected by COVID-19.
— —
Stream: 'Look Alive EP' – Shakey Graves
— — — —
? © Anne-Marie Halovanic
:: Stream Shakey Graves ::
---