Bryce Avary opens up about The Rocket Summer's beautifully ambitious eighth album 'SHADOWKASTERS,' a bold, free-spirited fever dream full of radiant energy, stunning sonic vigor, and unbridled passion.
"Stuck Inside Your Light" – The Rocket Summer
---
A certain energy is unleashed on The Rocket Summer's eighth studio album.
Bold and bright, churning and charged, SHADOWKASTERS showcases Bryce Avary at his freest: Uninhibited, uncompromising, and unapologetic in his vision. The record ranges from intense and explosive to soothing and seductive; the lyrics are at once intimate and abstract, grounded and ethereal. Synths soar and guitars roar as the one-man band creates an eclectic, immersive backdrop, staying true to his indie rock and power-pop roots while venturing farther and farther off the beaten path, out into fresh, uncharted territory.
Binding everything together is a powerful, familiar voice: One filled with passion, vigor, wonder, and resolve.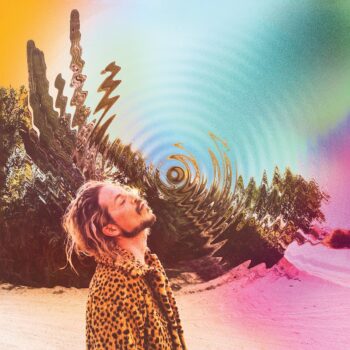 Dream in blue from my room, morning view
Have a think about, have a think about what to do
I was thinking 'bout, always thinking 'bout you
I was thinking 'bout, always thinking how
Everything inside my soul screams
"I was made for you."
Stroll the streets in this city, I talk to me
Have a think about, have a think about
Dreams in blue
I was thinking 'bout, always thinking 'bout you
I was thinking 'bout, always thinking how
Everything inside my body screams
Inside my mind is reeling
– "M4U," The Rocket Summer
Released May 12, 2023 via Aviate Records, SHADOWKASTERS is a spectacular coalescence – a collision, really – of raw emotion and radiant sound. Bryce Avary has been consistently pushing the bounds of his 20-year project's potential in recent years (as highlighted by 2016's Zoetic and 2019's Sweet Shivers), and on his latest offering, he seems to pull together, fine-tune, and finesse everything he's learned throughout the past decade of sonic experimentation and musical exploration.
The result is a vast and dramatic, yet impressively cohesive record that grooves to the beat of its own drums, synths, and guitars.
"With this album I allowed myself to tap into long inherent, but sonically neglected places of the soul, if you will, and just start exhaling," Avary tells Atwood Magazine. "It was one of the more thrilling writing processes of my life yet."
"Originally I was writing fictional stories as a creative exercise. My original plan was to put out short films and comics. So I started making these tiny soundtracks to these unreleased films stuck in my mind and realized by following that road I found this magical key to something musically superior. It's fascinating how one creative spark can set fire to something else."
The Rocket Summer has been Avary's solo project since 1999; over the past 24 years, the Dallas–Fort Worth-based singer/songwriter, multi-instrumentalist, and producer has used the moniker as a vessel for untethered artistic expression. As he's evolved, The Rocket Summer has transformed with him.
---
"It's interesting," he reflects. "I adore the name The Rocket Summer. But I sometimes wrestle with the decision 16-year-old Bryce made to hide behind a name. Not so much from a place of people knowing it's a person writing / playing it all, but I think there's a reality that the public generally understands that people as individuals evolve over time, but when there is a "brand" it can sometimes be tricky, because it gets associated with so many different things and more or less locked into perceptions. I have always just followed the songs my heart was telling me to sing. It's not contrived. I generally don't make the same record twice."
Avary describes the new album as "the coexistence of Dark and Bright." The title speaks to this duality:
"To cast a shadow, one must be stuck inside the light. The name evokes somewhat of a darker tone, which the music certainly has, but it's also this bright kind of grit album if that make sense. I thought it was the perfect title."
Existing at the conceptual intersection of darkness and light, SHADOWKASTERS is a tender and turbulent fever dream – an immersive eruption rising up from unseen depths.
The record opens in a moment of heat and flux: "M4U" sets the scene, capturing that compelling mix of light and dark sonic textures that helps this record stand out in so many ways. The psychedelic "Eyes 2 Skies" marks the first of several anthems on the album, with heavy, hearty synths and thick beats melting into one hypnotizing, busy environment as Avary sings about tuning out the noise and focusing on oneself; "[it's about] moving on from toxic energies and choosing self-love and love for others while leaning into the hope that may come with tomorrow," he explains.
That song is also home to some of his favorite lyrics on the album: "My happiness is my revenge stands out to me," he says. "I can't wait to hear that shouted in these rooms on this upcoming tour, should we play this song.
So let's be rain on parades
Where crooked kings celebrate
In my head while wearing crowns
of prеcious oppression
My happiness is my revеnge
Got my eyes to the skies
I got light I can't hide
I'll be down, walking on air
Got my eyes to the skies
Got that look in my eyes
Like I'll be doomed if I do care
What you got
---
Further highlights include the technicolor explosion (and true mouthful) "Do You See Dreamscapes In Your Dreams Before The Dreams Escape When The Sun Beams," the sweetly glistening revelry "Vanillanor Figby," the tight, feel-good headbanger "Sing at the Top," and the album's immersive, achingly emotive, and utterly entrancing lead single, "Stuck Inside Your Light."
"'Stuck Inside Your Light' is a hypnotic indulgence complete with ethereal, intoxicating guitar riffs and Avary's stunningly hushed, intensely evocative vocals," Atwood Magazine wrote, adding the song to our Editor's Picks this past February. "Avary captures the all-consuming nature of love and connection, pulling us deep into that singular euphoria and ensuring we don't come up to breathe until the very end."
"It's about the involuntary magnetic pull of something that consumes you," Avary says of the song. "A different kind of love song. When you experience that kind of connection, that feeling feels like flight. I hope this song lifts people. It was fun for me to create a story within the instrumentation that sounded like the chain of events of being abducted and beamed up in flight. Living within the bright sparks of writing a new song has always been my main vice."
Multiple colors, sunbeams and other
shades of delirium
I think I love you,
though I never meant to
You've already took me in
I'm stuck inside your light,
air beneath my, air beneath my feet
Frozen in time,
Am I dying?
Because here everything is beautiful to me
---
Maybe it's because this album is still so fresh and new, or maybe it's because it's The Rocket Summer's most unrestrained and free-flowing effort in well over a decade; either way, SHADOWKASTERS is a personal and professional high for Bryce Avary.
"It's my favorite album as of now in the discography, likely because it's the newest, but also just because it's without question the most sonically nuanced album," he grins. "It's been done for some time, the longest I've ever had an album completely finished just waiting to be released from the cage, so when I revisit the songs now with some time away from it to prepare for the release, I hear these moments in the instrumentation that surprise me each time. Every time I hear the lead synth melody for "Dreamscapes," I see a Glastonbury crowd start singing along in my mind. It would be quite lovely to get to play Glastonbury again. My how I love our UK shows. I can't wait to get back there!"
It's a freeing album. There's a theme of longing and yet moving forward. The music lifts me, and I hope it makes people feel like they can fly.
From its radiant energies to its soaring, seismic sonics, SHADOWKASTERS is a refreshing and invigorating journey. It's fun to hear an artist be so free and in his element, and it's inspiring to see that, over twenty years into the game, The Rocket Summer can still take off with breathtaking, unrelenting force. At 40, Bryce Avary is still chasing his dreams with the wide-eyed wonder of his 16-year-old self.
Experience the full record via our below stream, and peek inside The Rocket Summer's SHADOWKASTERS with Atwood Magazine as Bryce Avary goes track-by-track through the music and lyrics of his dazzling and dynamic eighth studio album!
— —
'SHADOWKASTERS' – The Rocket Summer
:: Inside SHADOWKASTERS ::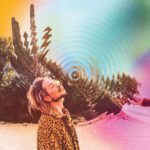 — —
M4U
"This was the first riff I wrote that began the SK journey, so to me, it made sense to kick off the album this way. It sets the tone of this sonically dark and ominous but bright and shiny groove album that is SK. The song's unique grit and groove feel appropriate as the "Hello, this is SK, now get in the car." track. Lyrically it's about feeling a sense of belonging somewhere else, sometimes feeling a sense of not belonging to this planet, but someone or something is what makes this world feel like home. I wrote it from the voice of one person to another, but to me, it was also a metaphor about longing for a dream realized, for a release, a reprieve.
Eyes 2 Skies
"Eyes 2 Skies" is a song about choosing to soar above the clouds without caring what people may think that try to bring you down. It's about a relentless pursuit of silencing voices, moving on from toxic energies, and choosing self-love and love for others while leaning into the hope that may come with tomorrow. "My Happiness Is My Revenge…" I can't wait to hear this live. Sonically and production wise there is just so much going on in this track. I got quite into the sitar on this album and you can hear it begin to be showcased in this song. I particularly love the bridge and how the keys dance around with the drum beat in this somewhat polyrhythmic way.
"Am I breathing again? Crawling out from your thumbprint. Am I leaving your circus? Am I making you nervous? Got my eyes 2 the skies."
"So we ride in our minds a bullet train moving forward never to return… my happiness is my revenge"
"I'll be doomed if I do care what you got of hate for me. I got love for me, love for you, love for me."
Sing at The Top
It's a song about newness. While we never technically shed all of who we are, we shed much of our skin every seven years or so. It's a wild thought to think that much of our makeup is actually new from what it was years prior.  It's about moving forward, not looking back, at least not so much. If there are any 'trying to change the world" motives here, it's to breathe and dance against the troubles, which will ultimately help change the world. While I have plenty of songs that speak directly to calls to action, which I suppose there can never be enough of, the call to action here is to rest, find reprieve, and groove. Then go out and love.
This is actually one of the oldest songs I recorded on the album which was during the peak pandemic lockdown era. I had been having these dance punk parties essentially alone in LA and I wanted to create something in order to feel alive. This is what happened.
Stuck Inside Your Light
"Stuck Inside Your Light" started with a burst of auditory illumination in my studio where within minutes of picking this simple, darkly-ominous-but-happy melody on a stratocaster, my favorite kinds of treasure melodies, playing a quick swung groove on an mpc and my minimoog bass, the intro was there, blasting on loop and I felt like I was being pulled upwards and hovering in this multi-colored spaceship of positivity. I just let the music and melodies take me where it was leading and tell me what the song was about as I floated around in my studio.  It's about the involuntary magnetic pull of something that consumes you. A different kind of love song. When you experience that kind of connection, that feeling feels like flight. I hope this song lifts people. It was fun for me to create a story within the instrumentation that sounded like the chain of events of being abducted and beamed up in flight. Living within the bright sparks of writing a new song has always been my main vice.
Do You See Dreamscapes In Your Dreams Before The Dreams Escape When The Sun Beams
This song is one of my favorites. It was born out of a frozen trance I was stuck in, in Texas during the ice storm that shut the whole state down at the beginning of 2021. I had just made the call to try and start splitting time with LA where I had lived exclusively for nearly a decade and got this little spaceship-looking house with glass walls in Texas. I was in it for only a few days before this colossal storm hit. Ercot shut down all heat and electricity and would only allow rolling moments of very brief power to survive it, and so for about 2 hours or so it would be uninhabitably frozen with zero electricity or heat, and then for about 30 min my city would get power… a teasing taste of life and warmth. So for a couple of days I basically would only fall asleep during these 30 min increments where my body would begin to thaw and I began hallucinating. I would have these incredibly vivid dreams in these quick naps of what felt like love visiting me, then turning away just to leave. So I would beg the love to stay. Every time the heat would come on I would start to fade into these visions of seeing things like violet flowers sprouting out of frozen ice-covered ground. And then it would leave me. One of the times it shut back off and I began to come back, I heard the name of the song, sat up, and spoke it into my voice messages so I wouldn't forget it. Sonically, I wanted to capture the complete joy from the visitation of "love" amidst the yearning. The lead synth melody and sitars just make me so pumped. Every time I hear it I sort of envision what it would be like to play it at Glastonbury, one of my favorite festivals I've ever played. I wouldn't want to relive that dreadful experience but I'm grateful for the diamond the pressure produced.
Hope Is A Treacherous Drug I'm Getting High Though
This song. It's heavy. It's got fangs. But you see the fangs because of the giant smile it gives you. And it's wildly colorful and full of optimism. Hope can lead you into some corners that are hard to get out of, but I'd rather end up in the corner than not have hope. What is a life without hope? I felt rather devoid of hope for a time when everything went away and the isolation for so long was taking its toll, but one day I just chose to be defiant and that I would be making a LIFE album. This recording has this nu metal meets early 90's uk dance pop thing to me and I absolutely love it.
Disco in Circles
Easily one of my favorite tracks on the album. It's a beautiful kind of dark. "I am not supposed to know so I dance in the unknown. Forward and backward until I get close, close to letting this go, close to letting you go." The beauty in letting go and living, and the tension of trying to get there. I hope this instrumental of this song becomes a theme song for some moody netflix series. The sonic textures are black and white and dark red to me. I just absolutely love the piano in the chorus and the descending vocal line. I don't ever listen to my music but right now I could listen to this song on repeat.
Off The Hinge
I had made and mixed the whole album and ran into quite a few issues getting it out. Vinyl delays for nearly a year due to the aftermath of the pandemic, tour ideas getting pushed back due to the aftermath of the pandemic, I went through lengthy negotiations with labels that ultimately I walked away from deciding to stay independent on Aviate, I had several visual elements get tabled and this was all of course after a lot that we all went through in addition to things that I trudged through personally, separately… so I felt like I was standing behind a door that I was meant to walk through, that on the other side was so much color, but it was locked.  So long after the album had been mixed, I sat down one afternoon and just wrote this song never intended to be on the album, purely as a cathartic release for myself. I wrote and recorded and mixed the entire song in one day. I get chills everytime I envision the hinge rattling and I "start to kick" the door. My gosh. The cute petting zoo animal that finally loses it and devours its abusive handlers and escapes. Fans seem to be really excited about this. I generally always add a song late in the process after the albums are finished because during the time of thick administrative duties getting an album to release, I start longing to write, and in hindsight, what feels like more than not, the song added is good, but it probably didn't need to be there as it wasn't a part of the original heartbeat of the album creation. This feels like an exceptional exception. I hope this song is in something like a Marvel or Joker movie trailer one day. It just explodes.
Vanillanor Figby
This song was always an anchor song for me for the album. I always assumed this would be a single. I just love the chords and the melody and the lyrics. It sounds pink and black with hints of gold. I'm quite pleased with the production on this. It is so dense. Strings, sitars, walls of harmony. I was writing more fictional stories as creative exercises and this one made its way in. It's about someone looking for their counterpart but the counterpart remains a figment of their imagination. "I never stop expecting a kismet intersecting. Meet me in another life. Meet me in another life soon. Meet me, I'll be keeping time. Meet me, I'll be waiting there for you." I envision a dance club in Brighton in the 90's just bumping this song, but it's in the future. The 2090's I suppose.
Aloha, Hello
I was feeling homesick for Texas one night while in LA and started watching all of these bands. I grew up watching on youtube and ended up going down this Dimebag Darrell rabbit hole. It was so nostalgic and really brought me back to being a little kid learning to play metal riffs, so I grabbed my acoustic and said to myself, "I need to write a heavy riff" and this riff came out on my first play, which is of course quite a bit poppier and quirkier than any Pantera song. It was so low and sludgy, but kinda pop, so it in a way reminded me of Morphine the band, or something, but it was its own thing entirely. I went to my mini Moog and played the riff on that and thought "ok yeah this is funky… what even is this" so I just started following the song and began to sing "It's how I get by, I'll rest when I die, no rest 'til I set the records on fire." It sounds like a sports song. I have a lot of pent-up energy from the last few years and was just ready to scream and groove. I quite love the line about "tamed dragon inside my chest, I stick out my tongue and on it light a match, inhale one final last patient breath" and then the hook explodes which to me sounds like breathing out fire.
"Aloha, Hello," "Off The Hinge," and "I Say, I Say" are a little three-piece rambunctious band amidst a school of over achieving dreamers.
I Say, I Say
I love this little groove and the journey the song takes into some rather sonic madness. I remember when I went into the bridge section I had no idea what I was going to play, and just started playing this off-the-wall piano riff and then tried to somehow land the plane. The recording is largely from the inception of when it happened in real-time. I think there's an energy of standing your ground with this album. If Sweet Shivers had elements of the sound of resting, this is the sound of getting back up. "Never cross a lion in malevolence. Don't you know he don't let go? Tried to bury me but I sprouted out, only to grow, keep running, you're getting slow." This is the anthem to end the record with.
— —
— — — —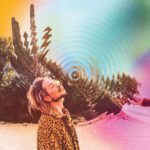 © courtesy of the artist
:: Stream The Rocket Summer ::
---