Norwalk, CT's Similar Kind dive into their soulful and searing new EP 'Commercial Break,' a radiant outpouring of sonic and emotional heat mixed with raw, unadulterated talent.
Stream: "Game Show" – Similar Kind
---
"Time is never wasted when it's spent with you," Julia Breen sings at the top of Similar Kind's captivating new EP. Shining over a bed of glistening keys and a bustling rhythm section, her voice is a welcome beacon of charged energy: One that not only lets us in, but also sets the tone for a record brimming with life, passion, and raw, unadulterated talent.
She continues, "Take your time, convince me darling, let's forget about tomorrow. I could listen for a year…"  If we've learned anything over the past few years, it's that time is our most valuable commodity – and how we spend our precious days matters more than anything. Soulful and searing, Similar Kind's Commercial Break is a radiant outpouring of sonic and emotional heat worthy of our time: A moving record ready to be the soundtrack to our endless days, our sleepless nights, and everything in-between.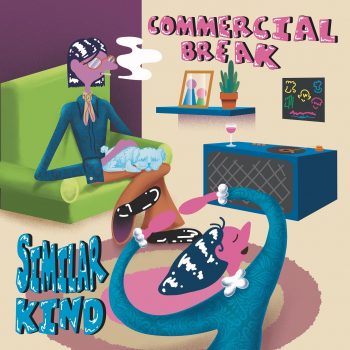 Time is never wasted when it's spent with you
Walls so white
Fluorescent lights
So enticing yet it's what we always do
Never once been bored of you
In a trance locked in I'm staring
You don't even know how much I care
See your words got tunnel vision
Hear your thoughts and in them I am swimming
Take your time convince me darling
Let's forget about tomorrow
I could listen for a year
Take your time convince me darling
Time to spare and time to borrow
Brought so easily to tears
Released August 26, 2022 via Factory Underground Records, Commercial Break is the highly anticipated follow-up to Similar Kind's 2019 debut EP Faces & Places. Beyond proving an excellent reintroduction, the Norwalk, Connecticut band's sophomore extended player captures the many sides, sounds, and styles housed within their indie pop-leaning sextet.
Comprised of Julia Breen, Benjamin McNamara, Evan Murphy, Nate Porter, Kenny Cash, and Miles Dominici, Similar Kind make music that is irresistibly sweet and heartbreakingly sentimental. Akin to (yet definitively distinct from) bands like MisterWives and Johnnyswim, their songs envelop listeners in earworm goodness, while their lyrics stop us dead in our tracks. Whether Julia Breen is singing about infatuation and longing, desire and insecurity, "Parked Car Conversations," or identity and inner tension, Similar Kind have an uncanny way of keeping us humming their tunes long after the music's over.
"This record was honestly in progress for years," the band's Ben McNamara tells Atwood Magazine. "It was written in 2020 when there was nothing else to do during the summer. We spent months demoing, jamming on, and eventually tweaking the "finished" songs until we made them the best we thought we could. These songs have really grown and changed from start to finish."
"To be honest, this record really never had a specific vision," vocalist Julia Breen adds. "They were all songs we wrote in 2020, and that's really all they have in common. It's more of a time capsule than anything for us. We've been sitting on (and loving) these songs for years, and we're eager to put them out. We decided, 'screw it we'll make it an EP!'
"The title Commercial Break has a few different meanings," she adds. "The first one being that we wrote it at a break in our lives, during 2020,  when everything was on pause. We took that time to have a little break in playing shows, and focused inward to improve our sound, practice our instruments, write lots of music, and really reflect on where we wanted the band to go. Additionally, the EP is about 17 minutes long. Listening to it is just taking a little break out of your day! "
It's the in between, like how a commercial is usually played in between shows. This is our in between, before we work on our debut album. 
– Ben McNamara, Similar Kind
From their lyrics to their arrangements and the technical aspects of their performance, Commercial Break is a big step forward for Similar Kind.
"Personally, there's a vast amount of technique and influence from my favorite musicians being drilled into Commercial Break," bassist Nate Porter notes. "All the way from Joe Dart of Vulfpeck to Clay Gober from Polyphia, being able to take my repertoire I've built up for years listening to different genres and implement them in this EP has been such a blast. It's such an invigorating feeling to have a project out that not only captures us as a solid band, but as solid musicians individually."
As already mentioned, Commercial Break's songs have little in common thematically, beyond the time period in which they were made and the people playing on each track. Similar Kind are actively growing up and out in multiple directions at once, and this EP showcases their breadth and range. They hold nothing back as they spread their wings, dipping deeper into neo-soul on opener "Game Show," indie pop on "I Don't Wanna Fight Anymore," jazz on the smoldering "There She Was,"  indie rock on the dynamic and driving "Leonard St.," and new wave on the buoyant, pulsing "Waiting." It's not that they actively intended every song to offer something new, but that these tracks all come from the same band is a testament to their collective abilities and future potential. It also means that, no matter our mood, there's a Similar Kind song ready and waiting for us.
As such, every member of Similar Kind has a different highlight on the record, but "as a band, 'Game Show' is definitely our favorite," Julia Breen says. "It is so different from our normal style, but it definitely still maintains our signature sound. It's also the perfect shirt and sweet set opener and intro song. My and Miles' favorite song is 'I Don't Wanna Fight Anymore', Ben's is 'Waiting', Nate's is 'Game Show,' and Evan's is 'There She Was.'"
The band's principal lyricist, Breen cites "Game Show," "Leonard St.," and "I Don't Wanna Fight Anymore" as three of her all-time favorite song lyrics, with "I Don't Wanna Fight Anymore" being her number one. "I love writing songs that are really specific, with every line relating to something personal in my life," she notes. "My favorite part in 'I Don't Wanna Fight Anymore' is when it says, "even how my voice sits in this song" because the struggle gets meta, and I talk about my struggles even within singing that song."
nothing feels quite right for me
even how my voice sits in this song
i'm uncomfortable
don't feel right but don't wanna be wrong
In premiering "I Don't Wanna Fight Anymore" back in February, we praised Similar Kind for crafting beautifully bold, unapologetic look at the self that "soars high while diving deep" into the throes of internal conflict. "tunningly intimate and radiantly expressive, 'I Don't Wanna Fight Anymore' is self-reflection of the highest order… Glowing with a polished pop finessed, the track grooves and glistens with charming guitars, a driving rhythm section, and blissful synths. The instruments' indisputably upbeat and cheery tone serves to complement Breen's gutting lyrics about identity struggle and the disparity between one's self-image and oneself. Her words carry considerable weight, speaking to an intense amount of introspection and an ongoing journey that neither begins, nor ends, with this song. To varying degrees, we all undergo this process of self-discovery and understanding – though few of us are willing to so vulnerably and explicitly put it out into the world, let alone share it in song."
this isn't how it's meant to be
i don't wanna fight anymore
mirrors always betray me
labels don't feel right anymore
i'm only waiting painfully
this constant back and forth
is a bore this isn't how it's meant to be
i don't wanna fight anymore
---
Similar Kind are the first to acknowledge that Commercial Break is just a taste of their band – but what a taste it is! Whether you're taken by their intimate, contemplative lyrics, or moved by the sheer strength of their instrumental work, this Connecticut band have proved themselves a powerhouse of pure passion and raw verve. Commercial Break is an enchanting set, and one we can't wait to come back to time and again.
"All our songs within Commercial Break boil down to emotional circumstances," Similar Kind's Miles Dominici shares. "Whether it's romantic attraction, struggles with addiction or confusion regarding gender identity, we want listeners to empathize with the message. Personally, writing this EP taught me how to write drum parts which appropriately leave space for vocals and other instruments. Im no longer concerned writing technically impressive grooves or fills; my interest now lies with writing parts for the song, not my ego."
Experience the full record via our below stream, and peek inside Similar Kind's Commercial Break with Atwood Magazine as the band goes track-by-track through the music and lyrics of their sophomore EP!
— —
Stream: 'Commercial Break' – Similar Kind
:: Inside Commercial Break ::
— —
Game Show
Julia Breen: "Game Show" started as a jam like all of the other songs on the EP except for "Waiting." We thought that the synth chords sounded like a Game Show theme, hence the name. The lyrics are about something very specific and simple: The hours long conversations my partner and I had during quarantine in my kitchen. It can be applied to loving someone so much that every word they say is mesmerizing.
I Don't Wanna Fight Anymore
Julia Breen: I remember when we first jammed on this song and we were ecstatic because it was one of our favorite instrumentals yet. There was a long period of time when it wasn't released yet, but we'd play it live, and people would ask us if it was out yet. It feels so good to not have to tell them it's unreleased anymore. The lyrics are about struggle with gender identity and the confusing feelings that came with it for me.
There She Was
Evan Murphy: Writing mostly love songs, I attempted to write a song about drug use while still circling back to human affection/love. Ben was the one who initially thought of the drug concept. The song compares an addiction to drugs to one's addiction to a significant other. The hypnotic sounds and calming saxophone set the vibe for this ambient song. Twisting lyrics "I swallow a handful of pride," which really should be "i swallow a handful of pills," helps the listener understand the song's double meaning.
Leonard St.
Julia Breen: This song was written during the summer of 2020, so we really all had nothing better to do than write music. I feel like the song definitely has a summer vibe to it. After jamming on it for awhile, it quickly became one of our "prog-ier" songs which we all love. The lyrics are kind of a time capsule of that time, when I was desperate for live music to come back. The line "I'll never ever take this for granted again" still reminds me at every show to be grateful that we're back doing what we love.
Waiting 
Julia Breen: This song started as a demo that Ben worked entirely by himself in his garage that we all loved. He and I hopped on a zoom call with a very talented songwriter Chris Larocca, which we've never done before. It was cool to start a song in an entirely new way for us. We honestly had writers block on this one for awhile, but then the song ended up being about frustrating cyclical patterns in your life. The "all I do is wait" refers to waiting on yourself to finally change.
Thanks for Listening! 
Ben McNamara: This song was made after a long night in the studio. The track was recorded using one microphone on the drums, while Evan and Kenny (our producer) played the grand piano. The snare sound is actually one of Factory Underground's engineers, Tom Stewart, banging a mallet against a stage door.  The process was super experimental and fun!
— —
— — — —
? © Sam Lockyer
:: Stream Similar Kind ::
---