Navvy celebrates the relief of putting yourself first in the video for her heartening track, "Somebody Else."
Stream: "Somebody Else" – Navvy
---
It's impossible to help everyone. Regardless of how hard or long you try, it's impossible to alleviate all the pain and displeasure you can tell others are experiencing. Of course, providing that much-needed safe haven can be reassuring and encouraging experience, but soon you can find yourself helping others at the expense of your mental sanity. With "Somebody Else, " Atwood artist-to-watch Navvy tactfully tackles that salvation that can be found in relieving yourself of the burden of serving as a permanent emotional crutch in someone's life.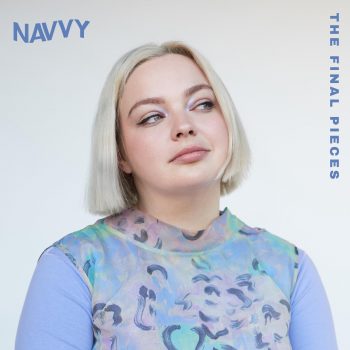 My first mistake
I let you think that we could fill the void
That he left when he broke you
My second mistake
To get you off my back
I lied, but couldn't keep track of what I told you
I held you up, I've done enough
Don't drag me in
You call me up, you interrupt
I'm wearing thin
Atwood Magazine is proud to be premiering the video for Navvy's song "Somebody Else," written with Thomas Stoneman and taken from her latest EP, The Final Pieces (released September 4, 2020 via Dryden Street). Even though Navvy has only been releasing music for less than two years, she has already got 3 EPs under her belt. Evidently, she is a prolific artist, and her abundance of releases still manage to excite and engage in their delightfully unique ways.
Especially on her latest EP, Navvy's music oozes with a level of measured self-confidence that is utterly beguiling.
Even when she's tacking inconceivably tough emotions, she remains self-assured as she dissects her own vulnerabilities and experiences with a relatable honesty. Through her music, Navvy exposes her emotions with a remarkable openness – making it impossible to fathom that songwriting doesn't provide Navvy with some kind of reassuring emotional catharsis.
An indisputable highlight of Navvy's latest EP is its lead single, "Pieces." Opening with one of the vivid and impactful verses that's ever-graced Pop music, the track sees Navvy explores the arduous process of putting yourself back together after a breakup. Instead of lurching into nostalgic longing, the lyricism embodies a reassuring relief and luminous hope that's simply infectious. Tracks like "Pieces" are what makes Pop music so indescribably special as a genre. It's undoubtable that "Pieces" will serve as an emotional comfort blanket for people who are learning to disentangle themselves from someone who they were once so intricately intertwined with.
---
As just evidenced, given Navvy's outstanding talent and the care she puts into every single second of every single one of her songs, it's almost impossible not to get drawn into delving into each song throughout her varied discography. It's a massive testament to Navvy's uniqueness that it's hard to describe her in narrow terms. Much of Navvy's discography sees her investigate the various complexities of her own heartache, but "Somebody Else" sees her showcase another side of her as an artist and songwriter.
You got drama, keep it to yourself
(You need help from somebody else)
You give me a lot, but you're giving me hell
(You need help from somebody else)
I can't be the one you run to
(You need help from somebody else)
So I keep my distance, I'll keep wishing you well
(You need help from somebody else)
Unsurprisingly since its release, "Somebody Else" quickly shot up on Spotify to become Navvy's most popular song. Given the track's lyrical sentiment, it naturally resonates with those who consider themselves natural caregivers. That nurturing nature is obviously admirable but it's sometimes possible to martyr yourself repeatedly to try to cling onto the impossible task of helping everyone you encounter. "Somebody Else" beautifully reminds the prospective listener that even the kindest and most selfless people need to sometimes muster up the nerve and resolve to occasionally put themselves first.
To celebrate that empowering sentiment, Navvy has worked with Frances Carter to create an enchanting video that's crammed to the brim with fun and joviality.
The video exemplifies the joyful salvation that comes with un-encumbering yourself from the grip of something that's hampering your happiness. Serving as a reflection of Navvy's charming and infectiously jubilant personality, the video interweaves Navvy's performance with artistically intriguing imagery.
My third mistake
A promise I can't keep
I swore I'd always be there when you're lonely
And my fourth mistake
When you start acting up, you say that you're in love
I don't believe it
I held you up, I've done enough
Don't drag me in
You call me up, you interrupt
I'm wearing thin
There's something very understated about the video, which allows the listener to wholly focus on the emotions embodied within it, as opposed to the flashy and garish imagery that often serves as the centerpiece of some pop videos.
Speaking of the video, Navvy shared "The Somebody Else video was an absolute joy to make. I have been so lucky to work with so many amazing creatives in the past, and it was so cool to continue that trend. This was the first time I worked with a female director – Frances Carter – and the energy was just so fantastic. We also had amazing, smart, beautiful models in this video, and for most of them it was their music video debut. I might be biased, but I think they all were wonderful."
She continues, "I am so excited about the finished video too – it shows the inside of my brain in a way I did not know was possible! A lot of the shots were just me messing around not even knowing Frances was filming (she's great like that), and I think the candidness really comes out when you watch it. I LOVE THIS VIDEO!"
Even though Navvy has released some incredible music to date, it's clear that the best is yet to come from this endlessly exciting artist.
Just within her latest EP, Navvy manages to explore a variety of distinct emotions and experiences, while still creating something that's impressively cohesive. While she's definitely an artist to keep an eye on, for now you can watch the video for "Somebody Else" exclusively on Atwood Magazine!
— —
Stream: "Somebody Else" – Navvy
— — — —
? © Matt Hurley
:: Stream Navvy ::
---