NoSo's Baek Hwong dives inside their softly cinematic, catchy and cathartic debut album 'Stay Proud of Me,' a stirring indie pop daydream full of reeling and inner reckoning, emotional upheaval and coming-of-age reflections.
for fans of Gordi, Maggie Rogers, Troye Sivan, Lorde
Stream: "Parasites" – NoSo
---
I truly hope people who haven't felt represented are able to fill in the blanks in a more personal way with 'Stay Proud of Me.'
Who says achingly intimate music can't be fun at the same time? It's one thing to dwell in the intense depths of a dark and brooding song (we all know what a single spin of Johnny Cash's "Hurt" can do to a person); but LA-based NoSo proves you can pack just as much vulnerability and emotion into brighter musical pastures. Their softly cinematic debut album Stay Proud of Me is a stirring indie pop daydream full of reeling and inner reckoning, emotional upheaval and coming-of-age reflections. As catchy as it is cathartic, it's a beautiful musical journey full of darkness and light, ethereal sonics and soaring choruses, passionate outpourings of connection and powerful moments of truth.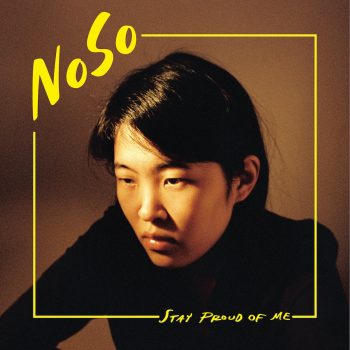 Call out just like a dream
In a white room
if I move too quickly
Wheel me around the ramp
sing a lullaby
But I still felt everything
It's your life, take off the drag
The Parasites, removed from your skin
And so lovely, lovely to meet you, again
Lovely to be born again
– "Parasites," NoSo
Released July 8, 2022 via Partisan Records, Stay Proud of Me is a truly thrilling debut – not to mention a beautiful and breathtaking introduction to Baek Hwong, the non-binary Korean-American singer, songwriter, producer, and guitarist behind the NoSo name. Operating in the indie, dream-pop space, NoSo's music has long been lush and lilting, enveloping and enchanting: 2018's debut single "Allie" set a firm foundation, but it's been through more recent songs like the cinematically smoldering "Honey Understand" and the buoyant, glistening pop song "David" that NoSo's songwriting voice fully came into view.
For 24-year-old Hwong, this album is a long time coming – a "best-of-the-best" of their songwriting and production over the past five-plus years, and a candid journey through their innermost sanctum.
"Back in 2018 I had a collection of rough demos by various engineers/producers and two songs I produced on my own ('Suburbia' and 'Sorry I Laughed')," the artist tells Atwood Magazine. "The label I signed with, Partisan Records, highlighted the two songs I produced, so I built the album around that sound and vibe. I think that's ultimately what gave me confidence as a producer and allowed me to trust myself and my own capabilities. From that point, I wrote and recorded several songs in my bedroom, and narrowed it down to the final 10 songs that appear on the record. The ones chosen all coincidentally centre around themes of addressing my younger self, gender, and coming to terms with identity."
Through the process, I was expecting all of the songs to be ambient and gentle, until I wrote 'Honey Understand,'" they recall. "That track served as a breakthrough for me during an intense period of writer's block, and allowed me to experiment with new sounds and production. [The album] very much feels like it'll be a public journal and mark my own progress as a person – I wrote the record between the ages of 20-23, which served as a very formative period of my life. I learned a lot about myself through the process, and I think that's reflected in the album as well. You can see my confidence grow through the production, and I become more brave within the lyrical content."
---
Shorthand for North/South – a nod to their Korean heritage, and "the inane origin question ("Which Korea are you from?") that so many Korean Americans inevitably face at some point in their lives" – NoSo holds nothing back in channeling the rawest parts of their life into stunning, lush song. Many of the album's tracks explore facets of Hwong's Asian American experience as well as their LGBTQ experience, providing a unique perspective that can be still be so hard to come by in the music world of the 2020s.
The album's title itself is an important nod in both the forward and backward directions, derived from a lyric in the album's deeply evocative opening track, "Parasites." "I address my younger self in that song about top surgery and the future, and that line always stood out as conveying several messages," Hwong explains. "I went back and forth between that and 'Take Off the Drag' (another lyric from Parasites) but there was something more compassionate and patient about Stay Proud of Me in regards to my younger self."
Writing about "Parasites" previously, Atwood Magazine praised the song as "undeniably NoSo's most vulnerable, visceral, and raw offering to date: A gentle giant and a soft anthem of hope and renewal… showcasing a marriage of heart and soul that shines bright and true."
If "Parasites" is an intimate rebirth of sorts, then the songs that follow represent NoSo's blossoming into the person they are today, both musically and lyrically. Glistening lead single "Suburbia" radiates with a mix of sweet, lilting guitar and synth tones as NoSo looks back on her adolescence in the Chicago suburbs with a newfound warmth and appreciation. It's a bittersweet song laced in blankets of nostalgia and intimate little details of the artist's hometown ("Moms power walk and gossip about teenagers and bat mitzvahs," "We sit outside the pharmacy eating golden Oreos"), with the chorus crying out for the kind of release and emotional unshackling that can be so hard to find.
Holding onto all my faults
I've been calling out your name
Apart from this
Said you wanna be good about it
NoSo has a knack for blending moments of levity with those of a heavier weight, whether it's the radiant dance-ready chorus of "David" or the smooth grooves and captivating cascades of "I Feel You," the smoldering passion emanating off of "Honey Understand" or the spirited beats and heart-rending lyrics of the dazzling confessional, "Feeling Like a Woman Lately."
Paintings on the wall, they made one of me
Feeling like a woman lately
They're what I could've been, a soft mirror image
They won't know me but I'm hoping
In this life settle for
What's below, but it's not enough
Sing like a bird or a duck, perpetual puberty
Feeling so invaded lately
Put the makeup on, a skirt from the costumes
I was once a pretty girl too
"Although the procedure I had is a privilege and certainly alleviated discomfort, it's not the end all-be-all solution; gender identity is constantly evolving," Hwong says of this exceptionally raw and moving track. "This song expresses these emotional fluctuations I have; the line between empowerment and dysphoria is very thin at times."
---
For NoSo, highlights abound on a record that captures their personal growth in real time. "I think my favorite song off the record is 'Parasites' because on the surface it reads as a love song, but it's actually me talking to my younger self (I've always wanted to write an ambiguous song like that), and the second half of 'I Feel You' is particularly fun to play live with a band," Hwong shares. "I also am quite proud of the outro in 'Everything I've Got'; that was the final song I recorded on the record, and it felt like an amalgamation of my effort to really grow as a producer through the album process."
"I [also] like the cheeky lyrics in 'Sorry I Laughed': "sorry I laughed when you kissed my chest like a vacuum, and for lying about it," as well as the lyrics in 'I'm Embarrassed I Still Think of You': "gave you a forest to draw, stood in the rain while watching you," because even though it sounds like a metaphor, it's actually a very literal recount of an experience."
In summing up this grand and gorgeous album, one can't help but think of the last line of its final song: "I love you with everything I've got." NoSo's debut is radiantly cinematic and undeniably gut-wrenching from time to time, but even then, it's a good sort of pain: The kind really does make us stronger – the kind we can grow from.
Stay Proud of Me is truly a bold and beautiful artistic statement from an artist discovering themselves in real time.
From end to end, and all the in-between, this album and all of its emotions prove one musical roller-coaster ride we can't wait to go on for years to come.
"I hope other people feel seen by it in some way," Hwong shares. "My favorite part of music in general is how as listeners we can fill in the blanks so songs can fit in our own narrative. I've done that so much in the past with artists who don't look like me, and I truly hope people who haven't felt represented are able to fill in the blanks in a more personal way with Stay Proud of Me."
Experience the full record via our below stream, and peek inside NoSo's Stay Proud of Me with Atwood Magazine as Baek Hwong goes track-by-track through the music and lyrics of their debut album!
— —
Stream: 'Stay Proud of Me' – NoSo
:: Inside Stay Proud of Me ::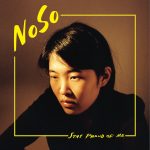 — —
Parasites
I made the instrumental and it sat in my DAW for a long time, but I didn't know what I wanted to write about. I didn't have any romantic interests or typical gay pining going on, so I felt stuck. I shelved it for months, then had top surgery on January 8th 2020, which prohibited me from playing music for six weeks.
After I healed, I revisited the song and grappled with what I wanted to say. The instrumental felt dreamy and romantic, but I didn't want to keep writing romantic songs about other people; I just had a significant procedure that brought repressed memories to the surface, and I needed to express it somehow.
I decided to speak to my younger self in 'Parasites'. The opening verses describe me waking up post-surgery (where I was loopy and left alone for a moment so I sang 'On My Own' from Les Misérables), being wheeled to the car, and my earliest childhood memories with gender confusion. Through the song, I assure younger Baek that there's hope in the future, and to stick around to experience it.
Suburbia
Throughout college, I had a weird fear of learning music production. It wasn't until my senior year that I started messing around with logic and ended up recording all of the instruments for 'Suburbia' (the first song I produced). It felt like I'd finally found my sound.
I had the instrumental for a long time without knowing what to write about. One night, I got a drunk FaceTime from my friends in Chicago, and it was the first time in a while I really longed to return to that part of my life. I grew up in a predominately white suburb outside of Chicago (that the movie Mean Girls was based on), and had a difficult time navigating the environment. But I had amazing friends who had my back.
This song illustrates the absurdities of that suburban town (moms gossiping about teens) and the simple, lovely moments I didn't register as my childhood, like eating golden Oreos outside a pharmacy with friends I had since kindergarten.
David
One summer night, I had a dream that I was a white dude sitting in a church pew; I saw the way girls giggled and whispered to each other excitedly upon noticing me, and other men gave me nods of respect. The way I was perceived in such a positive and palatable way hit me in the gut; I even recognized it was a dream when it was happening.
I woke up emotional and so disappointed in myself; I had done a lot of work to unlearn internalized racism, and I had been feeling so proud of my identity. But I had to be gentle with myself and remember that it's a plethora of issues; bullying from peers, the media we consume that spotlights euro-centric beauty standards, and the desperate desire to not feel like you inherently take up too much space. It seems to be a universal experience for POC (especially during childhood) to look in the mirror and resent your own features.
That dream (and writing this song) reminds me that these kinds of issues don't disappear overnight; it sneaks up on your subconscious in layered ways.
I Feel You
I had the main riff and second half melody for a while, and struggled to pair suitable verses with it. When I tried to use a typical pop structure, I found it nauseating since the second half has so much going on. After I wrote the verses, I decided to just go with my gut and record it that way, almost like there's five separate sections to it.
I had a professor in a songwriting class that told me my structures don't make sense and they need to adhere to AABA or classic pop formats. That always irked me because unconventional instincts for songs is what keeps me excited about music in a child-like way. My earliest songs are all over the place, jumping around in tempo with odd structures and they're endearing because of that. 'I Feel You' reminds me of my older music, before I knew what the songwriting "rules" were.
I'm Embarrassed I Still Think of You
For whatever reason, I'm always anxious about my feelings for women. It might derive from kids using "lesbian" as a slur to me while growing up, but that fear of being perceived as scary or aggressive has trickled into my adulthood.
I was in a small art class in college, and I had a classmate who was the smartest one in the room, always made insightful comments about the material, and had pretty hair. For half the semester I avoided her because I was so worried I'd be creepy or predatory, and even when we became in-class friends, I still made sure to always keep a distance.
I wrote this song about how enamored I was by her, but she mostly symbolizes a universal queer experience; shame for simply being attracted to someone, even in innocent ways.
Honey Understand
I had eight songs for the album done and was struggling through a very long bout of writer's block. Because we were all trapped indoors, I had no human experiences or inspiration. Throughout quarantine, I would write an insanely melodramatic screenplay every night before bed to avoid scrolling through my phone. It was comforting to be excited about something without any pressure for it to be good.
After a break from music, the song came to me. The rest of the 8 tracks on the album were gentle and ambient, so I wanted to make something weird. while producing the song and muttering gibberish, I started singing lyrics that were storylines of the characters from my screenplay.
To me, writing from a character with a made-up storyline scratches the same part of my brain that creative writing in elementary school did. I would be so excited to share my stories with the class because I loved pretending to be someone else. Writing in this way opened up a sonic landscape I'd never explored before because it felt like I could separate myself from what I was making.
Sorry I Laughed
I wrote this song in my junior year of college and had it shelved for a while; it made me feel awkward so I never sang it publicly.
Hook-ups and one night stands in movies/TV shows are always depicted fluidly; they're so choreographed, and usually through the male gaze. But in real life, they're always pretty weird. They're clunky and awkward, and there are those strange moments of faux intimacy that mimic emotional connection.
I might sound like I'm laughing at someone in a mean-spirited way in the lyrics, but that's not what I meant. I talk about my chest a lot as a motif across the album that represents my gender identity, projections, and insecurities. Being in such a vulnerable situation with someone I didn't know made it difficult to express something like that comfortably.
This was the second song I ever produced and the final album version has all of the original parts from the demo. It's very imperfect and nervous sounding, but it's a nice reflection of the subject matter.
Feeling Like a Woman Lately
I wrote the main guitar line and vocal melody hook "feeling like a woman lately" in my sophomore year of college, but shelved it because I didn't know what I was trying to say. I did not feel like a woman lately!!! I felt like a gender-less toddler waddling around.
Four years later, I had nine songs done for the album, and needed one more. I returned to this riff and hook line, and all of the lyrics started pouring out. Although the procedure I had is a privilege and certainly alleviated discomfort, it's not the end all-be-all solution; gender identity is constantly evolving. This song expresses these emotional fluctuations I have; the line between empowerment and dysphoria is very thin at times.
Man Who Loves You
I wrote the main guitar riff and the hook-line "'cause he's the man who loves you" but I abandoned it. Months later, I was going through old voice memos and found the draft of this song. I wondered what direction I should go with the lyrics, and what kind of message I should convey. Ultimately, the song is about my pattern of chasing after emotionally unavailable people and being repelled by genuine interest/kindness.
Everything I've Got
In the past, I was very insecure about my voice/intimate lyrics, so I would write intricate guitar parts to divert the listener's attention. But when I was writing this song in my junior year, those tricks weren't working.
I was feeling debilitated over a situation with someone, and my gender issues were rising to a boiling point. One night, my roommate was at a rehearsal, so I had two hours to write a song. I played my boutique electric guitars and pedals, but it wasn't echoing how I felt. I used my roommate's toy acoustic guitar, and wrote this song in those two hours, using old journal entries to write the lyrics.
For my class project in college, I arranged live horns and strings for this song. I kept the files on a dinky flash drive, knowing it should be on my first album. This is still my most vulnerable song and embarrasses me a bit to play live. I worry it's too much or too dramatic, but I know every line is exactly how I felt in that moment.
Using this song as the closing track takes on a new meaning now. Making this album was honestly very difficult (for a multitude of reasons). But recording this song years later, having it be the final song I produced for the record, really felt like I was in control of my own narrative. I am genuinely so proud of this album, and I'm comforted knowing I gave it everything I've got.
— —
— — — —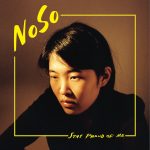 ? © Bella Rose Porter
:: Stream NoSo ::
---