Rather than bask in the glory of his own atmosphere on 'Underdog 2,' Jurassic Park native Duwap Kaine travels through elastic instrumentals without a true destination in sight, continuing his assault on regional trap conventions.
Stream: 'Underdog 2' – Duwap Kaine
---
My favorite type of music features an unexplainable feeling of nostalgia mixed with mind-bending sensibilities. It's difficult to pinpoint exactly where this kind of music transports you as a listener. You kind of have to figure that out yourself. For me, the mysteriousness is like an adrenaline rush. The music doesn't necessarily remind me of a specific event or time period in my life. If anything, this kind of aural experience reaches beyond the linear concept of young and old. The wistful feeling would much rather approach the deeper crevices of your brain for dreamlike imagery. Maybe, instead of a lived-in experience, this brief nostalgia originates from the sub-conscious. At the end of the day, only perspective matters in these instances.
Reaching this brand of philosophical meditation inside of your music would ultimately constitute a mastery of your own skill-set (at least, most of the time). In a conventional career, an artist doesn't usually grasp their full dexterity until they've been solidified in the industry as a formidable mainstay. Hip hop isn't conventional though. Nas and Prodigy understood every nook and cranny of Queens at 17 and 19 respectively ("I'm only nineteen, but my mind is old"). Chief Keef invented an entire sub-genre at the age of 16. Juice WRLD found his niche before "Lucid Dreams" became folklore. Age won't matter if self-awareness and ingenuity reign supreme.
Savannah, Georgia native Duwap Kaine is carving his own atypical path within the depths of Soundcloud. He's already acquired a devoted cult fanbase and divine praise at the age of 18 (YouTube podcaster Adam22 called him Soundcloud god). Despite a lack of national notoriety, one could argue that his voice and production style are wholly singular. Sure, there's the constant comparisons to BKtheRula and DMV artists like YungManny, but Kaine's brand is admirably more aimless. His topical assortment fluctuates between girls, monetary gain, designer fits, and exposing the haters. It's typical rap jargon on the surface that would probably turn cynics away in a heartbeat. But underneath this lack of lyrical originality lies an aesthetic so captivating and surreal, it'll make anyone find that unexplainable feeling right from the beginning.
Kaine's been in my purview since 2018's Underdog, a project that featured succulent ambiance and rubbery preset punch-ins. The product was mesmerizing and somewhat elusive, kind of like the quiet kid producing it. Kaine is a product of Georgia's Jurassic Park, a bubbling county filled with other underground legends like Slimesito and BigSmokeChapo (you can read all about it here). He's been part of this new Soundcloud wave for three or four years now, developing a uniquely organic brand without the help of a major label or monstrous hit song.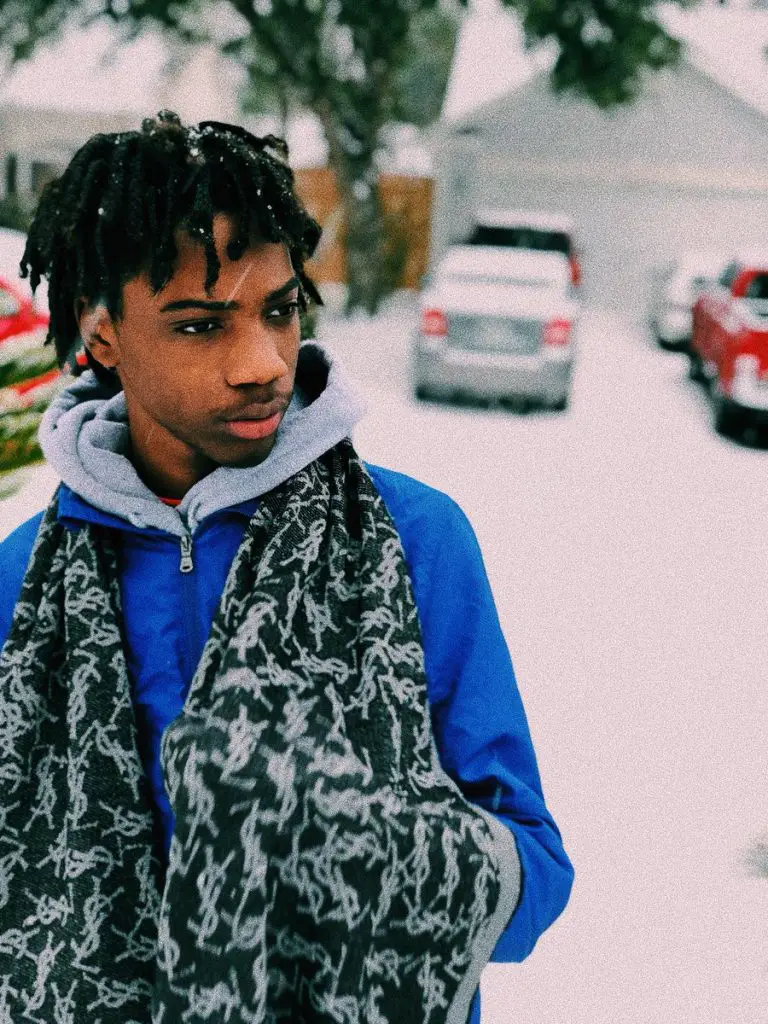 In interviews, he appears shy and reserved, but never impolite. He resembles an intense thinker, possibly even running different compositions through his head while the interviewer is speaking. Kaine is a fascinating entity because he doesn't present much outside of music. The most you'll probably get from him is a thread of Instagram posts highlighting his eccentric cooking (that Mother's Day thread was legendary), or clap-backs at people who try to derail him in the comments section (the perks of being a DIY artist; you see everything).
The way in which he releases his music is quite unprecedented. His newest project Underdog 2 was uploaded on all streaming services two days after two new songs, and yet, those songs weren't even found on the album. This is his second full-length of the year already with Bad Kid From the 4 being his first release of 2020 (another great mind-bender of a record). Both albums reach experimental heights in their own way, but Underdog 2 is where we catch Kaine in a vast avant-garde setting.
With the help of longtime producers Sammyboy and Nine (9) (two of my favorites from the underground), Duwap is able to fully immerse listeners into this impressionistic hodgepodge of clairvoyant ideas. Everything is psychologically riveting, from the purposeful mixing flaws to the ingenious vocal illusions to the patented punch-in flows that always seem to outrun each other on every track.
The electronic synth stabs on "Lil Freestyle" function as a demonic Super Mario sound effect when you find yourself dead from one of those mushroom-looking creatures. The programming is chopped in a way that overpowers the rest of the song's idiosyncrasies. Kaine's layered vocals hop over and under the synths like Mario himself. It's a spacious journey through the rapper's own figurative tunnel. Wherever the instrumental goes, Duwap follows.
Never is this more apparent than on "Gasoline," a subdued filter of stark atmosphere thanks to baritone drums and quivering keys that flutter beyond the production. Kaine's autotune is computed to mimic watery effervescence. The vibe is remarkably delicate and unfazed, acting as the perfect breather for an album filled with various twists and turns.
As far as song structure goes, Kane typically uses his verses to tell the story of his day. The chorus (if there is one) usually sounds like his raw reaction to that particular day. He's entranced with excess, but he also surprisingly shows a lot of maturity for his age, as specified on "Not Kool."
N***a, stop them Percs, that shit not cool (That shit not cool)
N***a, stop them Xans, that shit not cool (That shit not cool)
Had to stop sippin' codeine, it's not cool (That shit not cool)
Now you look like a fiend, that shit not cool
When he's not detailing the extravagance of his lifestyle, Kaine is transparently celebratory and generally optimistic about what the future may bring. His music represents someone who is always driven to improve in any way necessary, but there's also a blunt contentment in some of the things he says. "TrapNoMore" finds Kaine infatuated with his recent monetary success, and also delighted about the very idea of not living in perpetual poverty. His hard work continues to outweigh the tribulations that he still deals with daily (though maybe not as much).
I can make anything a trap
I'm at the store, nigga, like a trap
At yo' crib where you better not trap
This shit just for fun, I don't gotta trap no more
Underdog 2 also carries one or two songs of total and utter lunacy in the best possible way. "Outside" features Kaine submerged underwater barreling over coral reefs, reassembling his voice every time it's layered, detaching himself from reality when it's not. "Famous" meanwhile finds his vocals unpacking each other until it sounds like he's at two different places during the exact same time period, kind of like Hermione in the third Harry Potter movie. Only someone like Duwap can create such an imaginative aura. A composer usually puts the pieces together, but Kaine mainly breaks them apart and reconstructs them in a way that fits his own warped time capsule.
It'll be interesting to see where Kaine's dizzying aesthetic lands him. He could live as a cult hero and be perfectly fine with it, or he could become rap's next great mainstream rockstar (which is something that doesn't really matter in the grand scheme of things). Whatever the outcome, Kaine will most likely never sacrifice his style. Some things in life need to stay mysterious and off-kilter. Nostalgia is great when it's not manipulated for some silly schtick. It's even better when you can't explain the pleasure. Kaine probably never thought of unexplained nostalgia when making his music, which inherently, is why it's so great in the first place. Everyone can have their own perspective when listening to this kaleidoscopic experience.
— —
? © Duwap Kaine
Underdog 2
an album by Duwap Kaine
---