Indie pop band VALLEY have long held honesty, positivity, and connection in high regard, and these three qualities shine brightest on their uncompromising new EP, 'sucks to see you doing better'. Vocalist Rob Laska opened up about the music, the lyrics, 'The Office', and more. 
for fans of Walk the Moon, Neon Trees, The 1975
'sucks to see you doing better' – VALLEY
---
At its core, the message of VALLEY's music is direct, heartfelt, and earnest:
You are not alone.
This has been true for the four-piece since their humble debut four long years ago, and it holds true for them to this day. The Toronto-based indie pop band have long held honesty, positivity, and connection in high regard, and it is these three qualities that shine the brightest on their uncompromising new EP, sucks to see you doing better.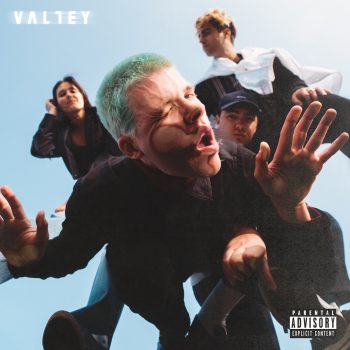 Released October 23, 2020 via Universal Music Canada, sucks to see you doing better follows a year and change on the heels of VALLEY's critically acclaimed debut album, MAYBE.
"MAYBE was very much driven by a cinematic narrative and quite ambiguous, for us at least," VALLEY's Rob Laska explains. "It really plays out like scenes from a movie in our heads, when you hear it from start to finish. A lot of the songs dealt with larger life shifts or social dilemmas – like leaving where you grew up, reflecting on the troubles of growing older with your friends, your first love lived and lost, being lost in your head –  and those songs date back to high school for us. MAYBE was our first statement to the world. It will always be such a special moment in time that we captured."
In contrast, Laska and his bandmates Karah James, Mikey Brandolino, and Alex DiMauro see their new record as a step forward, delving ever deeper into who they are and what they're all about. "sucks to see you doing better is different in the way that it is VALLEY at our most intentional. We approached it more differently and were more defined in what we wanted to create."
Picked up a shift on a Friday
Saw you at the counter so I ran away
Waited till you got your drink
And watched you leave
But I used to say "hey babe, your drink's on me"
Living in a big city
With an even bigger paycheque
Heard you got a new honey
And a rooftop deck
Lucky that you're not with me
Cause you're living so A-List
Making all of your money
And I can't make rent
You're doing better than me, I admit it
Found someone better than me, and I get it
You're better off and I'm worse than ever
Sucks to see you doing better
Stream: "sucks to see you doing better" – VALLEY
---
sucks to see you doing better distinguishes itself from MAYBE as a dynamically colorful, confident, and tight collection of sonically buoyant, lyrically unapologetic material.
VALLEY spare no expense at depicting life in all its truths – from waiting for calls that never come and swiping through Instagram squares and stories you're not a part of, to re-watching episodes of The Office and binging a Harry Potter movie marathon. #relatablecontent
"sucks to see you doing better feels specific and unswerving," Laska shrugs. "With MAYBE, we disguised a lot of intent with grand jaw imagery, big production and more stream of conscious lyrics. The songs on sucks are much more of a snapshot of an experience we've gone through during the past six months. The album and the songs are all very real to us. They're about self-evaluation, comparison to peers and the pressures we put on ourselves, sometimes unfairly, to be somewhere or someone that we are not. It is about accepting yourself, who you are, and being okay with where you're at in the moment. We left more room for the lyrics to thrive and resonate with the crowd when we're tour. Hearing people emphatically scream our words with us as we play to a sold out crowd helped us realize how important each word is inspired us to make every line count."
He continues, "When we finished writing MAYBE, we discovered new directions we wanted to take the band. We knew where we wanted to take our songwriting. We realized how to build our storytelling around our production, which tends to be very dense and textural."
None of this is meant to take away from MAYBE's personal importance and sustained relevance for the band; their hour-long first album, teased in piecemeal EPs throughout 2019, has changed the trajectory of their career thanks in large part to the seismic success of runaway hit single "There's Still a Light in the House," which has racked up a whopping 17 million streams on Spotify alone and seen continued plays at radio and beyond. An evergreen song whose connective, vague lyrics give it new meaning to every listener, "There's Still a Light in the House" and its sweeping, dramatic swells make it perfect to blast in the car, as a personal pump-up moment, and much more.
"That's a really good one to drive to," Laska reflects. "As a band, we think it is crucial to drive to a song! With "There's Still a Light in the House" we always believed the song would resonate with listeners, but never expected that song to take off the way it has. It has been so spontaneous, but in a lot of ways, that's how the song has always kind of been. We had this sample made from a piano loop Mickey had been playing, and Karah had the beautiful chorus melody and drum groove.) It just came together in one day. We are very thankful to have written that song."
Laska is confident that he and the band will not be chasing the hits of their past; their heads and hearts are focused on the present and, for better or worse, the future. "I think all artists feel that pressure at some point in their careers, especially after one particular song has gained a lot of attention. What we always try to do when we feel that pressure coming is go back and listen to records by artists who have evolved their entire career. For us it's always been about seeing how far we can bend what people expect from a VALLEY song. You'll see a lot more of that from us in 2021. We're very excited about the music we've been writing."
For the time being, however, VALLEY have set a new standard through sucks to see you doing better – an EP that refuses to sit still, compromise its emotions, or accept any sort of stasis.
The six-track record faithfully captures this band of best friends, living in the moment and working hard to be their best selves every day. "If sucks to see you doing better could be summed up in one lyric from the album, I think it'd be from the title track: "…could have run a marathon or married a doctor, but instead I'm watching marathons of Harry Potter, and you heard from a friend of a friend of a friend I get lonely…" That's as real as real can be right now, Laska shares. "However, we've been sent a lot of messages about how these lyrics mirror what other people are feeling and that our songs have said everything they've been trying to say all year. That connection with our fans makes us very happy."
While there is much to be gleaned from within the folds of "nevermind," "homebody," "hiccup," and more, one of the highlights of VALLEY's music is its elasticity: They approach their songs with an open mind and vulnerable attitude, rendering deep and universally relatable emotions through special anecdotes and specific experiences. Throughout these tracks, the band soar on the backs of massive, catchy choruses, exciting instrumentals, and subtle, nuanced sonics that keep listeners engaged from start to finish.
VALLEY dove a little deeper into the music and lyrics of their new EP: 
"sucks to see you doing better EP encompasses the rabbit hole of comparison that we all can find ourselves falling into at some point in our young adulthood. It's the self-pity you feel after seeing an ex you once ate ramen within college, roll up in their Tesla to the Starbucks drive through on their way to their corner office job, while you're working the morning shift. You tell your co-worker to take over for a second while you run and hide in the back, watching the security cameras until 'said ex' drives away and you're in the clear to serve more coffees and inevitably think about how much better they're doing until you clock out and return home to your basement apartment."
"I think in the past we thought that a song isn't worth writing unless it has a ground-breaking concept, but we weren't in the headspace to overthink after a crazy year of touring, so we wrote about surface level things that may not necessarily be permanent feelings but felt immediate to us in that moment."
"I've never thought about the idea of winning or losing a breakup until I got the short end of the stick after a relationship ended-not 'smiling because it happened' but empty because I was left with nothing despite taking all of the accountability and blame. But at the end of the day I would rather lose a break up and be the lonely one than for someone I still care about feel like that."
"sucks to see you doing better is a collection of songs that we wrote while in a very transitional period within the band and in our personal lives. It's funny how even the slightest bit of success can trick you into thinking you're something you're not. Seeing old friends from high school after a big tour who say things like 'you guys are killing it, you must be living somewhere exotic like Prague!?' Actually I'm still living with my parents in my hometown and working at Starbucks, sorry to disappoint."
"Some of the themes on this EP are feelings of self-pity, winning or losing a break up, surrendering and/or embracing feelings of apathy, reminiscing on a past relationship and despite coming to terms with the desolation of it, a part of you still wonders what they're doing on a Friday night." 

'sucks to see you doing better" was born from our obsession of continuing to raise the bar with honesty and directness within our songs."
"'sucks to see you doing better really doesn't have one identity. We wanted it to feel isolated and alone but also like a giant hug when you listen to it in headphones. 'sucks to see you doing better' should remind everyone that we're going through the same mundane shit and struggling to deal with our day to day emotions whether it's with ourselves or with other people. Sonically, we explored blending so many worlds together. On 'homebody' we paired slide samples, acoustic guitar layers with a roomy trashy drum kit and lots of electronic bass- with 'BE THE ONE' we tried to be as minimal as we could- referencing one of our favourite tv shows 'The Office' over one continuous drum loop and op-1 textures with an extended outro (which we've never done!!) The title track (sucks to see you doing better) we daydream about playing live one day!! We wrote and produced it to feel like an arena band anthem! Every section builds and builds until that huge last chorus. It's filled with samples and a ton of ear candy that we used on MAYBE (our debut album). The bridge is also I think some of our best lyrical work. It really makes this year feel so real. I get very emotional singing it at rehearsals, I can't even imagine what a whole crowd of people will feel like. It's also one of the first songs we wrote for this new era of music, so it only made sense that it was the title track."
---
sucks to see you doing better is an incredibly fun and engaging listen that uplifts while diving into the deep end of the twenty-something experience.
It leans into discomfort, rather than shying away from it – and it does so with a smile on its face. Even more importantly, this EP is a welcome beacon of light during the global pandemic: A buoy we can rely on to energize us, rally our spirits, and keep us feeling refreshed and renewed every day.
We couldn't leave Rob Laska without discussing The Office, but the VALLEY vocalist admittedly struggled to choose a favorite episode.
"If I'm speaking for VALLEY, I'd like to say 'Dinner Party,'" he ultimately decides "That episode just reminds me of touring SO MUCH. When we were on the Lennon Stella tour and driving to Los Angeles from a day off in Vegas, we all stayed out super late and the next morning I cured my residual grogginess by watching The Office in the van. "Dinner Party" never fails to make me die of laughter. Ironically, Melora Hardin who plays Jan in The Office (AND the star of "Dinner Party") came to the show at The Fonda. We all freaked out when we met her. The universe just seems to work like that eh??  "That One Night" has to be one of the best songs ever written…"
If you haven't yet given sucks to see you doing better yet, give it a listen. VALLEY gave their all to these songs, and in turn these songs are sure to give something back to you.
— —
— — — —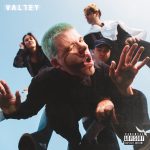 ? © Shannon Beveridge
:: Stream VALLEY ::
---