'Black Panther,' "Kiss Me More," and other ventures have kept her conversation-worthy in the interim since her debut album 'Ctrl', but it sure is swell to see SZA helming her first solo LP in a half-decade on the outstanding 'SOS.'
Stream: 'SOS' – SZA
---
2022 wound up being a big comeback year for the old Top Dawg Entertainment crew. Earlier in the year, Kendrick Lamar put out his first substantial release since the Black Panther soundtrack in 2018. In December, SZA did the exact same thing with SOS, her first LP since 2017's debut album Ctrl and her most ubiquitous release as a lead artist since she and Lamar co-headlined the smash hit "All the Stars," from the aforementioned film.
SZA has been able to maintain her pop culture relevance since then – largely thanks to a dazzling guest spot last year on Doja Cat's "Kiss Me More," which wound up spending longer in the Billboard Top 10 than any all-female collab track ever. But in terms of putting out her proper material, it had indeed been a considerable hiatus for the St. Louis star.
That is, until the release of hit single "Good Days" indicated that she was gearing up for a return, a promise that finally came to fruition with the release of SOS in early December. 
Good day in my mind, safe to take a step out
Get some air now, let your edge out
Too soon, I spoke, you be heavy in my mind
Can you get the heck out?
I need rest now, got me bummed out
You so, you so, you, baby, baby, babe
I've been on my empty mind sh
I try to keep from losin' the rest of me
I worry that I wasted the best of me on you, baby
You don't care
Said, not tryna be a nuisance, it's just urgent
Tryna make sense of loose change
Got me a war in my mind
Gotta let go of weight, can't keep what's holding me
Choose to watch
While the world break up and fall on me
– " Good Days," SZA
---
So, what has SZA been up to throughout this fairly lengthy break between albums? Well, it appears that she's stayed as sexually active as ever– she never disguised her strong penchant for that much on tracks like "Supermodel." But (as that song and others neatly established) for SZA, the sex isn't merely about pleasure, but also the catharsis it brings to life's hardships. It basically has the same effect on her, as making one's way through a long and soothing cigar has on other people – not that she shies away from that option, either. 
"Smokin' on a Backwood 'cause I miss my ex, now, I'm ovulatin' and I need rough sex," she informs her audience on "F2F." Eventually, her message becomes more sharply directed at the former lover who placed her in such a situation. "I f him 'cause I miss you… I f him 'cause I really miss you," SZA sings on the song's chorus. There's clearly no positive resolution to this predicament in sight, but it does make for some compelling narrative fodder.
Even the songs that are less sexualized in nature clearly portray SZA as a woman who's being burdened by many woes. "You was feeling empty, so you left me. Now I'm stuck, dealing with a deadbeat," she informs her former beau on "Nobody Gets Me." These feelings of loneliness and abandonment become even bleaker on "Special," on which the artist laments, "I gave all my special away to a loser– now, I'm just a loser."
---
Although the album may be called SOS, SZA isn't content to merely cry for help.
Being the powerful and autonomous woman that she is, she can be heard taking several forms of direct action in response to such dreary situations. "Kill Bill" represents the most cinematic example of this. "I'm in the basement, plannin' home invasion," she fantasizes. "I might kill my ex – I still love him, though. [I'd] rather be in jail than alone." Talk about a cure for solitude!
Not all of the lyrics here conjure the classic image of Uma Thurman with her samurai sword so readily, but they still portray SZA as somebody who's not content to simply wallow in squalor. "I'm dealing with a lot of rejection right now," she confides on "Far." And in response to all that? "[I] tried to wash all my emotions– need a few brews, need a palm tree." At this point, she is "… done being used, done playing stupid… I just want my sanity back. [It's] better than being your enemy."
All of this candid and unrestrained lyricism contributes wonderfully to the final version of SOS. It also helps that SZA remains as gorgeous a vocal talent as ever and still has exceptional production contacts – Babyface, Darkchild and Benny Blanco among them. Plus, SZA has always had a knack for strong vocal collaborations – as has been pointed out, that's largely what's kept her conversation-worthy as she's taken a break from solo material over the past few years – and that is still true on SOS.
In terms of familiar faces, Travis Scott proves that the chemistry he and SZA first exhibited five years ago on "Love Galore" still has plenty of mileage left. "No matter what comes between us, I decided I'm forever ridin', we forever guided," the widely celebrated MC rhymes on "Open Arms," a tender and melodic ode to long-term devotion. He makes it clear he'll settle for nothing but the best throughout this whole adventure: "It ain't five-star, it ain't me."
---
As for the fresh faces, rapper Don Toliver and indie folk artist Phoebe Bridgers make the most of their first-ever duets with SZA on "Used" and "Ghosts in the Machine," respectively. Finally, hearing Ol' Dirty Bastard cry from the proverbial grave on "Forgiveless" may be somewhat jarring, but it proves to be one last innovative touch that this album pulls off on its 23rd and final track.
We'll see what the future holds for SZA after SOS – given that it garnered the most streams in one week of any R&B album ever, debuted at No. 1 on the Billboard 200 albums chart, was RIAA-certified Gold upon release, and is about to be further promoted by a 17-date tour, things will probably turn out all right. But whatever may happen – and whatever further stretches of loneliness and rejection she may have to deal with – SZA is evidently prepared for anything and everything. "All the while, I'll await my armored fate with a smile."
— —
— — — —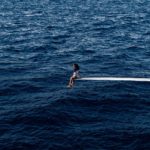 ? © Jacob Webster
:: Stream SZA ::
---