After more than a decade of music-making, Kendrick Lamar still has many more sides of himself to reveal, and he does so in utterly engrossing fashion all across his fifth studio album, 'Mr. Morale & The Big Steppers.'
Stream: 'Mr. Morale & the Big Steppers' – Kendrick Lamar
---
The more times you listen to 'Mr. Morale & the Big Steppers', the more you'll appreciate it for the multi-textured masterwork it is.
Earlier this year, when Kendrick Lamar showed up midway through the Super Bowl Halftime Show to join the "look what Dr. Dre and his protégés can do!" theme of the evening, he generated a truckload of strong reactions. Most of them were related to how much flow and energy he was able to pack into a two-minute condensation of two of his signature songs, "m.A.A.d city" and "Alright." But another tiny thought crept into many fans' minds as well: "Hmmm… if he's performing at the Super Bowl, the most-watched TV event in the United States… could that mean he's finally got a new album on the way, and that he's found a way to implicitly promote it?"
Great detective skills, folks. Only three months later, Kendrick Lamar has indeed returned with his first since album 2017, entitled Mr. Morale & the Big Steppers. It comes with rocket-high expectations, needless to say. Its author is a certified living legend, and went on one of the hottest streaks in rap history between 2012 and 2018. Yet the lack of new material since the Black Panther soundtrack has left many wondering whether, if or when he ever returned, he'd have lost some of his luster as a result of a lengthy period of inactivity. Or conversely, whether he would indeed be a man of his word and "gon' be alright."
K.Dot wastes no time establishing which of those routes he's taken. On his already widely-acclaimed fifth LP, the iconic MC lights up the show right away with opening tracks "United in Grief" and "N95," both of which prove he's as nimble and motor-mouthed a performer now as he was when he first won critics and audiences over more than a decade ago. Lamar acknowledges that he's amassed considerable fame and fortune since then, but he's still suffering from emotional depravity that material wealth can't cure. "I bought infinity pools I never swimmed in," he raps, taking a few grammatical liberties as even the biggest star MC's are known to do. "Poverty was the case, but the money wipin' the tears away."
The world in a panic
The women is stranded
The men on a run
The prophets abandoned
The Lord take advantage
The market is crashin'
The industry wants
N***** and b**ches to sleep in a box
Where they makin' a mockery followin' us
This ain't Monopoly, watchin' for love
This ain't monogamy y'all gettin' f****d
Jumpin' on what the hell is that?
I gotta relax when I feel (huh, facts)
All of my descendants
They come in my sleep and say I am too real (huh, facts)
I'm done with the sensitive takin' it personal
Done with the black and the white
The wrong and the right
You hopin' for change and clericals
I know the feelings that came with burial cries (b**ch)
---
Kendrick Lamar continues rapping about his various faux pas as a celebrity on other tracks, including "Worldwide Steppers." Famous rappers have made all sorts of apologies over the years— see "Ms. Jackson" and "Cleanin' Out My Closet" for two well-known examples— but it's hard to think of many that have said they're sorry for this much: having served kids food at a charity event that put them at risk of high blood pressure and health complications. "I caught a couple of bodies myself, slid my community," he raps in reference to Top Dawg Entertainment's well-meaning annual Christmastime toy drive in Compton, which in hindsight was far too junk food-oriented.
I caught a couple of bodies myself, slid my community
My last Christmas toy drive in Compton handed out eulogies
Not because the rags in the park had red gradient
But because the high blood pressure flooded the caterin'
So what's the difference 'tween your life when hiding motives?
More fatalities and reality brung you closure
The noble person that goes to work and pray like they 'posed to?
Slaughter people too, your murder's just a bit slower
---
Recounting one's previous misdeeds often makes for compelling lyrical fodder, but Lamar doesn't spend the whole double album beating himself up. "I've got some regrets, but my past won't keep me from my best," as he explains on "Die Hard." He acknowledges some of the positive developments he's achieved in his life, such as putting his all into fatherhood ("Father Time") and having the sense to depart from an unhealthy relationship long ago ("Count Me Out"). "One of these lives, I'ma make things right," he avows on the latter track. "With the wrongs I've done, that's one of you now."
Like many of his previous albums (DAMN. perhaps most of all), Mr. Morale & The Big Steppers shifts liberally and often-unexpectedly between calm and abrasive tracks. One one extreme of that spectrum is "We Cry Together." In a manner rarely heard in hip-hop since the early days of Eminem, Kendrick constructs a song (with unbroken rhyme scheme, moreover) out of a violent and intense dispute between a couple. Not unlike another tool in Mr. Mathers' toolbox, this song can be seen as a metaphor for his relationship with the rap game. His absence may have caused a lot of anguish over the past five years, but now that he has finally returned, they have no choice but to kiss and make up.
---
Other songs are seemingly calmer at first glance, but wind up being plenty stinging in their own right. Lamar's trans acceptance song "Auntie Diaries," one of the most hotly debated of these 18 new tracks, incarnates this approach as well as any. It's got a very soft drum beat and is largely rapped in a whisper, but such a quiet song has ignited a loud storm of controversy. On this track, Lamar uses the word "f****t" incessantly, dead-names and misgenders his trans relatives — but is he really slamming homophobia and transphobia within modern-day society, if you listen closely enough?
My auntie is a man now
I think I'm old enough to understand now
Drinking Paul Masson with her hat turned backwards
Motorola pager, Off-White Guess jacket
Blue Air Max's, gold chains, and curl kits
'93 Nissan wax job, the earliest
Big social, big personality, vocal
Played the underground verbatim and stayed local
My auntie is a man now
I watch him and his girl hold their hands down
Tip of the avenues under street lights made his
Thinking, "I want me a bad b**** when I get big"
They hug on the corner like California king
Cold hand all up her skirt, cars whistling down the road
See, my auntie is a man now, slight bravado
Scratching the likes from lotto
Hoping that she pull up tomorrow
So I can hang out in the front seat
Six by nines keeping the music up under me
My auntie is a man now
Asked my momma why my uncles don't like him that much
And at the parties why they always wanna fight him that much
She said, "Ain't no tellin'
N****** always been jealous because he had more women
More money and more attention made more envy
Calling him anything but broke was less offending"
---
In the same vein as "Auntie Diaries" is "Mother I Sober," which is also primarily whisper-rapped and built around a dim beat (only a bit of piano-playing, in this case). The track swiftly builds in intensity in its second half, however, as Kendrick grows furious at himself as he admits to having cheated on his fiancée, Whitney Alford, hoping that the sex would help him to counter his former addiction woes. Those actions have been a source of "psychotic torture" for him ever since. Hearing him openly outline those effects makes for one of the most startling moments on a record crammed full of them.
I'm sensitive, I feel everything, I feel everybody
One man standin' on two words, heal everybody
Transformation, then reciprocation, karma must return
Heal myself, secrets that I hide, buried in these words
Death threats, ego must die, but I let it purge
Pacify, broken pieces of me, it was all a blur
Mother cried, put they hands on her, it was family ties
I heard it all, I should've grabbed a gun, but I was only five
I still feel it weighin' on my heart, my first tough decision
In the shadows clingin' to my soul as my only critic
Where's my faith? Told you I was Christian, but just not today
I transformed, prayin' to the trees, God is taking shape
My mother's mother followed me for years in her afterlife
Starin' at me on back of some buses, I wake up at night
Loved her dearly, traded in my tears for a Range Rover
Transformation, you ain't felt grief 'til you felt it sober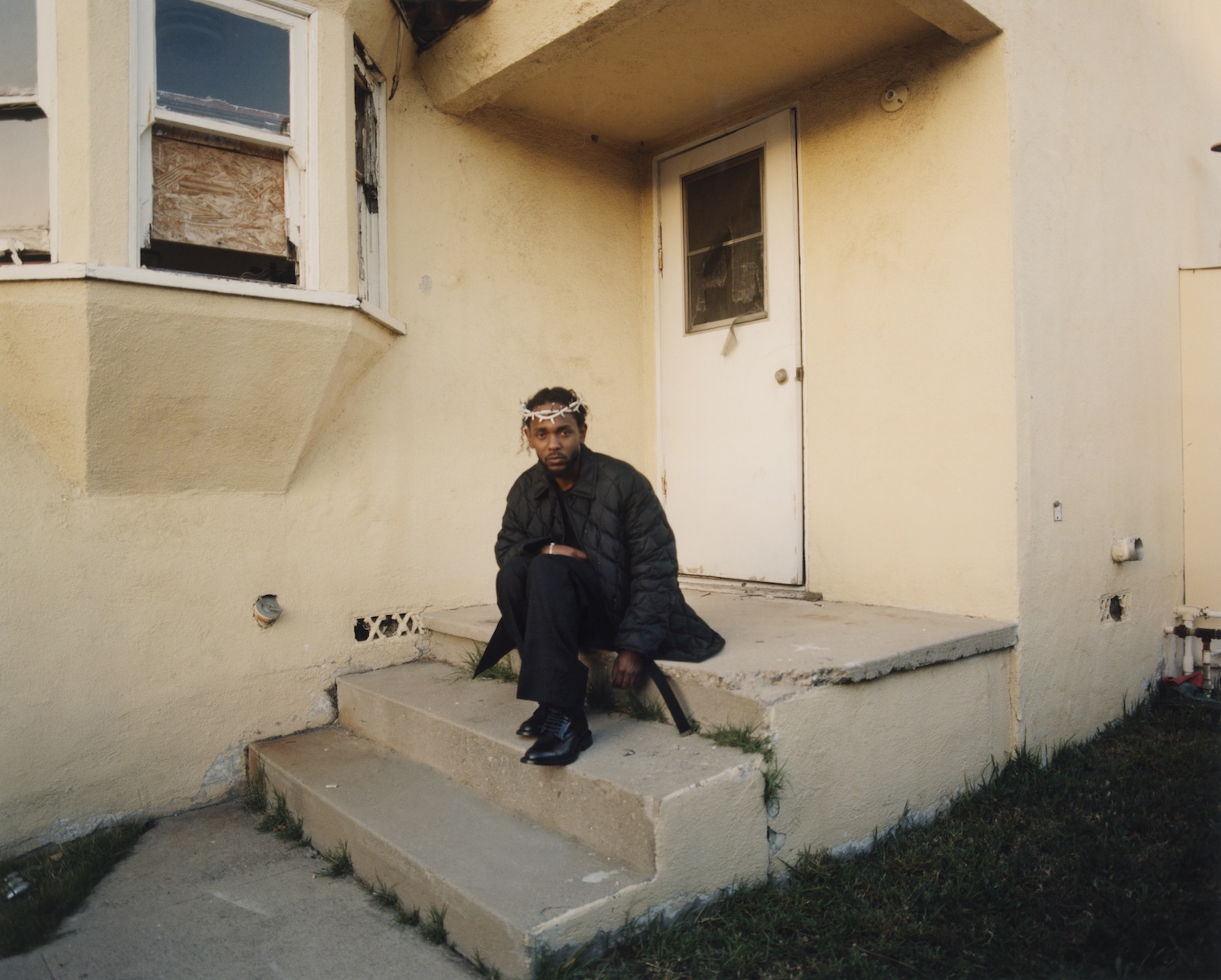 One quality that Kendrick Lamar's albums have repeatedly been praised for is that, as a whole, they are superior to the sum of their parts. All of the songs they feature are great to listen to individually, but when consumed all in one setting, they offer a panoramic and hard-hitting overview of the life, times, and mind of the main man himself.
Mr. Morale & The Big Steppers is the 2022 edition of that formula to the fullest. Put 73 minutes into taking it all in one go, and you'll be provided with so many sides of the world's greatest rapper that, even if you've been a fan since the Section.80 days or earlier, you've never seen him display previously on record.
You heard these words uttered about To Pimp A Butterfly on many occasions in 2015. Seven years later, here they are again: The more times you listen to this album, the more you'll appreciate it for the multi-textured masterwork it is.
— —
— — — —
? © Renell Medrano
:: Stream Kendrick Lamar ::
---