Baz Luhrmann's super-stylized body of work proves to be critically polarizing with every new entry. Nonetheless, it can rarely be argued that the Australian director's choices in music wind up bringing enormous spirit and character to his movies. Luhrmann and his creative team keep this virtue going strong with his newest project, The Get Down.
This Netflix original series is set during a period that mainstream cinema has done curiously little to ever explore: The early years of hip-hop music, when a flush of artistic talent and social tensions in late-1970's New York gave rise to what would become one of the generation's signature creative breakthroughs. Of course, it would be criminal to touch upon such a pivotal period in music history without relying heavily on music itself as a storytelling tool. Hence, The Get Down is heavily layered with a wide assortment of songs, 13 of which have been assembled for the commercial soundtrack (released August 12, 2016 via RCA Records).
Listen: The Get Down (Original Soundtrack from the Netflix Original Series)
Like the soundtrack to Luhrmann's last film, The Great Gatsby – which was lined with artists such as Jay-Z, Andre 3000 and Fergie, as opposed to anything that would bring the 1920's themselves to mind – The Get Down soundtrack is plainly anachronistic to its corresponding series' time setting. Not many of these songs would fit in very well on a Sugar Hill Records album. Even what relatively little rapping there is here harkens more to the gritty urban narrative that rap took over a decade to fully embrace, rather than the "bang bang boogie, say, up jump the boogie" straight-up playfulness that characterized the genre in its nascent era.
In the spirit of early hip-hop, though, the many artists on The Get Down soundtrack have certainly come out to party. The music here is consistently lively and entertaining in traditional Luhrmann style. One of several individuals to thank for that is Christina Aguilera. Author of the most famous original song from any of the director's films – the raunchy "Lady Marmalade" remake from 2001's Moulin Rouge! – the singer is brought back for another collaboration on "Telepathy." This song proves that Aguilera is as much of a vocal powerhouse as ever, and still adept at delivering on one her favorite lyrical themes: singing to the joys of finding the right guy.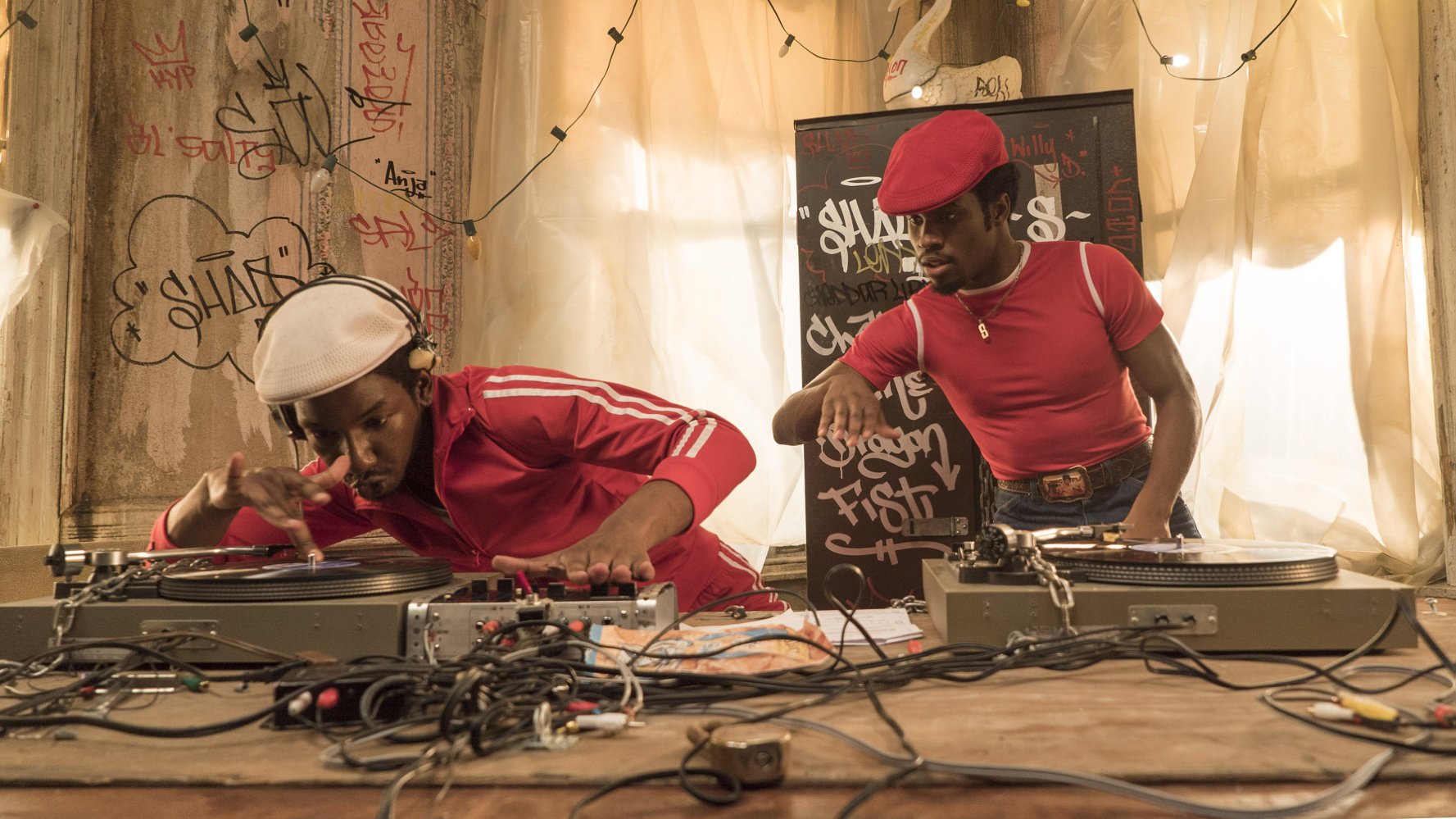 Newer arrivals than Aguilera, now a near-20 year veteran of mainstream music, also make valuable contributions here. On "Losing Your Mind," young Atlanta soul-master Raury delivers what is arguably the record's most effective hook, while Jaden Smith's MC skills demonstrate that he may well be able to carry on the legacy of his Fresh Prince father. "Ball of Confusion" features an enormous performance by Texas soul singer Leon Bridges, barely a year removed from his debut LP.
Whether it's Miguel tenderly crooning "Heaven's in the back seat of my cadillac," or Janelle Monáe sounding off yet another energetic call to the dancefloor on "Hum Along and Dance," The Get Down soundtrack proves mesmerizingly engaging with incredible consistency. While it can be argued that the lyricism on the record can get too simplistic at times –  "Suga… so sweet… good enough… to eat…." for instance – the great musical diversity and impressive sequencing here are more than enough to make up for it. Everyone involved just seems to be having a tremendous amount of fun; it's hard not to follow suit.
Not that much rap makes its way onto The Get Down soundtrack, a surprise and, arguably, missed opportunity for a series celebrating the origins of hip-hop. What rap does appear on the record, though, is gold. Nas, one of the genre's longtime lyrical champions, scores another success on "Rule The World (I Came From The City)" This track features a bold argument from the veteran rapper: that the hip-hop movement (as embodied by DJ Shaolin Fantastic, the character from the series whose music helps get rap's wheels rolling) was instrumental in helping its native New York climb out of its crime-riddled nadir in the late 1970's.
Nas keeps his lyrical poignancy going strong on "Black Man in a White World (Ghetto Gettysburg Address)," which features British soul singer Michael Kiwanuka elaborating on some of The Get Down's primary social commentary. Even good old Grandmaster Flash is brought back for "You Can't Hide/You Can't Hide From Yourself" – it seems only fitting that soundtrack would make room for arguably hip-hop's most significant pioneer, whose life story is a clear source of inspiration for the series' storyline.
Justice Smith, who plays the lead role Ezekiel Figuero in the show, gets the final word on the soundtrack with "Zeke's Poem (I Am the One)." Smith's spoken word outroencapsulates his character's strong yet poisoned mentality, and explores a collection of powerful themes: the disenfranchisement of black American men in the post-Vietnam era, for one. It is a significant departure from the far more upbeat atmosphere of the rest of the soundtrack, but it concludes the fantastic listening experience that The Get Down provides in a particularly memorable and hard-hitting manner.
Netflix's latest smash hit comes with an infectious multi-genre soundtrack that artists young and old contribute to with tremendous flair. The Get Down doesn't sound like early hip-hop, but the energy and adventurousness are certainly lifted from it well.
Watch: The Get Down (Official Trailer)
[youtube=https://youtu.be/usv442G6H8A?t=0s]