For a band famously known for agonizing over albums, individual tracks and even lyrics, two records in one year is unprecedented. 'Laugh Track' proves The National were right to blaze a new creative trail.

Stream: 'Laugh Track' – The National
---
It's sometimes hard (and ill-advised) to put too much stock into things you read on the Internet – even a site with devoted fan communities like Reddit. But heading into the second edition of The National's Homecoming Festival in mid-September, there was a strong Internet-only buzz building: The National, the acclaimed indie band born in Brooklyn by way of Ohio, were set to release a second 2023 LP.
That possibility was exciting enough, given that the Grammy-winning band was already set to play two of its best albums (2010's High Violet and 2013's Trouble Will Find Me) in full at the fest, in a sort of post-pandemic celebration of sorts.
But a new album? That could be a bit of an overload, right?
This April's excellent (if at times uneven) First Two Pages of Frankenstein seemed arduous enough.
Lead singer Matt Berninger sang of writer's block and depression, chronicling a band that was more fractured than before. The record ultimately examined a group that had to fight back and come together for each other, in a way.
No album by The National is an easy feat, be it Berninger raging at guitarist Aaron Dessner during the making of 2007 classic Boxer, or  the band recording dozens upon dozens of versions of one song ("Lemonworld") for High Violet.
Suffice to say, The National simply just don't release two albums in one year. It's not something that happens.
But a creative wellspring flowed through the band as they worked on Frankenstein, and although many bands often say they end up with a vast array of extra material while working on a new album, The NTL are a group you can trust to deliver.
That brings us back to Laugh Track, which collectively stunned the assembled faithful at Homecoming.
How many bands announce a new LP onstage at a true hometown festival – let alone a surprise release set to drop just days later? Beyond that, a second album in months? Again, those sorts of things defy convention for this studious band.
Doubts, excitement and all, the album (which even reinvents the sparse cover of this year's first LP in colorful fashion) proves that the band were right to move ahead with a new record – to say the least.
Critics have noted that between the two LPs, one could craft a single, stellar, 12-track album. That seems true on a first (or second, or third) listen, but The National are a band that grows and grows on you with each passing day.
Like discovering minuscule details every time you read a favorite book or watch a time-honored movie, The National are a group meant to be lived with, and their songs are meant to be lived in.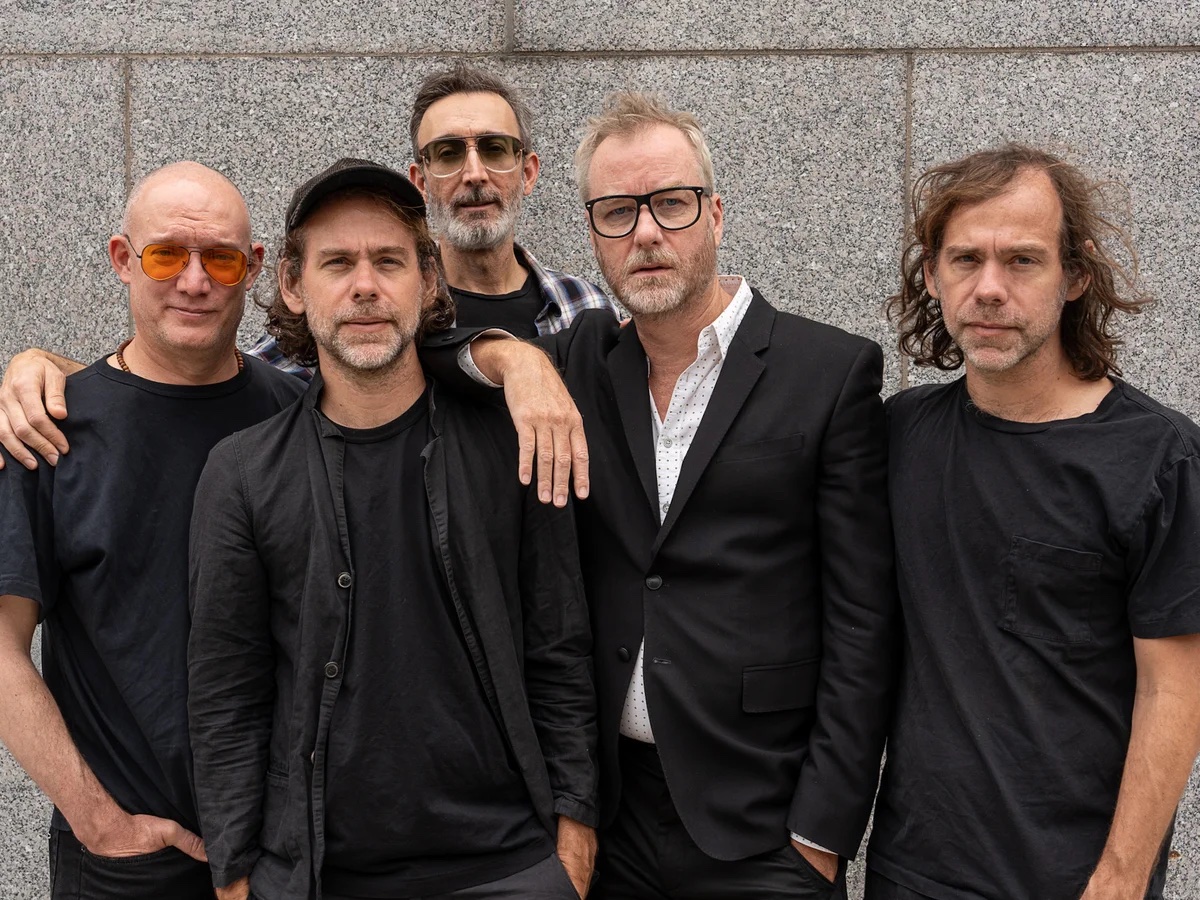 Album opener "Alphabet City," one of two August singles that spurred speculation for a new LP, sees Berninger at his deep, dark, moody finest lyrically.
His baritone traces a back-and-forth trail with a lover, bridging the gap between his own stubborn insecurities and the ability (or inability) to relate to another person.
I don't miss the world, not the way it was
I can't get there
Try to think of it, always at a loss
I can't get there
All of your lonesomeness kept in your wallet
Nobody notices, baby, you've got this
Whether the two can go hand in hand successfully is the crux of many tracks by the band across two decades. Here at least, the only answer Berninger has is to wait for that mystery person at the door, until they return.
It's a somber track that sets the mood nicely, so much so that track #2 – the truly remarkable "Deep End (Paul's In Pieces)" feels like leaping off a high diving board into uncharted waters.
---
The song catapults into action with some vintage drumming from Bryan Devendorf, one of a few entries on Laugh Track that remind the listener why he's the band's secret (or most underrated) weapon.
Peels of guitar soar and flash in and out of frame, reminiscent of the best tracks off High Violet, as Berninger sings of going off the deep end – all the while, "ringing in my ears sounds like singing."
Are The National fully back? This track seems to deliver a resounding "yes" – it's one of the strongest on the album, if not the album's very best, and it slots in nicely alongside Frankenstein epic "Grease In Your Hair."
Future albums would do well to replicate that formula every now and again (in this writer's humble opinion).
For those who crave a sound reminiscent of, say, 2005 rocker Alligator or even 2017's "The System Only Dreams In Total Darkness," just know that the brothers Dessner still have some tricks up their sleeves.
One of the more exciting prospects of this LP was the possibility (first floated by enterprising fans) of glitchy, Radiohead-leaning August 2022 single "Weird Goodbyes" finding a proper home on a new album.
The National were absolutely correct to place the song in the third slot on Laugh Track – another swerve from a band that doesn't normally release one-off singles, much less include previously released material on an LP.
---
It's somewhat jarring to hear a track that's been out for more than a year on an album of otherwise new material, but here, it works to beautiful effect.
Indeed, Berninger notes, it's "crazy the things we let go of." Are The National turning over a new leaf? Perhaps, but loyal fans needn't worry – "Weird Goodbyes" is a beautiful album highlight.
And although Berninger might have suffered through writer's block in the drafting of material for this year's first LP, achingly beautiful tracks like "Turn off the House" and "Dreaming" dispel that notion handily.
"Turn off the House" sees Berninger imploring the listener to quite literally leave it all behind, with nothing waiting on the other side. It's coupled with "Dreaming," which has a soaring quality.
When grounded by powerful Devendorf drumming, it's at this point that one realizes the LP is really kicking into high gear.
Berninger has noted that "Turn off the House" is a companion of sorts to the LP's final track, "Smoke Detector," which intensely and moodily chronicles a sensation of burning it all down, of battling through (and indeed, recognizing) depression.
It's among a series of personal revelations from Berninger that dive even deeper into the psyche of the singer.
This is far from a new theme for The National, but it's yet another reminder that, like so many songs by The National, things aren't always what they appear.
As Berninger mused on exceptionally gorgeous, sweet-yet-sad Frankenstein opener "Once Upon a Poolside," tapping into the most personable, sociable, show-ready version of yourself can be a struggle even at the best of times.
Such is the case on "Laugh Track," a third 2023 song bolstered by acclaimed indie singer Phoebe Bridgers. Bridgers' delicate, soft monotone once again pairs nicely with Berninger's own voice.
There are lies we tell ourselves, lies we tend to tell others and lies we tell, most of all, in a relationship – a coat of paint or an extra layer we leave on to cover up what really ails us, as Berninger and Bridgers sing: "Turn on the laugh track, we'll see if it changes the scene."
(Later in the song, the lyric shifts into, "Turn on the laugh track, everyone knows you're a wreck").
The track concludes in open-ended fashion – let the listener decide if said laugh track really improves the situation at hand. Of three Bridgers tracks released by the band this year, one could argue that Frankenstein song "This Isn't Helping," with its somber piano and deep shots of drumming by Devendorf, is the strongest – but each has its own merits.
---
Mid-album pillar "Space Invader" (an August release alongside "Alphabet City") has solidified its spot as newfound fan favorite in live shows, as the band grapples with the past and the many "what if's?" that weave their way through our relationships.
It's the band in its finest hour, and it's nicely complemented by the folksy, rootsy feel of two of the album's next three songs: "Hornets," which has an earthy tone reminiscent of Aaron Dessner's work in Big Red Machine, and "Crumble," featuring icon Roseanne Cash.
"Hornets" is another track doing a stellar job at harnessing the live energy of the band, with elegant & rich horns bringing it to a stirring close.
"Crumble" is an unexpected highlight, featuring a name one might not expect to pop up on an album by The National, but the track is better for it.
It's another song tackling yearning desperation as things feel like they're quite literally crumbling around you.
If you say that it's true
But you don't know what to do
And it's only because you love me
If you tell me that you're sure
And it can't wait anymore
And it's only because you love me
I, I'm gonna crumble
I, I'm gonna crumble
If you say it like that, I'll die
If you say it like that, I'll probably cry
If you say it like that and don't wanna take it back
I'm gonna crumble
You say, "Don't misread your words
Sometimes, they're gonna hurt"
And it's only because you love me
If you say you're well aware
Of that, but you don't care
And it's only because you love me
---
Both serve as a foil to the elegant-yet-downtrodden nature of "Space Invader," which is again bookended by Devendorf's drumming and a twinkle of piano.
"Space Invader" in particular is a track that harnesses the powerful live nature of the at-times volatile live band, with a final half that dissolves into searing guitar and crashing drums.
"Hornets" and "Crumble" are certainly on par lyrically for Berninger, while "Hornets" in particular feels similar to 2007 heartbreaker "Slow Show," grounded by guitar and Berninger's romantic (if at times desperate) musings.
"Coat on a Hook" plays off themes explored in iconic Sleep Well Beast opener "Nobody Else Will Be There," on which Berninger beckons a lover to meet him in the hallway for a quiet moment and a glass of gin.
"Coat on a Hook," meanwhile, sees Berninger floundering and flailing at the thought of being left alone – figuratively and of course, left behind at a strange party like a navy peacoat on a cold, buzzed night.
It seems that through the years, some things never change – Berninger, perhaps like yourself , can't seem to get out of his own way at times, always seeking solace in the arms of a loved one.
You could also view this track as a carryover from the singer's anxieties in Frankenstein – friendships dissolve, relationships fracture and the way forward seems unclear at the best of times.
But there's solace to be found in the places both commonplace and unexpected, a reassuring through-line of many songs by the globetrotting band.
The National have always had a softer side, one that's more pronounced in recent years, especially with the quietly sweet yet sad ode, "Tour Manager."
It's the only time on the album we hear another person's name mentioned, as Berninger sings, "Play it like it's nothin', Alice."
"Tour Manager" again explores the push and pull between two people, as the lyricist marvels that, "It's beautiful how you can find a good excuse for anything," as Alice protects our protagonist (or they protect each other, perhaps foolishly, from naive hopes and real fears).
---
"Smoke Detector" brings the album to a crashing finish. It's not as heavy a moment as when The National re-emerge onstage and kick into "Mr. November" to start an encore at a live show, but it certainly turns into a true "live in the studio" closer, and in rather epic and hard-charging fashion.
It's frenetic and intense enough to recall the band's early days (2003 rocker "Available" comes to mind), although this particular is decidedly more unhinged.
Listening to any new LP by possibly America's finest band can prove a dizzying experience, even after repeat sessions – fans who were still luxuriating in the richness of First Two Pages of Frankenstein now have an entirely new (and old) set of tracks to truly live with, and that's nothing short of beautiful.
It's no cliche to say The National only improve with age: More mature, wiser more attuned to the world around them, more aware of its deep sadness and the triumph of finding a light at the end of the tunnel.
If the fervent reception at this fall's Homecoming Festival is any indication, the band is now moving into its next chapter. They've long been a standard bearer for indie rock, and they're now lifting up other acts (like Bridgers and Bartees Strange). As ever though, The National carry the flag like a triumphant flame.
These new tracks already sound polished and richly crafted in a live setting, which only heightens the experience of listening to studio versions during, say, a solo night walk through the band's old Brooklyn stomping grounds.
Taken all at once, both of these records – while far from perfect – are almost jaw-dropping in their scope and depth.
It's possible we won't see the band release two records in one calendar year for a long, long time, so for now… these are albums to be cherished and held tight.
Each record has moments of light in the darkness, like reaching out and grasping onto a life preserver in stormy seas.
So, go ahead: Swim for the shore and let the laugh track play you home. The ones you love are no doubt heavenfaced and waiting out in the fields. That's a reminder worth holding onto from a life-changing band.
— —
— — — —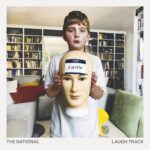 © 2023
:: Stream The National ::
---