Tunng have been thinking about death a lot lately… so much so that it's taken a whole album, podcast, and 42-page magazine to contain all of their thoughts on the 'DEAD CLUB.'
Stream: 'Tunng Presents… DEAD CLUB' – Tunng
---
Death and dying.
Those are pretty ominous topics in any context, and especially so in a year with a global pandemic going on. But Tunng, a six-man band from London, have never been a shy bunch, as exemplified by their fearless fusions of various styles – most commonly folk and electronica – and their willingness to cover any topic they so desire in their lyrics. This time around, they touch upon quite a range of subject matters, including: "the Wari people of Brazil who eat their dead, discussions of consciousness and memory, Genders' visit to a death cafe in Sheffield, and the Swedish art of Death Cleaning."
Songs on all of these subjects collectively constitute DEAD CLUB, the eight studio album from Tunng (released November 6th), and it's quite a multi-faceted release, indeed. The hour-long record is accompanied by an eight-part podcast, featuring appearances by philosophers, scientists and other professionals who study and contemplate the process of dying as part of their research. Further such analysis appears in a 42-page magazine, which reconstitutes some of the interviews featured in the podcast and scrutinizes the lyrical themes found within the album. Thus completes a three-part release called DEAD CLUB, a landmark release for Tunng after 15-odd years of touring and performing together.
Sam Genders and Mike Lindsay, two of the founders and lead performers of Tunng, spoke with Atwood Magazine about the making of DEAD CLUB and what inspired them to dive into such profound commentary on this macabre material.
— —
Listen: 'Tunng Presents The Dead Club Podcast'
A CONVERSATION WITH TUNNG
Atwood Magazine: You describe this project as one which ''(explores) their culture and different cultures' relationship to death and dying, while working on being better allies to people in grief.'' What is it that you find so fascinating about this particular topic? Have any of your past projects set the precedent for an album of this thematic nature?
Sam Genders: I suppose I find existence fascinating. The fact that we're here at all, in the midst of this incredible universe.It's interesting to me that so many people find this an odd subject to discuss. Even though it affects us all in such dramatic and personal ways.
On a personal level, I've often experienced a lot of anxiety, low mood and self-doubt in life. I think that has encouraged a questioning and exploratory nature in me. Thinking about death is just one tiny (yet huge!) aspect of that. I've also often felt myself struggling to find the right words to support grieving people, and this project has helped me learn to be a slightly better ally to people. As Megan Devine says: "Show Up, Listen, Don't Fix."
In addition to this album, you also are putting out an eight-episode podcast and a 42-page book/magazine. How does releasing three projects of a different format concurrently allow you to address your chosen subject matter more thoroughly than any one of these projects could individually?
Sam Genders: The podcasts kind of happened naturally when we realised how interesting the research interviews were. It seemed a shame for only us to hear them. The idea for the zine came about earlier when we were unsure of how to present this project. We wanted an opportunity to explain the meanings behind the songs.
To be honest, we were a bit nervous as to how the project might be perceived. In the end, we needn't have worried. The response has been very positive and touching. Having the different formats at once has really helped to encourage discussion and also to reach out to a new audience. For example, following the Kathryn Mannix episode of the podcast we've had a lot of interest from the palliative care community.
Tunng is known for throwing a wide variety of unconventional sounds together into their music, including film dialogue snippets and clapping seashells. What sounds were specifically chosen for Dead Club, and how were they able to be effectively combined in the finished project?
Mike Lindsay: I think with all the Tunng records we are always very interested in letting the music sit on a kind of bed of sound. Creating flashes of the world where the songs are set. Organic textures and found sound really help to give a kind of crispy, human hyper-realism.
With Dead Club, there had been a few months of research and interviews recorded by Sam and Becky before we started writing the music. That gave us a huge pool of spoken word to dive into, so that we could search for a few scraps of wisdom that might elevate the song or the music. Each song has a certain relevance to certain parts of the research or the podcast series, so I would find a bit of speech that suggested a larger thought process without being too specific. The clips needed to be musical and poetic.
Also, Ash from the band came up with the D-E-A-D bed. This is a chord progression or phrase that only uses those notes.  This actually sounds very hopeful as a progression, and it was weaved throughout the whole album on strings and clarinets, either subtly or as the entire chord progression on the piano.
The band has gone through many lineup changes over the years, and original members Mike Lindsay and Sam Genders reunited for the first time in over a decade on your most recent album, Songs You Make At Night. How would you describe the vision or ethic that unites the current members of Tunng?
Mike Lindsay: We are really all very different people. Six contrasting personalities leading six very different private lives. However, once we are in Tunng mode, there really is such a joyous unity and a very strong family bond between us. We love each other!! We've spent over 15 years traveling the world together, laughing and crying together, growing into middle age, making mistakes, drinking too much and hugging for too long.
There have been a few switches to the lineup, inasmuch as Sam was not part of two albums as he wanted to concentrate on other aspects of his life. We had a drummer, Simon Glenister, take his place for those two albums. It's been amazing to have Sam back, though. It was just the two of us at the beginning, and Tunng just didn't feel the same without Sam around. He's a genius songwriter and a handsome beast!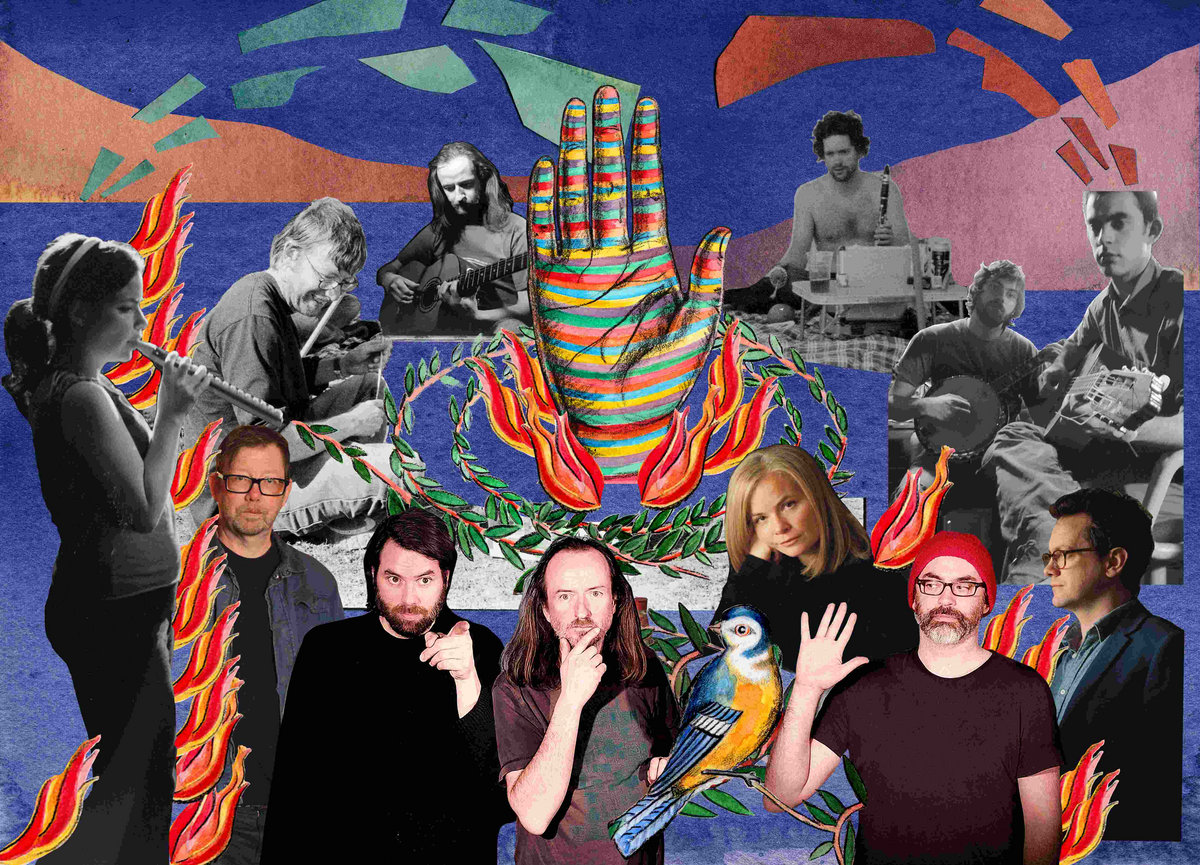 What inspired the album's eye-opening cover, featuring hands with various symbols engraved in the palms? Is this in any way reflective of the album's content?
Mike Lindsay: The cover was done by the artist Lilias Buchanan. Each symbol in each hand refers to a lyric from one of the songs on the album. There are 12 hands and 12 songs. The hands feel a little like a deck of cards, or membership cards to DEAD CLUB.
Do you think an album about death and grief would have sounded differently if made at a time outside the current pandemic? How does what's going on affect the content of the album or the way it's been perceived, in any way?
Mike Lindsay: I imagine the pandemic may perhaps affect the way the album has been perceived. Death has been front-page news for months now, and people are closer to the realities of it than perhaps they normally would be. So, a project designed to evoke conversation about this topic and to help people feel less anxious when talking about it may be of some comfort to people now, more so than it would be in other times.
We have had a lot of beautiful personal e-mails from people who really love the record and the podcast series. We have been hearing from people who have been through some hard times recently or who have found our material to be really engrossing and important. And then, there are also just people who really like the music. This record has generated far more personal interaction than any of our other records have done.
What creative value do you see in marrying folk and electronica music the way that you do on your records?
Mike Lindsay: There have been all sorts of cross-genres on all of our records– including mixtures of folk, prog, found sound art, electronica, disco and rave and crunk metal. I think it's important to play with different forms, so as to keep creating something bigger than the sum of its parts.
We want to keep our material new but also to maintain a level of organic texture which aligns itself with the lyrical content of the songs. They must still have emotion. We have to keep experimenting, sometimes in subtle ways and sometimes in ways more extreme. That's the best bit about Tunng: there are no real rules.
— —
— — — —
? © 2020
:: Stream Tunng ::
---