Missouri trio Radkey bring the best elements of rock music together to create a fresh, timeless sound on 'Green Room'.
Stream: 'Green Room' – Radkey
---
Just by existing, Radkey check off two huge boxes for me: they're a power trio, and they're a brother band. Isaiah, Solomon, and Dee Radke (bass, drums, and guitar respectively) make a thick, slick rock and roll sound built on power chords and hypnotic vocal melodies. Green Room, their sophomore follow-up to 2015's Dark Black Makeup, runs just longer than half an hour, and oozes with influences that hit the better parts of the rock-spectrum. Even the younger listeners who have grown up on shuffle buttons and internet variety will be held by the album's multiplicity; with Green Room, Radkey have written a rock album for the 21st Century.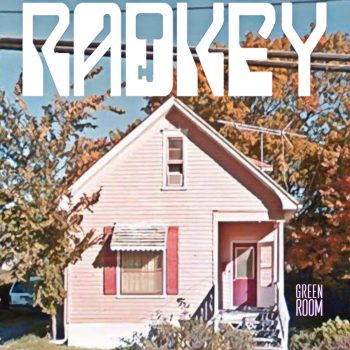 Each of the songs on Green Room could reach the nosebleeds of an arena. The band often builds hooks out of chord changes, an economic decision that gives the illusion of space between the pummeling and the chugging; it all sounds big without overwhelming the ears. Give it enough listens and you'll notice a few musical constants—the floppy tom-and-snare beats, the driving guitar and bass downstrokes, and Dee's deep croon affirm that the band comes from the school of the Ramones. Otherwise, Radkey free themselves to compose with whatever tools they see fit.
Among the 11 tracks, there are a few standouts. "Two-Face" saunters and soars with a showy bigness that would feel at home on any pop radio station. A lone acoustic guitar opens the song "Bend," a tender yet energetic power-pop anthem that later gives out to piano. "Portraits" shows the band at their moodiest as they rail with contagious attitude against some unnamed toxic narcissist. The album closes on a cover of Bill Withers's "Ain't No Sunshine," a song that has been endlessly covered by all sorts of artists over the past 50 years. Given the Radkey treatment, it still sounds fresh as ever, and serves as a good coda to the band's second proper LP.
For now, listeners seem to be dropping Radkey into the "punk" genre pool; such is the fate for any artist that even flirts with tempos that exceed 120 BPMs.
Whatever their influences, Radkey evade the mistake of dipping into the empty nostalgia of acts like Greta Van Fleet. But I also won't call them "modern". Radkey play rock (or in their words, "delicious rock noise"). The timeless elements heard throughout Green Room make the album a fertile bed for future growth, and you can bet that Radkey will take full advantage.
— —
— — — —
? © Andy Hughes
:: Stream Radkey ::
---