With his record "WOTW", Philadelphia Cold Rhymes affiliate, Andrew, sludges through syrupy boom-bap in hopes of finding peace amidst the blues.
Stream: 'WOTW"- Andrew
---
Much like the rest of Cold Rhymes Records, Andrew is a rapper's rapper searching for the greatest metaphor that thoroughly represents his current mind state. He follows a line of similar local artists who've managed to build a substantial camaraderie through ceaseless podcasting and like-minded swagger. Cold Rhymes hasn't found mainstream success like Lil Uzi or Meek Mill, but they have assembled an underground movement comparable only to the Avengers. A group of fiery wordsmiths and versatile producers looking to bring some DIY magic before the Tesseract ends up in the wrong hands.
The label's biggest contribution of the year so far was ialive's I'll Wait Forever-a dense psychedelic take on 90s boom-bap that featured noteworthy contributions from various DIY emcees across the country. Since then, Cold Rhymes continues to funnel their artists through a crowded Soundcloud scene hoping to develop their organic brand of genre-defying moodiness from the ground up.
For artists such as ialive and Andrew, it's not necessarily the boom-bap that makes them interesting, it's more-so the way they manipulate the snappy kicks and snares that make up the classic art form. On his newest album WOTW, Andrew provides a multitude of samples ranging from delta blues ("All They Want For Xmas is Drew"), pulsing 80s synths ("Coins"), electric noodling ("Stupid Vanity") and proliferating bass ("The Party").
The most fruitful instrumentation lies on "Pho75," a posse cut that features ialive, Moemaw Naedon, Cody Cody Jones, Torito, Esh and Darko the Super. A flute-like substance permeates within the background as freakish drum programming offers the perfect platform for perpetual wordplay between the group of spitters. Their continuous momentum is comparable to a relay race, where each rapper passes the baton, or in this case, Webster's Dictionary.
Outside of the lyrical exercises, Andrew experiments with a sound that's clearly indebted to The Roots' rap/rock crossovers (he even explicitly states this on "Things Fall Apart"-a reference to their classic project). His metaphorical passages insinuate a mental uphill climb filled with newly-added sludge from a nightly rainstorm. Every time Andrew tries to eradicate the pain from being alone or on the road for too long, the clay just gets more and more persistent. "Flowers" is an excellent example of this prevalent hopelessness amongst a choral backdrop.
I got these flowers that you don't want
you used to put them in a vase
On a sunny window sill
But now they just in  away
He hides poetic despondency with urgent shit talking and an everlasting pursuit of monetary reparations. On "Coins," Andrew uses the soil he's trudging through to re-grow those same flowers that were wilting away-"But you don't you don't know that shit/You don't got it like me, you don't fold that crisp/Put some water in the soil, go and grow that bitch/tryna make it picture perfect like a kodak strip." Money is only a short term fix though, kind of like a six-hour high from a homemade edible after a long day at work. Andrew is well aware of this on "Stupid Vanity," a low-key electric guitar number that briefly showcases our world's lack of empathy ("the world's an old nun with a long ass ruler").
Andrew naturally seems to be very cognizant of his environment as well as the brand he wants to represent himself with. He plans his own funeral on "The Party" over an eerie bass-line. It's one of the more intriguing moments on WOTW, particularly the early passage about nostalgia's hypnotic grasp on humanity. Andrew's contemptuous mind-state is reflected through lost romances and friends that got away.
Die young, die old
Either way, we all gotta a ticket to  six-foot grave
And all steady running through this world's maze
Trying to live up in the present, but we miss old days
The style in which Andrew raps in epitomizes a run-on stream of conscious about whatever the hell comes to his mind. His raw energy on WOTW fits snugly within Cold Rhymes' old-school imprint without feeling the need to sacrifice his own perception of reality. Life goes on, even when we're all dead.
— — — —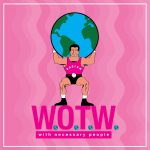 ? © 2020
WOTW
an album by Andrew
---